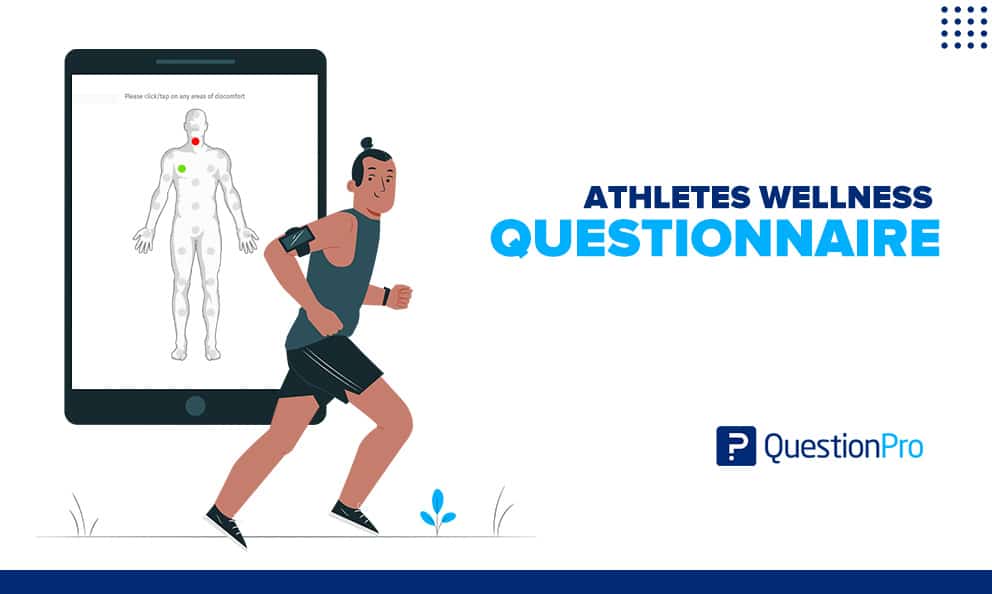 The wellness industry is growing at a very high pace and is valued at $4.5 trillion, and it may exceed the 7 trillion dollars mark by the end of 2026. Without a doubt, a very lucrative industry, so it is not surprising that there are more and more investments and focus on one of the most important assets of all that machinery: the athletes. Let's discuss how the athletes wellness questionnaire approach can help.
What is Athletes Wellness?
Athlete wellness is an increasingly present point in the sports industry, more and more institutions are aware that a healthy athlete in all aspects can perform better reaching their maximum potential. For this reason, it is increasingly common to see complex systems and research methodologies implemented focused on supporting and evaluating the situation of athletes.
In this article, we will throw some light on the most effective methodologies and how you can quickly start implementing them in your institution: the athletes wellness questionnaire.
Why are Athletes Wellness Questionnaire Important?
Athletes' health has not always been a priority for the industry, in fact it is still possible to find examples of this in developmental leagues, subcategories or not so popular sports. In these scenarios, athletes must face a series of challenges outside the same sports environment, so it is the responsibility of the institutions to maintain proper monitoring of the health of their athletes.
The evaluations allow to give a clear idea of ​​what is happening physically and psychologically with them, this type of evaluations allow those responsible to find opportunities for improvement to help athletes reach their maximum potential.
This applies to all sports in the industry, from soccer, swimming, tennis, cricket, etc. A correct evaluation process will have a great impact on the results.
Also, due to the high performance required, it is very common to see a lot of injuries. Common upper extremity injuries in resistance training athletes include muscle strains, ligament sprains, pectoralis major tendon ruptures, distal biceps tendon ruptures, and chronic shoulder pain and capsulolabral injuries.
While each injury is unique in its specific anatomic location and mechanism, each is preventable with proper evaluations that improve exercise technique, safety and maintenance of muscle balance.
Mental health is another aspect that has been little explored, but in which great progress has been made in recent years. The pressure that high-performance athletes carry with them is very particular in this industry, so maintaining an evaluation that covers this aspect gives rise to developing measures that provide the athlete with the necessary advice and protection so as not to develop problems in the mental aspect that affect your professional and personal life.
How can the wellness industry provide good health services to the sport's elite if we are not asking the right questions?
Fortunately, with the advancement of technology, having an athlete wellness program is something accessible to any institution, without the need to make large investments. Below we will tell you about the athlete wellness questionnaires and other ways to protect your athletes.
Athletes Wellness Questionnaire
An Athletes Wellness Questionnaire is an assessment tool that consists of a series of questions specifically chosen to determine the level of wellness of an athlete.
In general, this type of survey is only a small part of a more complete evaluation methodology and system where data collection from different sources and its subsequent analysis are intertwined in order to detect pain points or areas of improvement that may directly influence the performance of the athlete.
One of the most common questions and the main ones are those in which the athlete can indicate his paint points or the level of relief he is feeling in each part of his body so that the conditioning team or those responsible for taking care of the physical integrity of athletes can adjust the training and perform the necessary treatments to contribute to the improvement of the athlete's health.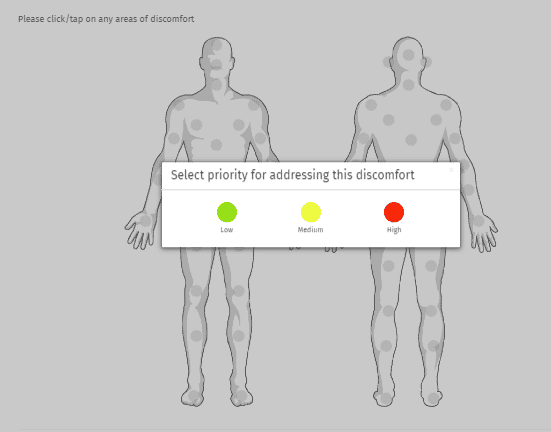 The data is essential in this type of evaluation since this must be a kind of longitudinal study, that is, an investigation that will cover a considerable period, especially if we want to keep track of the athlete's evolution and its improvement thanks to to the actions carried out.
How to make your own Athletes Wellness Questionnaire?
Thanks to the advancement of technology, it is no longer necessary to develop your own software to start implementing a wellness evaluation program for your athletes. Platforms like QuestionPro allow you to create Athletes Wellness Questionnaires in seconds and start collecting data through different channels.
Thanks to its offline app you can turn any mobile device into a data collection tool or if you wish, you can send your athletes the survey automatically every day through email or sms or if you prefer, place QR codes around of your institution. The possibilities are endless and the benefits incalculable.
Creating your first wellness survey is very easy, you just have to create a new survey, name it and easily start adding any type of questions. The most common and useful for this type of survey is without a doubt the homunculus question, where the athlete will be able to identify their pain points and the evaluator will be able to know, individually and in groups, the areas of discomfort that the athletes are presenting.

You can get started today by creating an account and accessing our free trial without adding a credit card to access our advanced features and start experiencing the power of a survey and gain more visibility into what's going on in your athletes' lives. and the way they feel. Start today.
Guest Authors: Abhinav & Monz