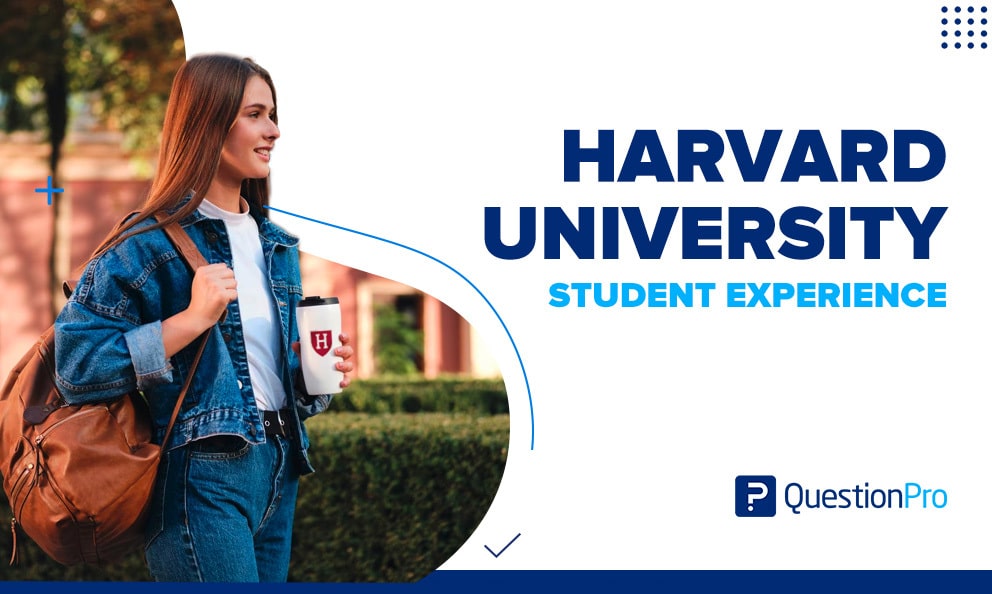 Studying at a prestigious university should be an enriching experience in every aspect, as it is one of the most significant formative stages in a person's life. Universities like Harvard understand this well and thus strive to develop initiatives and plans to achieve this goal. Let's talk about the Harvard Student Experience.
In this article, you will learn more about the student experience at Harvard and gain an overview through a hypothetical student journey map. This map aims to highlight some of the most crucial touchpoints in the academic journey within this institution. The classroom response system allowed students to answer multiple-choice questions and engage in real-time discussions instantly.
What is Student Experience?
Student experience refers to the overall quality of a student's journey and engagement within an educational institution, such as a school, college, or university. It encompasses various aspects of a student's life during their academic tenure, including academic, social, emotional, and personal dimensions.
A positive student experience contributes to student satisfaction, engagement, and success. Educational institutions often strive to enhance the student experience to create a supportive and enriching environment that facilitates learning, personal development, and the attainment of academic goals.
Understanding and clearly defining the student journey is of vital importance to achieving many of these objectives. This methodology allows institutions to easily visualize each critical point of interaction between students and the institution. In turn, this provides the opportunity to assess and take concrete actions based on these evaluations, thus achieving a continuous improvement of their services and the level of student satisfaction.
Harvard Student Journey Map
To provide a clearer understanding of what a Student Journey Map entails, we have decided to create one based on the information Harvard shares on its website while also considering other common touchpoints among institutions of this kind.
In this manner, we have developed a fictional student journey map that showcases some of the most common and relevant points that any student goes through when embarking on their university life. As you will notice, we have included fictional satisfaction scores for some of these points to illustrate further this tool's scope.
Stage 01: AWARENESS
| | | | |
| --- | --- | --- | --- |
| Touchpoint | Activity | Pain Point | Solution |
| Search Online (SEO) | Prospective students discover Harvard University through online searches. | Limited visibility in search results. | Optimize SEO strategies to improve search engine rankings. |
| Content Marketing (Blog) | Prospective students find Harvard's blog content. | Lack of engaging and informative content. | Produce high-quality blog posts about campus life and academics. |
| University Rankings | Prospective students consider Harvard based on its rankings. | Uncertainty about the reliability of rankings. | Highlight Harvard's consistent top rankings and achievements. |
| Social Media Advertising | Prospective students come across Harvard ads on social media platforms. | Limited knowledge about Harvard's programs. | Showcase impactful visuals and key information in social media ads. |
| College Fairs | Prospective students interact with Harvard representatives at college fairs. | Lack of personal connection and information. | Train representatives to provide insightful and accurate information at fairs. |
| Student Ambassadors | Prospective students connect with Harvard student ambassadors. | Limited access to student perspectives. | Facilitate student ambassador interactions for authentic insights. |
Stage 02: CONSIDERATION
| | | | |
| --- | --- | --- | --- |
| Touchpoint | Activity | Pain Point | Solution |
| University Website | Prospective students explore Harvard's official website. | Difficulty finding specific program information. | Design a user-friendly website with intuitive navigation and comprehensive program details. |
| Program Brochures | Prospective students review Harvard's program brochures. | Lack of detailed insights into programs. | Create comprehensive and visually appealing program brochures. |
| Campus Tours | Prospective students visit Harvard's campus for tours. | Inability to visit campus due to distance. | Offer virtual campus tours for remote prospective students. |
| Alumni Success Stories | Prospective students read about Harvard alumni successes. | Uncertainty about post-graduation prospects. | Share inspiring alumni stories showcasing successful career paths. |
| Student Activities | Prospective students explore Harvard's student activities. | Concerns about extracurricular engagement. | Highlight diverse and vibrant student activities on campus. |
Stage 03: APPLICATION
| | | | |
| --- | --- | --- | --- |
| Touchpoint | Activity | Pain Point | Solution |
| Online Application | Prospective students complete Harvard's online application. | Complexity and time-consuming application process. | Streamline and simplify the online application process. |
| Application Support | Prospective students seek assistance with their applications. | Confusion or difficulties with application requirements. | Provide accessible and responsive support for application inquiries. |
| Letters of Recommendation | Prospective students gather letters of recommendation. | Challenges in obtaining strong recommendation letters. | Offer guidance and resources for obtaining effective recommendation letters. |
Stage 04: ACCEPTANCE
| | | | |
| --- | --- | --- | --- |
| Touchpoint | Activity | Pain Point | Solution |
| Acceptance Letter | Accepted students receive official acceptance letters. | Anxiety and anticipation about admission results. | Deliver clear and personalized acceptance letters to ease anxieties. |
| Financial Aid | Accepted students review financial aid and scholarship options. | Financial concerns about tuition and fees. | Provide comprehensive financial aid information and options. |
| Orientation Programs | Accepted students participate in Harvard's orientation programs. | Nervousness about transitioning to college life. | Offer comprehensive orientation programs to ease the transition. |
| Health & Wellbeing | Accepted students learn about Harvard's health and wellbeing services. | Concerns about maintaining physical and mental health. | Highlight available health services and resources for students. |
Stage 05: ENROLLMENT
| | | | |
| --- | --- | --- | --- |
| Touchpoint | Activity | Pain Point | Solution |
| Course Registration | Enrolled students register for courses. | Challenges in navigating course options and requirements. | Provide user-friendly course registration tools and guidance. |
| Housing Selection | Enrolled students select housing options. | Uncertainty about housing availability and preferences. | Offer transparent and organized housing selection processes. |
| Student Services | Enrolled students access various student services. | Difficulty in finding and accessing support services. | Streamline access to student services through a centralized platform. |
| Diversity & Inclusion | Enrolled students engage with Harvard's diversity and inclusion initiatives. | Concerns about inclusivity and representation. | Promote diverse and inclusive campus initiatives and resources. |
Stage 06: ACADEMICS
| | | | |
| --- | --- | --- | --- |
| Touchpoint | Activity | Pain Point | Solution |
| Class Experience | Students engage in Harvard's academic programs. | Challenging coursework and academic pressure. | Offer comprehensive academic support and resources. |
| Faculty Interaction | Students interact with professors and academic advisors. | Lack of personalized guidance and support. | Facilitate regular faculty-student interactions and mentorship. |
| Research Opportunities | Students explore research opportunities at Harvard. | Uncertainty about accessing research opportunities. | Promote available research programs and facilitate student involvement. |
Stage 07: GRADUATION
| | | | |
| --- | --- | --- | --- |
| Touchpoint | Activity | Pain Point | Solution |
| Graduation Ceremony | Graduating students participate in Harvard's commencement ceremony. | Emotional and logistical challenges during graduation. | Provide clear information and resources for a smooth graduation experience. |
| Career Services | Graduating students utilize career services. | Uncertainty about post-graduation career prospects. | Offer comprehensive career development resources and support. |
| Alumni Engagement | Graduating students connect with Harvard's alumni network. | Challenges in staying connected after graduation. | Facilitate alumni engagement through events and networking opportunities. |
| Student Stories | Graduating students share their Harvard experiences. | Limited avenues for sharing personal stories. | Create platforms for students to share their unique Harvard journeys. |
Stage 08: ADVOCACY
| | | | |
| --- | --- | --- | --- |
| Touchpoint | Activity | Pain Point | Solution |
| Alumni Networks | Alumni engage with Harvard's alumni networks. | Lack of engagement and value in alumni networks. | Enhance alumni network activities and offerings. |
| Incentivize Online Reviews | Students and alumni leave positive reviews about Harvard. | Low participation in leaving reviews. | Encourage students and alumni to share positive experiences through incentives. |
Other Key Areas Harvard Focuses on to Ensure a Great Student Experience
Each touchpoint is crucial for students to reach their full potential and optimize their study plans. To achieve this, Harvard has implemented a couple of actions that provide students with options and opportunities to become professionals in their field.
Highlighted actions include
Diversity and Inclusion Programs:
Harvard University is committed to establishing an inclusive living and learning environment for every member of its community. The institution offers a range of resources and offices to ensure that Harvard is a safe and welcoming place for students from diverse backgrounds.
Among these initiatives, some notable ones are:
Low-Income and First Generation Students Program
Sexual Assault Prevention & Response
Presidential Task Force on Inclusion and Belonging
Turning Common Services Extraordinary:
As mentioned earlier, each touchpoint presents an opportunity. Even in the most common services, offering experiences that allow students to navigate an optimal environment easily is possible. To achieve this, Harvard has added unique twists to services that might seem ordinary in order to delight its students. Some of the most notable examples are:
– Dining Menu: An option that not only allows students to explore available food choices but also provides the ability to generate a nutritional report and select from options that align with their dietary needs.
– Food Truck Schedule: Access to alternative food services through food trucks.
– Shuttle Tracker: PassioGO! is a real-time tracking system for transportation services to and from campus. Students can view routes and stops and track the transportation's current location and passenger load.
Health & Wellbeing:
Harvard provides all essential resources for maintaining good health through an extensive range of health, wellness, and fitness services. This includes General Health, Spiritual Wellbeing, and Safety & Support.
Student Activities:
A Harvard education goes beyond classroom learning. It encompasses conversations with friends during dinner, participation in plays, exciting sports events, museum trips, and much more. Students can forge new friendships, pursue existing passions, discover new interests, and gain deeper insights into the world and its people through extracurricular activities.
Harvard's University Life in Numbers:
Deliver an incredible experience to your students!
At QuestionPro we've designed various features to cater to all kinds of educational needs, whether inside or outside the institution. Here are some of the key tools we offer:
Survey Software: Our survey software is super user-friendly. You can whip up surveys in a snap to figure out important moments in a student's journey. Plus, students can get free access using their school email. They can tap into our bunch of templates and fancy features to rock their educational projects with style and skill.
Student Experience Mapping: If you're thinking about making your very first student's journey map, QuestionPro SuiteCX is here to save the day. It's got a strong platform and loads of cool templates to make mapping out the student adventure a breeze. SuiteCX lets you draw out the key points in a student's journey and fill in all the details to really get what's happening at each step of their learning ride.
Want to dive deeper? Just reach out to us; we'd be super excited to support you in your next big educational mission.