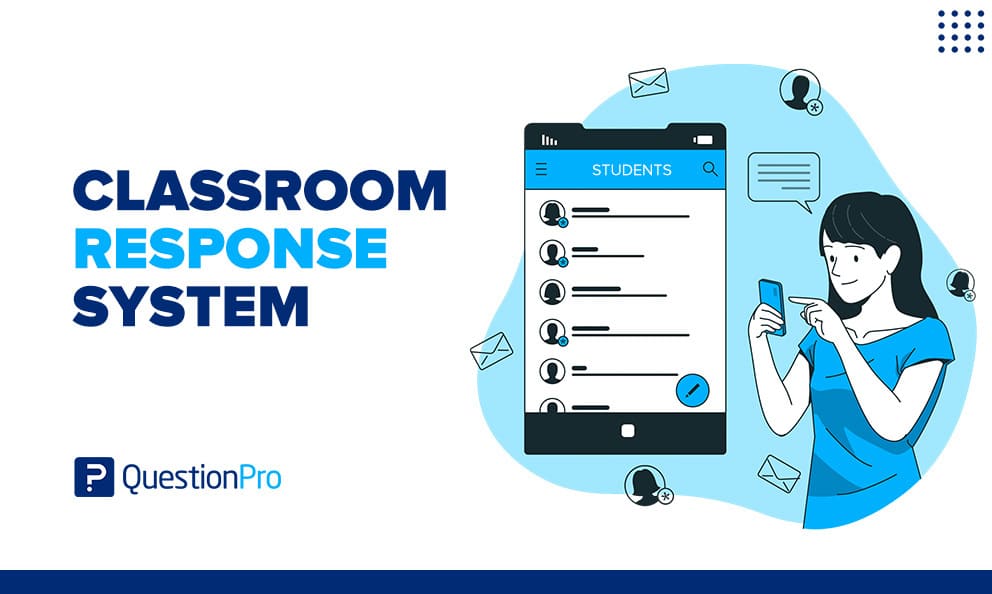 Teachers and presenters have increasingly used some form of a Classroom Response System to improve student engagement, motivating participants to interact and find teaching opportunities. When conducting a class or presentation, it's a challenge to find the right moments in a presentation to collect data. 
When teachers present a class to their students, they must perform a wide variety of processes at once to keep all their students engaged while getting them to develop appropriate learning systems. Without proper organization and tools, this can decline in class quality and reflect a poor classroom experience.
It happens to even the most qualified teachers; discovering that students are not paying attention or understanding the lesson is more common than you would think. This creates a challenge for any teacher or presenter when evaluating the success or failure of the class. But the correct use of tools and techniques can prevent this problem. Let's talk about it.
What is a Classroom Response System?
A classroom response system is an interactive tool that allows teachers to interact with their students more practically. Typically, these systems are known as "clickers" as they come in the form of a remote control so that students can answer questions by clicking a button.
As we've learned, these classroom response systems allow the formulation of questions within a presentation, receiving answers from students in real-time, and collecting data thoroughly and in a handy way, increasing student engagement and improving learning dynamics that stimulate active student participation.
The evolution of the "Clicker."
Lately, the use of physical remote control tools has become somewhat obsolete due to the dramatic increase in the use of smartphones. It is estimated that up to 83.72% of the world's population will own a smartphone this year.
It's now clear that using a device we're already carrying tends to be much more functional today for most interactive activities. Hence, replacing the remote control for a feature on our smartphone is just the logical next step.
This information indicates a clear path towards the evolution of classroom response systems as well. Implementing advanced technology will become crucial for the classroom, as its accessibility and uses are getting better and better.
Top 3 Classroom Response Systems
With the use of an appropriate Classroom Response System, we managed to reach two of the main goals of teachers: the educational evaluation of the class and the response of their students and the increase in student engagement. Let's talk about the best three tools available for teachers and presenters.
A valid option to use in class is Socrative, a tool that tries to connect the teacher with his students. Its reporting system could allow teachers to have better control of their student's progress. It also allows students to work as a team to answer questions through surveys, which provides for formative evaluations.
The downside is it has a limit that only allow 50 users to use it simultaneously in their free version and it requires to download an app, which takes space in user's smartphone.
Khoot! is a learning platform designed for students and teachers with the aim of making the learning process more fun. It has features that have been useful in many classrooms across America.
Even though Kahoot! is possibly the most popular online tool in the classroom, many teachers are turning to kahoot alternatives that meet their needs and those of their students in the best way.
Top 1: QuestionPro's Livepolls
Livepolls by QuestionPro is a classroom response system and much more. As online meetings large and small are pretty much the norm these days. With so many meetings throughout the week, how do you know your audience is fully engaged in your presentation?
How do you know if they're learning something? More importantly, how can organizations fight online meeting fatigue while still staying productive? Whether it's a room full of students, or an online training webinar, we've got a solution that rises to the challenge!
LivePolls by QuestionPro is a totally free user-friendly online polling tool that lets you conduct or make quick online tests or quizzes, timed trivia, gather instant feedback, and show the results to participants in real time.
Uses of a Classroom Response System
The participation of students through classroom response systems does not end with the possibility of answering questions. Instead, it allows teachers to conduct surveys, vote, attend, and create educational games that stimulate their academic training.
It is up to you to choose the proper tool to fit your unique event requirements. With QuestionPro's LivePolls, we provide it and surpass your expectations. 
Why don't you just get started right away? Try QuestionPro LivePolls for free; we know you will love it!