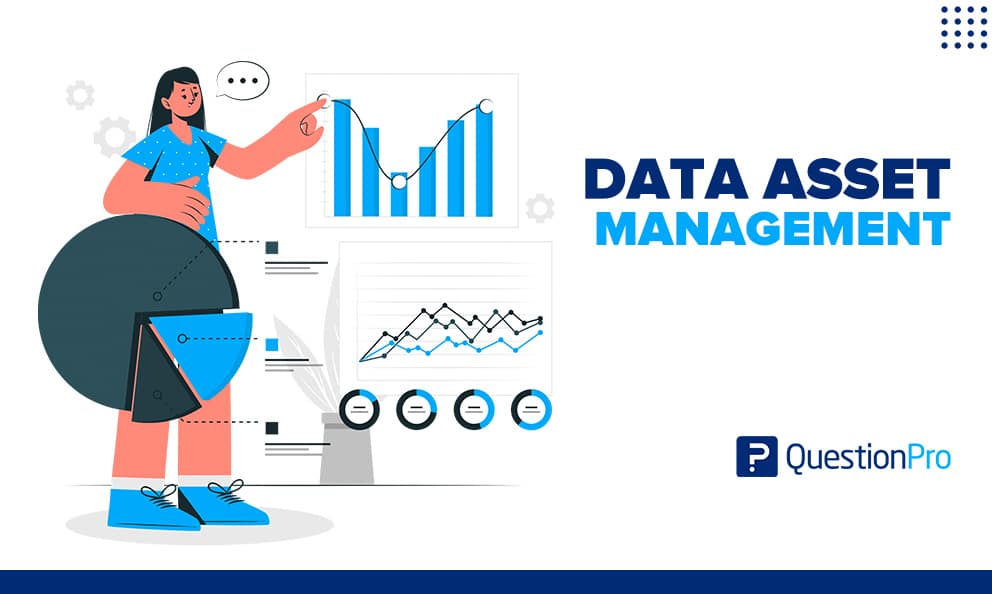 Effective data asset management is a manifestation that improves financial performance. It tightens the processes for gathering, storing, using, and managing data. Improves data quality, accessibility, measurability, and key stakeholder satisfaction, which is more significant.
Every business founded before the digital era is experiencing some kind of digital transformation to handle its data more effectively and provide better results. The enormous difference between companies in the digital age, such as Alphabet, Amazon, Facebook, Tesla, etc., will increase further. It's a top priority on an absent improvement on this front.
This blog will explain data asset management and how to manage it effectively.
What is data asset management?
Acquiring, monitoring, using, optimizing, and exploiting data assets to generate value is the process of data asset management. All data assets swiftly turn into liabilities in the absence of management.
When it comes to tangible assets, this is evident. Real estate investors' assets are their properties. No self-respecting real estate investor would purchase properties, make minor repairs, rent them out, and then neglect the properties until a disgruntled tenant complained about a problem.
Potential assets must be managed to become tangible, value-generating assets. This requires constant monitoring, proper use, continual improvement, and prudent leveraging.
Although less visible, it nevertheless holds true when talking about digital assets. The amount of value you can extract from your data will be severely constrained if you regularly create or acquire new data.
Most modern enterprises just dump it into a data lake or warehouse and forget about it until there is an urgent need or problem. Turning your data into a source of competitive advantage requires effective data asset management.
What is a digital asset manager?
A digital asset manager plays a crucial role in efficiently overseeing and curating an organization's digital assets. They utilize digital asset management solutions to store, organize, and manage diverse digital content, including brand assets, creative files, and marketing materials.
By employing specialized systems, they ensure these assets are easily accessible to both internal and external stakeholders, streamlining processes and maintaining brand consistency. Their responsibilities encompass optimizing workflows, safeguarding assets, and enhancing collaboration, ultimately contributing to increased productivity and efficient asset utilization across the organization.
Benefits of a digital asset management system
A digital asset management solution offers a range of benefits that contribute to streamlined workflows, improved collaboration, and enhanced utilization of digital assets across an organization. Here are the key advantages of implementing a DAM system:
A DAM system serves as a centralized digital asset library, allowing organizations to efficiently store, organize, and manage digital files, including images, videos, audio files, and creative assets.
Enhanced access and retrieval
Marketing and sales teams and other departments can easily locate and retrieve specific digital assets from the DAM software, speeding up access to relevant materials.
Dasa asset management solutions ensure brand integrity by providing a single source for approved brand assets and creative files, enabling consistent messaging and design.
Digital asset management software facilitates collaboration by enabling teams to work together on creative projects, share files, and maintain version control, leading to improved teamwork.
DAM systems offer security features such as access controls and permissions, safeguarding digital files, and ensuring that only authorized users can access them.
Digital asset management systems support sales and marketing teams in creating and distributing accurate, up-to-date, and on-brand marketing materials.
DAM solutions enable seamless sharing and distribution of digital content among internal and external stakeholders, enhancing communication and partnerships.
Outdated content prevention
By managing digital assets in a DAM system, organizations can prevent the inadvertent use of outdated or incorrect materials, maintaining content accuracy.
DAM systems eliminate redundancy, optimize resource allocation, and enhance productivity by simplifying the process of managing digital assets.
Easy audio and video management
DAM platforms provide tools to manage digital assets like audio files, videos, and other multimedia assets, facilitating their organization, storage, and utilization.
Utilizing a digital asset management system offers organizations numerous advantages, including centralized management, enhanced access, brand consistency, collaborative workflows, secure asset management, optimized marketing, efficient sharing, prevention of outdated content use, streamlined workflows, and efficient management of audio and video files and creative assets.
Aspects of data asset management
Here are the key aspects that define data asset management: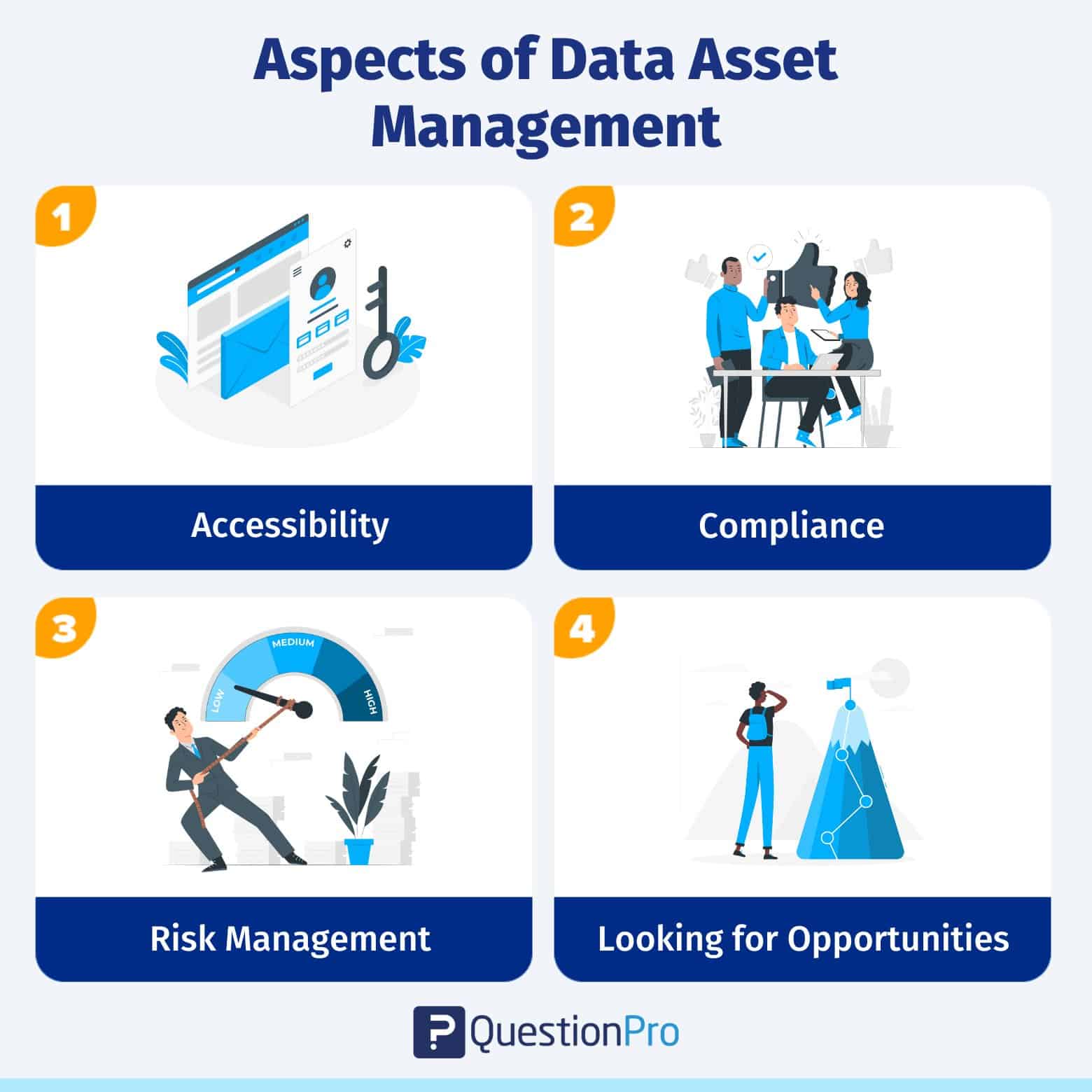 In terms of data, access refers to being able to locate and get the information you need at the appropriate time. Finding necessitates maintaining an up-to-date map of your data assets and having your asset store's search function easy. Obtaining requires carefully controlled access rights.
Typically, a data asset management platform is needed to provide data accessibility. This platform might be a data asset catalog or incorporate one. Each data asset's entry in a data catalog contains definitions, descriptions, ratings, and the identity of the data owner.
Other information makes it easy to search for and locate the data you want for any given purpose.
While maintaining regulatory compliance requirements might be tedious, ensuring that your buildings keep to building codes is essential. It would be unfortunate if they were declared unsuitable and demolished (or, maybe worse, if you had to pay a massive fine for the violation).
Data assets are often subject to even more restrictions than physical assets: GDPR, CCPA, HIPAA, DCIA, etc. Data asset management must focus on data governance and regulatory compliance for your assets.
Protecting your data against natural or accidental calamity makes it more susceptible to human assault. No one needs to break into your data center to steal, hurt, or violate it. Cyberattackers might threaten your valuables from home. Innovative digital asset management dam requires a well-thought-out cybersecurity strategy.
Looking for difficulties and/or opportunities
Best asset managers don't rest on their couches and wait for chances; they hunt for innovative ways to use their assets to produce additional value. Data assets may give a company new ideas, lines of business, markets, and dangers to avoid or consider. You must actively mine your data for insights.
Ways to manage data assets effectively
Organizations may efficiently manage their data assets in the following ways:
Higher data management expenses result from many businesses' tendency to maintain a lot of data that is hardly utilized. Additionally, it costs more to archive, safeguard, and preserve all unused data inside the organization. It's better to use a data management software for your business.
By removing data that the firm no longer requires, an organization should try to lower data management expenses (or perhaps never needed).
Additionally, a business should only spend money on data it does not already have when purchasing new data sets. They should delete the outdated data if they need to obtain a fresh set that matches the current ones. This will aid in lowering the instances of duplicate data, which raises the cost of data storage.
If you want to learn more about data management, explore Customer data management
Improve the value of current data
Find innovative methods to extract value from your data to help your business manage your data assets more efficiently. For instance, a company should reassess the value obtained from current data and see if other methods exist to utilize the data to increase its value. To generate more money, it could think about selling the data to other parties.
Data security and inventory
Data integrity must be guaranteed by appropriate data storage and security. Every piece of data a corporation has should be included in a catalog and a short description.
The description needs to state how the data is utilized, where it is kept, and when it was produced.
The information should also be available to all staff members of the organization. There should be a straightforward request procedure if they need permission to access the data. By allowing a small group of personnel access, a business should also protect the data's integrity.
LEARN ABOUT: Data Management vs Data Governance
Conclusion
Every piece of data content inside a company is recognized as a valuable business asset thanks to data asset management (DAM). Data Assets will significantly enhance the results of human decision-making by extending the reach of algorithmic analytics and insights.
When managers integrate more data into their decision-making processes, more issue/opportunity domains will reveal their inherent logic. Previously assumed to be solely the purview of humans, these decisions will now be made by robots.
Within QuestionPro, configuring your insights engine is simple. We have made steps to make it simple to explore, search, and find all of your research material in one structured data repository.
Frequently Asked Questions (FAQ)
What is data asset management?
Data asset management involves organizing, storing, securing, and optimizing data assets for efficient access and utilization.
Why is data asset management important?
Effective data asset management ensures data quality, accessibility, and compliance while enhancing decision-making processes.
What tools are used for data asset management?
Data asset management software, data catalogs, metadata management tools, and digital asset management systems are commonly used.