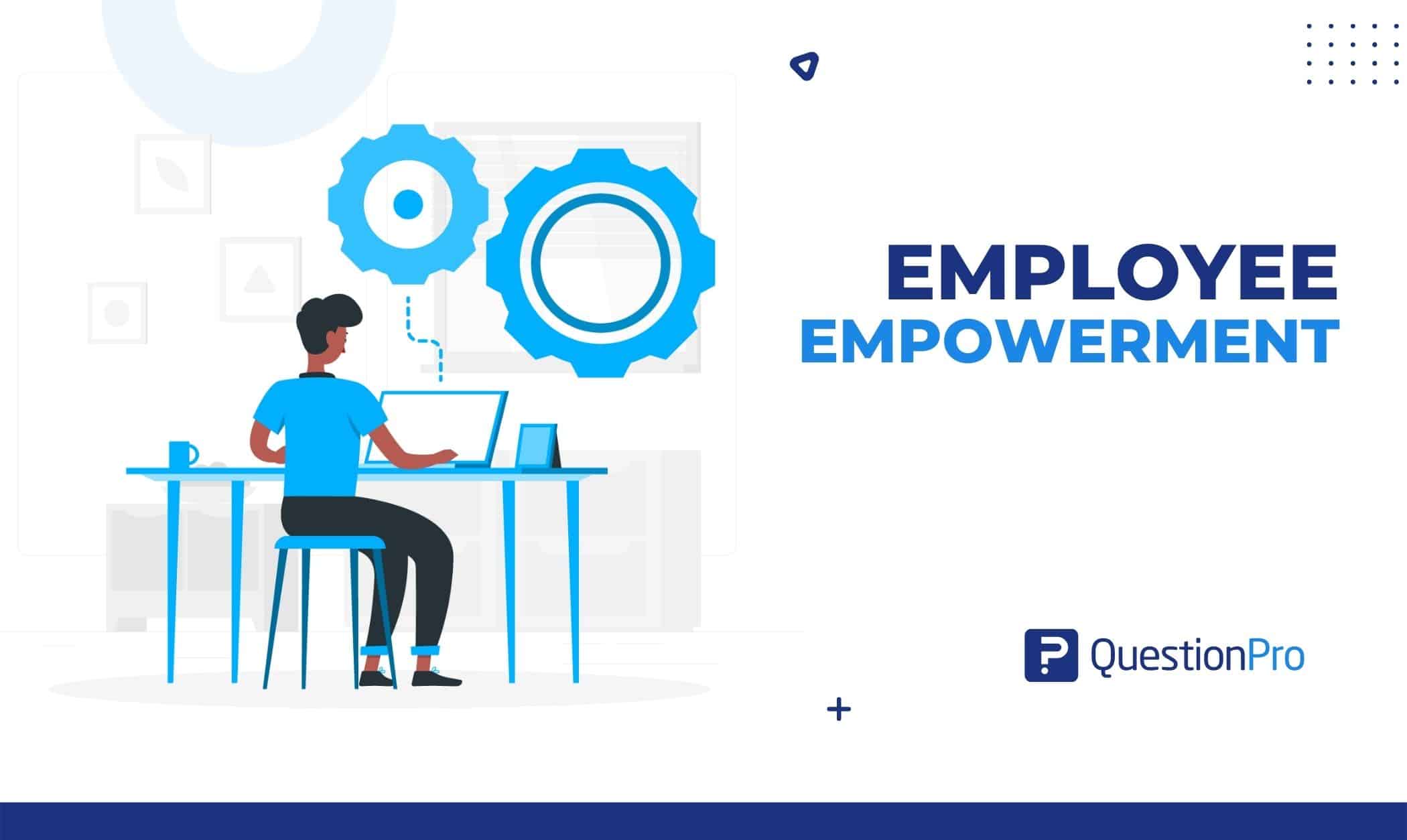 Employee empowerment refers to a valuable strategy to raise employee productivity and performance. Employee productivity will increase, and they'll feel more loyal to their employer and more satisfied with their work.
Giving your team members the authority to act and make decisions within your company is key to empowering your workers. It also implies mutual trust and understanding to guarantee that these behaviors are consistent with corporate objectives.
Additionally, your company will benefit from employee innovation and ideas when you allow them to operate flexibly.
This blog defines how employees feel empowered, its importance, successful employee empowerment tips, and benefits.
What is employee empowerment?
Employee empowerment is how businesses provide their staff with what they require for success. When someone feels empowered, they are aware of their capacity for achievement and have the self-assurance they need to succeed.
However, this goes well beyond just allocating resources. Companies that want to empower staff members should take the following steps:
Regularly asking for and acting on employee feedback will give them a voice.
Give workers a chance to develop through complete independence, more responsibility, or perhaps a whole new function.
Employee engagement and self-confidence will increase by receiving frequent recognition.
And, of course, give staff members the resources, instruction, and power they require to succeed.
A company's leaders, HR experts, and coworkers are crucial in creating a supportive, empowering atmosphere. Mutual trust, comfort with taking chances, and establishing clear expectations and guidelines are requirements for all parties. It is hard to empower employees without this kind of cooperation fully.
The importance of employee empowerment
Understanding the advantages of empowering employees makes it evident how important it is. The following are likely the most well-known benefits of empowerment, while it has a good effect in many different areas.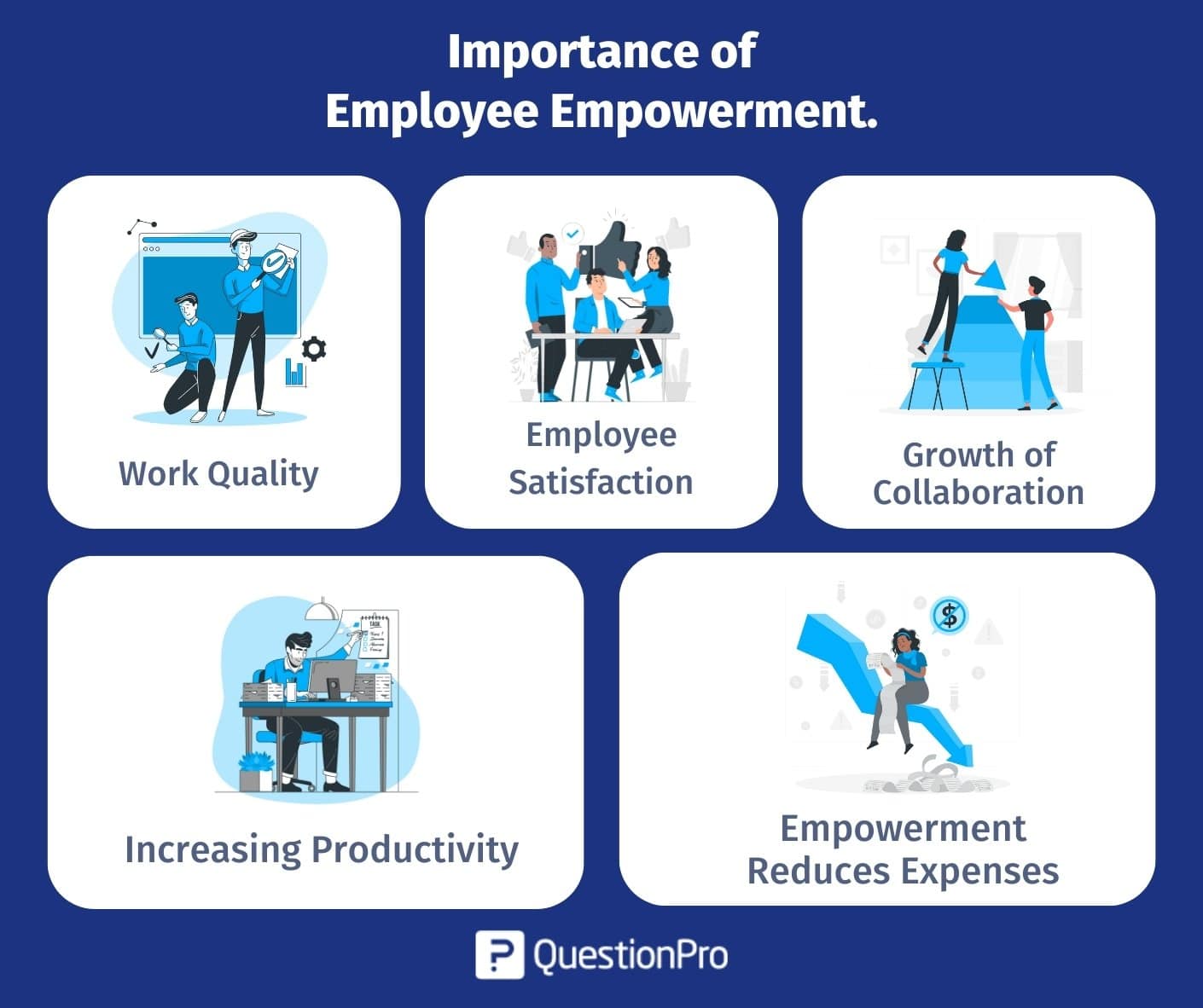 Work quality

Quality boosts revenue and customer loyalty. Allowing employees to affect product or service results will improve quality. The result is a source of pride and the customer and employee benefit.
Employee satisfaction

Many research studies show that empowered employees are happier and less likely to quit. Thus, hiring costs and employee education decrease.
According to a study, seven out of ten employees believe empowerment is crucial to job satisfaction and company loyalty.
Growth of collaboration

Confident employees share information and best practices more. Honesty and transparency improve teamwork. Increased collaboration and proactive participation will help a company achieve strategic goals.
Increasing productivity

Self-confidence and a quality-focused, collaborative mindset will boost productivity. Ownership of the process and product motivates workers to improve. Businesses that respect employee empowerment have less waste, bureaucracy, and time waste.
Empowerment reduces expenses

There will be an overall reduction in costs across the entire organization as follows:

Staff turnover decreases because an empowered environment workforce is happier with their jobs and career paths.
Increased retention rates, lower training expenses, and internal experience retention.
Productivity increases when operations become more effective.
Customer loyalty rises as issues are promptly addressed and resolved. As a result, marketing and acquiring new clients are less expensive.
Types of employee empowerment
Empowerment encourages employees to perform well, work hard, and apply their capabilities. Empowered managers distribute some of their authority to a select group of workers they believe can make decisions, set goals, and achieve success.
A company has a variety of ways to empower its workers, including:
Decision-making empowerment: This is when a company gives its employees the power and tools they need to make decisions.
Financial empowerment: This is when a company gives its employees control over its budget to help them make choices.
Time management empowerment: This is where allowing employees to decide how to use their time to get the job done.
Shared information empowerment: This is where managers share important business information that breaks down barriers, makes things clear, and makes workers feel like they belong.
How to effectively do employee empowerment
To effectively empower employees, consider the following steps:
Define objectives

Set clear and meaningful goals for the employees and make sure they know what you expect of them. This will help everyone stay on the same page and stay focused.
Delegate decision-making

Give employees the freedom and power to make choices about their work so that they can take ownership and responsibility.
Encourage open communication

Create an environment where employees feel safe sharing their ideas, concerns, and other feedback. Actively listen and react to what they say.
Offer development opportunities

Offer training, mentoring, and coaching programs to improve your employees' skills and knowledge and help them grow professionally.
Recognition accomplishments

Recognize and reward employees often for their work and achievements. This will help build a culture of appreciation and motivation.
LEARN ABOUT: Employee Rewards Ideas for Employee Engagement
Promote teamwork

Encourage collaboration among employees and across teams to build a sense of a shared goal and success for everyone.
Supportive culture

Create a supportive and inclusive community that values diversity, encourages innovation, and promotes psychological safety, so employees can take risks and learn from their mistakes.
Trust and empower

Trust employees to make choices and give them the resources, tools, and authority they need to do their jobs well.
Provide regular feedback

Give employees helpful feedback and advice to help them understand their strengths and areas where they can improve. This will help them grow and develop.
Lead by example

As a leader, show how to behave in a way that empowers others. Show your workers trust, honesty, and open communication in your interactions with them. This will encourage them to take on more responsibility.
LEARN ABOUT: Employee Trust
Tips to follow in employee empowerment
Employee empowerment is a cultural value. It requires greater confidence, transparent communication, and strategic delegation. To empower employees, consider the tips below:
Delegate to develop

Often, delegating to relieve yourself of tedious tasks is a missed opportunity to empower and improve your team. Instead, trust them to expand and enhance your employee's abilities and responsibilities.
Clarify expectations

Define the limits of your employee's freedom of action. By establishing clear expectations (but avoiding micromanagement), you give your staff license to make decisions while ensuring they are following corporate objectives.
Allow employees to select their tasks

When you delegate, be aware that the employee might carry out the assignment differently than you would. It's acceptable if an employee uses a different route than you would to travel from point A to point B. Give up control, abstain from micromanaging, and realize that there may be other (or better) ways to execute a project than the way you have planned.
Provide the required resources

Many business owners and executives complain that when they initially begin adopting employee empowerment strategies, employees continue to visit them in their offices, expecting their issues to be magically fixed. Instead, provide resources, tools, and a sounding board for ideas.
Give constructive criticism

Be considerate and detailed in your feedback while debriefing on a project. Be precise about the behaviors or attitudes you'd like to see continued and the effect they have on others. A "nice job" compliment does not guide future behavior.
Accept suggestions and advice

Include your staff in goal-setting and decision-making whenever you can. Be receptive to their suggestions and opinions if they cannot participate in these preliminary procedures. Being open to new ideas can empower employees and introduce innovative ideas to your company.
Employees need to feel more like builders than cogs in a machine, as this sentiment is becoming increasingly crucial. Your employees will feel empowered knowing that their participation makes a difference by making the organization's vision and how a team and its members contribute to that mission evident to them.
Develop an employee recognition program

Don't compromise the quality of your appreciation. People are more likely to do something again if you thank them for a job well done (and do it even better). It will also encourage them to think of new ideas, act, and find solutions.
Benefits of employee empowerment
Empowering employees boosts academic and professional performance, according to research. Larger companies benefit from more people and complexity. JaBRA discovered that workers with greater autonomy were happier and more pleased in a remote survey. Independent workers had 20% better performance. Employee empowerment has these benefits: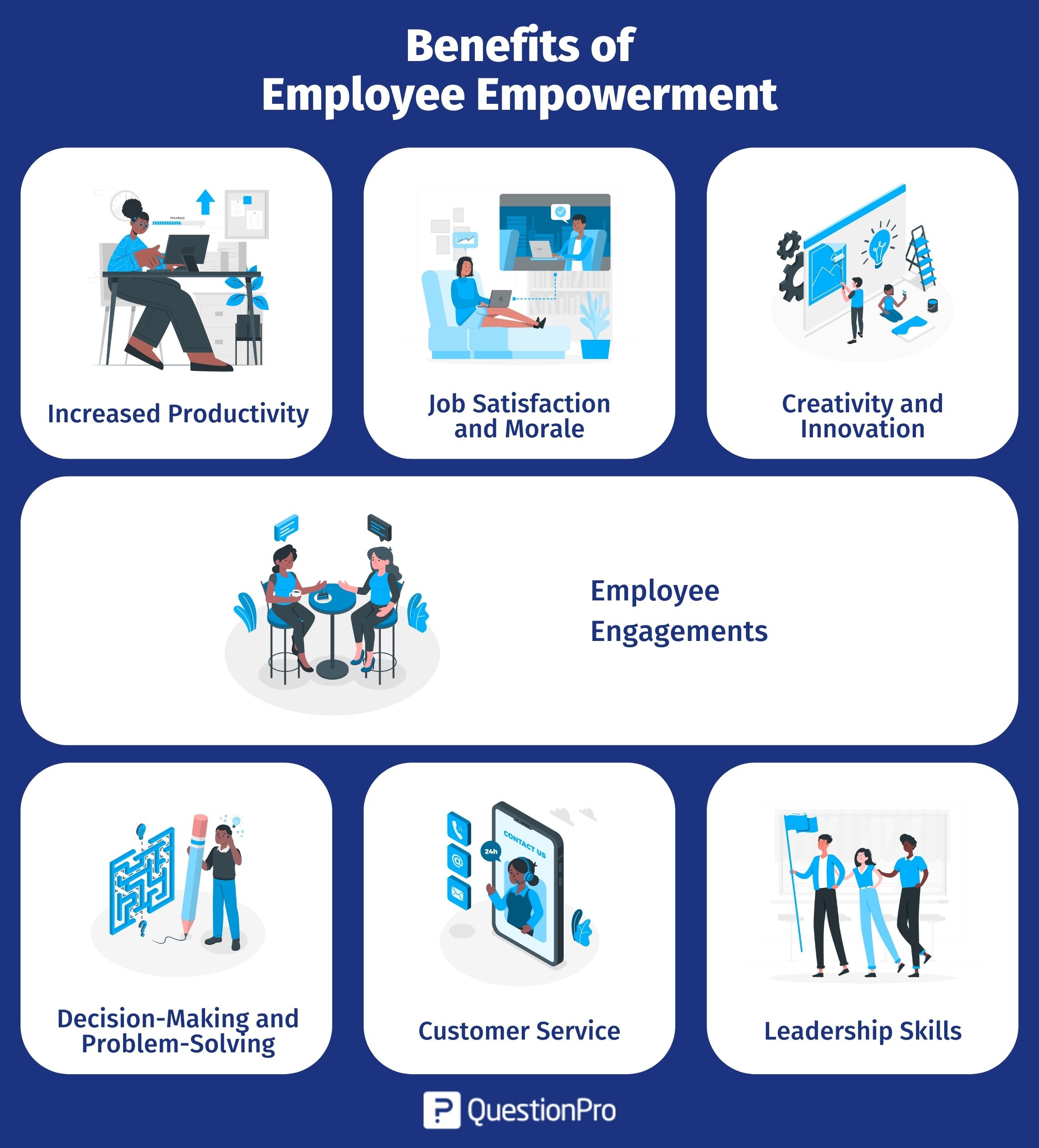 Increased productivity

Empower employees are more motivated, dedicated, and engaged employees to their work. When they have the power to make decisions and take action, they feel more responsible and like they own something. This increases productivity because workers are more likely to go above and beyond to reach their goals.
Improved job satisfaction and morale

Empowering employees helps create a positive work atmosphere where people feel valued and respected. When workers have a say in decisions and are trusted to do their jobs, it boosts their job satisfaction and morale. This, in turn, leads to better motivation, loyalty, and job retention.
Enhanced creativity and innovation

Organizations can take advantage of their workforce's many different views, ideas, and skills by giving employees more freedom. Encouraging people to think creatively and share their novel ideas leads to an organization's culture of continuous improvement.

Empowered employees are more likely to try new things, take calculated risks, and find new ways to solve problems, which can drive innovation within the company. Provide employees with what they need to be creative and innovative to get desired results.
Increased employee engagements

Empowerment gives employees a sense of purpose and participation in their work. They feel that what they do matters and that it has a direct reports effect on the success of the company. This leads to higher employee engagement, where people are emotionally invested in their job performance, committed to achieving organizational goals, and willing to go the extra mile.
Better decision-making and problem-solving

Empowered employees can make choices and find solutions to problems in their areas of expertise. By decentralizing decision-making and giving more power to the people closest to the problems, organizations can make decisions faster and with more information. This not only makes the job enrichment of top-level management easier, but it also lets the company respond faster to challenges and possibilities.
Improved customer service

When workers are empowered, they have the power to make decisions that directly impact customer satisfaction. Empowering employees is more likely to make them go above and beyond to meet customer wants, solve problems quickly, and provide personalized service. This leads to better customer experiences, more loyal customers, and good word-of-mouth for the company.
Development of leadership skills

Employee empowerment gives people chances to grow and improve their regular and senior leadership skills. When workers are trusted to make decisions and given responsibility, they gain valuable experience in handling tasks, working with others, and taking responsibility. This can help them grow as professionals and find future empowering leaders in the company.
Conclusion
Employee empowerment produces an atmosphere of trust, collaboration, and constant improvement. By giving workers the freedom to act, companies can get the most out of their employees, which leads to more productivity, innovation, and employee satisfaction.
Why should one empower employees? Consider your ideal squad. Is it a group of obedient workers who perform just what you instruct? Or is it a group of experienced people who use their abilities to solve problems, innovate, and assist the firm in achieving a common objective?
Companies must develop ways to inspire, excites, and encourages employees by empowering employees. It promotes the emotional well-being of employees by making them feel as if they are contributing meaningfully to the company's success.
Learn more about QuestionPro Workforce and discover how employee engagement surveys may help establish a more robust company culture and successful organization.