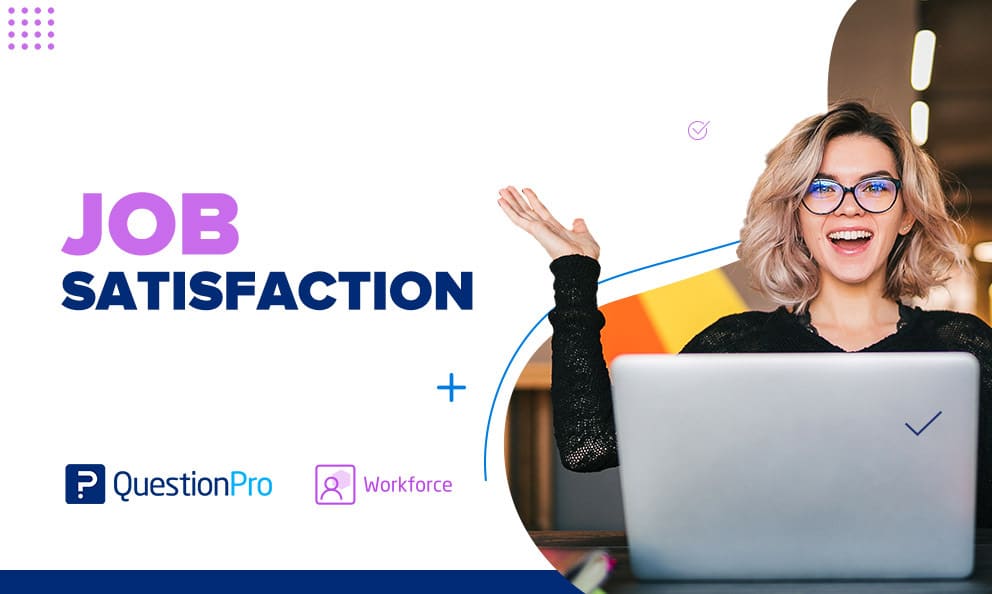 When employees have job satisfaction and feel like they are in the right spot in their careers, they are more likely to perform better and have a longer tenure at a company, which is why measuring their engagement is essential.
Personal intuition and environmental factors are frequently involved in determining if you are satisfied with your job, whether it is the right choice for you, and why that is important. For some people, finding the ideal job could require earning certain amounts of money. Others may require a helpful team to find the ideal employment.
This article will explain employees' job satisfaction and why it is crucial to the success of any business.
What is job satisfaction?
Job satisfaction explains how much an employee is self-motivated, content, and satisfied with his or her job. Job satisfaction happens when employees feel like they have a stable job, room to grow in their career, and a good mix between work and personal life. This means that the employee is happy at work because the work meets the person's standards.
The environment, attitude, and quality of work that a company can provide to its employees can also greatly impact employee job satisfaction. It may or may not be able to be measured, but research methods can be used to compare employees' satisfaction levels in the same company or industry based on the same questions or parameters.
Job satisfaction refers to employees' overall feelings about their jobs. It is the state of well-being and happiness of a person concerning performance in the workspace and its environment. It can be an excellent determinant of productivity within a company.
Employee job satisfaction is essential for organizations. Employee satisfaction can stimulate positive energy, creativity, and increased motivation to succeed. Some factors that intervene are a collaborator's attitude at work, with leaders and colleagues, and employee expectations.
Factors of job satisfaction
Job satisfaction factors refer to an employee's general attitude because of many specific attitudes. There are various factors that affect how satisfied you are with your job. Important ones are addressed below:
Personal factors

They include things like a worker's gender, education level, age, marriage status, personal traits, family history, socioeconomic background, and other similar things.
Factors inherent in the job

Recent research has shown that these factors are important when choosing workers. Instead of being told what to do by their coworkers and bosses, skilled workers would rather be led by their own desire to choose jobs based on "what they have to do." Some of these factors are the work itself, the conditions, the effects of the internal and external surroundings on the job that management can't change, and so on.
Factors controlled by the management

Management has control over the type of supervision, job security, type of workgroup, pay rate, chances for promotions and transfers, length of work, and sense of responsibility. All of these things have a big effect on the people. These things give the workers a sense of motivation and job happiness.
Job satisfaction components
The recipe for achieving higher job satisfaction will change from person to person. However, some components are the same for all companies, such as the following: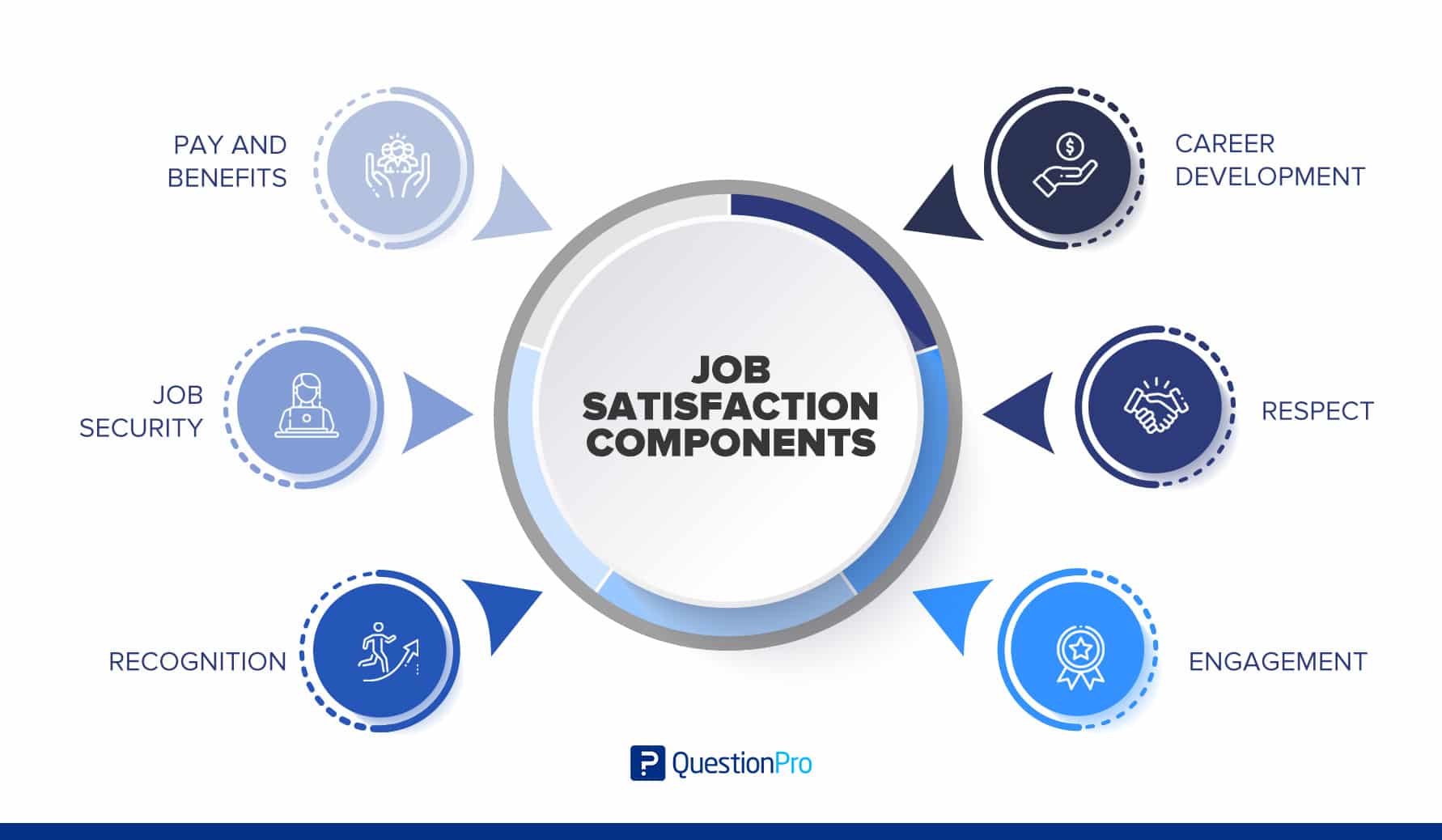 Pay and benefits

One of the most important factors of job satisfaction is salary and benefits. Employees with good salaries and incentives will likely turn down a higher salary if they like their company and feel it adds value beyond a paycheck to their role. Companies should provide their employees the accurate pay and benefits for their expertise, experience, and other valuable assets.

An employee that perceives their salary and benefits as fair and reasonable is more likely to experience a positive employee experience, resulting in better health and a live-work balance, which translates into better productivity for the company in the long run. In other terms, employee recognition translates directly into benefits for the company. And it is that a recognized and happy employee is a loyal employee.
Job Security

Having good job security makes people happier in their jobs. No one likes to be worried about what the near future holds. A satisfied employee can work towards long-term goals and feel a greater sense of community and purpose within the company.

One of the biggest problems for many companies is excessive employee turnover: workers simply leave as soon as they find something better, as they feel no particular loyalty to their company or job security.

This ends up resulting in a waste of time and money. Time because a new employee takes months to be fully integrated into the company, learn the processes, and perform at their best. And money because training new employees is an investment for the company.

Keeping current employees is much more profitable than recruiting new ones. And one of the best ways to retain talent is to recognize people through job security. If their efforts count, they will feel at ease and much less inclined to leave.
Recognition

Anyone can feel if they are respected and recognized in their workplace. Rewarding workers for their hard work encourages them to continue giving their best for themselves and the company.

Group happiness comes directly from the happiness of individuals. Therefore, the recognition of workers ends up resulting in more harmony, well-being, and a better brand reputation.

In addition, a company with a good reputation among its employees is a company where employees enjoy collaborating with colleagues and departments. Team dynamics are not an obligation but a way to get to know each other better and catch up on how everyone is doing. And so, each person can give their best to achieve excellent results.
Career development

Not all people are satisfied with their work forever. Some will always seek development and progression in their careers. Career development is about setting goals and acquiring the skills to achieve those goals through a person's career within the company. Achieving life goals often begins with a straightforward step: believing you can do it. And this also applies to employees.

Spending years sitting in an office doing more of the same is deadly for any employee. To improve as employees and people, we must face new challenges. A good company realizes this reality and recognizes its employees' natural talents and preferences to present them with their following career challenges.
Engagement

Employee engagement usually goes hand in hand with job satisfaction. By satisfying specific basic emotional needs, the outcome improves when there is no engagement with the tasks at work, and satisfaction decreases, making this component a must for a better job experience.

Engaging employees in company activities make them feel valued, that their efforts count, and that they feel more involved. These positive dynamics spread throughout the office, creating a more pleasant work environment. And in turn, the workers developed a feeling of belonging.

In addition, an engaged team improves the work environment. It is estimated that engaged employees are, on average, 12% more productive. In other words, not only the employees win, but also the companies.
Respect

Bonding with employees respectfully to show employee appreciation for their work duties increases job satisfaction considerably. Genuine displays of respect translate into genuine respect for work in general. Most employees report that respect from their immediate bosses is essential for belonging to a job.

Respect in the workplace creates an environment of safety and cordiality. It allows accepting the limitations of others and recognizing their virtues; it avoids offenses and ironies and does not let violence or abuse become the means to impose criteria.

One of the most essential values human beings can have is respect among themselves and as part of a work team. This allows them to appreciate what makes the other different, understand, tolerate, and improve as a team.
LEARN ABOUT: Salary Survey
Tips to increase job satisfaction
In today's working life, employees seek to be happy in their workspace, to join a good team, and to be satisfied with the tasks that correspond to them, that is, to be satisfied with their employment.
LEARN ABOUT: Employee Rewards Ideas for Employee Engagement
Determining job satisfaction plays an essential role for the staff and the company because there is greater productivity when the workers are happy. Here are some tips to improve it.
Identify your passions

Consider what components of your work actually motivate and excite you. Your level of contentment can be greatly increased if your career and your passions are compatible. Consider changing your career if necessary, or look for methods to apply your interests to your existing position.
Set clear goals

Create for yourself inside your employment-specific, measurable goals. Having a goal and direction can increase your motivation and sense of fulfillment. To monitor your progress and recognize accomplishments, break larger goals into smaller, more doable activities.
Cultivate positive relationships

With your superiors and coworkers, cultivate a positive relationship. Developing a supporting network at work can produce a more joyful work environment. Look for chances to cooperate, assist, and interact with people in a constructive way.
Seek growth and learning opportunities

Within your job, look for opportunities to increase your knowledge and competence. An improved sense of personal and professional growth can be attributed to taking on new tasks, attending workshops or conferences, and looking for possibilities for professional development.
Find work-life balance

Work toward a healthy work-life balance to prevent burnout and maintain general well-being. Set boundaries between your personal and professional lives, give self-care first priority, and take part in things that make you happy and fulfilled outside of work.
Express your ideas and opinions

Share your ideas, opinions, and suggestions within your organization. Feeling valued and heard can contribute to a greater sense of satisfaction. Speak up in meetings, participate in discussions, and offer constructive feedback.
Recognize and celebrate achievements

Celebrate all of your achievements, no matter how minor. Observe your development, and don't be shy about telling people about your triumphs. You may increase your motivation and job happiness by celebrating accomplishments.
Seek autonomy and challenge

Find ways to increase your level of independence and power over decisions if at all possible. You can feel more in control of your work when you have autonomy, which can improve job satisfaction. Find tough tasks that force you to learn and develop since they can be more satisfying.
Improve your work environment

Make your workstation relaxing and productive-friendly. Organize your workspace, add plants, improve lighting, and personalize your desk. A pleasant and structured atmosphere might positively impact your ability to be happy at work.
Practice self-reflection

Take periodic time to consider your work and career. Make sure your values, interests, and strengths line up with the demands of your current employment. Frequently assessing it and making necessary modifications can increase long-term job satisfaction.
The benefit of employee job satisfaction
A good experience at work defines job satisfaction. It's essential for employees to have positive experiences consistently. Employees are an organization's number one resource, and keeping them satisfied and fulfilled helps strengthen a company in multiple ways.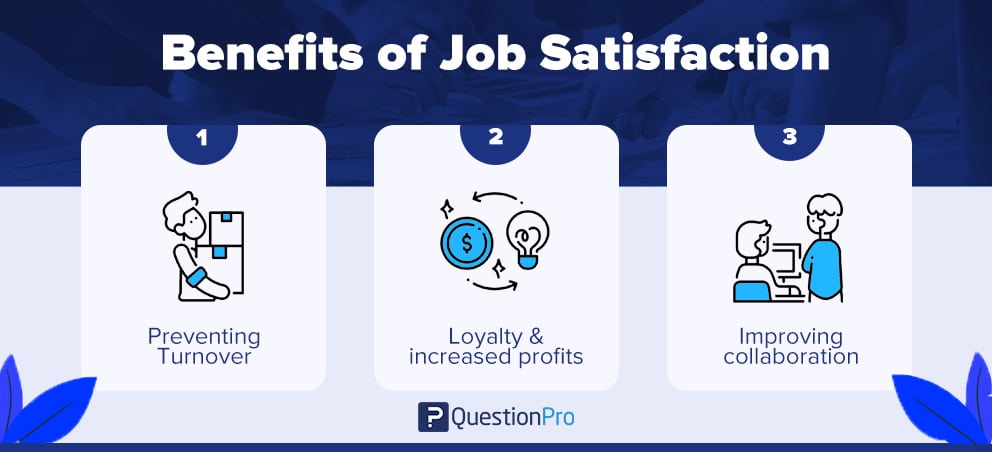 Preventing Turnover – Having enough people with the right skills is crucial to delivering on business plans and objectives. Satisfied employees are less likely to leave and more likely to perform better.
Loyalty & increased profits – When employees feel the company has their best interests, they often support its mission. They are more likely to turn down offers from competitive companies to stay in a company where they feel satisfied, leading to higher sales, lower costs, and a better bottom line.
Improving collaboration – If the company's culture is healthy and balanced, employees are more likely to be comfortable at their workplace and more willing to collaborate.
Measuring job satisfaction
Any business should measure job satisfaction since it affects an employee's effectiveness, productivity, and loyalty. Companies can carry out questionnaire-based surveys to find out whether or not employees are happy with their jobs by asking them for feedback.
The following questions, with alternatives such as "satisfied," "somewhat satisfied," "neutral," "slightly dissatisfied," and "dissatisfied," can be used by employers to measure high job satisfaction:
Are you happy with your pay/salary and incentives?
Have you received honors for your contributions to the business?
Do you think the working environment is clean and competitive?
Is your work-life balance satisfactory?
How satisfied are you with the company's policy regarding your professional development and training?
In addition to the questions mentioned above, specific open-ended inquiries on job happiness might aid in understanding employee problems and ways the business can enhance employees' own job satisfaction.
Conclusion
Job satisfaction can work both ways. Employees need to be happy, and companies must help them reach their full potential.
How can we make someone feel happy, relaxed, valued, and motivated at work? The key is to create an internal company culture focused on employee experience. Great companies always use the available data to understand where their culture is today and how to improve it. A comprehensive data asset management strategy fosters trust, minimizes risks, and empowers businesses to harness the full potential of their customer data.
To do this, you need the right technology. Insights gathered through employee engagement surveys will help you build a more robust culture and a better business. An employee engagement survey is one of the most effective ways to provide constructive and actionable insights for employees to grow and develop.
Learn more about getting ongoing employee feedback by conducting a job satisfaction survey and start taking action to impact your organization with QuestionPro Workforce positively.