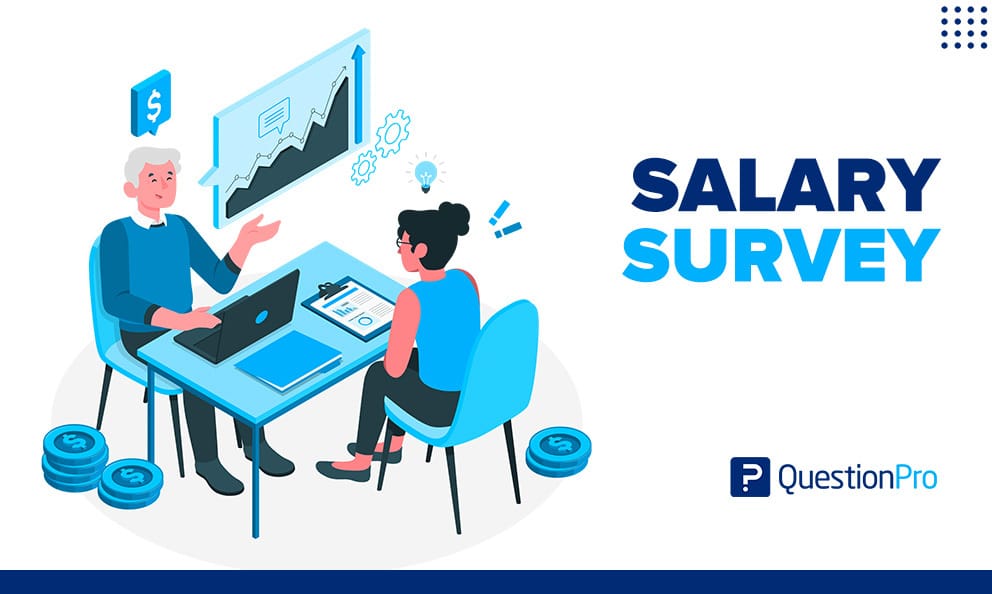 Salary surveys help attract new talent and retain employees. When properly designed and used, they can provide benchmarks against which salaries and benefits can be compared.
What is a salary survey?
A salary survey is a methodology that collects information about employee compensation, including wages and benefits. These are carried out to determine salary levels for specific job categories and are usually carried out by region, sector, or job classification with comparison fines.
Importance of a salary survey
A salary survey is a standard method of finding out what other organizations pay for specific positions or job categories. Large organizations, in particular, often conduct studies to determine market pay and benefit rates. These studies not only determine the salary levels offered for a given job (low, medium, high) but also determine what other organizations pay.
Organizations can purchase the results of surveys conducted by various organizations that are experts in collecting, analyzing, and disseminating salary data, or they can decide to conduct their own employee surveys.
This type of data is very sensitive and can quickly become out of date. That is why this type of survey should be carried out periodically.
When properly designed and used, salary surveys can provide useful information for comparing salaries and benefits.
Types of data collected in a salary survey
Salary surveys collect quantifiable data such as:
Base salary
Salary increases
Salary ranges
Starting salary
Incentives/Bonuses
Assignments
Work hours
In addition, a salary survey may include non-quantifiable aspects such as:
Educational requirements
Geographic location
Hiring Sources
Working conditions
Characteristics of a salary survey
A salary survey should include a list of participating companies that are reviewed and ensure that competitors in the labor market are sufficiently represented.
Additionally, add job descriptions and total compensation information that includes retirement plans, bonuses, incentives, and base pay to ensure the information is relevant to your employee population. A comprehensive set of data ensures a complete understanding of salary rates and trends.
A salary survey ensures that the company complies with the law and does not run the risk of fixing prices. If reputable market data is not reviewed, your options are limited to Internet searches, network rumors, and contacting the competition to determine what they are paying.
When a company spends up to 80% of its gross revenue on wages and benefits, there is a small price to pay to ensure that its wages and incentives are competitive.
You get what you pay for, this is a fact in a salary survey. Much of the free data online is submitted by people who can inflate your salary levels.
Although some are only available to participate in organizations, however, these are the gold mine because all participants are investing in providing and receiving the most accurate data available to their group of employees.
LEARN ABOUT: Projective Techniques
Advantages of a salary survey
Comparative analysis with all the companies in the study and their specific sectors.
Detailed knowledge of compensation in the market and its main components.
Projection of salary increases based on current market practices.
Exact homologation of each position compared to its equivalent in the market.
Availability of updated and reliable information on wage behavior in the market.
Strategic guidance to the Human Resources areas regarding the direction of the global compensation of your organization.
Disadvantages
Badge. One problem that all wage studies share is currency. Gathering information and conducting detailed analyzes takes time, especially if the survey contains substantial data. In an economy with ups and downs, the information may be irrelevant or outdated by the time the salary survey is released.
The investigation process is complicated. To design a salary survey it is necessary to have professionals, since the approach and execution of the investigation is usually more complex than a census. You can read more about the subject in our article on the differences between surveys and censuses.
Confidence margin of the data. There may be a statistical error due to not having surveyed the entire population.
Examples of questions for a salary survey
What is your annual salary not including bonuses?
How often do you increase your salary?
What level of education does the position you work in require?
What is your level of education?
Do you have the option to advance to other positions?
Do you know the salary policies that the company manages?
Do you know the discount percentages that the company makes for health and pension services?
Do you receive bonus?
Do you have life insurance?
Is there any kind of incentive?
A key to effectively using salary survey data is understanding the criteria used for data collection. When surveys clearly specify how the data was collected and disseminated, we can be sure how to use this information as a reference for our organization.
Collect information on employee compensation easily and in real-time.