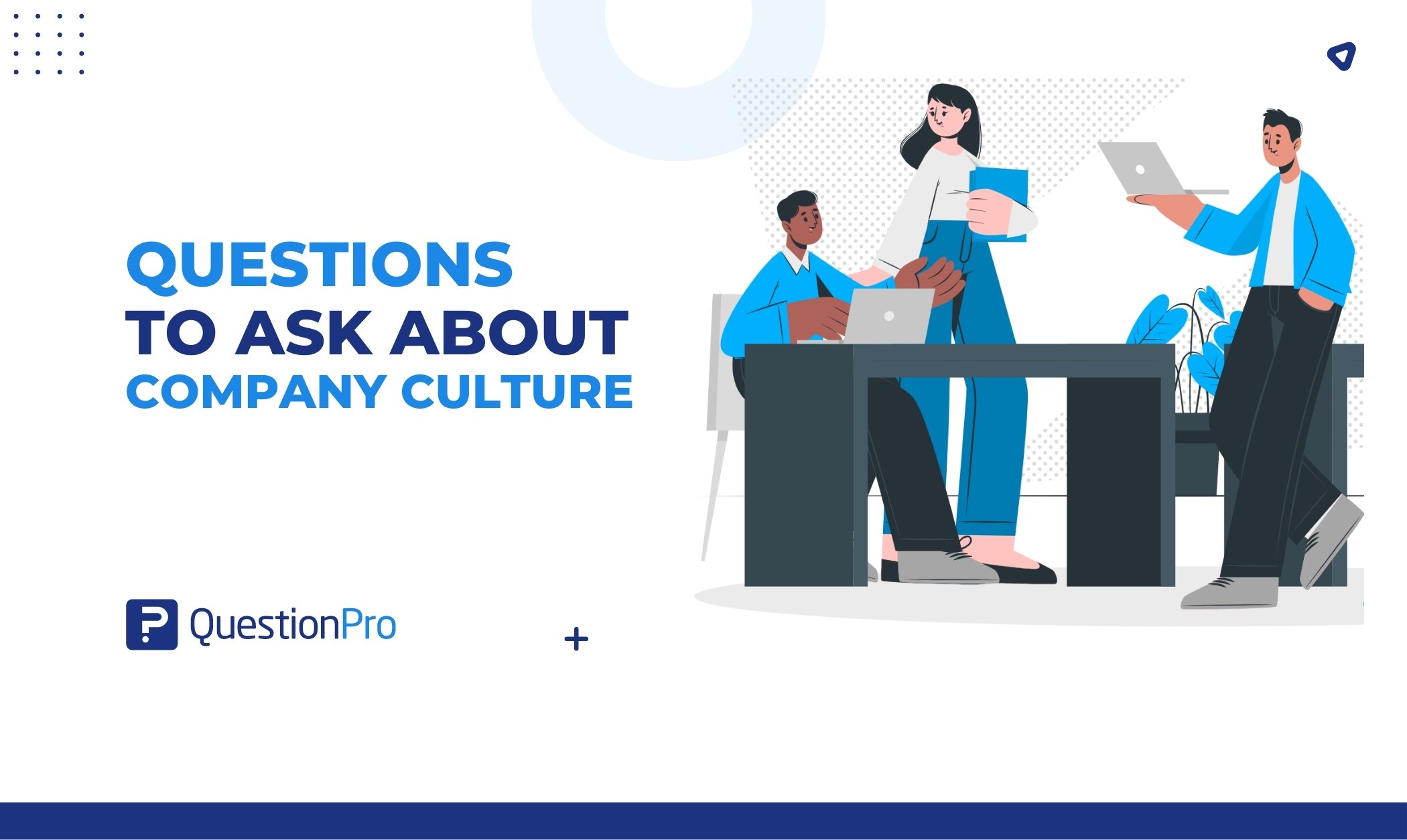 Questions to ask about company culture can help you gain a better understanding of the values, beliefs, and practices that shape an organization.
Company culture is a crucial factor to consider when looking for a job or evaluating an organization. It can have a significant impact on employee satisfaction, engagement, and productivity, as well as the overall success and reputation of a company.
If you rightly ask about the culture of an organization, either a recruiter or a Human Resources manager will tell you what you want to hear. There are a number of questions you can specifically ask during your interview to uncover the inside details about an organization's culture.
We have asked a few recruiters and hiring experts what questions they are frequently asked by candidates about the organization's culture. These questions can help you next time you are in an interview process and want to uncover the secrets.
Learn more: Work Culture Survey Questions + Sample Questionnaire Template.
What is company culture?
Company culture refers to the shared values, beliefs, attitudes, actions, and practices that define an organization and impact how employees work and interact with one another.
It is a company's culture that is shaped by its history, mission, vision, and leadership skill. A strong and attractive company culture may recruit and retain top talent, promote employee engagement and productivity, and improve an organization's image and brand.
A focus on innovation, cooperation, diversity and inclusion, work-life balance, and social responsibility are examples of company culture. It can be seen in an organization's policies, communication style, incentives and recognition, physical workspace, and social activities.
Finally, company culture is critical in shaping a company's values and overall success and sustainability.
What are good questions to ask about corporate culture?
Asking appropriate questions regarding a company's culture can help you obtain a deeper understanding of the values, attitudes, and practices that shape an organization. It can also reveal how the organization runs and what its priorities are.
Questions about the company values, leadership style, diversity and inclusion policies, work-life balance, recognition and rewards, social responsibility, communication channels, physical workspace, and adaptability can help you evaluate the overall health and effectiveness of the company culture.
LEARN ABOUT: Work culture
By asking the proper questions and paying close attention to the answers, you may acquire a complete picture of the company's strengths and shortcomings and make informed conclusions about whether it is the ideal fit for your personal or professional goals.
Top 15 Questions to Ask About Company's Culture
My favorite definition of company culture is, "Culture is a collection of words, actions, thoughts, and stuff that clarify and reinforce what truly is valued inside an organization," coined by noted author Jamie Notter.
The company's culture ranges from how people dress up at work, how they communicate, and what types of discussions they participate into the leadership, reward system, and more. As a future employee, you will have better job satisfaction and be happier if you find your match!
LEARN ABOUT: Employee Rewards Ideas for Employee Engagement
There are specific questions we will discuss in this section that you can ask your future employer(s) to find out whether the organization is right for you. These questions will give you more information than what you simply want to hear. Here are the top 15 questions you need to ask:
What makes you proud to be associated with the organization?

How does the organization help with your professional development?

What kinds of training programs are conducted here?

Is risk-taking encouraged in this organization?

What is the one thing you want to change about the organization?
What are the probable methods used for conflict resolution?

Can you describe what is "conflict" referred to in this organization?

How and when do people give feedback to each other in this organization?

How are high stake decisions made in this organization?

Who is the supreme authority in this organization?
How does the organization celebrate its employees' success?

How do the managers motivate the team if they have failed to achieve any targets?

Does the organization have any flexible working arrangements?

What are the kinds of rewards offered to the employee for their exceptional contribution?

What are the recreational activities offered to the employees?
Benefits of asking the right questions
In organizations where asking questions is not encouraged, information is usually hoarded, and people tend to be doing the same thing every day, not willing to take enough risks.
In an answer-driven organization, people are curious and risk-taking and keep challenging themselves to do better day after day. You should ask questions to get the answers. Asking the right questions can help you uncover a lot more than you can anticipate.
Here are the top 3 benefits of asking the right questions to uncover a company's culture:
Innovation

Innovation in an organization is when people do things differently. Ask the right question to understand if the organization has a culture of innovation or risk. If an organization is not innovative, it will soon be primitive. If you like to innovate and take risks, then you better associate yourself with an organization that appreciates those traits.
Improved decision making

When you know the culture of an organization and you also know it is the right fit for you, once you join the organization, you will be able to make better decisions as you now know what is acceptable and what is not. This way, you can stay on top of your game and make informed decisions that will benefit the bottom line of the organization.
Quick to adapt

Asking the right corporate culture questions during your interview gives you the reassurance that the organization is right for you or not. Once you have made the decision to be a part of the organization, you can now easily adapt to its culture because you are already familiar with it.

This reduces your response time to many ongoing activities around you, and you can quickly adapt to the working style.
Asking the correct questions about company culture is essential to understanding an organization's ideals and practices. Asking questions about corporate culture can also assist employers in improving work environments.
LEARN ABOUT: Social Communication Questionnaire
In the end, asking the correct questions regarding corporate culture can help you make smart decisions, improve company values, promote positive change, and develop great relationships.
With QuestionPro Workforce, you can level up your company culture and gauge levels of employee engagement, employee productivity, etc. The best part is the platform is easy to use, and account creation only takes a minute.
Frequently Asking Questions (FAQ)
What are 3 questions to ask about the company?
Three potential questions to ask about a company are: (1) What are the opportunities for professional growth and career development? (2) What is the company's approach to social responsibility? (3) What is the company culture like?
What do you say when asked about company culture?
When asked about company culture, I will honestly and accurately appraise the organization's values, beliefs, and practices based on personal experience and observations.
How does the company support professional development?
Training, mentorship, career promotion, tuition reimbursement, and conference and industry event attendance are some ways the organization may promote professional development.
How company culture impacts employees?
Company culture can have a significant impact on employees, affecting their level of job satisfaction, motivation, productivity, and overall well-being.
Example of best company culture
There is no one-size-fits-all example of the finest corporate culture because it is dependent on the individual beliefs, goals, and practices of the organization. However, several organizations noted for their good cultures include Google, Southwest Airlines, and Zappos.