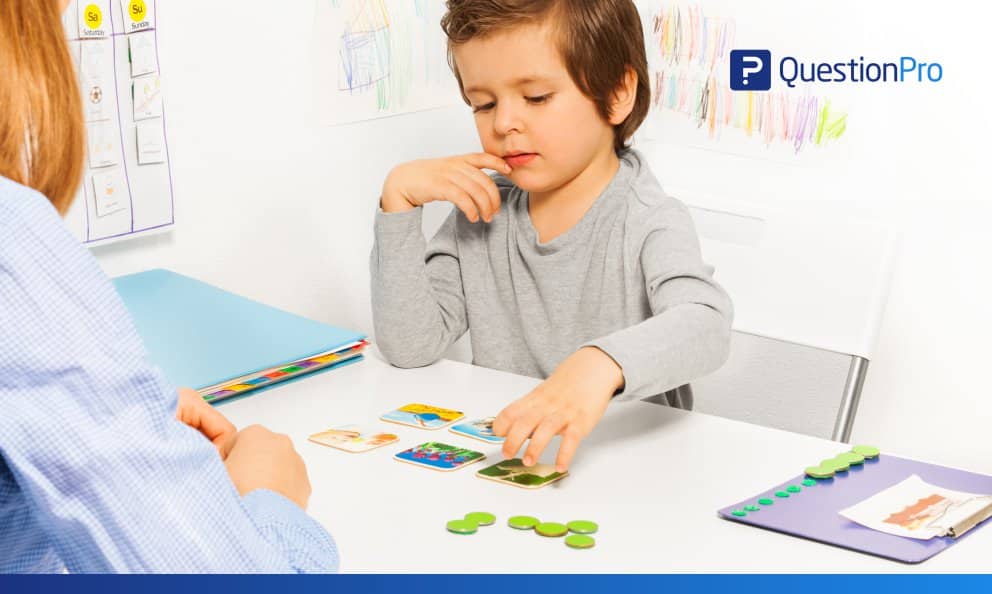 The Social Communication Questionnaire (SCQ) is a frequently used assessment tool in the field of autism spectrum disorder (ASD) evaluation. The Social Communication Questionnaire is a planned and standardized technique of gathering information from parents or caregivers regarding an individual's social interactions, language development, and suspected autism spectrum disorder symptoms.
The social communication questionnaire was developed to screen for social communication issues. It aids in early identification, improves therapeutic decision-making, and contributes to research projects targeted at better understanding and treating social communication difficulties through its carefully prepared questions.
The SCQ assists physicians in fully capturing the individual's social communication strengths and limitations by diving into the child's entire developmental history. It is frequently used with other diagnostic measures, such as the Autism Diagnostic Observation Schedule (ADOS) and the Autism Diagnostic Interview (ADI), to improve the assessment's accuracy and validity.
The social communication questionnaire is essential in assisting physicians in making educated diagnosis judgments, devising individualized intervention programs, and supporting people with autism spectrum disorders and their families throughout their journey. Furthermore, the SCQ data contributes to current research and advancements in the field of autism, creating a deeper knowledge of social communication issues and promoting evidence-based approaches for those on the autistic spectrum.
What is the Social Communication Questionnaire?
Social Communication Questionnaire is a 40 survey question set that was earlier known as an autism screening questionnaire. This screening questionnaire measures the degree of autism spectrum disorder. A definitive research diagnosis of autism can be made by a seasoned therapist using the social communication questionnaire.
This questionnaire is designed carefully asking only close-ended questions that the respondents need to reply in either a "Yes" or a "No". The set of 40 questions is constant, and usually, the parents are needed to fill out the questionnaire. It takes less than 10 minutes to fill it out and can be scored by the administrator in less than 5 minutes.
The social communication questionnaire was previously designed as an ad hoc survey as a measure for the Autism Diagnostic Interview-Revised (ADI-R). The original questionnaire had 93 items and took a good 2 hours to complete, and was much more complicated and cumbersome than the new one.
The social communication questionnaire is duly filled in by the principal caregiver, who is the most familiar with the earlier developmental history and the current advancements in the behavior of the assessed individual. This survey applies to any individual whose physical age is 4 years and subsequent mental age is at least 2 years.
No professional help is required to fill in this questionnaire, and the primary caregiver may be given the necessary instructions required to complete the social communication questionnaire. But the parent(s) can respond to this survey without any direct supervision. Once the SCQ has been completed, an expert with professional training and supervision will be required to analyze the important outcomes.
Social Communication Questionnaire: 40 Key Questions
A typical social communication questionnaire has 40 items that the parents of the screened individual must fill out. The formal screening questionnaire is designed to determine whether the individual will need any more complete evaluation or not. The questions are a simple yes/no, and based on the responses obtained a complete diagnostic evaluation which a trained professional conducts.
| | | | |
| --- | --- | --- | --- |
| | Questions | Yes | No |
| 1 | Poor eyes contact and tilting of the head at a certain angle | | |
| 2 | Does your child respond when called by his/her name | | |
| 3 | Scared of loud noise like vacuum cleaner or if someone speaks loudly | | |
| 4 | Is usually aloof and likes being left alone | | |
| 5 | Lack of curiosity | | |
| 6 | Facial expressions and situation is never in tandem | | |
| 7 | Gets hyperactive, angry, screams, and yells often | | |
| 8 | Ignores pain | | |
| 9 | Doesn't like to be touched | | |
| 10 | Is very sensitive to the crowd, like difficulties in restaurants and supermarkets | | |
| 11 | Inappropriate emotions when in conversation | | |
| 12 | Extreme joy when sees the parents | | |
| 13 | Lack of ability to imitate words and sentences | | |
| 14 | Loss of acquired speech | | |
| 15 | Makes unusual noises | | |
| 16 | A voice louder than usually required | | |
| 17 | Gets really irritable when denied something | | |
| 18 | Monotonous speech | | |
| 19 | Frequently speaks gibberish or uses jargon | | |
| 20 | Difficulty in expressing needs or desires | | |
| 21 | Is very difficult to communicate with when angry | | |
| 22 | Uses words, phrases etc., inappropriately | | |
| 23 | Can't remember words or sentences taught | | |
| 24 | Difficulty in understanding basic instructions | | |
| 25 | Bangs head very often | | |
| 26 | Is self-harming in anger | | |
| 27 | Clumsy body posture | | |
| 28 | Drools while talking | | |
| 29 | Cannot arrange toys properly | | |
| 30 | Is unsure of smell, color, speed, distance, etc. | | |
| 31 | Has a special interest in toy parts | | |
| 32 | Spinning objects or self | | |
| 33 | Restricted interest | | |
| 34 | Obsessed with his/her toys | | |
| 35 | Attachment to unusual objects | | |
| 36 | Restricted skill set as compared to children of similar age | | |
| 37 | Is a slow learner | | |
| 38 | Cannot adjust to multiple instructions | | |
| 39 | Can't keep pace in a conversation | | |
| 40 | Needs parent's assistance to do basic things like drinking water | | |
Main Uses of the Social Communication Questionnaire
The SCQ provides a dimensional measure, and the cut-off score can be used to understand if an individual has ASD.
This questionnaire is used as a screening device to evaluate individuals who need better care and clinical observation of their condition.
Depending on the score, the primary caregiver or parents can understand a detailed clinical assessment of a child whose score is just below the cut-off score.
Scores obtained through filling in the questionnaire can be used to keep a comparative analysis for any further research or study related to the individual.
The scores obtained can be used to indicate the approximate severity of ASD in an individual.
Limitations of the Social Communication Questionnaire
SCQ is not suitable for individual diagnosis. This is because the diagnosis requires an optimum amount of information on the onset, development of the condition, and specificity of the symptoms. This cannot be obtained immediately after the screening.
Caregiver reports need to be confirmed with direct clinical observations. Individuals' responses are based on their judgment.
It should be noted that SCQ is not suitable for children below the age of 2 years. Children at this stage are still in their developmental phase and might show signs of changes or severe clinical abnormalities.
Conclusion
The Social Communication Questionnaire (SCQ) is an important component of a comprehensive autism spectrum disorder (ASD) diagnostic examination. The SCQ, emphasizing social communication skills and behaviors, provides valuable insights into an individual's developmental trajectory. The questionnaire considers several characteristics, including mental age, to give a comprehensive assessment.
Furthermore, the social communication questionnaire includes a lifetime form that records an individual's social communication abilities and habits. The Lifetime Form focuses on the child's entire developmental history and assigns a total score to persons who should be referred for a more thorough evaluation. This current form is very helpful when examining very young children since it allows for a retrospective assessment of early developmental milestones and any symptoms of ASD.
QuestionPro can help you conduct and analyze the Social Communication Questionnaire (SCQ) or any other survey questionnaire. You may easily administer the SCQ, collect reliable data, and acquire significant insights into social communication skills and suspected ASD symptoms by leveraging QuestionPro's features and capabilities.