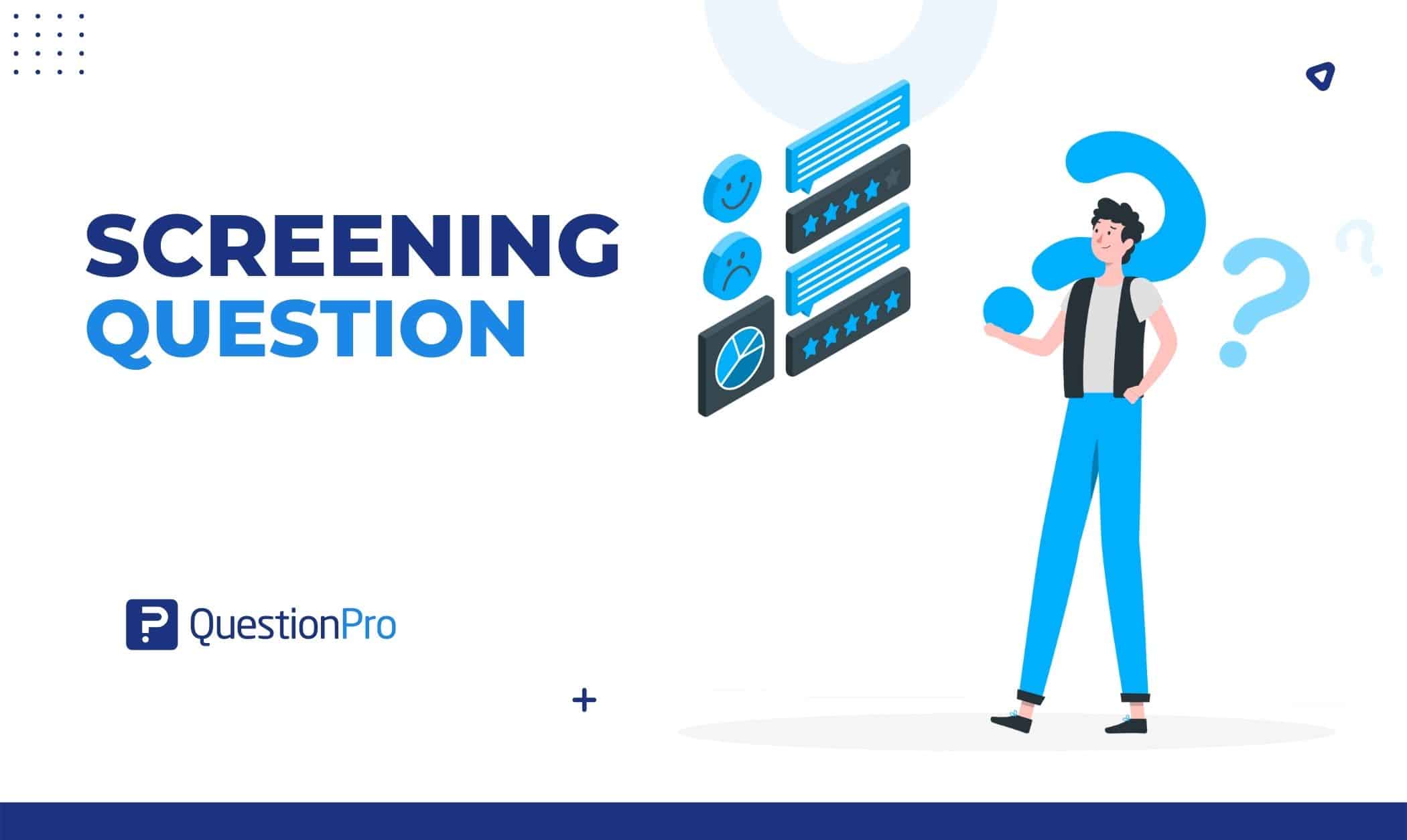 A screening question is a powerful sort of survey question that can be used to specifically target an audience based on behaviors, interests, or views. Businesses often don't know how to find the right group of people to target. It is also difficult to understand how to survey everyone to get a wide range of answers.
It's not ideal to invite anybody and everyone to participate in a survey. It's common to seek the opinions of a small number of people on specific topics. The question then becomes how to ensure that only qualified individuals participate in the survey.
In most cases, researchers utilize screening questions to filter out inappropriate respondents in their survey. Respondents' replies determine whether or not they pass the survey's screening process.
We'll go over the following guidelines to help you develop effective screening questions:
What is a screening question?

Screening question types.

How to use a screening question?
What is the screening question?
A screening question is a particular kind of survey question that is asked specifically to filter out a specific sort of respondent from the entire sample. And it can help you find a new audience you never knew you had. Screening question is also referred to as screeners.
This type of question is asked during general demographic screening. Respondents only see your screening question once they've decided whether or not to continue with the survey by answering it with a "Yes" or "I plan to," for example.
Screening question types
In your screening survey, you can ask four different kinds of questions. Each type serves a distinct purpose and delivers distinct outcomes. Let's dive right in:
Demographics
The majority of screeners use inquiries on demographics. In this context, you can ask a wide variety of questions. Information on a person's gender questions, age, race, marital status, sexual orientation, number of children, and other characteristics can be collected. Take a look at these sample survey questions for inspiration.
Please state your highest level of education or certification.

How much money do you make each year?

How would you describe your relationship status?

What is your current employment status?
Please note that when asked something particularly private or delicate, you should always indicate the "Prefer not to say" option.
Behavioral
Behavioral screeners also called "lifestyle inquiries," are designed to learn about a person's typical routine. The purpose of asking screening questions about a person's behavior, attitudes, and decision-making processes is to get insight into their actual behavior.
LEARN ABOUT: Behavioral Targeting
The questions used as a behavioral screener can change depending on the survey's goals. Possible examples include:
How many hours do you normally spend online each week?

How often do you go to the polls for the president?

How often do you use the music app?
Industry-Specific
Asking questions relevant to the industry is a beautiful way to eliminate participants who might be biased or filter out those who aren't tied to the particular business.
Assume you're looking for honest feedback on a new energy bar. As a result, you may choose to exclude responders from the consumer packaged goods industry.
Product- or Service-Specific
For obvious reasons, this is the best format to employ when addressing the people who will be buying your goods or services. Responses from those who aren't a good fit for the product or service can be quickly filtered out by asking these kinds of questions.
Say you manage a luxury hotel and are beginning a grooming service for small dogs. You can survey participants and exclude anyone who doesn't meet your requirements. For this example, you may ask questions like, "What type of pet do you have?"
How to use a screening question?
Like other effective survey questions, screening questions should be neutral, straightforward, and simple. After determining the screening question you wish to use, you must choose how and when to use it. Dos and don'ts are going to help you simplify these guidelines, so here they are:
Do's of a screening question
We'll talk about the do's of screening questions now.
Before the survey starts, ask screening questions
Screeners are only used to get rid of unsuitable people right away. To ensure the screening questions don't cause too much trouble for the respondents or your business, you should ask them at the beginning of the survey.
Include sufficient screening questions
Do not be hesitant to raise essential questions and concerns. It's fine to ask multiple questions at this point if doing so would help you narrow in on your target audience and increase the quality of their responses. You need to be careful not to go too far. Just make sure everything you say is brief and to the point.
Ask about all target demographics
Asking the correct questions is crucial for getting the best results.
Consider that most of your service users are between the ages of 20 and 40. Your marketing efforts should be redirected in this area if you want to increase your user base and reach people between the ages of 40 and 50.
You'd prefer respondents in this desired age range, so your screening question should be:
"Which age group do you now fall under?"
20 – 29

30 – 39

40 – 50 (Accept)

51 – 60
Include questions on respondents' origin, nationality, and religion to get the specific data you need. This is how the questions might look:
"Select the option most closely reflects your ethnicity or race."
Asian

African

Latino

Prefer not to say

Other
Here's another example.
Imagine you're launching an on-demand pet supply app. If you want to know how and for whom your consumers order pet food, target an audience that uses apps or has a pet for which you sell products.
In this example, only monthly shoppers are included. Regular app-orderers may not need to be asked. So the right screening question would be:
"How many times do you use an app to order pet supplies?"
0 – 1

2 – 3

I do not use an app (Reject)
Order your questions appropriately
Start with a dynamic demographic to target your most relevant audience. Start with a demographic survey to add a diversity of areas, animal types, etc., to the on-demand pet supplies app audience you want to study. Let's take a look at some example questions:
"Do you have at least one of these animals?"
Dogs

Cats

Birds

Others

I do not have a pet (Reject)
This will eliminate people who don't have pets. Before asking how people use the pet supplies app on their devices, inquire if they use smartphones.
"What's your smartphone's Operating system?"
Android

iOS

Others (Reject)

I do not use smartphones (Reject)
After that, use secondary criteria to focus on your targeted demographic.
"Which is essential for you while ordering pet products online?
Quality (Accept)

Variety of products (Accept)

Price

Discounts

Give a general choice for a response
Even if the answer options you offer are pertinent, you can't always anticipate what users will choose to answer. Because of this, practicing with a general response option like "None of the above," "I don't know," or "Other" is a great idea.
If you don't do this, you risk having input from respondents who shouldn't be doing your survey. This can be deceptive for your business and goes against the whole point of the survey.
Set a page break after the last screening question
Remember to add a page break after finishing the last screener. If you don't, the reasoning behind the survey will no longer hold. Open-ended inquiries eliminate poor participants. Consider this the final step in your screener survey to find the ideal user persona.
Don'ts of a screening question
There are certain kinds of questions that should not be used for screening. Let's have a look at this:
Avoid answering with a "yes" or "no."
Although it can be appealing to design survey screening questions in a "yes or no" manner, doing so introduces bias into the question. More often than not, respondents will select a response that is affirmative or clearly enables them to finish a survey.
Stay away from using industry terms
Leave out industry jargon. You don't want responders to feel foolish and provide inaccurate information on your screeners. Make sure to define any slang or industry-specific terms you choose to use in the question.
Avoid pressing respondents to overthink
The respondents do not possess an impeccable memory, nor do they have the time or the patience to recollect things. Make sure your request is reasonable, and if you're unsure what to ask, go on the side of asking a more general query.
If it's not necessary, don't utilize them
Screening questions provide an additional targeting layer and should not replace standard parameters. Check and use all targeting filters on a survey before adding a screening question.
Conclusion
You will achieve the required outcomes if you learn and practice everything you can about how, when, where, and with whom to conduct a screeners survey. Getting niche opinions and reducing the likelihood of irrelevant responses can both be achieved by filtering out inappropriate individuals before you launch your survey.
QuestionPro is here to help with all of your surveying needs. Additionally, it's crucial to keep in mind that the shorter the survey, the more responses you will receive.
You can find all the research tools you need on QuestionPro. The quality of your data can be improved by including image questions, which has been demonstrated to increase engagement and response rate. Learn more about our image-based polls and survey, or create your own online survey immediately with QuestionPro.