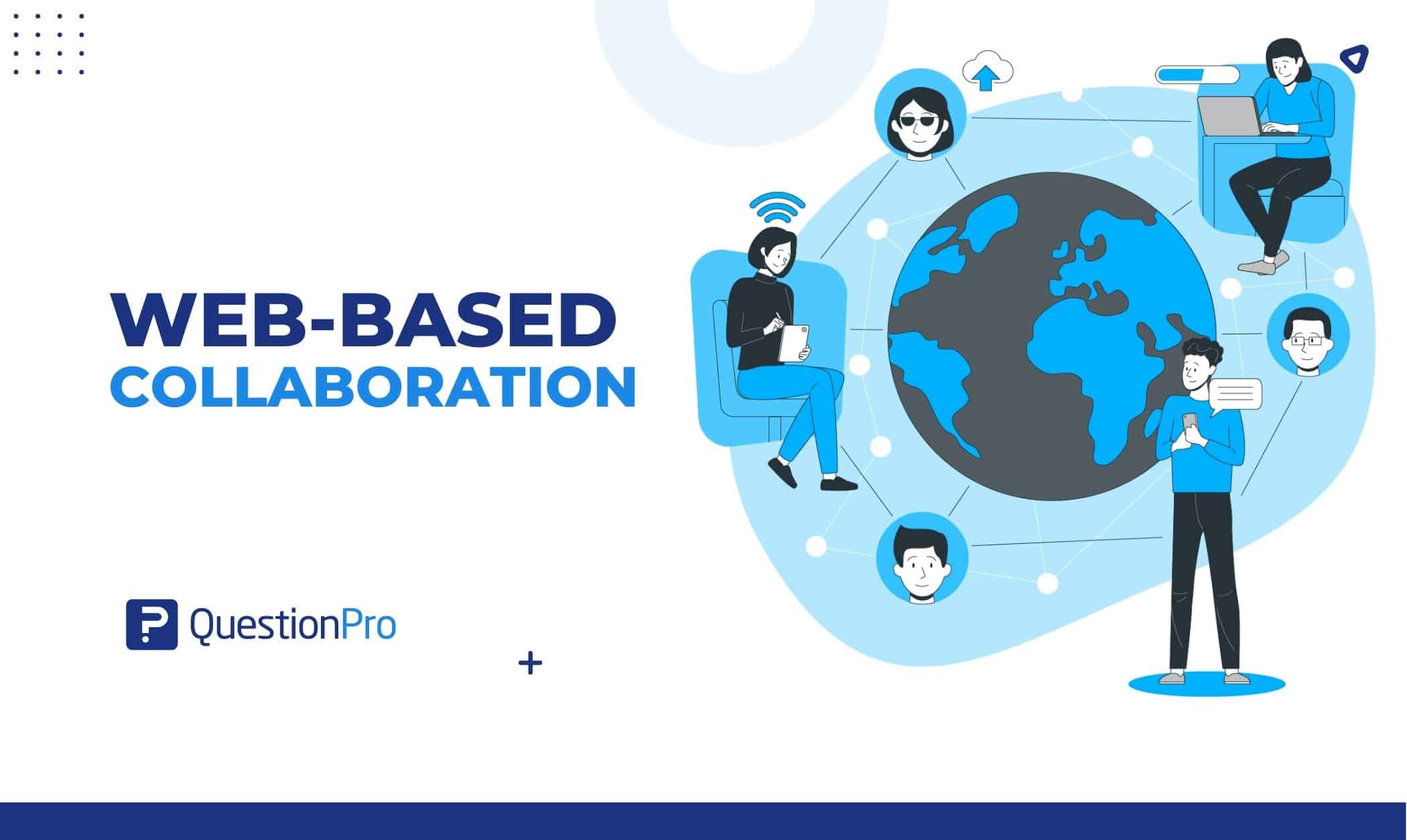 Web-based collaboration may already be in your google search bar if you're looking for a solution to workplace logistical problems. It allows a team of people from different locations to work on a project as if they were on the same objective.
Other names for this phenomenon are online, web, and Internet collaboration. Using team members' abilities where they are most needed, regardless of geographical constraints, is made feasible by web collaboration technologies, including online file storage, web teleconferencing, and real-time editing.
In this blog, we will learn about web-based collaboration and the dos and don'ts of using web collaboration tools.
What is Web-based Collaboration?
Web-based collaboration is using internet-based technology in the workplace to coordinate tasks and communicate strategically.
Teams can work together more efficiently and effectively, no matter where they are, if they have a safe and reliable online platform to do so. This can make people more productive and help projects to reach their goals.
There are a lot of different tools and platforms that can be used for web-based collaboration. These can include email, instant messaging, project management software, and online document collaboration tools.
These tools let team members share information, talk to each other, and work together on tasks and projects in real-time, even if they are not in the same place. Organizing sales, marketing plans, and product releases are just a few of the processes that benefit from streamlined workflow and focused teamwork.
The benefits of Web-based Collaboration
One of the main benefits of web-based collaboration is that it lets teams be more agile and flexible. This can be especially important in today's fast-paced business world, where teams often have to respond quickly to changes and new challenges.
It can also help teams work more efficiently by eliminating the need for meetings and other time-consuming ways to talk to each other. Let's find out more about the benefits of web-based collaboration.
Real-time collaboration: Team members can work together in real-time, no matter where they are. This can make it easier for teams to work on projects together and improve how they talk to each other and work together.
Increased flexibility and accessibility: Web collaboration tools are often accessible from any device with an internet connection. This can make it easier for team members to access and work on shared documents, files, and other information.
Improved communication and collaboration: Web collaboration tools can help team members communicate with each other and work together better. Teams can easily communicate and work together even if they are not in the same place.
Streamlined collaboration: The collaboration tools can speed up the cooperation process by facilitating information sharing, access, and real-time updates among team members, which could help teams work more effectively and efficiently.
Cost savings: Businesses can save a lot of money using web collaboration tools because they don't require expensive business travel or in-person meetings. This might be especially useful for companies that use teams or mobile workers who work remotely.
The Do's and Don'ts of Web-based Collaboration
Collaboration on the web requires an intention to be successful. Taking the time to organize and plan for web collaboration will assist your business in avoiding typical mistakes and achieving profitable results. In web-based collaboration, there are a variety of guidelines to follow and practices to avoid.
The do's of web-based collaboration include:
Do work together on a safe and reliable platform. This will help keep private information safe and ensure everyone on the team can access the tools and resources they need.
Set up clear rules and protocols for communication. This will help make sure that everyone on the team knows how to communicate with each other and share information in a clear and easy-to-understand way.
Make sure that the collaboration has clear goals and aims. This will ensure that everyone on the team works toward the same purpose and give a way to measure success.
Keep a record of your progress and remain organized. As a result, the partnership will be kept on track, and everyone will be updated on any new information.
The don'ts of web-based collaboration include:
Don't collaborate on unprotected sites. This may expose confidential data to risk and result in privacy violations or other security problems.
Don't forget to set up precise communication protocols and rules. This might cause ambiguity and misunderstandings and make collaboration easier.
Don't plan or expect too much from the web-based collaboration. This can lead to frustration and burnout, hurting the collaboration and making it less likely to succeed.
Don't underestimate the necessity of structure and tracking progress. This might result in missed deadlines and unachieved objectives and hamper the collaboration's success.
Conclusion
Web-based collaboration improves teamwork. Web-based solutions let teams share files and make real-time changes. This can boost team productivity and efficiency by streamlining the cooperation process.
Web collaboration can help teams work faster, better, and smarter. Web-based solutions may be used from any internet-connected device, making distant teamwork easier. This is useful for remote teams and companies with frequent travelers.
Surveys can facilitate web-based collaboration by providing teams with insightful feedback. Teams can utilize surveys, for instance, to find out what team members think about the efficiency of web-based communication tools and to pinpoint any areas that need improvement.
QuestionPro lets users design, distribute, and analyze surveys. QuestionPro can be used to market research, find out how happy customers are, get staff involved, and more. It helps people get survey data and learn how to use it to improve their businesses and organizations.
With QuestionPro's Research License, you can collaborate in real-time with your partners and work together on the same questionnaire at the same time.
Collaboration Features are:
Survey collaboration: To facilitate user collaboration on surveys, QuestionPro provides a number of tools and capabilities.
Shared reports in real-time: Users can examine and comprehend survey findings in-flight thanks to QuestionPro's real-time reporting and data visualization features.
InsightHub: Users of QuestionPro's InsightHub feature may organize and manage all of their survey data in one place (All your insights for your whole organization in one single place).
Overall, QuestionPro offers a selection of tools and capabilities to assist users in developing, distributing, and evaluating survey data and collaborating on surveys. To know more about your desired services, sign up now.