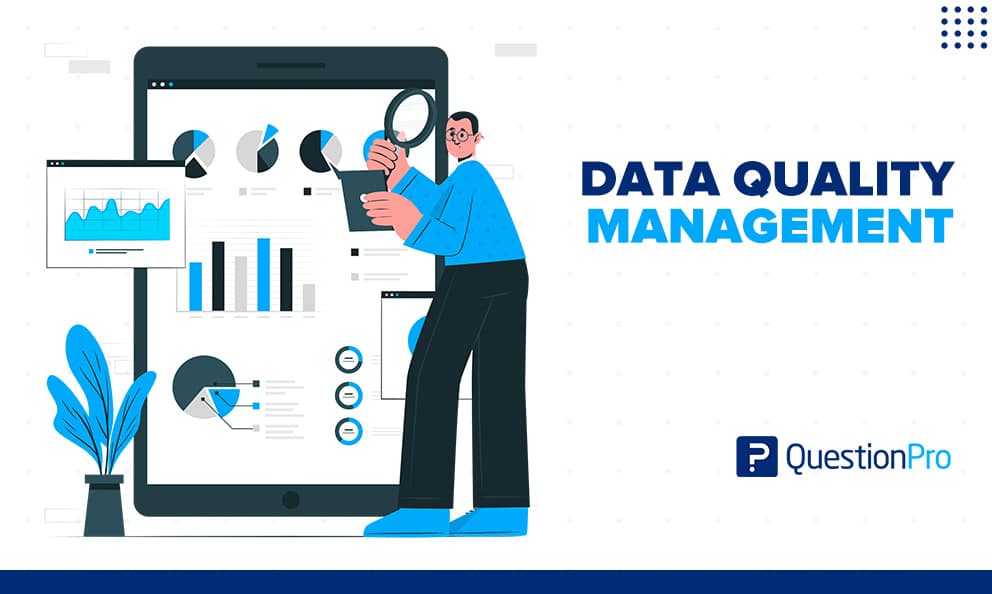 Data is at the core of everything important for businesses these days. Organizations depend on data to make many of their most crucial business decisions. As a result, businesses must implement an extensive data quality management process to ensure information's effectiveness. That's why the field of DQM has become so important, especially in the booming era of big data.
Before businesses can derive value from the explosion of big data, they need to implement some practices for managing data quality. These practices will help to ensure that the information is consistent, accurate, and valid.
This blog explains data quality management, identifies the best practices required to ensure data quality and explains why it is important. Stay with us till the end of this blog to explore more about it.
What is data quality management?
Data quality management is a collection of methods designed to preserve the high quality of data. It is often called DQM and includes everything from collecting data to putting advanced information processes into place and helpfully distributing data.
It also helps you to be able to manage the information you have. To generate actionably and, more crucially, reliable insights from your information, effective DQM is widely considered as being vital for any consistent data analysis.
Importance to data quality management
Data quality management is important in making sense of your data, which can help your business in the long run. Let's talk about the importance of managing data quality.
Good DQM is the foundation for all business initiatives. Management of data quality programs creates and enforces rules for data quality across all an organization's departments. Data that is out of date or not reliable can lead to mistakes.

Accurate and updated data gives you a clear picture of your company's regular operations. So you can be sure of applications that use all that data further upstream and downstream. Costs can also be cut by using the management of data quality.

Bad quality can lead to costly blunders and oversights, such as losing track of orders or spending. With a strong understanding of your information, DQM gives you a solid database that helps you understand your business and its costs.

DQM is a final requirement if you want to satisfy compliance and risk goals. There may be an "acceptable" level of data quality that is defined by a body, such as a data governance board or council. Transparent processes and open lines of communication are essential components of excellent data governance.
Data quality is essential in the process of putting in place a framework for data governance. In addition, effective DQM helps data stewards do their duties more effectively.
LEARN ABOUT: Data Management vs Data Governance
Best practices of data quality management
The following are five best practices that companies that are just beginning the process of data quality management may keep in mind:
Practice 1: Examine the Most Recent Data
First, you probably have a lot of information about your customers. You don't want insufficient data to get stuck in your new data architecture. So, when you start to work on DQM, you should audit the data you already have.
This means making a list of inconsistencies, errors, and duplicates and fixing any problems that come up. This is done to ensure that the data that goes into your infrastructure is as high-quality as possible.
Practice 2: Firewalls in data quality management
Installing a firewall to protect the company from entering bad data can help keep the system from going wrong. A firewall is known as the software automatically preventing a metaphorical fire from spreading. In this situation, the fire will be caused by inaccurate data.
Firewalls help stop user mistakes by stopping bad data from getting in. It's easy for users to make mistakes, but firewalls make it easier to stop them.
The maximum number of users who can add data to the infrastructure is an essential factor that affects how accurate the data is. But in many large businesses, having more than one way to get in is important.
Practice 3: Bring DQM and BI together
In today's modern business culture, integration is the hot topic everyone is talking about. When systems are integrated, they function better.
No enterprise-level firm can justify constantly verifying the accuracy of every data record. However, integrating business intelligence tools with DQM may aid in automating the process.
For example, new data sets expected to be accessed frequently can be audited as part of the data quality management cycle. It will specify the criteria for identifying them for evaluation.
Practice 4: Place the Relevant People in Their Roles
Several people in your company are responsible for the data quality process. And each of these jobs comes with its own set of duties. When these jobs are held by people who are committed to their work, it is expected that governance standards will always be met.
Practice 5: Data Governance can be ensured by setting up a board
A data governance board needs to be established to secure companies against the dangers of making data-driven decisions. The organization will develop policies and standards for data governance. Participants on the panel need to include IT and business professionals.
A regular data governance board meeting is also necessary to define new quality goals and to track the progress of DQB initiatives DQM across different LOBs. There needs to be a way to measure it to improve data quality. So, making an accurate measurement scale is helpful.
Conclusion
We truly hope that this blog has given you all the details you require to maintain the quality of your data. We also expect you to agree that establishing data quality management is vital to keeping your business competitive in today's digital market.
Remember that some businesses consider DQM as a challenge despite the burden of keeping high-quality data. So, if your company ensures its data is accurate, you'll have a competitive advantage.
LEARN ABOUT: Data Management Framework
To learn more about our data management services with our data management software, please visit QuestionPro! QuestionPro will be happy to share and implement the best practices if you want to get your data management quickly and accurately.
LEARN ABOUT: Customer data management