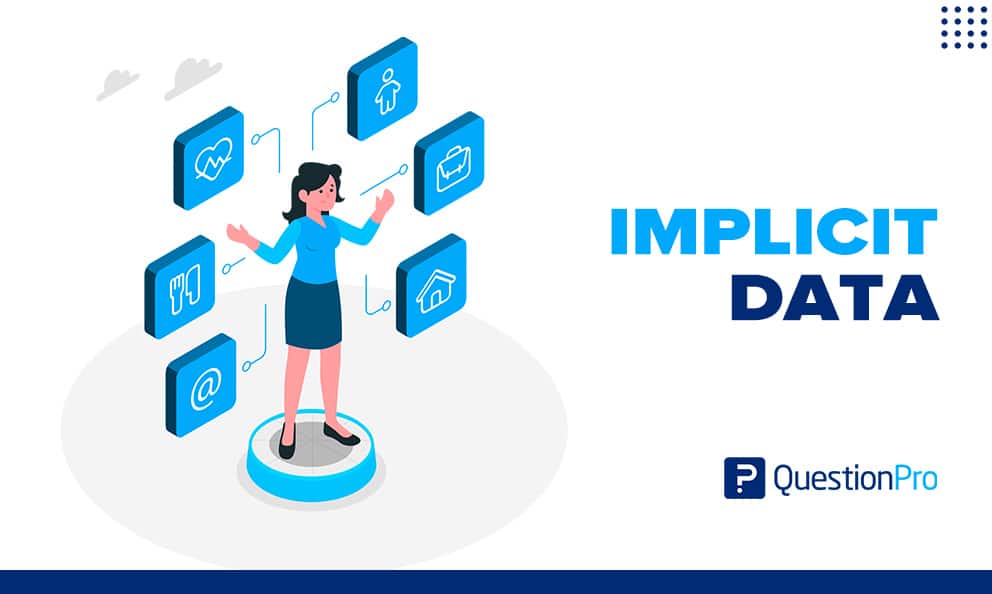 Implicit data is information that is not explicitly mentioned but may be deduced from the explicitly provided information. Explicit data is sometimes seen as the antithesis of implicit data.
Let's assume your coworker informs you, The day before, Tintin hurt her leg while playing with a ball. I have to take her to the doctor this afternoon. According to the precise information provided, Tintin was injured and is currently being treated by an animal doctor. Implied data is that Tintin is a cat.
Implicit data collection in human–computer interaction gathers non-invasive user data. Human-computer interaction collects user data to customize the computer interface. This sort of data is utilized to develop a user model. 
To find out what implicit data is and how this kind of data can be collected is described in this blog.
What is implicit data?
The term "implicit data" refers to information that has not been purposefully supplied but has instead been gleaned from the many data streams that are readily accessible, either directly or via the analysis of explicit data. 
Information voluntarily submitted is known as "explicit data," and it may be collected in various ways, such as via questionnaires and applications for membership.
In human-computer interaction, implicit data collection is used to passively and unobtrusively collect information about the user.
More recently, important information has been extracted from the data on social networking platforms. For instance, a status post or tweet may often include both explicit and implicit data on social media platforms like Twitter and Facebook.
Implicit Data Sources: Their Advantages and Drawbacks
Implicit customization relies on detailed data since it involves reacting to a user's unique behavior while using a specific channel. The user must feel supported while you watch and analyze the facts in real-time using human reasoning. Yet, not all types of data are created equal. Several different forms of data must work together to accomplish effective implicit customization.
Profile Data:

Individual profiles are filled with data such as names, contact details, account numbers, IP addresses, previous transactions, and activity patterns. It might be challenging to determine whether this data is accurate, relevant, and helpful. Implicit personalization does include this kind of information since it affects how you react to a user at the moment.
User Segments:

User segments are collections of people with similar age, gender, geography, industry, and other demographic traits. The responses of each comparable set of consumers are speculated upon and predicted by marketers. The theory behind this is that a user experience geared for young, successful women should seem different than one made for retired, male hobbyists.
As the foundation for implicit customization, segmentation is essential for supporting the bones and processes (or structure) of content targeting, suggestions, and a wide range of visitor demands and objectives.
User Intent Data:

Knowing user intent may add accuracy to your personalization attempts. Sites show they know a visitor's location, last visit, and online history. Personalization becomes less about the visitor's wants and more about the individual. This causes users irritation without achieving their goals. Concentrating on the visitor, not the visit, contributes to personalization's sluggish development and privacy concerns.
Each user's wishes must be asked for. This works when a prospect phones or visits a shop, but it's harder online. Real-time data like a visitor's browser history, search queries, and click-throughs might reveal intent. Because you collect and react to data on your site or app, it simulates in-store or phone contact.
Ways to collect implicit data
Every consumer is distinct and brings their own set of likes, interests, and personalities to the table. Furthermore, the more information you have about your clients, the better equipped you are to segment your onsite and offline messages to them, increasing the effectiveness, relevance, and target-ability of your marketing.
It might seem like a lot to ask of your consumers, however, and we get that.
You may discover more about your customers without asking by gathering implicit data. Instead of requesting specific information from clients, we can identify this data in the background, unlike explicit data.
Collecting implicit data may be done in several ways. Let's get into the details.
One method is via the IP address or browser settings of your customers. This is useful for things like their location or preferred language. This is especially useful if you sell globally or your business is situated in a nation with many official languages, like Canada.

Internet cookies are another method of data collection. This includes engagement-related data like how often a person visits your site, how often they see a page, or even which campaigns they have previously viewed or joined. You may then segment separate campaigns according to the various degrees of interaction using this kind of data.

Additionally helpful in gathering implicit data in hidden fields. You may add these form fields, but the user won't be able to see them. The data is only automatically gathered when the areas are introduced.

The coupon code is the last crucial piece of implicit data. You may target customers with various offers or forms of communication if you know precisely which campaigns or discount codes they've signed up for.
Conclusion
Implicit data is information businesses collect from a consumer's browsing behavior on their website, such as what styles and brands they click on most and where they hover.
LEARN ABOUT: Behavioral Targeting
QuestionPro's Insights Hub is customer-driven. The researchers required a location to store and retrieve research and insight data. To democratize research ideas, they needed a readily accessible center that diverse domains and functions could use. The objective is to provide research procedures with time, effort, and cost-saving help.
QuestionPro's insights engine supports 50+ languages and can be integrated. We comply with GDPR, HIPAA, Fedramp, Section 508, CCPA, etc.