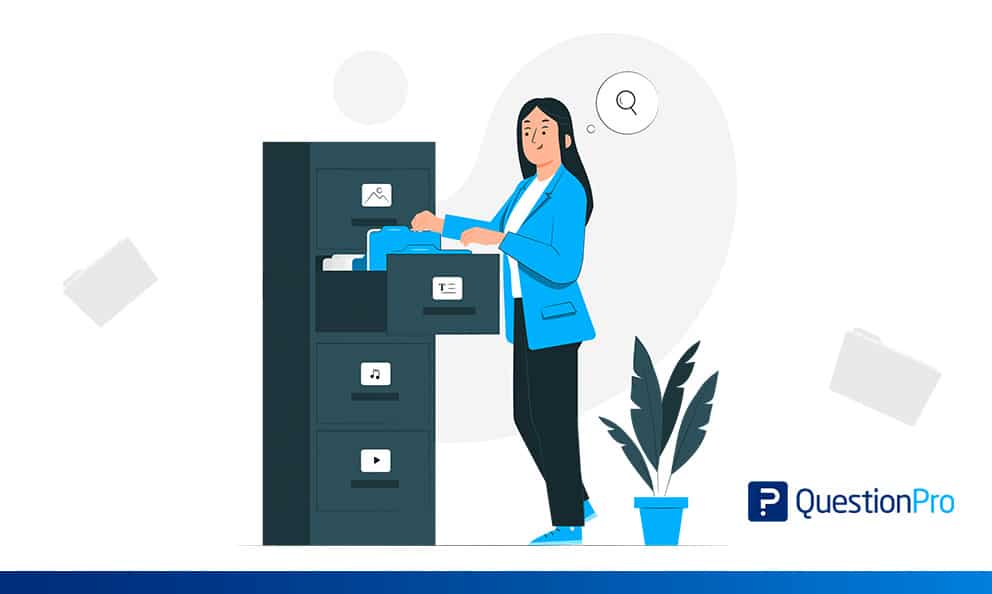 Why should you organize research and insights data?
Data can get extremely overwhelming, irrespective of its kind. Over the years, market research has evolved, and researchers now have access to multiple research techniques. Using numerous techniques and different survey questions has led to capturing insights and research data in various styles and forms.
Add to this the number of responses captured over time, and you'll find heaps of soiled data that becomes unstructured and unreadable over a period. Bringing structure to any data through an insights and research repository can go a long way in saving time, costs, and effort. It also becomes easier to share data across various domains, keeping everybody on the same page.
Organizations run various research projects, and often, they are conducted over and over. Moreover, researchers can't easily apply data collected from one research project to another to track evolving trends. As a result, research reports get lost in time and are tough to get your hands on. Researchers spend way too much time, money, and effort understanding past data and mapping it to existing or future trends.
LEARN ABOUT: Marketing Insight
What's the most effective way to organize research data and insights?
Researchers have struggled to manage, pull, map, or even read previous market research data for a long time. With the advancement in research techniques and the demand to do more with less in 2021 and beyond, market researchers needed to step up the game to boost the speed of insights and convert them to decision-making worth data.
At QuestionPro, many customers needed a repository of past and present data to get quick insights into findings, reuse efficient workflows, add transparency, run short turnaround studies, and access real-time analytics. We developed the Insights Hub – a consolidated platform that organizes all your research data so you can explore, search, or discover data points in a centralized repository. 
The insights hub is a unified platform for better data management that manages research projects, stores responses, and displays results on-demand for all the stakeholders in the data organization. It's an efficient platform for insights professionals to get hold of data from past projects and apply them to current projects with ease – while saving time, cost, and effort.
Why do organizations need to organize research data and insights?
The insights hub or insights repository for organizing, structuring, and streamlining research projects is vital for the success of research departments within organizations. The repository is like Wikipedia for business stakeholders, researchers, and decision-makers, where all project information is stored, continuously updated, easily searchable, and readily available. Here are the main reasons why organizations need to organize research data and insights better.
Prompt insights access: The insights repository enables researchers with quick access to insights – especially insights of the past, turning your library and historical data into a kind of Insights Engine. The searchable repository uses meta tags to make it simple for researchers to access past information. Research teams, stakeholders, and decision-makers can now better access reference points of the past while comparing the new findings and drawing market trends.
A better approach to knowledge: Consumer behavior is hugely dynamic, and various factors play a role in how consumers react to different situations. Instead of starting every study from scratch, researchers now have the opportunity to refer to lessons of the past, identify trends and gain more profound knowledge – all while saving time and costs. Researchers can focus efforts on filling the knowledge gap by collecting insights that really matter.
Transparency:

Transparency is crucial to research because everybody has their style of reading data. It's also essential to understand who's worked on the project to get in touch with relevant stakeholders. Having transparency within research projects helps bring all stakeholders and decision-makers on the same page. This is an essential part of quick and unified decision-making within any organization.

Faster turnaround: Researchers can access all relevant project information under one roof in the research repository. Having access to past project questionnaires, tools, approaches, methodologies, and audiences supports deploying studies much quicker. Researchers also get a feeling of the best practices and the do's and don'ts while conducting research, cutting downtime and effort, thereby leading to faster research turnaround times.
Instantaneous analytics: The speed at which information moves around is rapid, and capturing, understanding, and making sense of these data points is crucial for research. Using the insights hub is a game-changer in the research world. Relevant project information is surfaced with the help of intelligent labels and AI, giving researchers access to instant, real-time analytics. The faster you understand and read your research data, the quicker you can make decisions.
Launching Insights Hub
We're excited to hit yet another milestone in advancing research software and insights collection. We are officially launching Insights Hub, QuestionPro's research repository platform, on Wednesday, June 30th, 2021, at 11:00 AM CT. Join the webinar to learn more about how to take advantage of the repository and unlock smart insights. Register now for free.