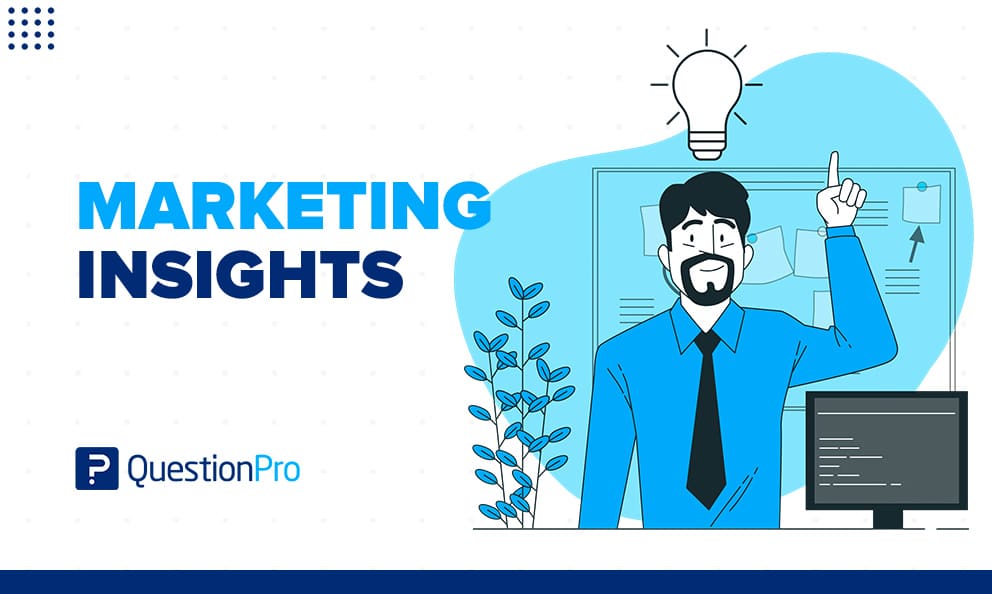 Marketing insight integrates personal and professional experiences with precisely gathered and analyzed data. You can't accomplish anything worthwhile if you don't know what you should do with the data you already have.
It is essential to monitor the effectiveness of a marketing campaign at every stage of its development. By doing this, you'll be able to create better campaigns in the future based on what you see, and you'll be able to track the success of these campaigns through insights.
LEARN ABOUT: Market Evaluation
What is marketing insight?
When we say "marketing insight," we mean the process of gaining a comprehensive understanding of consumers, customers, competitors, and the entire industry.
There are many definitions for marketing insights, but they all relate to exploring an important, actionable, and previously unrealized truth about a target market. Marketing insights benefit both parties by meeting your target audience's needs and wants while also profiting. 
This is especially true when marketing a previously unused or unknown innovation. In other words, the best market insights help those selling the invention and the companies needing it. They offer value for money.
Why is marketing insight important?
A company's ability to gain marketing insights is critical. The following are some of the most common essential marketing insights to increase customer involvement and profitability:
In order to meet the needs of your target audience based on their purchasing habits and attitudes, marketing insights are essential. People who have purchased, engaged, or repurchased products or services in the past can provide these insights.
Companies can directly interact with their customers and find out what content, goods, or services they want, and they can meet those demands with marketing insight.
LEARN ABOUT: Test Market Demand
Understanding the needs and wants of the target audience helps companies better understand their customers' preferences. This information gives them a much better chance of bringing in revenue. With the help of market insights, marketers can link insights from actual data to create predictive models for their advertising efforts. 
For example, suppose a business discovers that its customers are more likely to purchase fruit flavors in the summer months. In that case, they can use this insight to develop a strong marketing campaign for their fruit flavors during the following summer.
Utilizing market insights is crucial because it aids in predicting potential changes in the market or industry. Finding patterns in customer behavior, such as spending patterns or levels of content engagement, can be done very effectively by analyzing data.
Marketers can frequently spot marketing trends based on outside variables such as the season, weather, economy, or makeup of their rivals' markets. With the help of marketing insights, they can predict market changes and lessen their losses.
How to get insights
Marketing insights are important. However, how do companies discover these marketing insights? Following and examining those footsteps is the method to get insights. This is carried out with the help of analytics tools that:
Get information from all online channels
Gather information from various online sources, including social media, your website, the websites of your competitors equipped with competitor analysis tools, and so on.
Make that data accessible in a format that can be used.
Organize and conduct some analysis of that data. Since we are working with "big data," the tools we use need to be able to process so much information that a room full of analysts couldn't do it by themselves.
This last one is the most important. According to research, 87 percent of businesses have a low Business Intelligence and an immature knowledge of applying analytics to fuel growth and accomplish business goals.
The most advanced forms of marketing insight provide data and actionable, meaningful insights that can be used immediately and almost instantly to yield positive results.
It would help if you had a staff dedicated to examining such insights and determining how to implement those ideas. However, these insights will assist you in making the decisions motivated by the data necessary to achieve your goals.
Examining their marketing attribution reports is a typical strategy marketers use to gain insights from these analytics tools. Marketing attribution is valuable since it can analyze all the marketing interactions that contributed to your sales and provide information on which interactions were most essential and where they landed in your marketing funnel.
Conclusion
In the above discussion, we have tried to give you the details about marketing insight and its importance. One of the most important benefits of marketing insights we learned is that it will strengthen the relationship between marketers and customers by providing the details needed to solve marketing problems and assist with marketing policy.
Understanding customer behavior and attitudes are essential to developing effective marketing strategies. 
If you need help conducting marketing insights research, contact the QuestionPro team of experts. QuestionPro can help you navigate the process and make the most of your data.