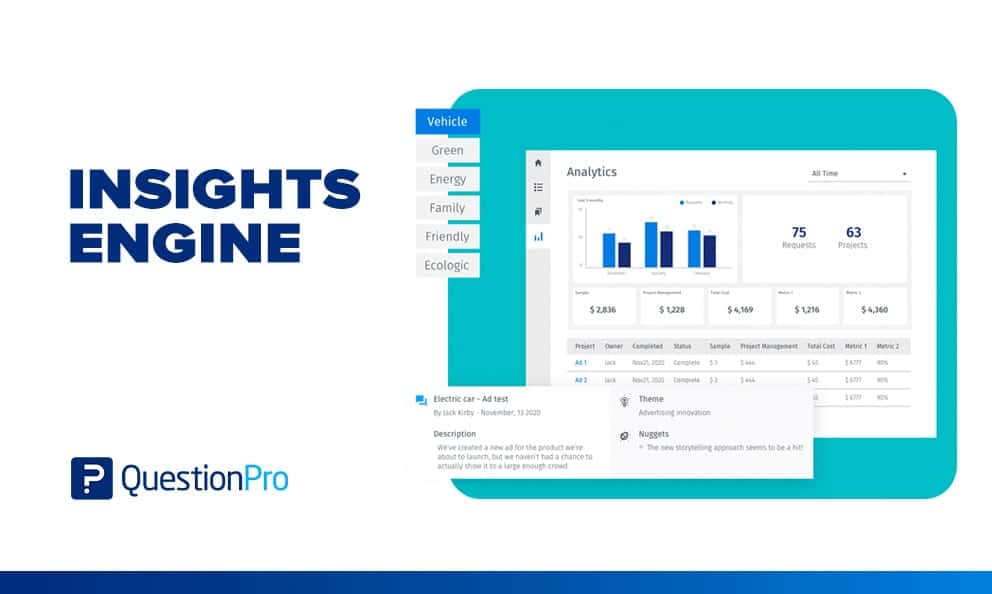 When you need to gather key enterprise insights, the best way to go is using a platform that makes it accessible. By putting together machine learning capabilities and research, you can get all the data you need and more. By building an insights engine specifically for your needs, you'll be on top of your game.
What is an insights engine?
An insights engine is a unified insights hub for data management. It is a consolidated research & insights repository that helps research teams organize, explore, search, and discover their research data in one organized repository. The problem with insights is that they get lost easily.
Not everybody gets access to much-needed information at the right time and place, leading to duplication of efforts and wastage of time. There isn't a searchable hub of insights, data, and critical findings to compare older projects to present ones. With an insights engine (also known as an Insight Repository), users across the organization can get access to recent projects and projects of the past.
LEARN ABOUT: Purchasing Process
Why do you need one?
Insights teams struggle with three main problems while managing projects and historical data and an insights engine helps you overcome these challenges with ease.
Workflow –

New project intake process, managing projects, status updates, templates, etc., are cumbersome and inefficient for insights professionals.

Discovery – After the marketing insights are collected, there isn't a meaningful and searchable repository of data, key findings, and materials for all projects.
Knowledge Graph –

Build upon the research that has already been done – on top of each other, instead of re-inventing each project from scratch.
Building process
More mature brands have realized the need for an insights engine and are adopting measures to store valuable consumer insights and information in an organized manner – under one roof. It helps different departments across the organization access the same information boosting the data democratization of insights.
QuestionPro's Insights Hub is built in collaboration with our customers. Researchers needed a place to store research and insights data that they could easily retrieve in the future. Moreover, due to the interest in democratizing research insights, they needed an easily accessible hub that different domains and functions within the organization could access. A time, effort, and cost-saving aid to research processes is ultimately the goal for researchers.
"The most successful companies don't just have good products and strong distribution systems —they have a deep understanding of customers. That naturally requires lots of marketing data, but the authors say it also takes an "insights engine"— a set of structures, people, and processes that can translate data into actionable strategy." —Harvard Magazine
Advantages of building an insights engine
There's more than one advantage of building an insights engine for a company, from organization to efficiency. The chances of a project succeeding increase by a lot with an insights engine. Let's talk about some of its perks.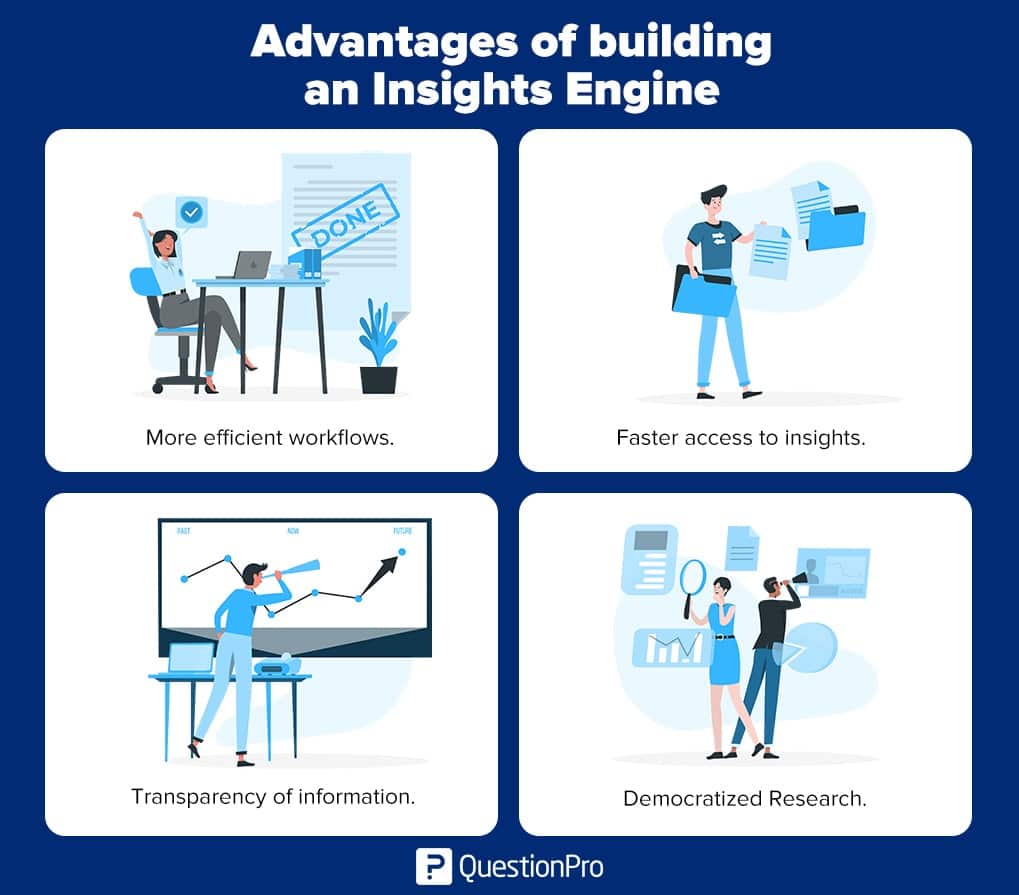 More efficient workflows. With the implementation of an insights engine, teams within an organization tend to have a more efficient workflow, this is due to easy access to prior information and to better visualize the process to follow to achieve the desired results.
Faster access to insights. By building an insights engine, reaching useful information becomes faster and more practical to gather business data. This will allow companies to take action from a place of understanding without wasting time.
Transparency of information. Since the information is gathered inside an insight engine, it becomes easier to have record of any data and access to it in order use it in benefit of the company.
Democratized Research. By having the knowledge about the information that is gathered from research, the tools and resources implemented and the process of decision making to use it wisely, the team can practically ensure success.
How to build an insights engine in QuestionPro
Setting up your insights engine within QuestionPro is easy. We have taken measures to ensure that organizing, exploring, searching, and discovering all your research data in one organized repository is straightforward.

Signup with QuestionPro:
Create a free account in QuestionPro.
Manage workflows efficiently with a process intake form:
Fill in the intake form with the project details and description. The form helps in understanding exactly what was aimed to be achieved and what the researcher's goal was. The aim here is to assist in easy understanding during future reference. You can choose the type of output you want to receive – whether it's text analysis, excel tables, google slides, or verbatim text.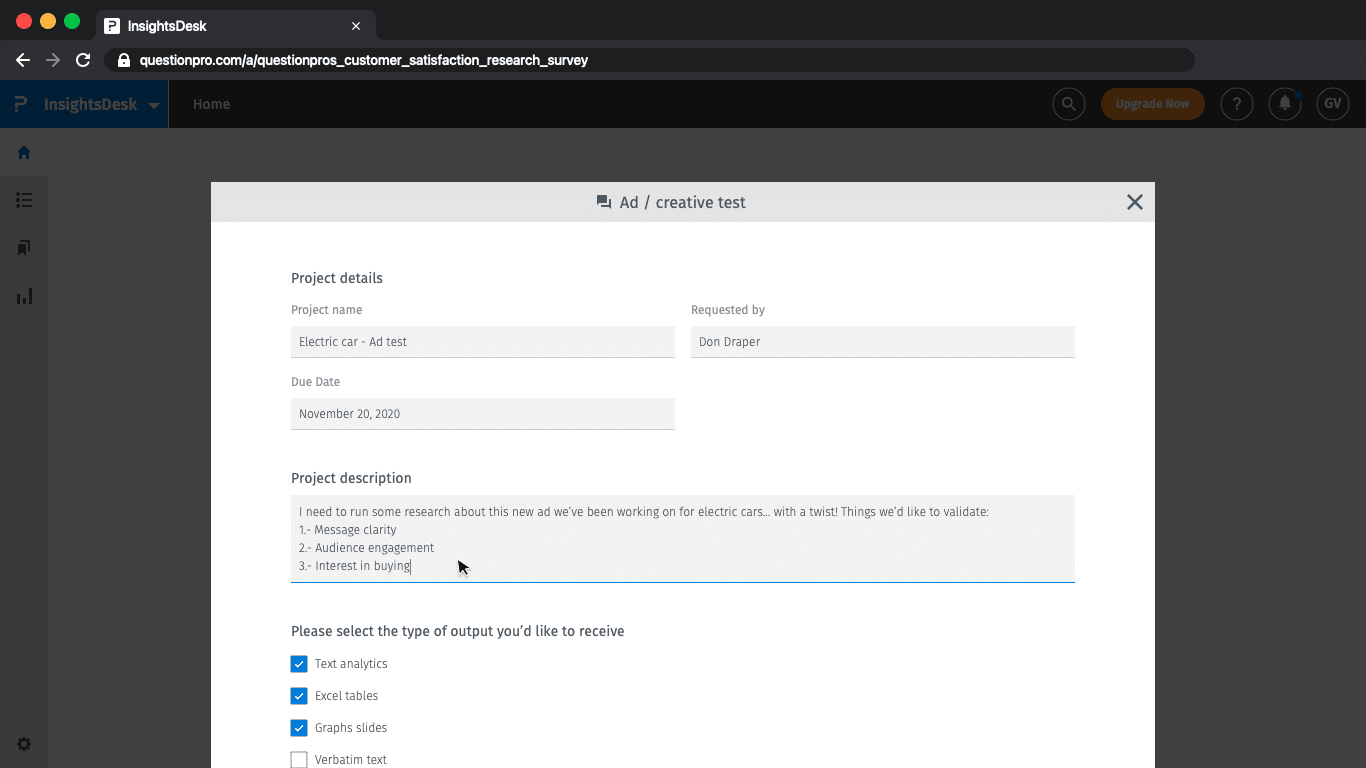 View list of all your projects at different stages:
Users must know the stages of various projects to maintain transparency and, more importantly, avoid duplication of efforts. Segregating projects by stage helps users locate projects quickly. Your projects can be categorized according to whether they are active, queued, or closed. Further classification helps researchers indicate whether the project is an advertisement test, concept test, product test, market validation, or brand experience.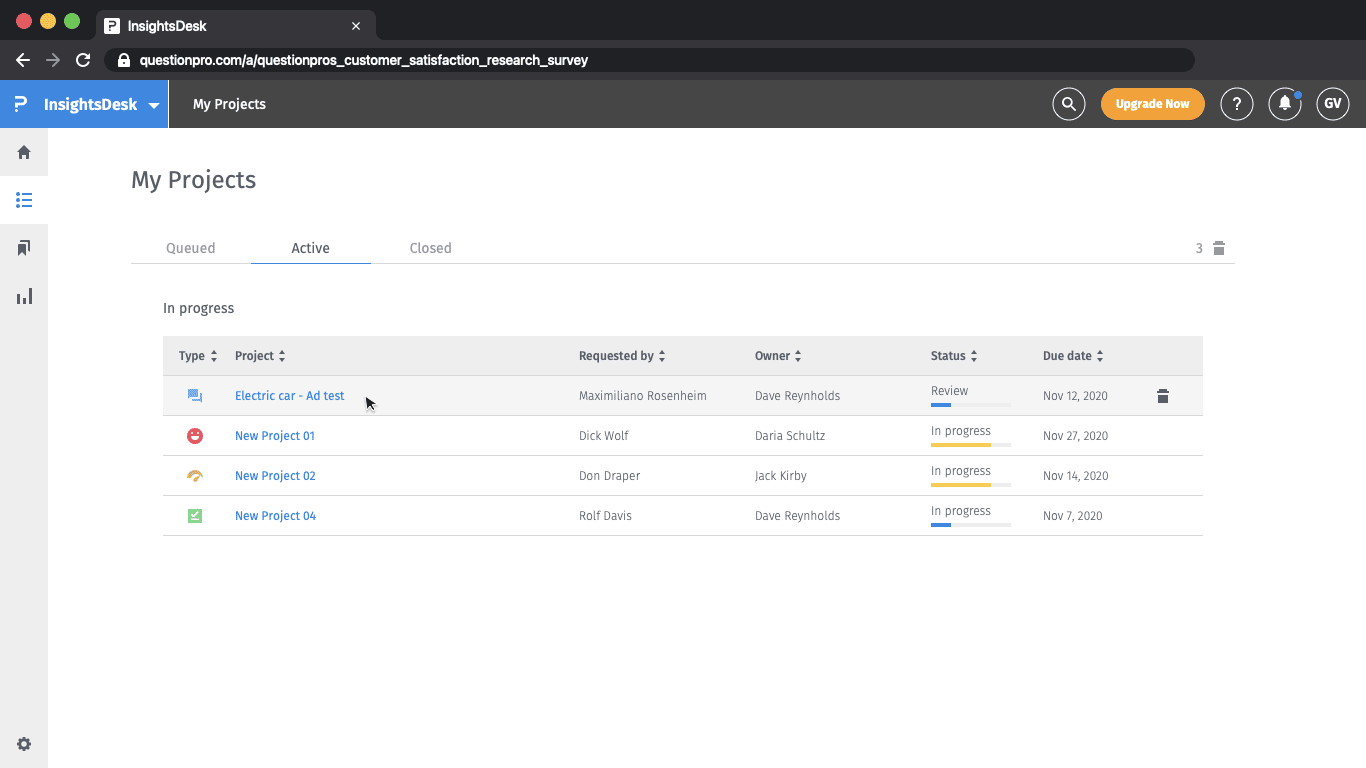 Knowledge discovery is a vital component of the insights engine, and a platform needs to surface information through an intelligent search or browse interface. Researchers presently have difficulty locating information from past projects because research insights are stored across presentation decks, excel sheets, and Google drives. Tagging your projects within the Insights Hub will help yourself and teams across different domains discover this knowledge with ease and without wasting time.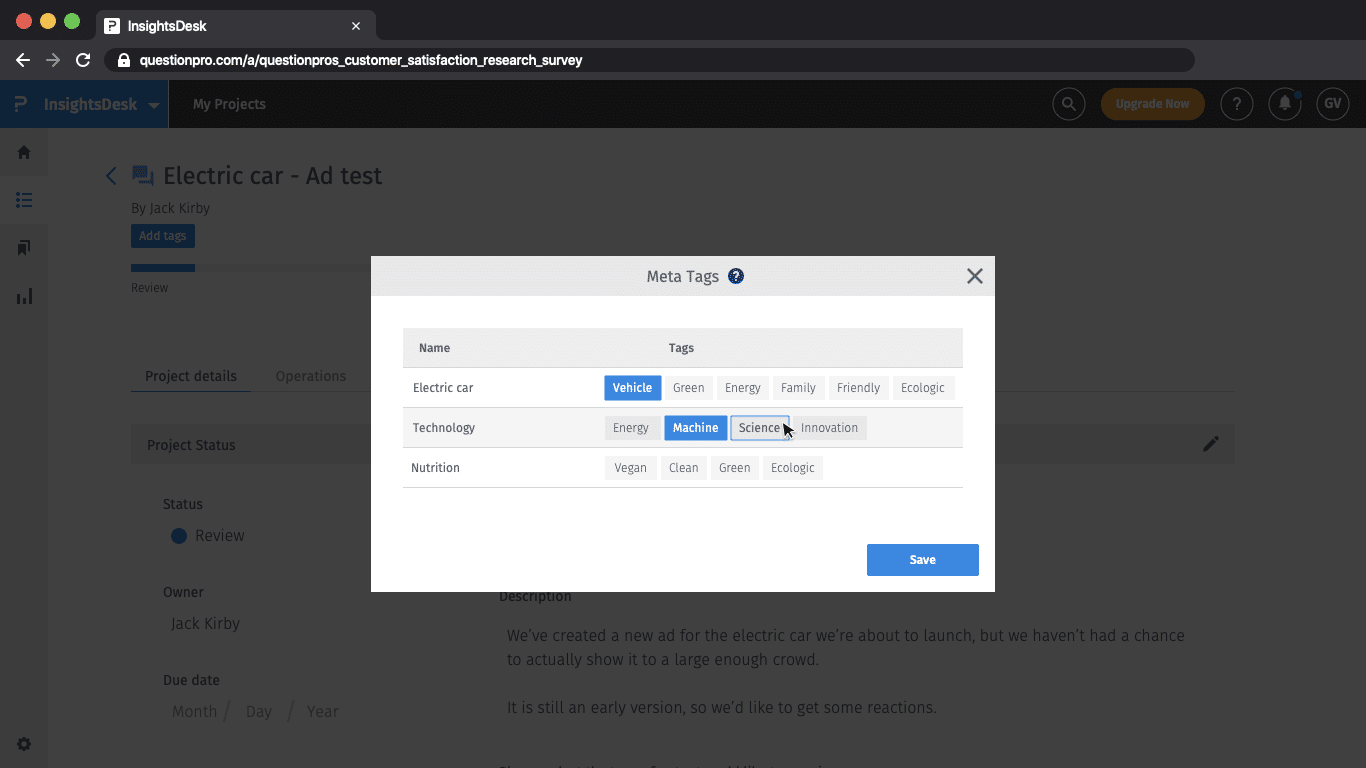 Real-time dashboards help you uncover insights that matter. You can share these powerful yet easily understandable dashboards with stakeholders. QuestionPro's insights engine supports 50+ languages, and you can integrate it with your current ecosystem. We're compliant with Federal and GDPR regulations, among the others like HIPAA, Fedramp, Section 508, CCPA, etc.