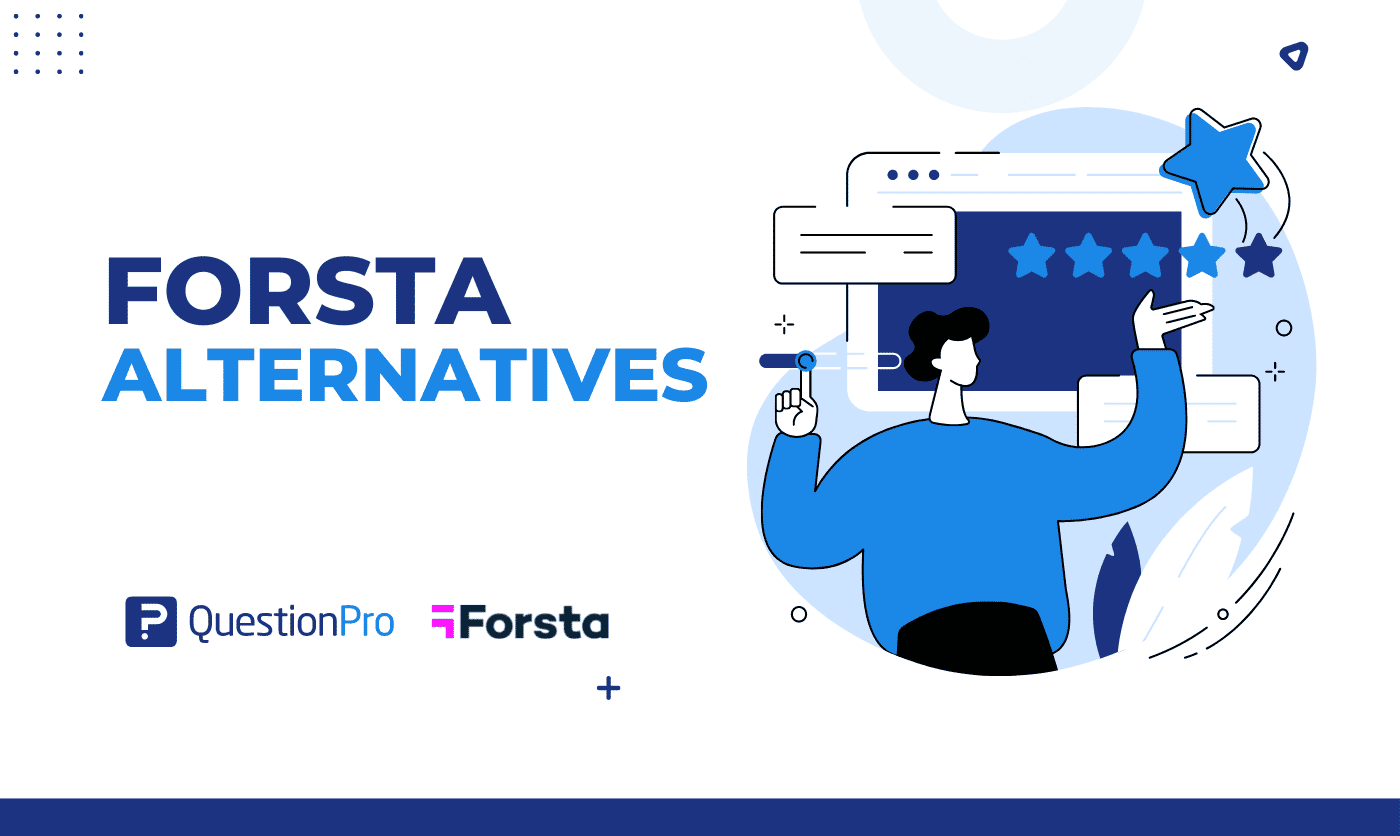 Are you looking for Forsta alternatives? It might be challenging to select an alternative to Forsta that is suitable for your business, mainly when many programs include identical features.
Forsta is still a good option, but we'll look at why some people are looking for Forsta alternatives and contrast several services that might be more suitable for your company's requirements.
Look into the top Forsta alternatives to explore new software features or solutions. Check out to resemble in terms of use, necessary functionality, and benefits based on shared features. Read on to learn:
What is Forsta?

Why do people seek Forsta alternatives?

Some of the top Forsta alternatives and competitors in 2022
What is Forsta?
Forsta is a technology platform for experience and research. It collects data, analyzes, and then converts the results into actions to help managers make better choices and promote growth.
The collected data can be filtered based on specific customer categories, and managers can view outcomes as tables or charts. People use Forsta for:
Market research using quantitative and qualitative methods

To obtain customer insight

To compile, examine, save, and disseminate current customer insights.

Customer & employee engagement
Why do people seek Forsta alternatives?
When you have the right tools, research is both fun and easy. It's even better if you get help at every step at the right time. Here are some reasons why you should look for Forsta alternatives and choose an alternative for all your research needs.
Questions Library:

This is a very important part of survey software. Forsta's library of questions needs to be improved, and some of the ways the questions are set up are hard to change.

UI & Dashboard:

The UI is old and hard to use. Looking at the data for questions with many possible answers is hard. This needs a lot of work and can be challenging for new people to understand.

Service:

Serving customers and ensuring they are happy should be the most important thing. Forsta's service is not good for live chats or quantitative surveys.
Some of the top Forsta alternatives and competitors in 2022
Here is a list of Forsta alternatives and competitors in 2022 that can help your business or organization choose the best one. First, let's talk about the best among them:
QuestionPro
QuestionPro is research and survey software for both beginners and large businesses. It is among the top Forsta alternatives for conducting market research. The following are the main reasons in favor of QuestionPro as a Forsta alternative:
Excellent customer service:

QuestionPro has excellent customer service available 24 hours a day, 365 days a year via phone, chat, and email to ensure that customers are never troubled.

Simple-to-use software:

QuestionPro has a simple-to-use interface that makes it easy to make powerful surveys.

Research-focused customized solutions:

QuestionPro offers tools for EX and CX studies, trend analysis, NPS campaigns, dropout analysis, gap analysis, and more. Our research solutions meet your needs beyond simple surveys.

Intuitive question types:

QuestionPro gives you access to more than 35 different question types for a deeper understanding of your respondents.
Compared to Forsta, QuestionPro is:
More significant to achieve ROI

Higher-quality longitudinal studies

Greater support

Easy-to-use

Free (with limited functionality)

Starting at $99 per month for premium plans
Qualtrics Customer Experience
With Qualtrics, you can hear and understand every customer at every meaningful moment and provide breakthrough experiences. Qualtrics' Experience Management Platform is powerful and agile, with SMS, voice, social, web, and app feedback capabilities.
It's one of the more expensive options, but it works better than many cheaper ones. Here are some of its most valuable things:
Future Intelligence:

Qualtrics has software for managing customers and employees based on key metrics. This helps make smart surveys that get better data.

Market Research:

Qualtrics makes it possible to do market research. So, the software is liked by the researchers.

Survey Templates:

Qualtrics has templates that look great for any purpose. It can be used to make questionnaires for customer satisfaction, onboarding, and A/B testing.
Compared to Forsta, Qualtrics CustomerXM is:
Slower to get ROI

Better at meeting the requirements

Better at support

Free (with limited functionality)

Starting at $1,500 annually for premium plans
UserTesting
UserTesting is a tool for quickly gathering user feedback on customer experiences, such as websites, mobile apps, prototypes, and in-person interactions. To base their decisions more accurately on customer feedback, many brands worldwide work with UserTesting.
The following items stand out:
UI:

A user interface that is visually appealing and simple to navigate.

Data export:

Export videos and insights in excel format, then share them using Jira, Slack, and Trello.

User experience:

UserTesting allows conducting relevant tests with customers to design user experiences.

Support:

UserTesting's support and education team are outstanding.
Compared to Forsta, UserTesting is:
Better at customer support

Easier to survey set up

Admin is simpler

Pricing plans are complex
SurveyMonkey
SurveyMonkey has served the market for online survey software for a long time. It is one of the strongest solutions for companies wishing to design online surveys.
You can use SurveyMonkey's services for various groups of people, such as your employees and customers, or you can use its software to do market research. Essential characteristics include:
User Interface:

The platform has a precise, up-to-date, and sizable user interface (UI). It is designed to look better and operate better.

Survey Templates:

SurveyMonkey features templates that are likely to meet all of your requirements. There are numerous templates, including forms for gathering customer and employee feedback.

Third-Party Integrations:

Integrations with external platforms let SurveyMonkey streamline business processes and complete more tasks.
Compared to Forsta, SurveyMonkey Enterprise is:
More Innovative

Easier to use

Better at training

Less Inspiring

Starts at $25 per month for premium plans
SurveySparrow
SurveySparrow is a conversational experience management platform that can assist you in achieving a higher response rate than others. It is made to let people develop and distribute incredibly interesting surveys that are optimized for mobile and have a friendly conversation experience.
The following are significant qualities:
Survey templates:

An excellent tool for performance management and customer experience, featuring a wide variety of survey templates to measure customer & employee engagement.

Adaptability:

Responsive to mobile devices and cross-platform

Data collection:

Collecting data through various channels, using chatbots, and automating various processes is easy.
Compared to Forsta, SurveySparrow is:
Simpler to Use

More Motivating

Ineffective at Integrating

Less creative

Starting at $19 per month for premium plans
Birdeye
Birdeye is a platform that defines how customer feedback is used to gain and keep connected customers. It records ratings, comments, and sentiments in real-time from any channel used by the customer.
Some features of Birdeye are:
Its listing management tool ensures that your company's information is correct and consistent across all internet directories.

Using internet services to boost your web exposure, you may generate hundreds of client reviews.

You can streamline two-way text messages with clients using a unified inbox tool.
Compared to Forsta, Birdeye is:
Simpler to Use

Better at customer support

Admin is simpler

Pricing plans are complex
GetFeedback
GetFeedback is a cutting-edge survey program created specifically for mobile devices. With no coding or data team needed, anyone can create an online survey with flawless branding, a lovely design, and even an embedded video.
The following are some beautiful features:
Integrations:

This online survey tool can be integrated with several applications, such as Desk.com and Salesforce.

Flexibility:

It is simple to operate and adaptable.

Responsive:

This platform is mobile-friendly and adaptable to various devices.
Compared to Forsta, GetFeedback is:
Better at customer support

Better at training

Less respectful

Less reliable

Starting at $50 per month for premium plans
Conclusion
Anyone can use Forsta, but there are better tools than this one. Even so, it will definitely meet some of your survey needs. So, if you thought the program limited what you could do, looking for Forsta alternatives and choosing the right one could make you feel better.
We hope that by providing this list of the best alternatives to Forsta, we may help you limit the many possibilities. There are many options for online survey tools, but it's essential to select one that can help you achieve your specific goals.
You should try out QuestionPro to find the best possible choice. Many businesses and marketers rely on this software to create one-of-a-kind surveys, polls, quizzes, and other data collection forms.
Similarly, it might be a helpful resource for gathering customer insights and opinions. Get simple access to customer feedback that can help your business grow. Sign up for QuestionPro now for free to begin conducting surveys right away.