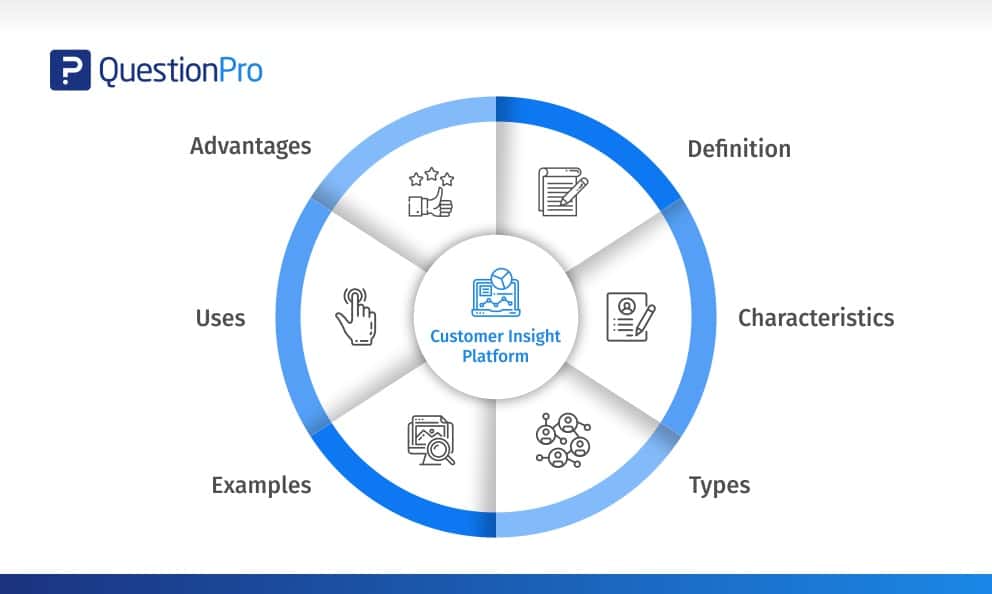 In today's highly competitive business landscape, understanding your customers is more critical than ever before. A customer insight platform can make or break a company's success, as it provides valuable information that enables businesses to make informed decisions, tailor their offerings, and enhance customer experience.
To harness these insights effectively, companies turn to a consumer insights platform. In this blog post, we will explore the definition, uses, types, and examples of the consumer insights platform.
What is a customer insight platform?
A customer insight platform is defined as an online tool or a forum created for businesses to enable them to have 2-way communication with their customers. Gaining, nurturing, and retaining valuable customer relationships needs a strong and robust customer insight platform.
Adopting the best customer insight software is a major step toward engaging your customers and building healthy relationships with them in the form of an online community.
The customer insight platform is nothing but an extension of your brand. Members of the community can share open feedback about the product or service they use.
Businesses use such platforms to understand their needs and expectations of customers and make important business decisions based on the findings. They help create meaningful, long-term relationships to maintain a competitive business edge.
Thus, a consumer insights platform enables customers to come together to give important feedback on various subject matters related to a product or service.
Communities help businesses and organizations receive real-time data and honest feedback on what is going well and what they may need to alter, which helps alter their approach or strategy to better suit themselves and their customers. This results in a win-win situation for both the customer and the organization.
The collection of actionable insights can be achieved using multiple qualitative market research and quantitative market research methods such as surveys, topics and discussions, polls, etc.
Customer-centric organizations rely on an online customer insight platform to create and launch new products or upgrade existing products in the market to suit what the customer looks for. Using insight platforms is a major step toward achieving all-around customer satisfaction.
Advantages of a customer insight platform
Companies are increasingly relying on advanced tools and technologies like customer insight platforms to gain deeper customer intelligence through customer analytics to achieve customer satisfaction.
These platforms offer a multitude of advantages, empowering businesses to not only meet but exceed customer expectations. Let's delve into the remarkable benefits that consumer Insights tools bring to the table.
Community members have a high level of brand awareness due to their familiarity with the brand. The level and quantity of insights received by these existing users will be much higher due to the members trusting the brand while being a part of the customer insight platform.
Reactions received from different persons belonging to various backgrounds, demographics, cultures, and locations over a period of time will help the organization understand the life and behavior of the product and service. Insights accumulated over a period of time will help them take the best approach towards bettering their products by understanding their customers and giving them what they want if feasible.
Providing gamified rewards to your members will increase the level of participation and the number of responses received. The excitement of receiving rewards motivates the members to participate actively and often. Active participation is what every consumer insights platform strives to achieve.
If your customer is kept engaged with your brand, it's more likely that he/she will choose your product over your competitor.
A customer insight platform is the best way to keep your customers engaged and have them come back for more of your products or services. Customer engagement provides a feel-good factor for customers, which is what every business aims to achieve.
Decreased market research budget
Conducting market research comprises various activities like formulating studies, collecting samples, urging samples to take surveys, etc. Building and maintaining a consumer insights platform can help the organization cut costs and save time on the activities.
Get a more comprehensive customer view
Companies are taking the "understand your patrons deeper" approach. These organizations understand that knowing their customers more by interacting with them and accepting open feedback will give them an upper hand in the market.
Characteristics of a customer insight platform
Some of the major characteristics of a customer insight platform are: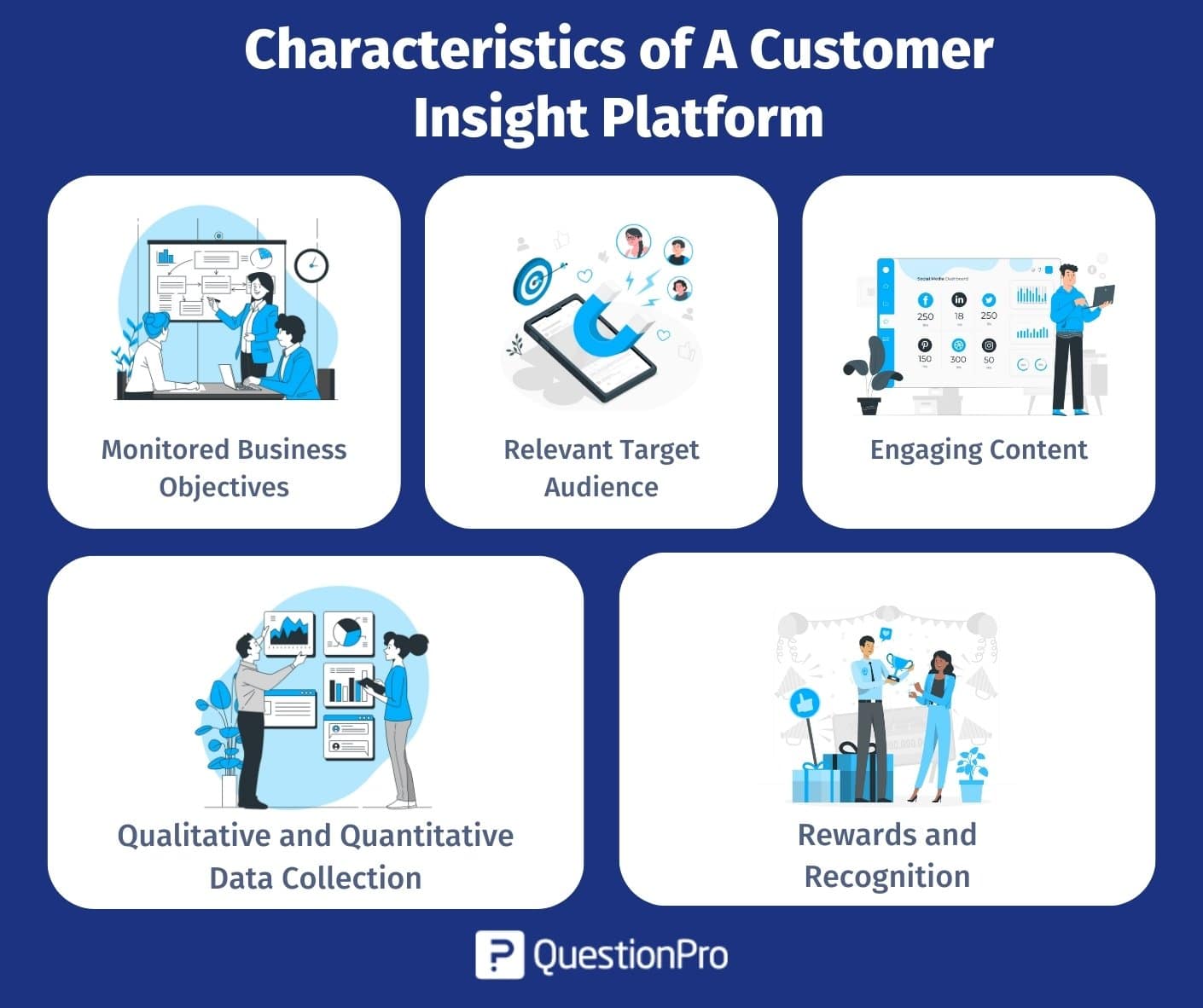 Monitored business objectives
An unmonitored customer platform is like pouring water on a duck's back. The whole objective of the online community is to gain real-time insights from your customers and to act upon them to better your product or service.
This is done to retain your existing customers by keeping them happy and also gain more customers by giving them what they need. Monitoring customer feedback is of utmost importance, and a portal that is unmonitored is as good as useless.
It goes unsaid; true, valuable feedback is only received from the appropriate audience. Feedback received from random sources who are in no way connected to your product will not take you anywhere.
You may end up making the wrong choices and making the wrong decisions, which will impact your business heavily. As a thumb rule, always choose the right members to reach out to, whose opinions can be put into action to positively enhance your product or service.
Engaging content is content that enhances the value of the lives of your potential customers, customers, and other community members. The more you engage your community, the more benefit you will potentially get out of it. If it is relevant to the reader at the moment, they will read it.
Qualitative and quantitative data collection
Primary research data is collected basically by two methods – Qualitative and quantitative methods. One or both (as a mix) methods can be used to collect data based on the requirement. The method chosen for customer data collection is deployed depending on the type of feedback expected by the organization.
A crucial characteristic of a quality customer insights platform is recognizing members and rewarding them. This enhances the quality of customer data collected and also ensures a high volume of engagement by the community.
There are higher chances of you receiving good quality feedback if the audiences are rewarded from time. This is a major motivating factor for the respondents.
Types with examples of customer insights platform
Customer insight portals are used widely in different domains and different types of businesses. Each portal has its own distinctive use. Some of the major types, with examples, are:
Business customer insights platform
This is the most widely used customer insights platform. Modern businesses or at least businesses adapting to modern marketing practices, use business and customer insights platforms.
In-depth market research studies are conducted to gain consumer insights on the health of an existing product or service, customer behavior, trends, and needs. Studies are also deployed before launching a new product to the market or tweaking a product or service before its launch.
An example of a business customer insights platform is a car manufacturing company that wants to launch a new model. With their online community's help, they can upgrade the vehicle or add features that many customers want.
Education customer insight platform
This type of platform can vary from institute to institute. Depending on their needs to customize the community, institutes build a community comprising students, alumni, parents, faculty, and management.
In this complex structure, the customer data collected is varied and thorough. Respondents are included in the study depending on the area and type of data the institute aims to collect. Most of the targeted respondents are the institute's students, as they can give accurate feedback on most of the topics.
An example of the education customer insights platform is the institute, which wants to collect all-around feedback about itself from the students at the end of the academic year to improve its educational and extracurricular facilities.
Healthcare customer insight platform
The rise of socially active consumers makes it necessary to create an engaging and vital space for doctors and patients to come together, connect with each other, share their experiences and opinions, and progress collaboratively.
Undoubtedly, the healthcare industry is a very vast and diversified industry. It consists of patients, doctors, nurses, pharmaceuticals, insurance providers, manufacturers, distributors, sellers, etc. A healthcare customer insight platform can break barriers and bridge patients to doctors, doctors to pharma companies, etc.
In a world where medicine advancement is skyrocketing, a healthcare customer insights platform will only help boost the advancement of medicine by helping pharma companies, doctors, and patients connect and collaborate more easily.
Other widely used types of customer insights platform
Other customer insights platforms include banking and financial customer insight platforms and information technology and software customer insights platforms. These online communities help different organizations of various types and magnitudes collect important data depending on the purpose of the research.
A customer insights platform is one of the most important aspects of market research, which helps organizations collect actionable, useful insights to grow, better themselves, and earn profits.
Factors to consider while setting up a customer insight platform
Setting up and managing a successful customer insights platform is definitely not a piece of cake. Multiple factors must be considered to set up successful online consumer insights platforms. Let's look at what they are:
The number of members: This is the most important factor because your members make up your platform. Having an optimal size of the sample is essential. Also, having a mix of people belonging to different backgrounds and demographics, having different product experience levels, customer experience levels, etc., will help you get wider feedback.
Clarity of topics: The online community in a customer insight platform provides the most relevant results when the topics appeal to the community members. Keeping the topics clear and understandable by the majority of your community helps the organization collect accurate information that is most relevant to the business.
Collecting data through mobile devices: Mobiles are the go-to devices for the majority of people. Getting in touch with your community has never been simpler due to its wide reach.

Mobile communities provide the versatility to conduct geo-location-based studies that allow an organization to deploy surveys in specifically targeted locations for the study.
Incentivize members: Incentives are the driving force that attracts insight community members to respond to studies and surveys.

Offering incentives to members will increase the overall participation of its members, boosting the health of your community. Always choose to give back to your customers or community members for the time they take to help you improve your product or service.
Community management: Skillfully managing your insight community is important for the sustainment and growth of your platform.
It is also important to keep the existing members active and engaged. Clearly defining the community objective, recruiting members, and actively engaging the people play a crucial role in the success of the customer insight platform.

Also, consider having the right mix of the above-mentioned factors to manage your community successfully. You are bound to have a successful portal, keeping these factors in mind.
Learn More: The 10-Step Guide to Managing and Using Online Communities.
Conclusion
Understanding your customers is the key to staying ahead of the competition. The use of a Customer insight platform is no longer a luxury but a necessity. QuestionPro stands out as a leading customer insight platform among the notable players in this field.
With its robust suite of features, QuestionPro empowers organizations across industries to collect, analyze, and leverage customer data effectively.
Whether you are a small startup or a global corporation, harnessing the power of QuestionPro's customer insight platform can be your strategic advantage in delivering exceptional customer experiences and driving business growth.
Frequently Asked Questions (FAQ)
What is a Customer Insight Platform?
A Customer Insight Platform is a software or tool that collects, analyzes, and interprets customer data to provide businesses with valuable insights into customer behavior and preferences.
Why are Customer Insight Platforms important for businesses?
Customer Insight Platforms help businesses make informed decisions, enhance customer experiences, and drive growth by understanding their customers better.
What are the common uses of Customer Insight Platforms?
Common uses include improving product development, tailoring marketing strategies, optimizing customer support, and enhancing overall customer engagement.