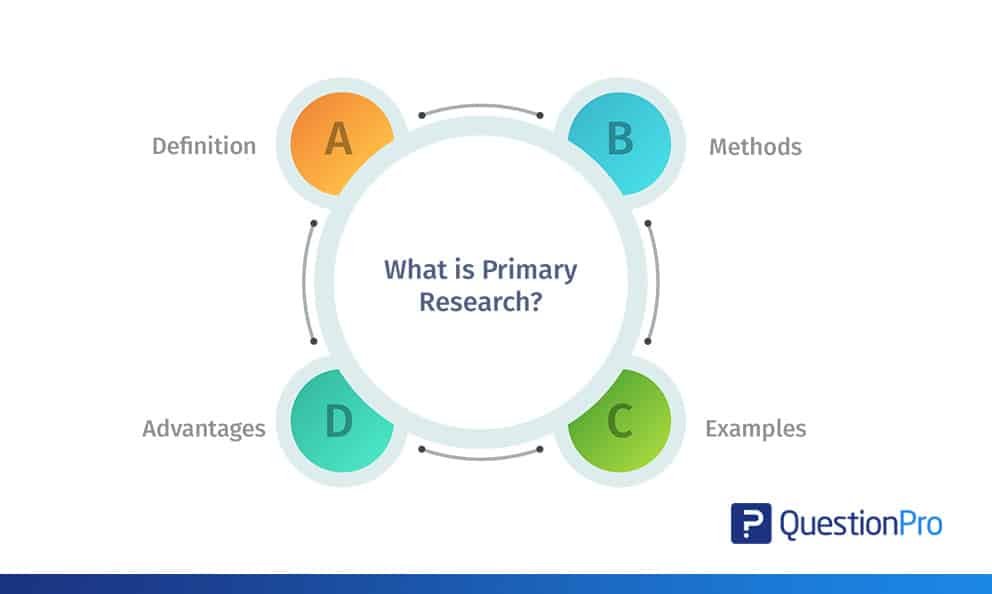 As we continue exploring the exciting research world, we'll come across two primary and secondary data approaches. This article will focus on primary research – what it is, how it's done, and why it's essential. 
We'll discuss the methods used to gather first-hand data and examples of how it's applied in various fields. Get ready to discover how this research can be used to solve research problems, answer questions, and drive innovation.
What is Primary Research: Definition
Primary research is a methodology researchers use to collect data directly rather than depending on data collected from previously done research. Technically, they "own" the data. Primary research is solely carried out to address a certain problem, which requires in-depth analysis.
There are two forms of research:
Primary Research
Secondary Research
Businesses or organizations can conduct primary research or employ a third party to conduct research. One major advantage of primary research is this type of research is "pinpointed." Research only focuses on a specific issue or problem and on obtaining related solutions.
For example, a brand is about to launch a new mobile phone model and wants to research the looks and features they will soon introduce. 
Organizations can select a qualified sample of respondents closely resembling the population and conduct primary research with them to know their opinions. Based on this research, the brand can now think of probable solutions to make necessary changes in the looks and features of the mobile phone.
Primary Research Methods with Examples
In this technology-driven world, meaningful data is more valuable than gold. Organizations or businesses need highly validated data to make informed decisions. This is the very reason why many companies are proactive in gathering their own data so that the authenticity of data is maintained and they get first-hand data without any alterations.
Here are some of the primary research methods organizations or businesses use to collect data:
1. Interviews (telephonic or face-to-face)
Conducting interviews is a qualitative research method to collect data and has been a popular method for ages. These interviews can be conducted in person (face-to-face) or over the telephone. Interviews are an open-ended method that involves dialogues or interaction between the interviewer (researcher) and the interviewee (respondent).
Conducting a face-to-face interview method is said to generate a better response from respondents as it is a more personal approach. However, the success of face-to-face interviews depends heavily on the researcher's ability to ask questions and his/her experience related to conducting such interviews in the past. The types of questions that are used in this type of research are mostly open-ended questions. These questions help to gain in-depth insights into the opinions and perceptions of respondents.
Personal interviews usually last up to 30 minutes or even longer, depending on the subject of research. If a researcher is running short of time conducting telephonic interviews can also be helpful to collect data.
2. Online surveys
Once conducted with pen and paper, surveys have come a long way since then. Today, most researchers use online surveys to send to respondents to gather information from them. Online surveys are convenient and can be sent by email or can be filled out online. These can be accessed on handheld devices like smartphones, tablets, iPads, and similar devices.
Once a survey is deployed, a certain amount of stipulated time is given to respondents to answer survey questions and send them back to the researcher. In order to get maximum information from respondents, surveys should have a good mix of open-ended questions and close-ended questions. The survey should not be lengthy. Respondents lose interest and tend to leave it half-done.
It is a good practice to reward respondents for successfully filling out surveys for their time and efforts and valuable information. Most organizations or businesses usually give away gift cards from reputed brands that respondents can redeem later.
3. Focus groups
This popular research technique is used to collect data from a small group of people, usually restricted to 6-10. Focus group brings together people who are experts in the subject matter for which research is being conducted.
Focus group has a moderator who stimulates discussions among the members to get greater insights. Organizations and businesses can make use of this method, especially to identify niche markets to learn about a specific group of consumers.
4. Observations
In this primary research method, there is no direct interaction between the researcher and the person/consumer being observed. The researcher observes the reactions of a subject and makes notes.
Trained observers or cameras are used to record reactions. Observations are noted in a predetermined situation. For example, a bakery brand wants to know how people react to its new biscuits, observes notes on consumers' first reactions, and evaluates collective data to draw inferences.
Primary Research vs Secondary Research – The Differences
Primary and secondary research are two distinct approaches to gathering information, each with its own characteristics and advantages.
While primary research involves conducting surveys to gather firsthand data from potential customers, secondary market research is utilized to analyze existing industry reports and competitor data, providing valuable context and benchmarks for the survey findings.
Find out more details about the differences: 
1. Definition
Primary Research: Involves the direct collection of original data specifically for the research project at hand. Examples include surveys, interviews, observations, and experiments.
Secondary Research: Involves analyzing and interpreting existing data, literature, or information. This can include sources like books, articles, databases, and reports.
2. Data Source
Primary Research: Data is collected directly from individuals, experiments, or observations.
Secondary Research: Data is gathered from already existing sources.
3. Time and Cost
Primary Research: Often time-consuming and can be costly due to the need for designing and implementing research instruments and collecting new data.
Secondary Research: Generally more time and cost-effective, as it relies on readily available data.
4. Customization
Primary Research: Provides tailored and specific information, allowing researchers to address unique research questions.
Secondary Research: Offers information that is pre-existing and may not be as customized to the specific needs of the researcher.
5. Control
Primary Research: Researchers have control over the research process, including study design, data collection methods, and participant selection.
Secondary Research: Limited control, as researchers rely on data collected by others.
6. Originality
Primary Research: Generates original data that hasn't been analyzed before.
Secondary Research: Involves the analysis of data that has been previously collected and analyzed.
7. Relevance and Timeliness
Primary Research: Often provides more up-to-date and relevant data or information.
Secondary Research: This may involve data that is outdated, but it can still be valuable for historical context or broad trends.
Advantages of Primary Research
Primary research has several advantages over other research methods, making it an indispensable tool for anyone seeking to understand their target market, improve their products or services, and stay ahead of the competition. So let's dive in and explore the many benefits of primary research.
One of the most important advantages is

data collected is first-hand and accurate. In other words, there is no dilution of data. Also, this research method can be customized to suit organizations' or businesses' personal requirements and needs

.

I

t

focuses mainly on the

problem at hand, which means entire attention is directed to finding probable solutions to a pinpointed subject matter. Primary research allows researchers to go in-depth about

a matter and study all foreseeable options.

Data collected can be controlled. I

T

gives a means to control how data is collected and used. It's up to the discretion of businesses or organizations who are collecting data how to best make use of data to get meaningful research insights.

I

t

is a time-tested method, therefore, one can rely on the results that are obtained from conducting this type of research.
Disadvantages of Primary Research
While primary research is a powerful tool for gathering unique and firsthand data, it also has its limitations. As we explore the drawbacks, we'll gain a deeper understanding of when primary research may not be the best option and how to work around its challenges.
One of the major disadvantages of primary research is it can be quite expensive to conduct. One may be required to spend a huge sum of money depending on the setup or primary research method used. Not all businesses or organizations may be able to spend a considerable amount of money.

This type of research can be time-consuming. Conducting interviews and

sending and receiving online surveys can be quite an exhaustive process and require investing time and patience for the process to work. Moreover, evaluating results and applying the findings to improve a

product or service will need additional time.

Sometimes,

just using one primary research method may not be enough. In such cases, the use of more than one method is required, and this might increase both the time

required to conduct research and the cost associated with it.
Conclusion
Every research is conducted with a purpose. Primary research is conducted by organizations or businesses to stay informed of the ever-changing market conditions and consumer perception. Excellent customer satisfaction (CSAT) has become a key goal and objective of many organizations.
A customer-centric organization knows the importance of providing exceptional products and services to its customers to increase customer loyalty and decrease customer churn. Organizations collect data and analyze it by conducting primary research to draw highly evaluated results and conclusions. Using this information, organizations are able to make informed decisions based on real data-oriented insights.
QuestionPro is a comprehensive survey platform that can be used to conduct primary research. Users can create custom surveys and distribute them to their target audience, whether it be through email, social media, or a website.
QuestionPro also offers advanced features such as skip logic, branching, and data analysis tools, making collecting and analyzing data easier. With QuestionPro, you can gather valuable insights and make informed decisions based on the results of your primary research. Start today for free!