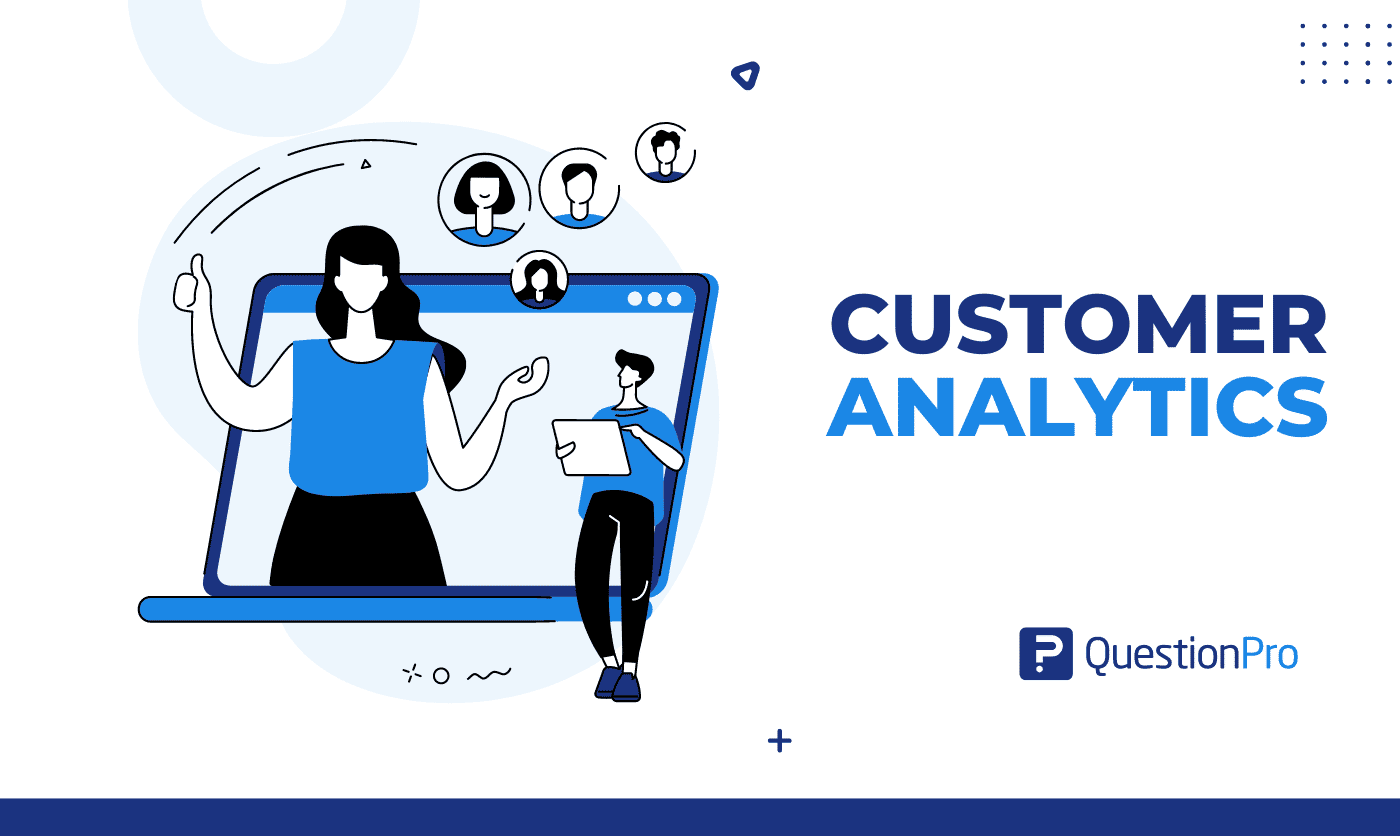 Businesses use customer analytics to understand their customers' complicated behavior. This is especially important in the digital world, where customers go through different stages of the buying process.
It helps to serve your customers by revealing insights about their interactions with your company's website, brand, and offerings. Companies use the information they gain from analytics to enhance their customers' experiences, increasing customer loyalty, sales, and profits.
LEARN ABOUT: Time to Value
We'll talk about customer analytics in this blog, including the different types of it and how to do it.
What is customer analytics?
Customer analytics is the process of using customer behavior data from the organization to assist important business decisions through market segmentation and predictive analysis. The analytics let you understand what tactics, products, and services your clients would be interested in.
The indications used in this customer analysis process must derive from the customers' behaviors or views. It suggests that the source of the analyzed data has obtained information on customer behavior or associated information. Data analytics and data analysis are closely related processes that involve extracting insights from data to make informed decisions.
Businesses often already have this data as they continue acquiring a more comprehensive range of customer information.
Once you start collecting and researching customer data, you can utilize it to determine critical business decisions and provide answers to queries regarding customer behavior. You can figure out how to:
Adapt to individual preferences more effectively.

Communicate effectively and timely.

Target the appropriate audience with the relevant campaigns.
Ensure a pleasant experience for the customer from beginning to end.

Help in the areas of product creation as well as advertising and sales.
Customer analytics benefits
The benefit of customer analytics is that it allows you to make data-driven decisions, which leads to a sequence of actual outcomes. It directly affects your bottom line. Companies are using customer analytics to make decisions, including:
Marketing Efficiency:

By focusing on the individual customer, your marketing analysis extends beyond simply knowing your spending and the number of views you received in return. Knowing which marketing channels provide the most valuable clients allows you to minimize costs or increase your reach.

Customer Retention:

Customer retention is vital since customer acquisition is expensive. Customer analytics can assist you in uncovering common denominators among lost customers and notify you of at-risk clients if you don't take action.

Customer Engagement:

Engaged customers are more likely to make further purchases. Organizations may promote their products to the proper customers by employing customer analytics. Additionally, the goods and services will be customer-focused. It will ultimately result in strong customer engagement and a good ROI for businesses.

Increase sales:

Companies can use customer analytics to understand customers' purchasing preferences quickly, alter products or services to meet their needs, and identify their overall satisfaction. As a result, businesses will see increased customer retention and conversion rates. All of this will eventually lead to higher sales and profits.

Campaign costs:

Businesses may focus on the people most likely to become leads using customer analytics. Returns on investments may be boosted if money is spent only where necessary.
Categories of customer analytics
Businesses can use customer analytics to understand their customers better and customize their offerings. Four categories of customer analytics can help organizations face market issues.
Descriptive analytics is time-consuming and often produces the most negligible value, but it's excellent for finding consumer patterns. Descriptive analytics helps you understand the past and uncover trends to examine.
Diagnostic customer analytics
Diagnostic customer analysis is the process of employing techniques for data mining and data discovery. By looking at internal and external customer-related data, you can determine the root of a business issue.
Predictive customer analytics
Predictive analytics targets and retains customers by forecasting future outcomes utilizing data, regression analysis methods, AI, and ML. It lets you turn the data you already have into valuable insights.
Prescriptive analytics is the most significant and underestimated extensive data analytics technique. It focuses like a laser on a specific subject. It helps determine the ideal solution and proposes ways to capitalize on future opportunities or prevent future danger. It can also aid decision-making by presenting choice outcomes.
The various types of customer analytics can be classified into one of these four groups.
LEARN ABOUT: Data Mining Techniques
Types of customer analytics and how to do it
There are several stages and touchpoints to the customer journey map. And without data, your organization can't quantify, identify, or categorize customers. Because of this, you should know the successful use cases for customer analytics.
Client analytics come in various types, and when used correctly, they can significantly enhance your ability to keep tabs on individuals. Let's get started with them:
Customer Experience Analytics
Customer experience analytics, a type of descriptive analytics, provides an understanding of how your customers feel as they interact with a company. The strategy is to pay close attention to customer service indicators like Average Handle Time and Customer Satisfaction.
Customer experience analytics makes it simple to condense raw data into understandable and straightforward concepts, which can then help to improve customer experience as needed.
How to do it
Visualize the entire customer journey
Using algorithms, map the customer journey to discover problems and forecast customer behavior.
Take customer feedback into account
You can send surveys to your customers using customer experience software so they can tell you about their individual experiences.
Boost your customer service
CX analytics provide measurable data that you can use to assess particular obstacles that are impeding your business's objectives.
Customer Engagement Analytics
Customer engagement has a significant impact on the customer experience. It includes all interactions between a customer and the business across all available channels of communication.
Customer engagement analytics analyzes structured and unstructured customer data from many channels to increase customer interaction. These metrics can help analyze customer engagement patterns, then increase customer experience initiatives or drive promotions.
How to do it
Improve or develop your plan
Before you begin analyzing customer data, have a clearly stated mission that outlines the fundamental goal of your analysis.
Gain a firm understanding of the information presented to ensure it is appropriate for customer involvement. When it comes to using data and analytics to engage customers, there is no one-size-fits-all approach.
Based on shared traits, customers are divided into categories. Marketers can gain a deeper understanding of customer behaviors and effects, advantages and disadvantages, business prospects, and more.
Improve your segmentation approach
Marketing professionals can better understand their customer engagement by segmenting them, which aids in the creation of an optimization strategy.
Make a conversation that is efficient and consistent
Companies that are transparent with their workers and avoid siloed departments are more likely to have established or established channels of communication between business and analytics leaders. A conversation should be led constructively and constantly if you want to get the most out of it.
Customer Retention Analytics
It's just as important to get new customers as it is to keep the ones you already have. Since keeping customers costs less than acquiring new ones, businesses need to understand what makes customers stay or leave.
Customer retention analytics can help you look at the data to figure out why and how customers stay with or leave your business. These data sets help a lot in figuring out what makes customers stay and what makes them go.
How to do it
Pay close attention to only high-quality leads
Similar customers to your ideal customers have a lower tendency to leave. Now that you have data on your present customers and a forecast of your potential customers, you can focus on the customers who are less likely to quit.
Target the right customers by grouping them up
By categorizing customers using data analytics, you can determine how each category interacts with your brand and products.
Customer Lifetime Analytics
It is critical to understand who your best customers are. When you have such data, the next step is to figure out how to keep those customers. You should also be aware of the potential benefits that the customer may bring over their lifetime stay.
Customer Lifetime Value (CLTV) helps you determine how much money to expect from a single customer during their life with your company. When you know CLV for each customer, you can optimize marketing and sales accordingly.
If the CLTV drops over time, you probably have a problem keeping repeat customers. Additionally, if your CLTV is lower than your client acquisition cost, it indicates you are overspending on customer retention.
How to do it
Customers appreciate recognition and rewards. They can be rewarded in many different ways. Create a reward program that awards points for card or app purchases.
Improve the customer experience
Every consumer interaction with your firm is reviewed. Each customer touchpoint should be updated regularly to represent your company's beliefs and improve the customer experience.
Offer a practical service
If you help users, they'll return. It means you should regularly analyze and enhance your customer experience to make it easy for them to keep buying or using your services.
Voice of Customer Analytics
Voice of the Customer Analytics (VOCA) identifies customers' attitudes around your goods or services and their brand expectations. Customers' expectations are established through the process, and the products are developed to satisfy them.
For more in-depth analysis of unstructured data, including reviews and social media, VoCA uses data science and analytics technology.
How to do it
Conduct customer interviews
VOC data is collected through customer interviews. In-depth research can be done by interviewing the customer directly. Time-consuming interviews often give the most relevant information.
Review past calls from existing customers
Voice of the customer analytics data may be collected from any customer-facing phone interactions your team has, including sales calls, product demos, support conversations, and more.
Whether you're actively seeking Voice of the Customer input or gathering data for the future, it's a good idea to have an online survey on hand so customers may offer their opinion at any time.
LEARN ABOUT: Consumer Decision Journey
Conclusion
Analytics plays a significant part in thoroughly knowing customers, their interests, and preferences. And if you can effectively utilize that data, it will always be simple for your company to achieve the kind of customer development and success it deserves or expects.
Your company needs to analyze customer feedback data from numerous touchpoints and communication channels. Then combine them to create a comprehensive view of the journey and deliver a better overall experience.
QuestionPro provides some of the most sophisticated customer experience technologies on the market. It allows you to get connected to your customers and understand more about what they honestly think. You can discover crucial relationships and patterns that can assist you in improving your customer service process operations and improve your outcomes.