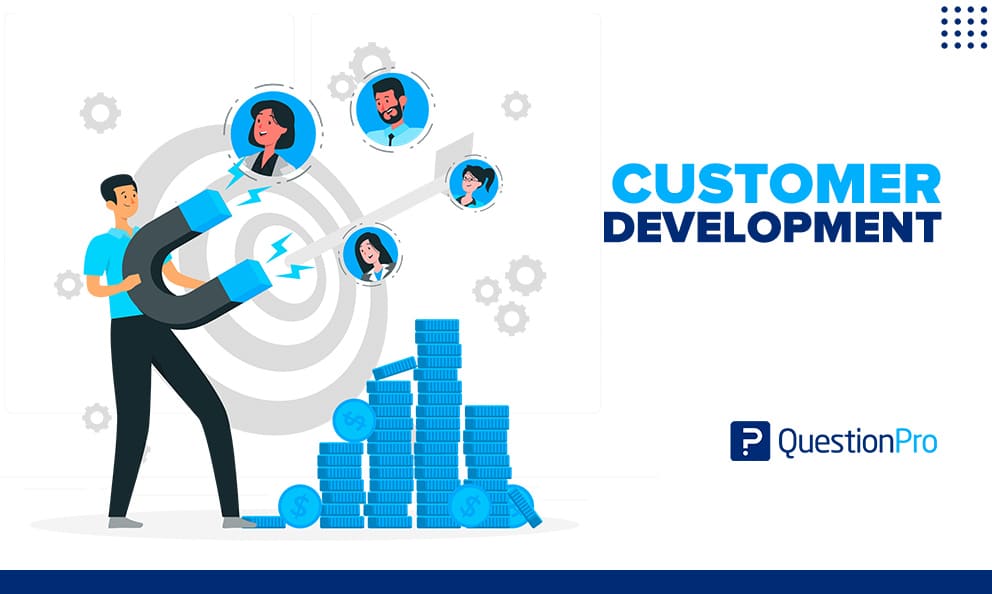 Customer development is a Lean Startup Method used to understand a problem and determine if a solution meets customer needs. It is also known as CustDev and defines your target customer and validates your solution hypotheses.
The development process involves a service that solves a problem for a specific audience. A business must assess the opportunity and validate that the solution can meet customer needs.
This article goes into detail about consumer development and gives examples. Keep reading.
What is customer development?
Customer development is a way to learn about your customers and find out if the product you make meets their needs. Steve Blank came up with it first.
In Lean, the customer development process is used to determine what problems are happening and how to solve them. This process lets businesses determine what the market needs and make products that meet those needs.
The customer development phase usually comes after the business model design and before the agile engineering phases. The lean methodology uses both approaches. You use the customer development method when you don't know the problem. When you don't know what the answer is, you use agile engineering.
This helps find problems and ensure that the solutions people think are correct.
Origin of customer development concepts
In the 1990s, consumer development methodology became popular. Its main goal was to understand a business problem and figure out if a company's product would meet customer needs or not.
Consumer development is a startup framework created by entrepreneur Steve Blank. It's between Business Model Design and Agile Engineering. When companies use this method, they are better able to meet the needs of their customers. So, they can quickly devise many ways to solve their problems.
Companies are supposed to make assumptions about the different hypotheses and then look for ways to prove that those assumptions are correct. With this framework, companies can release the final product to solve their customers' problems.
Customer Development Process
The customer development process has four main steps:
Customer discovery process
In this phase, a company develops a strategy to test two hypotheses. The 'problem hypothesis' identifies and interprets customers' pain points. The 'product hypothesis' the other focuses on solutions to customer pain points.
LEARN ABOUT: Perfect Customer-First Strategy
Listening is most important here. The company must talk to customers to get feedback. To know if its product is valuable, it must listen to customers' opinions, needs, and pain points.
Customer Validation Process
Customer validation is a crucial step in customer development. Here, a company must be ready to sell. It needs a scalable sales process.
It's the product's viability test. If the product doesn't generate enough customer interest, the company must return to the first step to address significant pain points.
Customer Creation Process
This is where project execution or implementation begins. When a business reaches this stage, it successfully triggers market demand for its product. Its main goal is to raise requests and ensure scalability, profit, and business growth.
Company Building Process
Company building is the last step in the whole process and requires changing how the business thinks. It's all about making sure the company works well as a whole. To make this change, a business needs to set up more departments and hire more people.
Importance of customer development
A startup should figure out early on how important consumer development is. It keeps the business from wasting time, money, and resources on products with a small chance of doing well on the market. Let's explore more importance of consumer development below:
Helps in decision-making
Consumer development gives the company a clear idea of whether or not its product is meeting the needs of its customers. This development helps a lot in decision-making when the company has to decide on investments immediately.
Gives reliable data
With the customer development process, companies can try out their products to see if they will work. This gives them reliable data and information they can use to make crucial decisions unbiasedly.
the relatively "cheap" process
It's a cheap way to find out if a product will work, and it saves money for a business by getting rid of the need to hold a fundraiser. This gives a company more time before it runs out of money. It helps convince investors that the business has done its research. Because of this, the business will be able to get more money.
Great customer development examples and case studies
Now, we will present three examples that help you better understand consumer development.
Example 01- Dropbox
Dropbox remains a wildly popular product and one of Silicon Valley's most outstanding achievements. However, this achievement did not come without difficulty.
Dropbox had an excellent team of engineers but lacked marketing expertise, causing them to spend excessive money on various marketing channels. At one point, they were spending hundreds of dollars per customer acquisition on a product that cost at most $99 to produce.
Then Dropbox began focusing on consumer development and abandoned traditional marketing methods. They successfully used word-of-mouth marketing after shifting their focus to working with their customers.
Example 02- Groove
For businesses, Groove is an online help desk solution. Groove was initially successful as a subscription-based service.
However, Groove had a problem with customer churn; they could acquire new customers but not retain them. Their churn rate was high at 3 percent, and despite remote customer surveys, they could not determine the cause.
Groove decided to rethink its strategy after learning about customer development. They spent more time getting to know their customers and introducing them to Groove.
This new strategy helped Groove strengthen its position in the industry. They also targeted SMBs and provided Groove users with a more personalized experience.
These minor adjustments significantly reduced its churn rate.
LEARN ABOUT: Consumer Decision Journey
Conclusion
From the above discussion, we get a clear idea about customer development, and we also discussed two examples of it. Consumer development helps companies determine the viability of their products or services. It ensures that products address customer problems.
Do you have any concerns or questions about customer development? Fill out the contact form to reach us. We're eagerly awaiting your call! Alternatively, you can book a free demo right now.