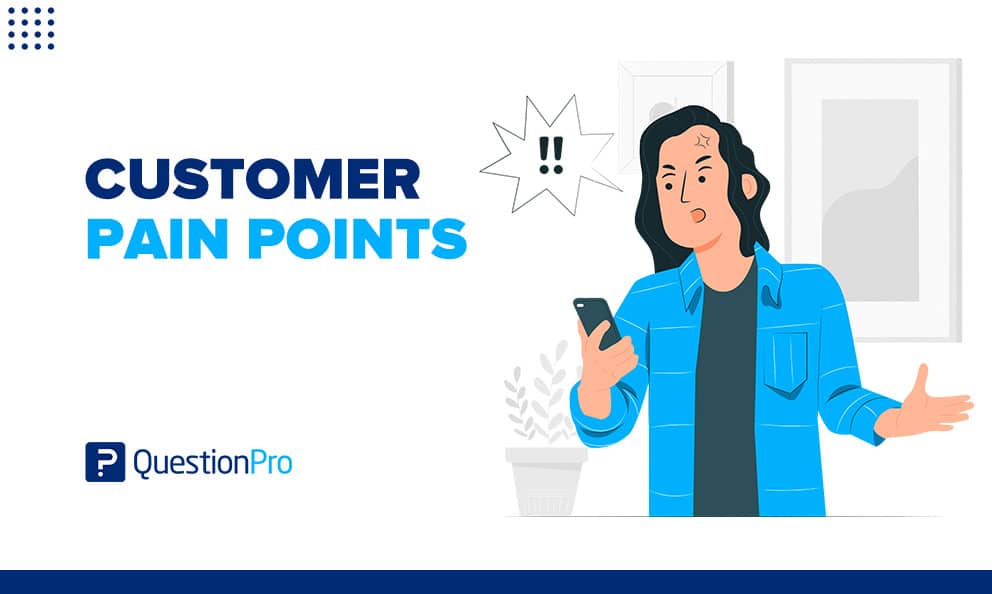 You'd often find great leaders and product/service innovators talking about customer pain points and how they're striving to address and solve them.
However, at least once, you would have quizzed yourself about what these pain points in a customer journey are and why all these people are talking about them?
What are Customer Pain Points?
In bare basic terms, customer pain points are the problems and challenges that the customers are facing, and these are pretty persistent problems for which the customers seek solutions. If you go to look over the internet, you will find these pain points to be mainly classified into four areas:
Financial pain points.
Process pain points.
Productivity pain points.
Support pain points.
Financial pain points are money-related issues that a customer may have, such as overpriced products and services or unclear spending.
Process pain points are issues that customers have with processes in their daily lives, such as time-consuming tasks and complicated methods.
Productivity pain points are problems that a customer encounters due to a lack of streamlined experiences or efficiencies in which time and resources are not properly utilized.
Support pain points are issues that customers have that make them feel as if they don't have the help they require, such as confusing tasks and processes or a lack of guidance.
Understanding Customer Pain Points
Understanding these various categories can help you consider positioning your own company and solutions to prospects dealing with some of these issues.
It can also provide you with useful information about how to meet the needs of these prospects as they progress through the customer's journey.
If you're dealing with an existing customer, determining what areas of pain they're experiencing will help you develop efficient solutions that reduce churn.
Understanding your customer's pain points does come off as a task of a peak to conquer; however, it's much easier with the right tools and approaches than you thought. You can deploy all or any of the below tools/approaches in combination to get the best understanding of the pain points.
Conduct Customer research and surveys

Deploy tools for social listening through online brand tracking

Setup a live medium (chat, phone) to listen to your customers
Bear in mind that identifying your customer pain points is an ongoing process, and the more robust your system of identifying the pain points, the easier it will be for you to address and solve them.
To identify customer pain points on an ongoing basis, you can deploy the following solutions:
Qualitative Customer Research – Ask! Asking open-ended questions to your customers is one of the best way to understand the underlying pain points. Assume you ask, "How frequently do you use our product or service?" "Once a week," "once a month," "every few months," and "rarely" are good multiple-choice answers to include. This provides your team with quantitative data to help improve your company's marketing and operations.
Live in-person/online workshops – If you can get people in a room (physical/virtual) and get them to speak, you can get minute details of paint points they experience in their daily life.
Reviews – Always keep an eye out for the reviews your customers are posting; in today's world of online free speech, people are very upfront about their experiences and express them through reviews. Some review websites even have a pros and cons section that allows you to identify immediately how your product or service addressed your customers' needs.
Talk with your Sales team – Your sales team is an incredible asset in assisting you with understanding your customers since they collaborate with them so frequently. Each time a colleague completes a deal, there's quite often a trouble spot or issue there that you can settle. Converse with your group and realize what your clients say regarding your items and administrations. Do they despise them? Did they specify a contender? Did they make reference to the cost?
Conclusion and solutions
We at QuestionPro are here to help you deploy each of these Customer pain point identifying solutions through our wide products that include:
Customer Experience platform that allows you to carry out touchpoint-based feedback collection, closed-loop feedback addressing, solutions to post your customer's reviews online, and much more.
Communities platform to run focus groups, 1 on 1 interview, and qualitative and quantitative research with the help of surveys and many more solutions. Contact us, and we will help you identify your customer's pain points and ultimately address them in the best possible way.
At QuestionPro CX we offer you the best tools to monitor the customer journey in your organization. Contact us! We would love to team up with you to help you achieve better customer experiences!
Author: Anmol Sahetya