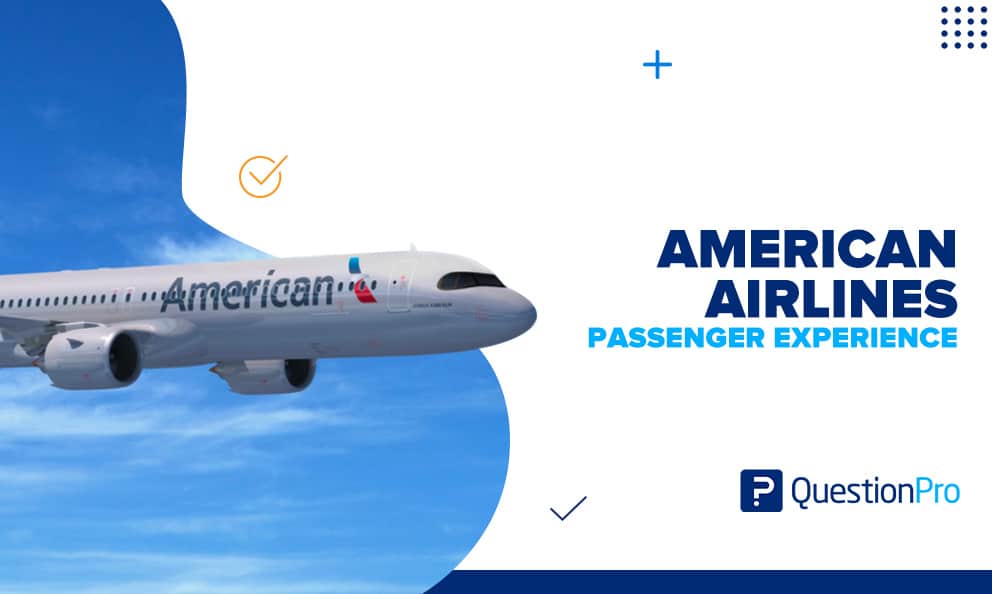 Passenger satisfaction is the primary factor for any airline's success, and the American Airlines Passenger Experience strategy is well aware of this. It is evident in their multiple initiatives and programs implemented over the years to ensure that their users have great travel experiences.
American Airlines' commitment to passenger satisfaction serves as a valuable lesson for businesses across various industries. This article will explore the essential strategies for the American Airlines Passenger Experience, how employs to ensure passenger satisfaction, and what we can learn from them to improve our customer experience.
The Importance of Passenger Satisfaction in the Tourism and Aviation Industry
Passenger satisfaction is not just a measure of customer satisfaction but a critical factor that can make or break an airline or any business.
The benefits of making passenger satisfaction the focal point of your actions are numerous. Satisfied passengers are more likely to become repeat customers, recommend the airline to others, and even become brand ambassadors.
On the other hand, dissatisfied customers can lead to negative reviews and word-of-mouth, which can significantly impact a business's reputation.
These benefits and opportunities can easily go unnoticed, especially if the critical touchpoints where you can either enhance or ruin your users' experience are not clear. A very useful tool for gaining a clear perspective on the most important points of interaction is a Passenger Journey Map. It is a visual representation where you can outline all the touchpoints of your business for a better understanding of your customer journey.
American Airlines Passenger Experience Journey Map
To clarify the concept, we have created a fictitious passenger or customer journey map based on the strategies and information that the American Airlines Passenger Experience has shared in their communications and website.
This map lets you appreciate all the touchpoints and interactions the brand has with this industry.
To delve further into other possible touchpoints or actions, here is a table with the complete analysis of customer touchpoints, activity, pain points and solutions:
Stage 01: AWARENESS
| | | | |
| --- | --- | --- | --- |
| Touchpoint | Activity | Pain Point | Solution |
| Social Media Advertising | Customers come across American Airlines ads on social media platforms. | Limited knowledge about American Airlines' services and routes. | Provide eye-catching visuals and concise messages to highlight American Airlines' key offerings. |
| Email Marketing | Customers receive targeted email marketing campaigns. | Email overload and irrelevant content. | Segment email lists and send personalized content based on customer preferences. |
| Airport Billboards | Customers notice American Airlines' billboards at airports. | Lack of awareness about American Airlines' premium services. | Showcase unique features like AAdvantage® program and partnerships on the billboards. |
| Online Travel Blogs | Customers read travel blogs featuring American Airlines' experiences. | Desire for unbiased opinions and authentic experiences. | Partner with travel bloggers known for honest and detailed reviews. |
| Gift Cards | Customers learn about American Airlines' gift card options. | Uncertainty about gifting travel experiences. | Promote the versatility and convenience of using American Airlines gift cards. |
| Newsroom | Customers visit the American Airlines newsroom for updates. | Limited access to timely and relevant news. | Regularly update the newsroom with current airline news and announcements. |
Stage 02: CONSIDERATION
| | | | |
| --- | --- | --- | --- |
| Touchpoint | Activity | Pain Point | Solution |
| Website and App | Customers explore American Airlines' website and app for flight options. | Difficulty finding the most suitable flight options. | Implement a user-friendly interface with efficient search filters. |
| Customer Reviews | Customers check reviews from past American Airlines passengers. | Concerns about potential travel issues. | Address negative reviews with prompt responses and service recovery efforts. |
| Price Comparison Websites | Customers compare American Airlines' fares with other airlines. | Apprehension about flight cost and value for money. | Offer price-matching guarantees and highlight added benefits of flying with American Airlines. |
| Refunds | Customers review American Airlines' refund policies. | Confusion or delays in the refund process. | Clearly communicate refund procedures and provide dedicated support for refund inquiries. |
| Virtual Assistant | Customers interact with American Airlines' virtual assistant. | Difficulty in finding real-time assistance. | Enhance the virtual assistant's capabilities and offer seamless customer support. |
| Web Accessibility | Customers appreciate American Airlines' web accessibility efforts. | Frustration with inaccessible websites. | Ensure the website is accessible to all users, including those with disabilities. |
| Airlines Partnerships | Customers explore American Airlines' partnerships with other airlines. | Lack of awareness about alliance benefits. | Highlight the expanded travel options and perks through airline partnerships. |
Stage 03: CONVERSION
| | | | |
| --- | --- | --- | --- |
| Touchpoint | Activity | Pain Point | Solution |
| Personalized Offers | Customers receive tailored promotions from American Airlines. | Overwhelmed by irrelevant marketing materials. | Use data analytics to send personalized offers based on customer preferences. |
| Seamless Booking Process | Customers book American Airlines flights with ease. | Complicated and time-consuming booking process. | Simplify the booking steps and offer a seamless online experience. |
| Multi-language Support | Customers get assistance in their preferred language. | Communication barriers with customer support. | Provide multilingual support through trained representatives. |
| Check-in | Customers experience a hassle-free check-in process. | Confusion or issues during the check-in process. | Offer mobile check-in options and provide clear instructions. |
| Onboard Experience | Customers enjoy a pleasant onboard experience. | Uncertainty about the quality of onboard services. | Showcase the amenities and comfort of flying with American Airlines. |
| Trip Extras | Customers explore additional services for their trip. | Lack of awareness about available extras. | Promote travel insurance, personal concierge, and discounts to enhance the trip experience. |
Stage 04: LOYALTY
| | | | |
| --- | --- | --- | --- |
| Touchpoint | Activity | Pain Point | Solution |
| AAdvantage® Program (Loyalty Program) | Customers actively engage with the AAdvantage® program. | Perceived lack of rewards and benefits. | Enhance loyalty program perks and introduce tier-based rewards. |
| American Airlines Credit Card | Customers utilize the American Airlines credit card for rewards. | Lack of understanding of credit card benefits. | Educate customers about maximizing mileage rewards with the credit card. |
Stage 05: ADVOCACY
| | | | |
| --- | --- | --- | --- |
| Touchpoint | Activity | Pain Point | Solution |
| Social Media Engagement | Customers share their American Airlines experiences on social media. | Lack of incentives to share their stories. | Launch contests or giveaways to encourage customers to share their experiences. |
| Referral Program | Customers refer friends and family to American Airlines. | No motivation to refer others to the airline. | Introduce a referral program with enticing rewards for successful referrals. |
| Customer Testimonials | American Airlines features customer stories on their platforms. | Customer stories are not being heard or recognized. | Actively showcase customer testimonials across various marketing channels. |
| Customer Satisfaction Survey – Post-Travel | Customers participate in post-travel surveys with options for advocates to share their testimonials. | Limited avenues for sharing feedback. | Implement post-travel surveys to gather customer insights and suggestions. |
Great Customer Experience Strategies Executed by American Airlines
As you have seen, American Airlines constantly strives to find new ways to delight its passengers, from improvements to complex strategies. This airline is a worthy case study for anyone looking to provide incredible experiences to their users.
Next, we will explore some of the most notable strategies with a brief analysis to learn from them.
Variety of Plans and Service Levels: With over ten types of packages, American Airlines offers a wide range of options that cater to any need and preference of its users. From exclusive and spacious spaces for long-haul trips to basic but comfortable seats at affordable prices, this airline has created this variety always to ensure that passengers can choose the facilities of their preference.
In-flight Entertainment and Wi-Fi: Traveling can be boring without adequate entertainment services. That's why American Airlines offers all its passengers hundreds of free movies and content to make any journey more enjoyable.
Additionally, the American Airlines Passenger Experience provides the option to purchase Wi-Fi packages to check email, browse social media, or simply make online queries during the flight.
Priority Privileges: American Airlines offers premium users the possibility to access certain privileges to delight them further. This includes speed-through check-in, security, and boarding at the airport, getting checked bags first upon landing, or adding ultimate premium assistance to the departure, connection, or arrival in select markets.
Enhance Your Passenger Experience Today!
Do you want to know what your users think about your services? Start exploring satisfaction levels using the right tools. At QuestionPro, we aim to empower brands with the ideal tools to collect valuable information and understand what's happening in their market.
From satisfaction surveys to complex customer experience management systems, QuestionPro offers all the functions and platforms to discover what your passengers perceive.
We have solutions for every need; a clear example is QuestionPro SuiteCX, the ultimate tool for visually representing your passenger journey. With its various templates and functions, creating captivating journey maps is now just a few clicks away. Complement your maps with information and feedback to better understand what happens at each touchpoint.
Are you ready to provide exceptional service? Contact us, and we would love to talk with you and collaborate on your next great project.