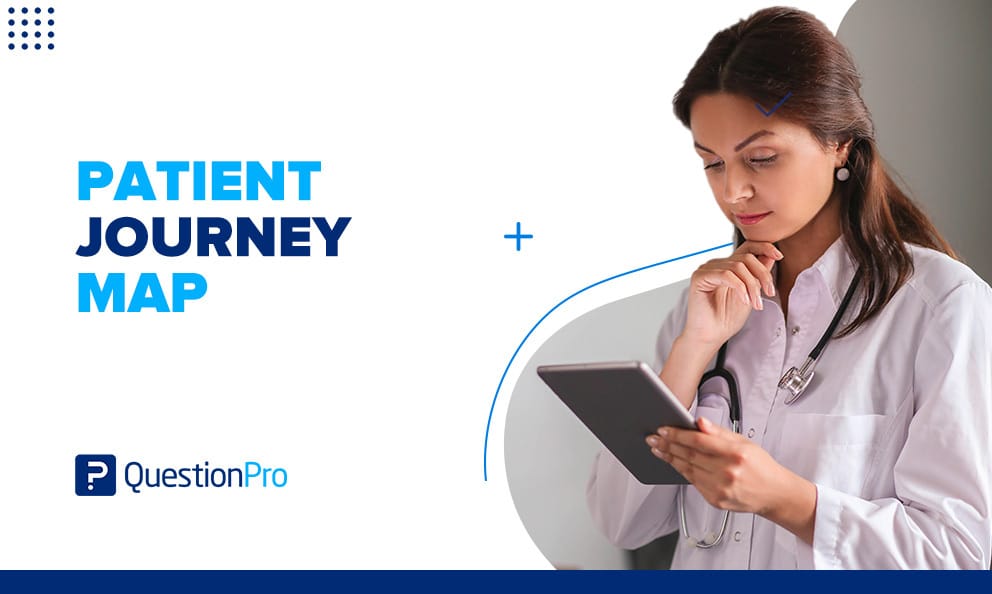 In the rapidly evolving landscape of healthcare, patient-centered care has emerged as a crucial paradigm shift. As hospitals strive to deliver exceptional patient experiences and improve outcomes, understanding the patient journey has become paramount.
A customer journey map is a powerful tool that shares patients' path from their first encounter with a healthcare facility to their final discharge. By visualizing this complex expedition, hospitals can gain invaluable insights into patient needs, pain points, and opportunities for enhancement, thereby revolutionizing the delivery of care.
The following article delves into the significance of patient journey maps for hospitals and their importance in optimizing patient experiences, streamlining processes, and ultimately elevating the standard of healthcare.
What is a Patient Journey Map?
A patient journey is a methodology that enables the analysis of a healthcare provider's processes and value chain but from the patient's viewpoint. This includes their possible solutions, pain points, emotions, touchpoints and user actions throughout the journey.
The patient journey map employs visual representation to gain deeper insights into how patients engage with a healthcare facility throughout their care journey. This unique approach is an evolution of the customer journey map, tailored specifically to the healthcare context. By employing this method, healthcare providers can unravel the intricacies of patient interactions, uncovering valuable information to enhance the quality of care provided.
The concept of the Patient Journey Map mirrors that of the Customer Journey Map, seeking to uncover areas of enhancement in patient care across various healthcare providers, including hospitals, fertility centers, and more.
Just as a skilled cartographer carefully crafts a map to navigate uncharted territories, patient journey maps chart the course of a patient's experience, revealing hidden insights, unveiling opportunities for improvement, and ultimately guiding healthcare providers toward a destination of unparalleled patient satisfaction.
What are the benefits of implementing a Patient Journey Map?
Engaging in the patient journey proves immensely valuable as it enables us to provide patients with an optimal experience, meeting the very expectations that arise when seeking healthcare services.
The emotional aspect tied to the Patient Journey Map can be profoundly impactful, considering the inherent uncertainties often associated with visiting a healthcare facility.
Considering the unique personalities, fears, behaviors, and attitudes of different patient archetypes play a pivotal role in creating a tailored and pleasant experience for them. Thus, the patient journey map becomes a valuable tool benefiting both patients and healthcare service providers.
● Enhanced Communication with Patients:
By understanding the patient journey, healthcare providers can establish effective and continuous communication throughout the entire care process, addressing any doubts or uncertainties. Keeping patients well-informed and updated through appropriate channels reinforces the quality of care provided.
● Elimination of Blind Spots:
Clear comprehension of each stage of the patient journey helps bridge the gaps between patients and services. From the initial appointment request to discharge and follow-up, identifying and addressing potential blind spots ensures consistent and satisfactory solutions tailored to each patient's unique situation.
● Streamlined Resolution of Pain Points:
Mapping the patient journey and defining archetypes enables a deeper understanding of patient concerns, particularly identifying which aspects of the service have the most negative impact. Pain points such as waiting times, unclear explanations, lack of empathy, or impersonalized treatments can be simplified and resolved more effectively.
Learn About: Complaint Resolution
● Process Optimization:
A well-defined patient journey optimizes workflow and allows for more efficient handling of all processes. Staff members become better equipped to anticipate and address patient issues promptly, offering alternatives that instill confidence and satisfaction.
● Continuous Improvement:
Implementing a Patient Experience model involves measuring patient experiences through a feedback system. Continuously updating the database with relevant information about patient journeys and their experiences leads to ongoing improvement in response times, customer service processes, and overall service quality.
What is a Patient Persona?
The patient persona represents an imaginary profile that encapsulates potential patients' needs, goals, illnesses, conditions, emotions, behaviors, and knowledge.
By creating patient personas, healthcare providers can enhance the accuracy and anticipation of care and diagnosis processes, ultimately improving the experience of individuals seeking healthcare services.
5 Steps to Build Your Own Patient Journey Map
1. Define the Experience to Map:
Before diving into the Patient Journey Map, it is crucial to determine the specific experience you intend to outline. By establishing your objectives and identifying the type of information you seek to gather and how it will be utilized, you can ensure a more efficient mapping process right from the start.
2. Identify your Ideal Patient:
The majority of data used to construct the customer patient care journey will come directly from patient-clients. Thus, a key step is identifying the patient persona, which can be singular or multiple. You must decide whether the map will encompass various patient profiles or if separate maps will be created for each target patient.
To create the patient persona(s), gather feedback directly from patients and analyze their behaviors and data. Pose questions such as:
What initially led the patient to seek your services?
Which competitors did they research?
How did they discover your website or company?
What factors differentiated your brand from others? What influenced their decision (or lack thereof) to choose your services?
What are their expectations when interacting with your company?
Can they articulate what they appreciate about your company and what frustrates them?
Have they ever contacted customer service? If so, how was their experience?
Once you have defined the patient persona(s), you can identify the distinct stages of the customer journey when engaging with your company.
3. Divide the Phases of the Customer Journey:
Throughout the customer-patient care journey, patient-clients progress through several discernible stages.
Phase #1: Pre-Visit
● DISCOVERY:
The patient journey initiates with a phase characterized by learning and concern. Patients embark on their healthcare journey upon recognizing a need or developing a concern related to a health issue.
For instance, if an individual experiences symptoms associated with being overweight, they may begin researching options for scheduling an appointment with a medical specialist. At this point, potential patients discover their specific needs and commence the process of investigating suitable solutions. They may turn to the internet, seek recommendations from friends and family, or explore other avenues. During this stage, it is recommended healthcare systems should provide educational support to aid individuals on their journey of understanding.
Want to know more about the Awareness Stage? Don't miss our article for an in-depth understanding.
● CONSIDERATION:
Following their research, patients reach the consideration stage, having discovered your service. At this point, they possess some knowledge about your healthcare facility's location and offerings, leading them to believe it could meet their needs. However, patients have also explored your competitors and are contemplating multiple options.
During the consideration stage, potential patients meticulously assess the information they come across, including service descriptions, pricing, contact pages, online inquiries, and reviews. They also evaluate the ease of accessing relevant information before scheduling an appointment and the availability of operating hours, among other factors.
Phase #3: Visit
● APPOINTMENT & ENGAGEMENT:
Having gathered sufficient information and progressed through the consideration phase, the patient ultimately chooses your service. This marks their first contact with the health center, which can occur in person, over the phone, via chat, email, or other means of communication.
During this stage, the patient schedules their appointment. The company must streamline the application process and maintain effective and proactive communication. It is crucial for this phase to be completed without complications.
● SERVICE DELIVERY:
Within the visit phase is the service delivery stage, where patients interact with various service providers at the health center. From the moment the patient enters the premises, the company must ensure an exceptional service experience.
Service delivery encompasses multiple micro-moments, necessitating comprehensive attention throughout the entire journey. Every interaction matters, from the reception care and waiting times to the core service itself—meeting the patient's objective of being evaluated by a doctor or specialist.
Phase #3: After the Visit
● RETENTION:
The Patient journey doesn't conclude after the initial visit. A crucial third phase occurs post-encounter, where efforts should be dedicated to fostering patient retention and encouraging their return for subsequent visits. Building strategies that monitor the patient experience is essential in designing loyalty programs to ensure patients return for future services.
● RECOMMENDATION:
Part of the post-visit phase involves patient recommendations, which heavily depend on the overall patient journey experience provided by the company. If patients have had a positive service encounter, they are likely to recommend it to others, benefiting your business.
However, it is important to remember that negative experiences are equally shared, and if patients are dissatisfied, they may spread negative feedback.
Promptly addressing any negative comments is crucial to resolving issues and preventing unfavorable recommendations.
Phase #4: Identify Touchpoints
An additional vital step in mapping the customer-patient care journey is identifying the various touchpoints between the patient and the healthcare facility. These interactions occur at different stages throughout the patient journey, and understanding these touchpoints aids in developing strategies that facilitate effective communication.
Discovery:
Seeking information about healthcare centers: discovering the existence of the healthcare provider and the services it offers.
Investigation:
Reviewing patient-client feedback: researching comments and feedback from other patients about their visit experiences at the health center.
Exploring promotions: searching for economic benefits such as discounts, promotions, and bundled service packages.
Acquisition:
Appointment Request: Contact or visit the health center to schedule an appointment.
Provision of Personal Data: The health center will request personal information to finalize the appointment booking.
Appointment Confirmation: After providing the required data, the appointment for the agreed date and time is confirmed.
Service:
Patient Reception: The patient arrives at the health center at their scheduled appointment time.
Waiting Room: The staff guides the patient to the designated waiting area.
Consultation: The patient's turn to be attended by the specialist.
Payment: The process of settling the payment for the service, which may occur at any point during the service phase, depending on the health center's policies.
Retention:
Patient Recommendations: Patients offer positive or negative feedback about the health center and its services.
Loyalty Program: Incentives such as offers, promotions, discounts, or a points system to encourage future visits.
Recommendation:
Complaint: If the patient has had a negative experience, they may file a complaint with the health center.
Online Reviews: Patients share comments or criticisms about the service by posting reviews on the internet.
4. Identify Contact Channels
Patients engage with the health center through various channels throughout the patient journey. These channels, such as the health center itself, can be physical or online, including social media, email, applications, websites, and online forms.
Identifying the most utilized contact channels at each stage of the customer-patient care journey is crucial. This allows for the development of tailored strategies for each channel, meeting patient expectations at each phase.
Working on the patient journey is crucial for healthcare providers to deliver a high-quality experience to patients. By mapping their interactions, providers gain a deeper understanding of their patient personas, allowing them better to comprehend patient needs, desires, and circumstances to provide the desired care.
Patient Journey Map Example
To better understand what a Patient Journey Map is, we have created this fictitious example using one of the most reputable medical institutions in the healthcare sector, the Massachusetts General Hospital, as a reference.
In this example, we have included some generic touchpoints that are usually the most common in the interaction between a hospital and a patient.
Through this example, it would be possible to visualize the points of interaction between both parties and the perception that patients have of them, which can be positive or negative. This serves as a clear indicator for making adjustments and learning from what has been done well.
The Office of Patient Experience plays a vital role in facilitating initiatives to assess and enhance the quality of care experienced by patients and their families. They are responsible for evaluating each of these touchpoints and ensuring that appropriate actions are taken.
The Mass General Hospital is a benchmark not only in terms of service level but also in the implementation of methodologies and actions that guarantee the satisfaction of their patients. A clear example of this can be seen in the results of their annual HCAHPS survey, where they score above the national average in various aspects.
Willingness to Recommend Hospital
Scores below show the percentage of patients who would "definitely recommend" Mass General to their friends and family.
To see the complete study, we invite you to visit their website and learn about it.
More Examples of Patient Journey Maps
Seeking inspiration to craft your own Patient Journey Map? Your search ends here!
Explore a collection of remarkable examples from top-notch brands, unveiling their initiatives that delight customers and foster loyalty.
Get set to revolutionize your own Patient Journey!
Massachusetts General Hospital

Mass General Hospital is renowned for providing exceptional care and taking special care in understanding the perspective of its patients. They achieve this through different tools, such as satisfaction surveys, internal and external feedback, and HCAHPS surveys.
Mayo Clinic

Mayo Clinic is characterized by its focus on patient satisfaction and its extensive technical deployment to gather user and prospect feedback.
Cleveland Clinic

Cleveland Clinic is often ranked among the best hospitals in the United States. This recognition is not only due to its incredible facilities, global expansion, and well-prepared staff but also because of its remarkable focus on the experience they provide to its patients and clients.
Singapore General Hospital

Singapore General Hospital is one of the largest and oldest hospitals in Singapore. It has been a major healthcare institution providing a wide range of medical services and treatments since 1821.
Johns Hopkins Hospital

Johns Hopkins Medicine has long recognized the significance of a positive patient and family experience during hospitalization, which is why they maintain a specific focus on patient satisfaction to achieve an optimal experience.
How can you enhance your Patient Journey Map based on your acquired knowledge?
The insights and recommendations shared above are likely to have sparked ideas about the potential impact of these initiatives across various industries, not just healthcare.
The first crucial step is to embrace a customer-centric approach, keeping their needs and expectations at the forefront. By doing so, the actions you take will have a meaningful impact on your customers and yield multiple benefits for your business.
At QuestionPro, we offer a range of tools and features specifically designed to help you achieve this objective.
QuestionPro SuiteCX is a Customer Journey Mapping Software that simplifies the process of creating your customer journey. 
With a vast selection of templates and the ability to personalize user/buyer personas while incorporating your own data, you can conduct precise visual analyses at every touchpoint throughout your patient journey.
Start delighting your customers today!