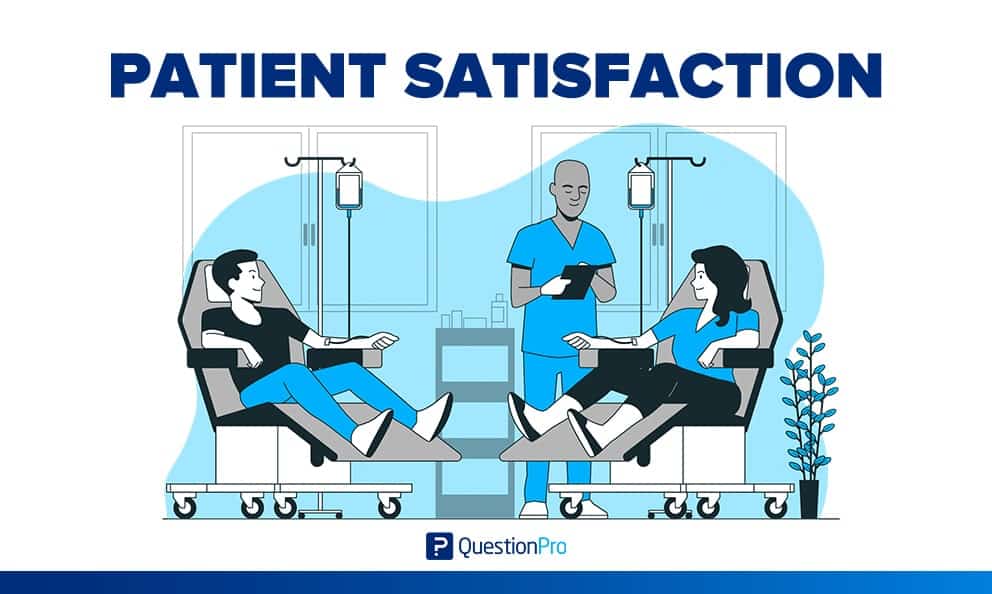 The healthcare industry has become a major service industry, especially in this time of global pandemic, where many healthcare systems have focused on improving their care and understanding patient satisfaction.
Today the patients see themselves as a purchaser of healthcare services. Once this concept is accepted, it is necessary to recognize that every patient has certain rights, which places a special emphasis on the provision of quality healthcare.
Let's learn how to provide better patient satisfaction and deliver better healthcare.
What is patient satisfaction?
Patient satisfaction is a type of customer satisfaction and an important and commonly used indicator to measure the quality of healthcare survey. It influences clinical outcomes, patient retention and medical malpractice claims. It affects timely, efficient and patient-centered delivery. 
Patient satisfaction is therefore a representative but very effective indicator for measuring physician and hospital success. 
Patient satisfaction is determined depending on the positive evaluation that the patient makes of the different areas of medical care received.
The importance of the given rating stands out for several reasons:
They allow a better understanding of the way in which patients perceive hospital practices, administrative aspects and treatment modalities.
They allow the implementation of best practices for better results from an external perspective.
The levels of satisfaction are directly linked to the community and its use of the service, becoming an indicator of quality and high competitiveness in the market. This is reflected in the image of the institution.
Patient satisfaction is a mixed and complex variable that has been studied within the social and health sciences. Research in recent years has been aimed at solving the obstacles identified with evaluations.
Some researchers, however, recognize that the assessment made by the patient predominantly involves dimensions of an organizational nature.
How to measure the satisfaction of the patient?
In-depth demographics and market research always leads to a better understanding of patients, their healthcare needs and expectations. 
The data you collect, for example through patient satisfaction surveys, can be used to create effective strategies that lead to higher quality services in the healthcare sector.
QuestionPro can accurately collect data and capture a patient's status over time. Or create a more interactive survey where patients can pinpoint the parts of the body where they feel pain, and the degree of intensity, using the Homunculus question.
The tool has a number of functions that help measure the service offered in healthcare facilities, for example:
Demographics-related questions.

Tracking of medications that the patient is currently taking or has taken in the past

Medical history questionnaire

Procedures the patient has undergone

Monitoring and follow-up of contacts by COVID-19

Online health status assessment



As a healthcare facility, it is also important to know what the competition is doing. Using QuestionPro's advanced features will help you better understand your customers and competitors. Here are some of them:
A powerful feature for competitive analysis, marketing analysis and unfavorable rumor detection for risk management. This will help track what your patients are saying about your product/service.
Measures how people make decisions based on certain characteristics of a product or service. It deciphers the selection behavior of healthcare services, and predicts the performance of your service in the market.
Trend analysis is another advanced feature that allows you to plot response data over time. This will help to detect patterns in survey responses that could lead to future quality problems, and to forecast future periods of patient demand.
Through these functions it will be easy to create high quality market research reports on your competitors, know patient expectations and satisfaction, what the market offering is and how it may change over time.
Advantages of knowing the level of patient satisfaction
Satisfaction and feedback surveys help gather information about patient satisfaction, resulting in better communication with physicians, administrators, providers and more.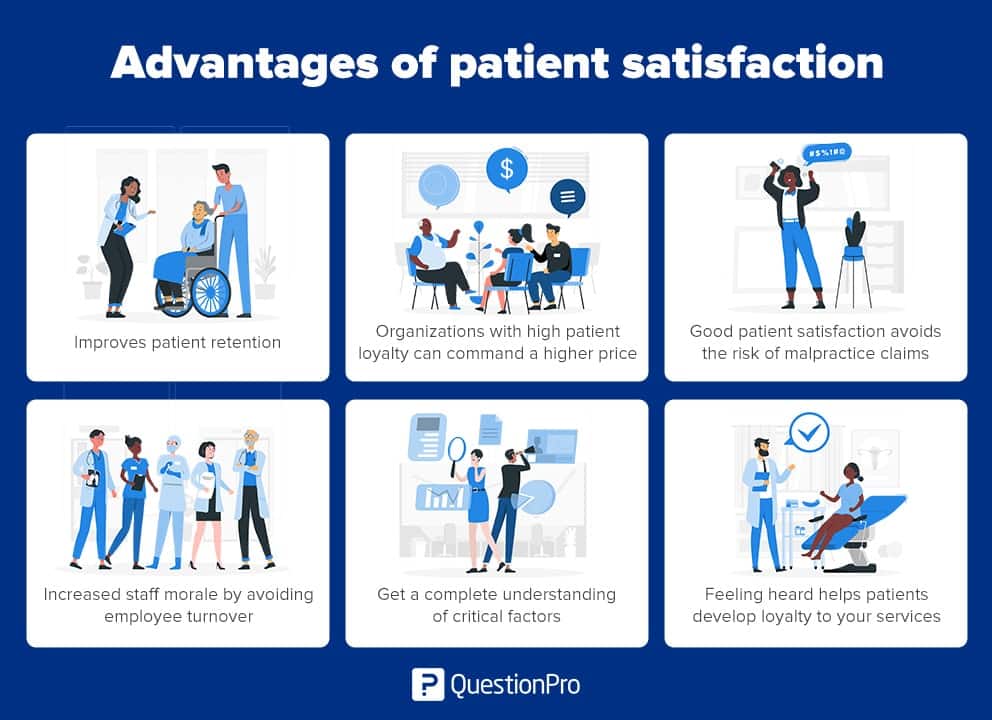 These are other benefits of measuring patient satisfaction:
Patient satisfaction leads to customer (patient) loyalty.

Improves patient retention.

Organizations with high patient loyalty can command a higher price.

Losing patients to dissatisfaction generates less revenue. Hence the importance of applying a health survey to improve the healthcare experience.

Increased staff morale, by avoiding employee turnover, also leads to increased productivity.

Good patient satisfaction avoids the risk of malpractice claims.

Increased staff satisfaction, when sick people get better.

The results of a patient survey will provide a complete understanding of critical factors that can be both negative and positive, which in turn will help make important decisions about the care provided. 
Each survey will provide actionable information, allowing you to quickly identify potential problems and improve the quality of care. If you want to know how satisfied your patients are, QuestionPro can help.
Create your free account or request a demo of our survey software and learn about all its advanced features.