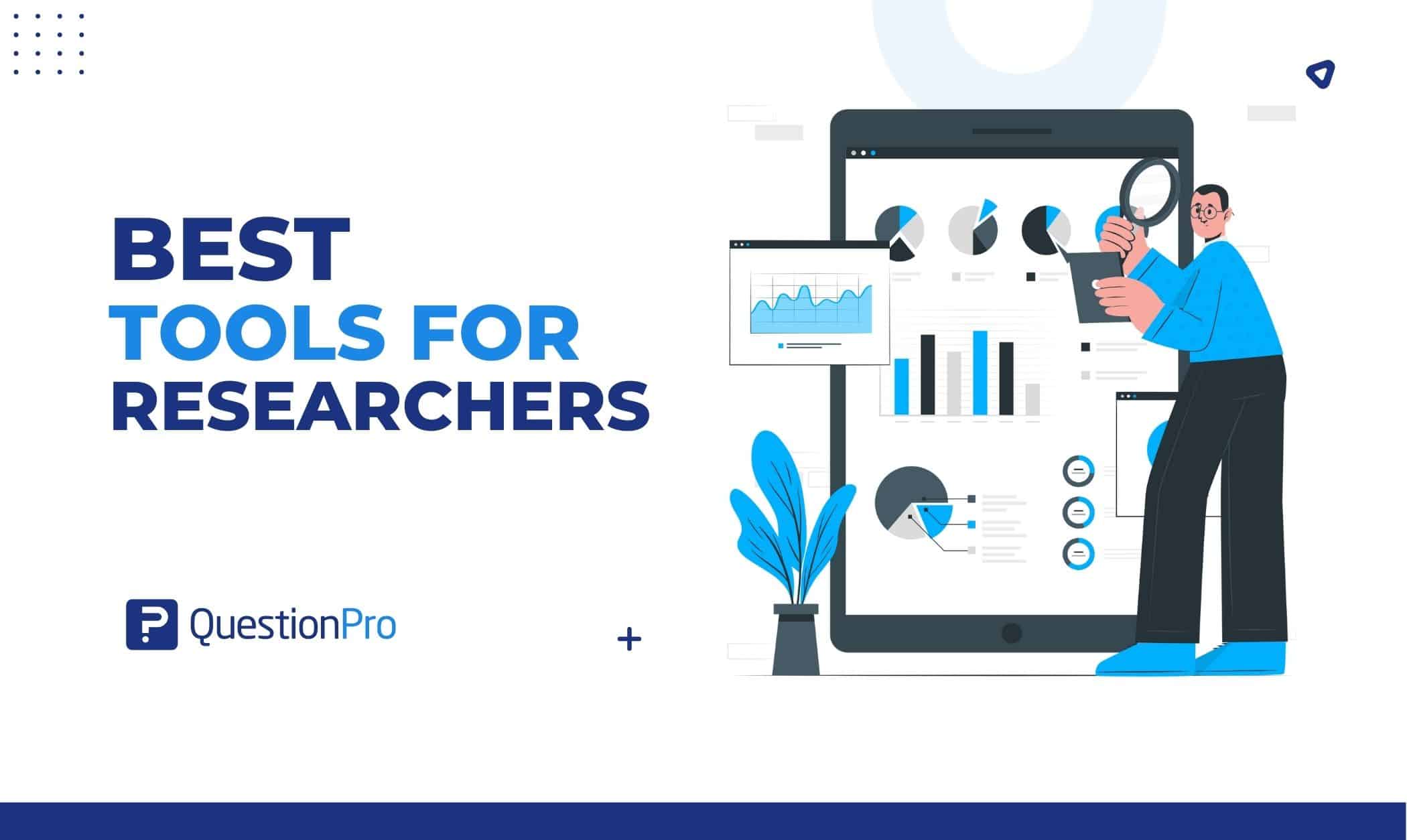 Every project needs to conduct research. It's the best way to avoid making expensive mistakes and create a product that the target audience will love. There are many helpful market research tools out there that you can use to make your research easier. That is why we have brought you the best tools for researchers to conduct research and surveys. Let's explore them below.
What is the need for research tools for researchers?
Every researcher focuses on managing multiple tasks, getting good results, and using time well, no matter what research they do. All of these require a well-planned and organized system. And To do this, every researcher needs research tools. The best tools for researchers make this job easier.
Market research tool helps researchers write their project proposals, reports, and articles by helping them avoid language mistakes, cite sources, build networks, and search for journals to publish.
12 Best Tools for researchers in research and survey
So, let's get right into it! We have made a list of the 12 best tools that every researcher should try. We will discuss their most important features and prices so you can compare them and choose what works best for you.
QuestionPro InsightHub
QuestionPro InsightHub is one of the best research tools and the most powerful tool for sharing, showcasing, and analyzing your insights data.
It is a built-for-insights platform that helps insights teams organize, be more agile, and conduct market research. InsightsHub is a place to store and search all of your insights data, research methods, and project lifecycles.
It lets you create a project, then links a survey to that project. When the research is done, put the most important findings and nuggets inside each project. It makes them easy to find later and link to other projects.
Best features:
Strong integrations with your present research ecosystem and technology.
Multilingual support for 50+ languages and double-byte character sets.
Real-time reporting dashboard
Unified platform to organize, explore, research, and discover research data in one repository.
Democratized insights
Pricing
Premium pricing starts at $99 monthly.
QuestionPro Research Suite
QuestionPro Research Suite is a set of research and analysis tools for researching and changing experiences. It is the best set of enterprise-level research tools in the industry that can help you find insights for your brand.
You can solve your research problems with surveys that are easy to make and give you complex, real-time information. So, It can be the perfect research tool for researchers.
Best features:
Monitor consumer behavior across categories and remain ahead of the curve With Market segmentation.
Allow you to experience the impact of change by A/B testing across questions, segments, and ideas.
It allows you to do academic research, capturing qualitative and quantitative insights.
Analyze your pricing research data to determine market factors, including competition intelligence, purchase behavior, and pricing sensitivity.
Pricing
QuestionPro premium pricing plan begins at $99 per month.
SurveySparrow
The SurveySparrow Survey Tool is an automated survey tool that is easy to use and was made by a group of researchers and app developers. Because it is easy to use, powerful, and flexible, the SurveySparrow survey tool benefits academic users and scientific researchers.
Best features:
SurveySparrow template library to create polls or an online survey.
Survey customization
Survey data can be exported to Excel, PDF, and JSON.
Pricing
Premium plans begin at $19 monthly.
Qualtrics
Qualtrics is another great survey software option and one of the best tools for researchers. It can handle everything from simple questionnaires to complex research surveys.
Qualtrics is a great choice for survey solutions that are tailored to customers, employees, and brands. Its drag-and-drop survey builder lets you make survey forms that are very flexible and easy to use.
Best features:
Drag and drop functionality for easy to use
Net Promoter Score (NPS)
Real-time dashboard
Pricing
Premium plans start at $1500 yearly.
Bit.ai
Simple text editors from the past need to be better. For our dynamic, interactive, and media-rich research, we need a tool that combines all aspects of modern research under one roof. And this is where Bit.ai comes in.
Bit lets researchers and teams work together, share, track, and manage all their knowledge and research in one place. It is the perfect market research tool for sharing multi-dimensional research with your peers, not just plain, boring text and slides.
Best features:
Easy-to-use interface
Real-time dashboard
Content library to save media files for convenient access.
Organized workspaces
Pricing
Paid plans start from Pro at $8.00 monthly.
Elink.io
Researchers can easily save content from around the web with Elink.io. They can save links to articles, videos, cloud files, social media posts, and much more. If you are looking for the best tools for researchers, Elink.io is for you.
Researchers can change the title and description to add their own voices or notes. They can even group links together and send them to others as a newsletter or put them on your blog or website.
Best features:
Chrome extension to save links quickly.
Easy-to-use interface
Make and distribute a newsletter within minutes.
Pricing
Premium plans start at $ 15.00 monthly.
GanttPRO
The GanttPRO project and task management tool makes it easy for single researchers and groups of any size to plan their tasks on a visually appealing Gantt chart timeline, track their progress, and meet all their deadlines.
GanttPRO lets researchers add as many tasks, task groups, and subtasks as they want to one timeline.
Best features:
Several dozen templates.
Easy-to-use interface
Easy collaboration with colleagues.
Pricing
Premium plans start from $4.5.00 per user monthly.
Grammarly
Grammarly is one of the best tools for researchers. Fixing grammar, sentence structure, and silly spelling mistakes can take hours. With Grammarly's brilliant editor, all these mistakes are automatically fixed.
Aside from fixing basic spelling and grammar mistakes, Grammarly has a punctuation checker, a tool to improve your vocabulary and find plagiarism. So all of your work after research can be done under one roof.
Best features:
Accessible via Word, Slack, etc.
Grammarly's Chrome extension provides real-time grammar checks online.
Allow you to detect document tone and dependability.
Allows custom goals to be set.
Pricing
Premium plans start from $11.66.00 monthly.
Typeset.io
Typeset.io claims to be a more innovative alternative to Word and Latex that all researchers should use. You can start your research with a simple interface or by importing your Word files.
Best features:
Over 100,000 journal formats
Editing services to improve your publication chances
Built-in collaboration tools allow other researchers to have a platform to work with.
Pricing
Premium plans start from $8.00 monthly for researchers.
Endnote
Endnote can be considered one of the best tools for researchers in their research process. Endnote helps you to do smarter research by making it easier to format bibliographies, find full texts, and find references.
An endnote is a collaborative tool because it lets you share selected groups of references, manage team access, and keep track of activity and changes from a single dashboard.
Best features:
Variety of templates and plug-ins.
Easy collaboration with colleagues.
Automatic reference and link updates
Pricing
Paid plans start from $249.00
Mendeley
Mendeley is software for managing references. Researchers can create references and citations in various journal styles with just a few clicks. Researchers can connect and network with more than 6 million users through its research network.
Best features:
Annotate and organize documents
Easy-to-use interface
Pricing
Premium plans start from $55.00 yearly.
ResearchGate
ResearchGate gives you access to more than 135 million pages of publications. It lets you know what's going on in your field. Researchers can share their work, can work together with other researchers, and find new papers and bibliographies through a built-in community. It can be one of the best tools for researchers.
Best features:
Citation tracking
Analytics to see who reads your work
Discover new ideas
Pricing
It is free to use.
Conclusion
There are a lot of best tools for researchers. If you are a researcher and want the best tools that fit your needs, you should take the time to figure out what features you need.
LEARN ABOUT: Pricing Research
We hope this post has helped you determine which research tools are best for you. Every survey tool on the list has both common and unique features. In this situation, it's important to know what your options are and what features and pricing they provide.
QuestionPro InsightHub and QuestionPro Research Suite are the best tools for researchers to do surveys. It lets professors, students, employees, and customers make and take as many surveys as they want for academic or administrative purposes related to the institution.
This tool allows you to build web forms, do offline research projects, collect and evaluate data, and do much more. Try QuestionPro right now!
Frequently Asking Questions
What makes a good research tool?
A good research tool has three main qualities. Validity, dependability, and usability are examples of these. A researcher should examine data collection tools in terms of these criteria while choosing them.
How many tools are there in research?
Case studies, checklists, interviews, observations, and surveys or questionnaires are all data collection tools. It is critical to select data-gathering tools since research is conducted in various ways and for various goals.
What affects validity in research?
Many factors can undermine a study's internal validity, including errors in measurement or participant selection, and researchers should consider and avoid these flaws.