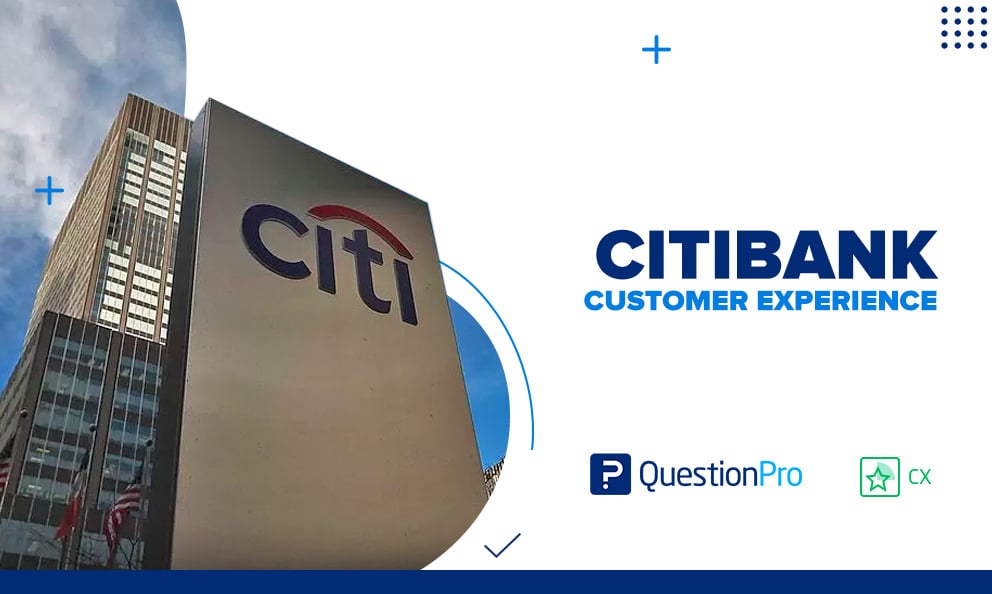 Brand loyalty begins with customer satisfaction. Citibank understands this very well, and that's why they put into practice a plethora of actions, programs, and initiatives every day to ensure their clients are content and happy. Let's discuss the Citibank Customer Experience.
Citibank has consistently managed to stay at the forefront of innovation and customer-centricity, setting a benchmark for the entire banking industry. Therefore, we will explore some of the most significant initiatives that have placed this financial institution at the top of rankings while keeping its customers happy.
Why Customer Experience Matters
Customer experience has become central to any business's marketing strategy worldwide. This is because in an information-saturated and competitive world, standing out is an essential mission for the survival of any business or market.
With this in mind, industries like banking have invested in experiences and actions for several years to keep their customer base happy and loyal.
A well-crafted customer experience strategy can bring many benefits to banks, some of the most notable and impactful being:
Enhanced Customer Loyalty: Satisfied customers are more loyal and less likely to switch banks. Positive experiences build an emotional connection and make customers feel valued.
Increased Customer Retention: Customers who enjoy hassle-free interactions are more likely to stay with their current bank rather than explore other options.
Positive Word-of-Mouth: Delighted customers become advocates and share their positive experiences with friends and family, leading to organic growth for the bank.
Brand Differentiation: Exceptional customer service sets banks apart in a crowded market. It becomes a unique selling proposition that attracts new customers.
Let's take Citibank as an example and analyze its strategy and customer journey to understand better the practical impact of customer experience strategies on a business.
Citibank's Customer Journey Map
Ensuring a good experience is a complex task encompassing much more than services or products. To better understand the intricacy of this, tools like the customer journey map can be of great utility.
We've created this example, taking reference from the most common touchpoints within the industry and some specific to Citibank, to show you the diverse stages and opportunities a bank can have when providing customer experiences.
Stage 01: AWARENESS
| | | | |
| --- | --- | --- | --- |
| Touchpoint | Activity | Pain Point | Solution |
| Digital Advertising | Prospective customers see Citibank ads online. | Lack of awareness about Citibank's services. | Run targeted online advertising campaigns. |
| Social Media | Prospective customers engage with Citibank on social media. | Limited knowledge about available banking options. | Maintain active and informative social media presence. |
| Community Events | Prospective customers participate in Citibank-sponsored community events. | Limited awareness of Citibank's presence. | Host and sponsor events to engage with local communities. |
| Referrals | Prospective customers hear about Citibank from friends or family. | Lack of personal recommendations. | Encourage satisfied customers to refer others. |
Stage 02: CONSIDERATION
| | | | |
| --- | --- | --- | --- |
| Touchpoint | Activity | Pain Point | Solution |
| Website | Customers explore Citibank's website for services. | Confusion about available products and features. | Design a user-friendly website with clear information. |
| Mobile App | Customers download and explore Citibank's mobile app. | Difficulty navigating the app or finding features. | Develop an intuitive and functional mobile app. |
| Customer Reviews | Customers read reviews and testimonials about Citibank. | Uncertainty about the quality of services. | Showcase positive customer experiences and reviews. |
| Customer Support | Customers reach out to Citibank's customer support. | Frustration with long wait times or unhelpful assistance. | Provide efficient and knowledgeable customer service. |
Stage 03: PURCHASE
| | | | |
| --- | --- | --- | --- |
| Touchpoint | Activity | Pain Point | Solution |
| Account Opening | Customers open new accounts with Citibank. | Lengthy and complicated account opening process. | Streamline account opening procedures and paperwork. |
| Credit Card Application | Customers apply for Citibank credit cards. | Confusion about rewards, fees, and eligibility. | Provide easy-to-understand credit card details. |
| Loan Application | Customers apply for loans or credit with Citibank. | Uncertainty about loan terms and approval process. | Offer clear loan options and transparent terms. |
| Investment Services | Customers explore Citibank's investment services. | Lack of knowledge about investment options. | Provide comprehensive information on investment services. |
| Mortgage Information | Customers access information about Citibank's mortgage offerings. | Confusion about mortgage terms and eligibility. | Offer clear mortgage options and terms. |
Stage 04: USAGE
| | | | |
| --- | --- | --- | --- |
| Touchpoint | Activity | Pain Point | Solution |
| Online Banking | Customers use Citibank's online banking platform. | Complexity in navigating online banking features. | Provide clear tutorials and guides for online banking. |
| Mobile App Usage | Customers use Citibank's mobile app for transactions. | Challenges in performing tasks via the app. | Enhance mobile app functionality and user experience. |
| ATM Transactions | Customers use Citibank ATMs for withdrawals and deposits. | Limited accessibility to ATMs or high fees. | Expand ATM network and offer fee-free options. |
| Customer Support | Customers contact Citibank's customer support. | Frustration with unhelpful or slow customer support. | Enhance customer support with knowledgeable agents. |
Stage 05: LOYALTY
| | | | |
| --- | --- | --- | --- |
| Touchpoint | Activity | Pain Point | Solution |
| Loyalty Programs | Customers enroll in Citibank's loyalty programs. | Unclear benefits or rewards of loyalty programs. | Clearly communicate the advantages of loyalty programs. |
| Personalized Offers | Customers receive personalized offers from Citibank. | Receiving irrelevant or uninteresting offers. | Tailor offers based on customer preferences and behavior. |
| Regular Transactions | Customers continue to use Citibank for routine transactions. | Unsatisfactory banking experience. | Continuously improve and streamline banking processes. |
| Mobile Banking | Customers rely on Citibank's mobile app for daily banking. | Technical issues or lack of functionality. | Ensure seamless and reliable mobile banking services. |
Stage 06: ADVOCACY
| | | | |
| --- | --- | --- | --- |
| Touchpoint | Activity | Pain Point | Solution |
| Customer Referrals | Customers refer friends and family to Citibank. | Lack of incentives for referrals. | Reward customers for successful referrals. |
| Online Reviews | Customers leave positive online reviews about Citibank. | A limited number of positive reviews. | Encourage satisfied customers to share their experiences. |
| Social Media Engagement | Customers engage with Citibank on social media. | Lack of engagement and interaction. | Foster active and meaningful social media interactions. |
Actions Undertaken by Citibank to Ensure Optimal Customer Experience
In recent years, finding ways to delight customers has become a primary mission for companies like Citigroup.
With this focus, they have taken action and started employing strategies that benefit the business's health and allow them to have happy customers and go a step further, creating a base of users loyal to the brand.
To achieve this, they have implemented several approaches, among which the following stand out:
Client Experience as a Key Focus:
CitiBank's new technological approach strongly emphasizes enhancing the client experience. This stands in contrast to the prevalent banking practice where solution functionality often takes precedence, relegating usability to a secondary consideration. Notably, endeavors to improve client experience often tend to revolve around surface-level modifications to user interfaces.
Understanding Diverse User Requirements:
An integral facet of Citi Bank's client experience strategy involves the concept of tailoring designs for specific user personas. This ensures that the experiences offered are finely tuned to align with the distinctive needs of various user groups. The bank's commitment to comprehending client experience has also led to the development of tiered offerings.
Enabling Comprehensive Insights:
Traditionally, most banks have adopted an approach where each line of business deploys its own system. However, this proliferation of disparate systems has posed challenges for both clients and banks, hindering the acquisition of a comprehensive overview of banking relationships. To address this, CitiBank is actively consolidating diverse legacy systems encompassing lending, treasury management, foreign exchange, and various geographical segments.
Current Innovation Endeavors:
CitiBank is piloting new experiences leveraging the latest Fido 2.0 authentication standards. These experiments explore a range of methods, including biometric authentication and QR code-based logins on mobile devices. The overarching aim is to streamline clients' login process while enhancing security measures.
Start Enhancing Your Customer Experience!
Craft a distinct and unparalleled customer experience by captivating your clientele at every interaction, culminating in their transformation into fervent brand proponents, facilitated by the innovative QuestionPro CX platform.
With our powerful customer experience management platform, you can:
Elevate customer loyalty: Develop and implement a dynamic array of strategies to consistently cater to the evolving panorama of customer expectations. Disseminate invaluable insights among your workforce and frontline managers, thereby orchestrating the meticulous conception of an extraordinary customer journey.
Through our state-of-the-art customer experience management software, you possess the means to effectively conclude the feedback loop through an intricately designed ticketing system. This system holds the potential to curtail churn rates and, over time, successfully transmute detractors into advocates of your establishment's offerings.
A comprehensive CX dashboard serves as a unified repository of insights and data dissemination. Characterized by its adaptability, this dashboard can be conveniently employed to circulate data across your organizational spectrum. Its accessibility extends to facilitating collaborative endeavors with individual stakeholders.
What are you waiting for? Start immediately listening to your customers and identifying opportunities at every step of the customer journey.