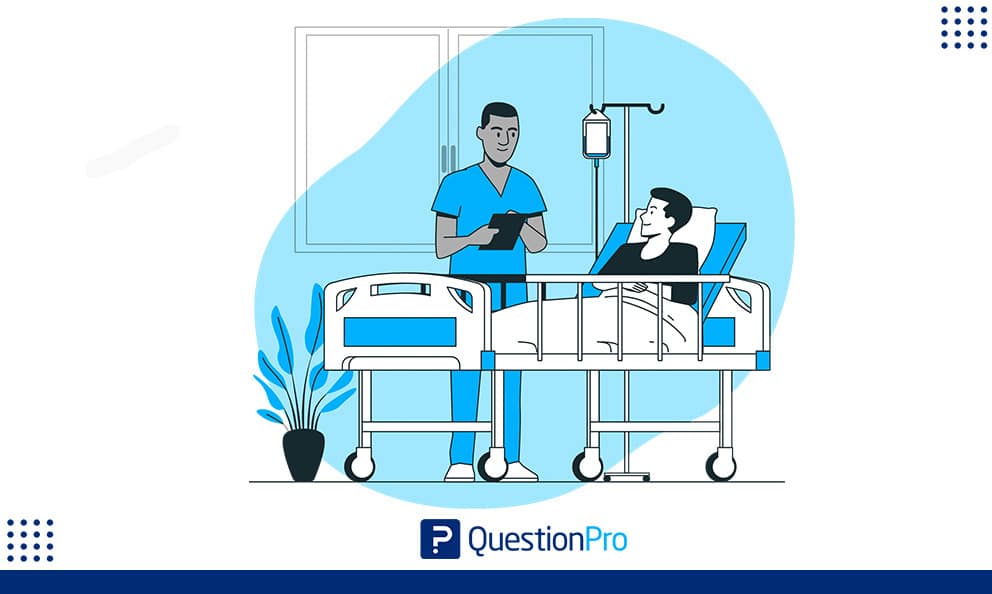 The HCAHPS survey is intended to collect information directly from patients on various topics related to the hospital and their experience as patients. The main goal of obtaining this data is to improve the service that the hospital provides. Patients should only answer questions about situations they have experienced.
LEARN ABOUT: Service Recovery
What is HCAHPS
HCAHPS is a survey designed to compare various metrics from hospitals or any healthcare organization. HCAHPS stands for Hospital Consumer Assessment of Healthcare Providers and Systems Scores. It focuses on hospital facilities, patient engagement, and patient satisfaction and creates an incentive system for the surveyed hospitals accordingly.
The HCAHPS survey consists of around 27 questions that focus on the overall rating of different facilities at the hospital or the healthcare organization:
Hospital Staff Communication
Pain Management
Communication about medication
Proper billing and discharge information
Cleanliness of the Hospital Environment
Quietness in the Hospital
Willingness to recommend the Hospital
Overall score
Hospitals or healthcare units carry out the HCAHPS by drawing a random sample of eligible patients who meet the following criteria:
HCAHPS is usually conducted by hospitals or healthcare organizations by picking up a random sample of eligible patients from the below criteria
Age – 18 or plus when admitted
Minimum 1 night stay at the hospital
Non-psychiatric diagnosis at discharge
Alive when discharged
The collected data is submitted to the HCAHPS data warehouse. It is cleaned and analyzed by officials at the United States CMS and publicly reported to consumers on the Hospital Compare website.
How can you improve HCAHPS scores
Communication and direct engagement with the patients is the most important factor that helps in improving the HCAHPS scores, as five survey metrics are directly related to communication with patients.
Hospitals need to make sure that the hospital staff communicate frequently and effectively with patients and provide them with adequate information about medicines, what steps can be taken at home to expedite the recovery, give detailed home recovery instructions, and verify that patients understand how to take utmost care before discharging them.
Why is the Hcahps important?
We have received client feedback that this question type has really helped them understand the patient's pain areas.
On-Premise: The QP offline app can be used to collect personal physical data of the patient using a short survey. Its the best way to conduct these surveys while the patients are waiting for their appointment with the doctor, so that each appointment can be more productive and focused on building the doctor-patient relationship.
Remote Assistance: With everything being remote for the past couple of years, remote doctor assistance has also become increasingly common. As remote doctors, many of the QP users send out email surveys to the patients with the intent to get an initial understanding of their condition before starting a video conference.
Using QuestionPro for surveys in the healthcare domain is a great way to gather the information that lab tests cannot easily obtain.
An add-on benefit is that QuestionPro is HIPAA compliant, so there is an assurance the surveys are confidential, and the patients can answer the questions honestly.
Healthcare surveys for a number of reasons, and there is an advantages to all the practices like:
Patient satisfaction—Patients can rate their experience with doctors, sample collectors, other hospital staff, and the facilities.
Employees and staff—Everyone in the organization can stay engaged and the feedback that we get eventually contributes to improving the quality of care that is provided to the patients.
Medical research— Can be used to collect statistics about a specific audience or population or compare habits between patient groups.
Benchmarks— Track the progress of any type of goal you set like enhancing patient satisfaction or creating a safer, much better workspace for your employees.
Sample questions that can be used for healthcare surveys
How healthy do you consider yourself on a scale of 1 to 5?
How often do you visit the hospital to do a health checkup?
Do you have any chronic disorder?
Are you dealing with any hereditary conditions/diseases?
Clinical Communication with QuestionPro
QuestionPro offers a very interactive communication platform that helps hospitals in patient engagement by streamlining the communication between patients and their doctors/nurses/other hospital staff through a surveying method that promotes sharing of information, better patient engagement, and patient management in a collaborative way.
With QuestionPro, hospitals and healthcare facilities can engage patients and improve their HCAHPS scores, demonstrating their commitment to patient satisfaction.
We help you find the survey solution according to your needs in the Healthcare Industry. Transform your real-time data into actionable insights for everyone. Including executives, frontline and support staff, to clinicians and patients.
We comply with all the major data theft prevention, data privacy, and data sharing laws. We believe our clients play an equal and important role in sending, storing, and handling sensitive healthcare data ensuring full compliance with the HIPAA regulations.
Authors: Mohit Laungani & Abhijeet Nimbalkar