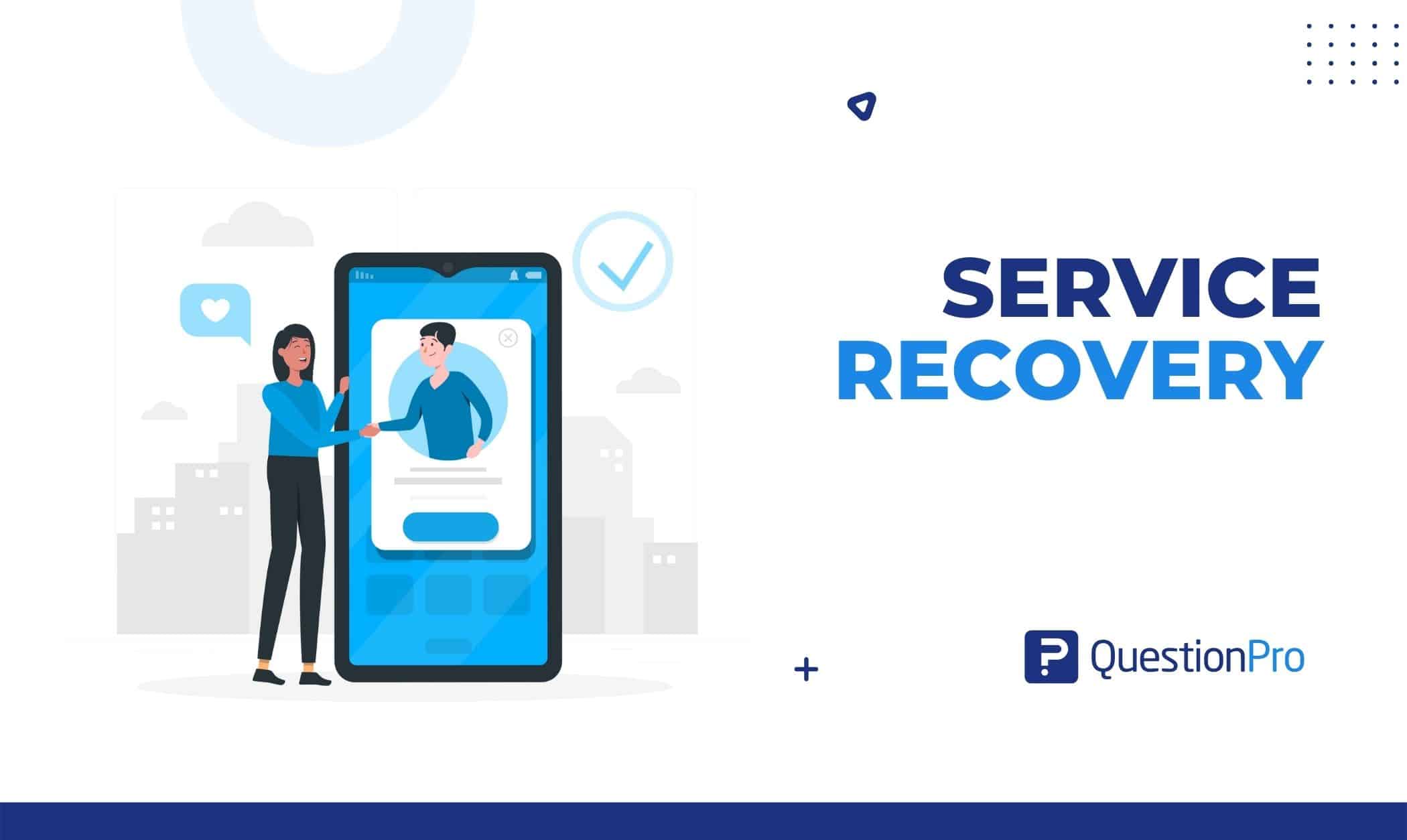 The key to service recovery is maintaining a low number of bad customer experience reviews and a high level of customer expectations and happiness. Making sure you surpass customer expectations is the cornerstone of every successful company.
In an ideal world, customer service teams and representatives always know precisely what to say and do for consumers, but that is not the scenario. Any company can inevitably run into problems. For example:
The customer's data is lost when the system crashes.
Due to a storm, you cannot deliver the customer's product on schedule.
The inaccurate order is delivered to the client by the waiter.
All of these scenarios call for your company to make things right for the client and transform a negative circumstance into a favorable one.
After all, dissatisfied clients may harm your company. In addition to losing their recurring business, you have also lost their word-of-mouth referral business. Positive feedback may work wonders for your company. But what if you're only left with a damning one?
This article will explain the definition, types, and strategies of service recovery for your business.
What is service recovery?
Service recovery refers to a company's capacity to fix an unhappy customer's issue using vital customer service. Service recovery does not happen by itself in the company. You must develop processes that allow your service representatives to provide the best possible solutions for your clients.
According to one study, businesses lose nearly half of their clients every five years. Most consumers believe complaining to employees when an issue arises is a waste of time, and unsatisfied customers will tell others about their dissatisfaction with the service provider.
Long-term customers increase profitability in practically all service firms year after year. Loyal customers often result in fewer marketing expenses, improved operational efficiency, and more profitability. As a result, developing an effective service recovery program plan is essential for firms to retain loyal consumers.
Types of service recovery
Successfully implementing all three recovery strategies contributes to a comprehensive approach to managing service failures and maintaining customer satisfaction. By focusing on customer recovery, businesses prioritize their customer's needs, while process recovery ensures continuous improvement in service delivery.
At the same time, employee recovery builds a capable and customer-centric workforce capable of confidently handling challenging situations. Integrating these strategies into the company's culture helps build a reputation management for excellent customer service and strengthens the overall relationship between the business and its customers.
There are three different types of recovery strategies:
Satisfied customers are the goal of customer recovery.
Process recovery aims to enhance procedures.
Employee recovery as an internal marketing approach to assist staff in dealing with failure and recovery scenarios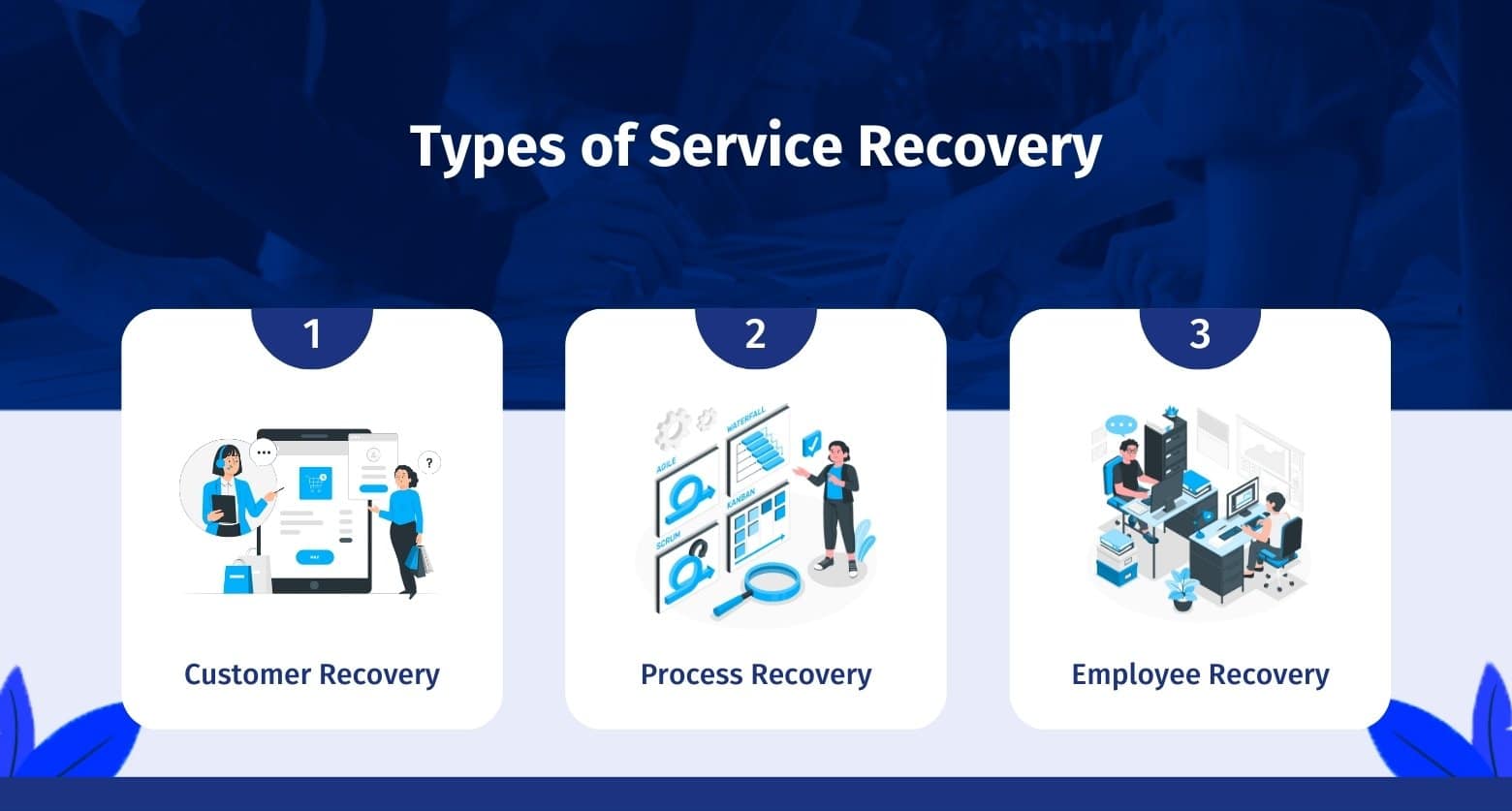 1. Customer recovery:
The primary goal of customer recovery is to turn dissatisfied or unhappy customers into satisfied ones. It involves addressing customer dissatisfaction and complaint and resolving service failures promptly and effectively.
The key focus here is on the external aspect of the recovery process, where the company aims to regain the customer's trust, loyalty, and positive perception. The customer recovery strategy emphasizes empathetic communication, swift resolution, and offering appropriate compensation or restitution to appease the customer.
2. Process recovery:
Process recovery focuses on enhancing internal procedures and operations to prevent future service failures. It aims to identify and rectify the root causes of service failures systematically. Businesses can identify potential weak points or bottlenecks that lead to customer dissatisfaction by analyzing the existing processes.
The goal is to implement improvements, streamline operations, and create a more efficient system that reduces the likelihood of service failures. Process recovery is a proactive approach to minimizing the occurrence of issues in the first place.
3. Employee recovery:
Employee recovery is an internal marketing approach emphasizing equipping and supporting staff to effectively handle service failures and recovery scenarios. This strategy recognizes the vital role employees play in delivering exceptional customer service.
By providing comprehensive training and resources, businesses empower their employees to handle challenging situations with grace and professionalism. This approach includes teaching employees active listening skills, conflict resolution techniques, and the ability to make on-the-spot complaint resolution decisions regarding dissatisfied customers' complaints.
Strategies of service recovery
Consider service recovery as an excellent strategy for complaint management. Complaint management is negative; it entails calming angry consumers and reducing a poor situation. Implement service recovery that reveals a customer's worth and contributes to developing a long-term connection with them.
So let's discover service recovery strategies now.
Create a fail-safe service
To put it another way, if you're training someone to drive, you want to ensure the vehicle works correctly first. Consequently, the initial step is to ensure that service delivery is perfect. This requires adequate devotion to the clients from the top.
Would you believe that most customers don't bother to complain? Instead, 91% will immediately transfer to a rival.
So, if you want to keep your customers, you should make it easy for them to send you complaints. It would be best if you made it easy for customers to get in touch with you, whether that's through QR code stickers, a toll-free helpline, or a social media handle.
Why do people have no problem standing in line for a movie? The first phrase implies amusement at the conclusion, but a complaint is merely another task.
Long wait times may therefore lose you at least 75% of your customers, which is not surprising. Their irritation will only grow when they understand that you won't reply for at least a few hours. Therefore, the likelihood of a successful service restoration increases the faster the problem is resolved.
Include a description of the measures you are taking to fix the situation. This type of acknowledgment often calms the consumer right away.
The customer should be informed of the issue.
At this point, you must explain to the client why the service failure happened in the first place. They'll be happy to excuse you for the error once they understand what transpired. Be careful to explain the problem to the client as politely and patiently as possible.
Be friendly to your customers.
There aren't any ifs or buts in it. Consumers should never feel that their problems are not receiving the attention they need.
They must be aware that you are making every effort to address the issues as soon as feasible. They should thus emphasize the advantages, such as the quickness and simplicity of problem-solving, the promptness of follow-ups, etc.
LEARN ABOUT: Implicit Data
A bonus or a freebie might help soothe damaged emotions and mend the connection if they have been through a lot of trouble.
Build a solid connection with your customers.
It is an effective long-term service recovery technique that is unbreakable. Customers are more tolerant of your errors when you establish a solid connection with them. That's how most relationships operate, isn't it?
Customers need to trust you to stand behind them in the event of a service problem for a solid connection. It cannot, however, be a one-sided relationship in any way. You must ensure that you deserve their implicit trust if you want to earn their trust.
LEARN ABOUT: Risk Tolerance Questionnaire
How the customer felt after the service was fixed
The next step is to ascertain how consumers felt after the restoration of service and what your company may gain from this experience. Then, to evaluate the success of the service recovery experience, we advise utilizing experience management tools.
Your recovery plans will be easier to manage if you employ tools for the service recovery process, such as control charts, cause-and-effect diagrams, blueprinting, etc.
Steps for a successful service recovery plan
The process for creating service recovery plans should include several key aspects. Creating a successful service recovery plan involves a thoughtful and systematic approach to effectively addressing customer complaints and service failures. Below are the steps to develop and implement a service recovery plan:
1. Analyze service failures
Identify common types of service failures that your business might encounter based on historical data, customer feedback, and internal assessments. Understanding the root causes will help you tailor the recovery plan accordingly.
2. Design a customer-focused policy
Establish a clear service recovery program policy that emphasizes customer satisfaction and outlines the steps to be taken when a service failure occurs. Ensure that all employees are aware of the policy and their roles in implementing it.
3. Train employees
Educate and train your frontline employees on service recovery team procedures. They should be empowered to resolve issues promptly, make decisions, and offer appropriate compensation within predefined limits.
4. Listen actively to customers
Encourage active listening when customers express their grievances. Train employees to show empathy and patience while addressing customer concerns.
5. Act promptly
Time is of the essence in service recovery efforts. Respond to complaints swiftly and avoid unnecessary delays in acknowledging the customer's problem.
6. Apologize sincerely
Offer a genuine and heartfelt apology for the inconvenience caused. A sincere apology can go a long way in diffusing customer frustration.
7. Personalize the response
Tailor the response to each customer and situation. Avoid using generic templates or automated responses that can make customers feel unimportant.
8. Resolve the issue
Take the necessary steps to rectify the problem and meet the customer's expectations. If possible, involve the customer in finding a solution that satisfies them.
9. Offer compensation or restitution
Consider providing appropriate compensation, such as refunds, discounts, free services, or gift cards, to demonstrate your commitment to making things right.
10. Follow-up
After resolving the issue, follow up with the customer to ensure their satisfaction. This shows that you genuinely care about their experience and value their feedback.
11. Document and learn
Keep a record of service recovery program instances and the actions taken. Analyze the data regularly to identify recurring patterns and areas for improvement in your products or services.
12. Continuous improvement
Use the feedback received from service recovery paradox cases to make necessary changes in your processes and operations. Continuously improve your services to prevent similar failures in the future.
13. Encourage customer feedback
Create channels for customers to provide positive and negative feedback. Feedback can help you identify potential issues before they escalate and provide insights for enhancing your services.
14. Recognize and appreciate employees
Acknowledge and reward employees who excel in service recovery. Encourage a culture that values customer satisfaction and celebrates efforts to resolve issues effectively.
15. Monitor customer satisfaction
Regularly measure customer satisfaction through surveys and feedback mechanisms. Use this data to track the effectiveness of your customer service recovery plan and identify areas that need improvement.
Case studies of service recovery
Let's take a look at two case studies where companies effectively implemented service recovery examples:
Case Study 1: XYZ Electronics
XYZ Electronics faced a situation where a customer received a defective laptop. Upon receiving the complaint, customer service teams immediately apologized and arranged for a replacement laptop to be sent on priority.
Additionally, they offered the customer a 20% discount on their next purchase. The customer was delighted with the swift action and felt valued by the company, becoming a loyal customer.
Case Study 2: ABC Airlines
ABC Airlines experienced a significant delay in one of their flights due to technical issues. As a service recovery strategy, they provided all affected passengers with complimentary lounge access, meal vouchers, and rebooking options.
The airline also issued a heartfelt apology, taking full responsibility for the inconvenience. Passengers appreciated the gesture and acknowledged the airline's commitment to customer satisfaction.
Conclusion
You may convert an unsatisfied consumer into one who is pleased and devoted by providing excellent customer service recovery. Since you know how to make things right and turn a bad situation around, customer service failure doesn't have to be the end of the road with your client.
As soon as possible, extend a genuine apology, accept responsibility for the situation, and seek a solution. After that, fix the issue and give the client a bonus as compensation. Ask the buyer whether they are happy after that and follow up with them.
With QuestionPro's support, you may identify the underlying causes of client emotions and give them the attention they deserve to create the optimal customer experience. Do it now!