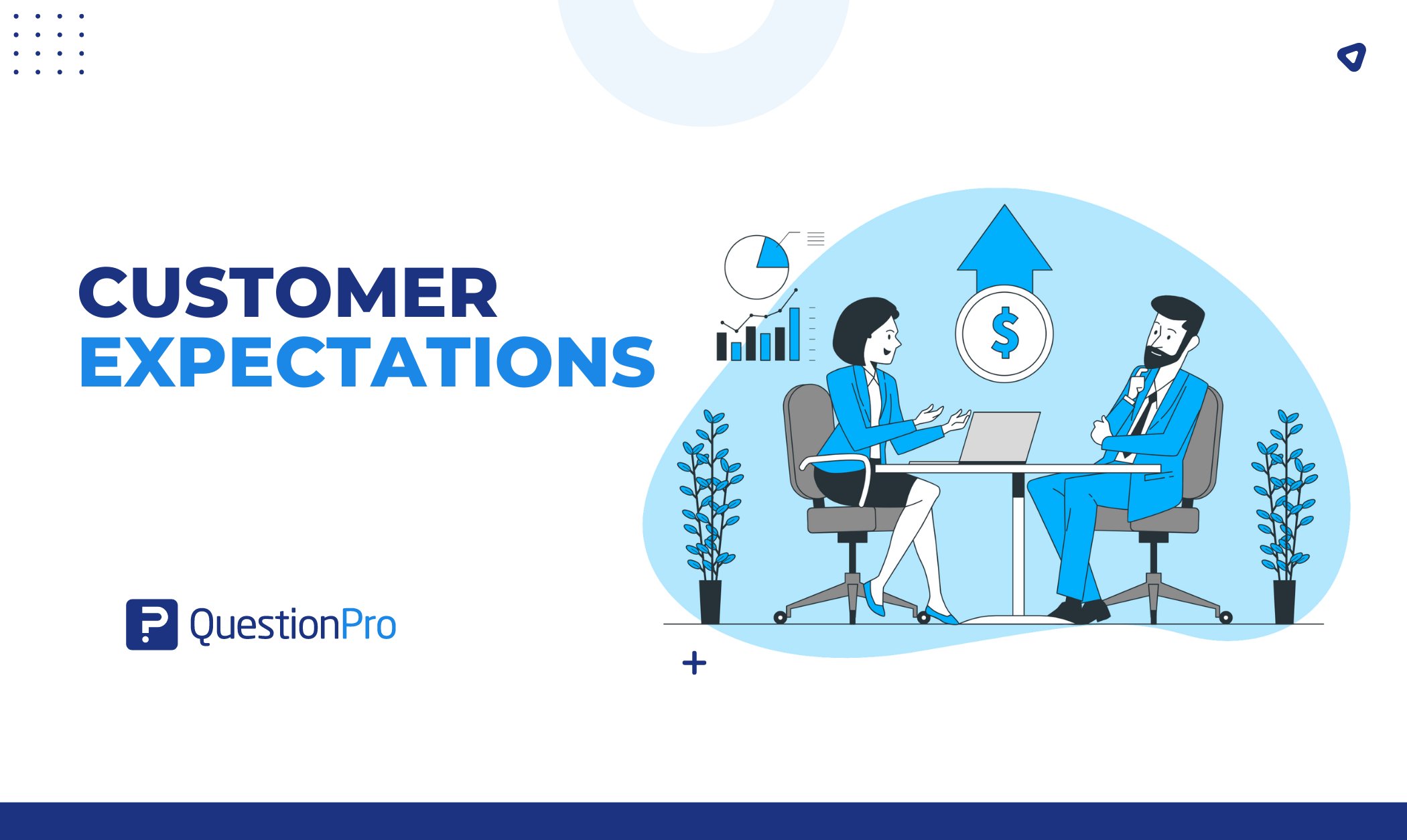 In today's competitive business landscape, where brands are vying for the attention and loyalty of customers, understanding and meeting their customer expectations has become a pivotal determinant of success. Modern consumers are not just looking for products or services; they seek meaningful experiences that resonate with their values and aspirations. In this dynamic environment, brands that can adeptly navigate and fulfill customer expectations are poised for remarkable success. From personalized interactions to seamless great customer service delivery, we explore the essential facets businesses must embrace to meet and exceed customer expectations in an ever-evolving marketplace. Join us as we unravel the intricacies of customer-centricity and unveil the critical markers for building a brand that not only stands out but stands the test of time.
Customer expectations change every minute of the day. Keeping up with these customer expectations is hard and especially with so many brands, products, and social media channels. Not to meet customer expectations means losing them to competitors. While you may not need all your customers' expectations, here are ten key customer expectations that you have to remember to have happy and loyal customers.
What are Customer Expectations?
Customer expectations refer to individuals' anticipated outcomes, experiences, and standards regarding the quality, attributes, and interactions associated with a product or service. Various factors shape these customer expectations, including previous interactions, marketing communications, word-of-mouth recommendations, cultural influences, and personal preferences.
Customer expectations represent the set of criteria that customers use to evaluate and judge their interactions with a business. These criteria encompass various dimensions: product performance, service reliability, ease of use, value for money, and emotional connection. Customers are more likely to feel satisfied, develop loyalty, and advocate for the brand when these customer expectations are met or exceeded.
Rising customer expectations are not static; they evolve due to changing market trends, technological advancements, and shifts in customer behavior. Customers expect businesses that are attuned to these evolving customer expectations and proactively work to align their offerings and experiences accordingly are better positioned to forge deeper connections with their audience and thrive in the competitive marketplace.
Importance of Customer Expectations for Business
The importance of customer expectations for a large or small business must be balanced. Meeting and exceeding these customer expectations are essential for building strong customer relationships, fostering loyalty, and achieving sustainable growth. Here's why customer expectations are crucial for the success of any business:
Customer Satisfaction:

Meeting customer expectations leads to higher levels of customer satisfaction. Satisfied customers are more likely to deal with repeat future purchases, recommend your business to others, and leave positive reviews. On the other hand, failing to meet basic expectations can lead to dissatisfaction and negative word-of-mouth, harming your reputation.

Customer Loyalty:

Consistently meeting or exceeding customers expectations cultivates loyalty. Loyal customers stick with your brand over time, even in the face of competition. They become advocates who promote your products or services to their network, effectively becoming a free preferred channel.

Brand Reputation:

Customer expectations influence your brand's reputation. When you consistently deliver what you promise, your brand becomes associated with reliability and trustworthiness. This positive reputation can attract new customers and differentiate your business in a crowded marketplace.

Competitive Advantage:

Understanding and meeting customer expectations can give you a competitive edge. Businesses that consistently provide exceptional experiences are more likely to stand out and attract customers away from competitors. This advantage is particularly significant in industries with a similar product or service.

Repeat Business:

A loyal customer is likelier to deal with repeat buyers. They'll return for additional purchases when they know they can rely on your business to fulfill customer needs according to customer expectation. Repeat business contributes significantly to revenue and profitability.

Reduced Churn:

Churn, or customer attrition, is a common challenge for businesses. You reduce the likelihood of losing customers to competitors by consistently meeting customer expectations. This stabilization of your customer base contributes to steady revenue and growth.

Positive Word-of-Mouth:

Happy customers are sharing their positive customer experiences with friends, family, and colleagues. Word-of-mouth recommendations are powerful and can significantly impact your customer acquisition efforts.

Innovation and Improvement:

Customer feedback and expectations drive innovation and improvement. By actively listening to your customer feedback and desires, you can develop new products, services, or features that align with their expectations, enhancing your competitive offerings.

Emotional Connection:

To meet customer expectations creates an emotional connection between your brand and customers. Emotional connections lead to deeper relationships and increased customer lifetime value.

Long-Term Growth:

Consistently exceeding customer expectations ultimately leads to long-term business growth. Loyal customers and positive word-of-mouth contribute to a stable customer base and a strong market position.
In a rapidly changing business landscape, customer expectations provide valuable customer experience into what your target audiences value most. You can create a customer-centric approach that drives success and sustainability by aligning your business strategies and efforts with these expectations.
10 Customer Expectations You Should Always Remember
Indeed, here are the ten key types of customer expectations that you should always keep in mind:
1. Genuineness
Customers expect honesty and genuineness from brands. Do not advertise what your product and quality customer service do not offer. Do not make false and unnecessary tall claims. You need to manage customer expectations and convey consistent information across all your customer touchpoints. Misinformation could hurt your brand loyalty, and you may lose out on current and prospective customers.
2. Precise expectations
When customers buy a certain product, they have certain customer service expectations from it, and ideally, they will go with the brand that meets most of their requirements. Whatever claims or performance statistics a brand puts out, the customers expect it to perform to that level. If a car manufacturer claims their car has a fuel efficiency of 30 miles to the gallon, customers can expect a difference of +/- 4 or 5 miles. But if the actual numbers are 18-20 miles to the gallon, then the product performance and expectations are suspect.
3. Implied expectations
These types of customer expectations are based on established industry norms of performance. These are established and influenced by industries, other brands, performance, etc. A great example of these expectations would be when brands advertise with messages such as 'In comparison to leading brands', which is necessary for some customers or potential customers to make a purchasing decision.
4. Quick and hassle-free
Customers, when they are ready to buy something, they do not want to spend a lot of time. Most of the time, they will have already conducted their research and made up their minds about buying. Focus on making the positive experience an easy and smooth process. Make everything available to them and easy to access. An excellent and smooth buying experience will gain your customers and their trust.
5. Humanize
Customers nowadays have numerous options to look for quality products, services, or data online. They can view product information, customer reviews, pictures, videos, etc. They may make up their minds about the purchase but still would go to a physical store, speak to a representative via calls, etc. Customers have emotions, feelings, expectations, and you should respect these and cater to them. Do not just consider them a target segment or a persona, speak to them, connect with them to have loyal and satisfied customers.
6. Steady expectations
These refer to the quality and performance expectations that customers have for a product or service. These customers' expectations are typically related to user-friendliness, quality, dependability, and accessibility. These customer data are the parameters that are most visible and considered.
7. Evolving expectations
These customer expectations are about how an excellent customer service or product will evolve over time. These typically refer to aspects such as support, additional features, refinements, upgrades, etc. These expectations are instrumental in addressing the steady expectations through integrations, utilities, system requirements, etc., making it more stable and robust.
8. Evolving technological expectations
These expectations are to do with the ever-changing nature of some product categories. Some common examples would be laptops or mobile phones, where there are new developments every few days regarding display, performance, durability, etc. These expectations are not only features-based but also to do with self-image, ego, elation, etc.
9. Keep it simple and easy
This aspect is not essential only for designing your offerings. You need to keep this in mind considering the customer journey and all customer touchpoints. What will your customers need in the before purchase phase? What about after purchase? You need to keep these in mind to deliver a good and satisfying customer experience. Create easy-to-navigate websites, develop easy-to-use apps, and let it be the motto for all your functions.
10. Continued support
Customers need assurances that they will receive support if anything goes wrong or they are stuck somewhere. Not all are well-versed technologically to understand products or services, or use the app or website to look at help files. You need to consider all avenues and provide support accordingly.
By consistently meeting these ten customer expectations, you satisfy your customers and lay the foundation for enduring brand success and customer loyalty.
Conclusion
In the symphony of commerce, where businesses and customers harmonize, customer expectations emerge as the melody that guides the tune. As we draw the curtains on our exploration, it's evident that customer expectations are the cornerstone of a thriving and enduring brand.
Managing customer expectations is no easy feat. It directly impacts customer satisfaction and (CX). QuestionPro CX can help manage and elevate your CX. Why don't you try a trial version to see how it works? It takes less than a minute.