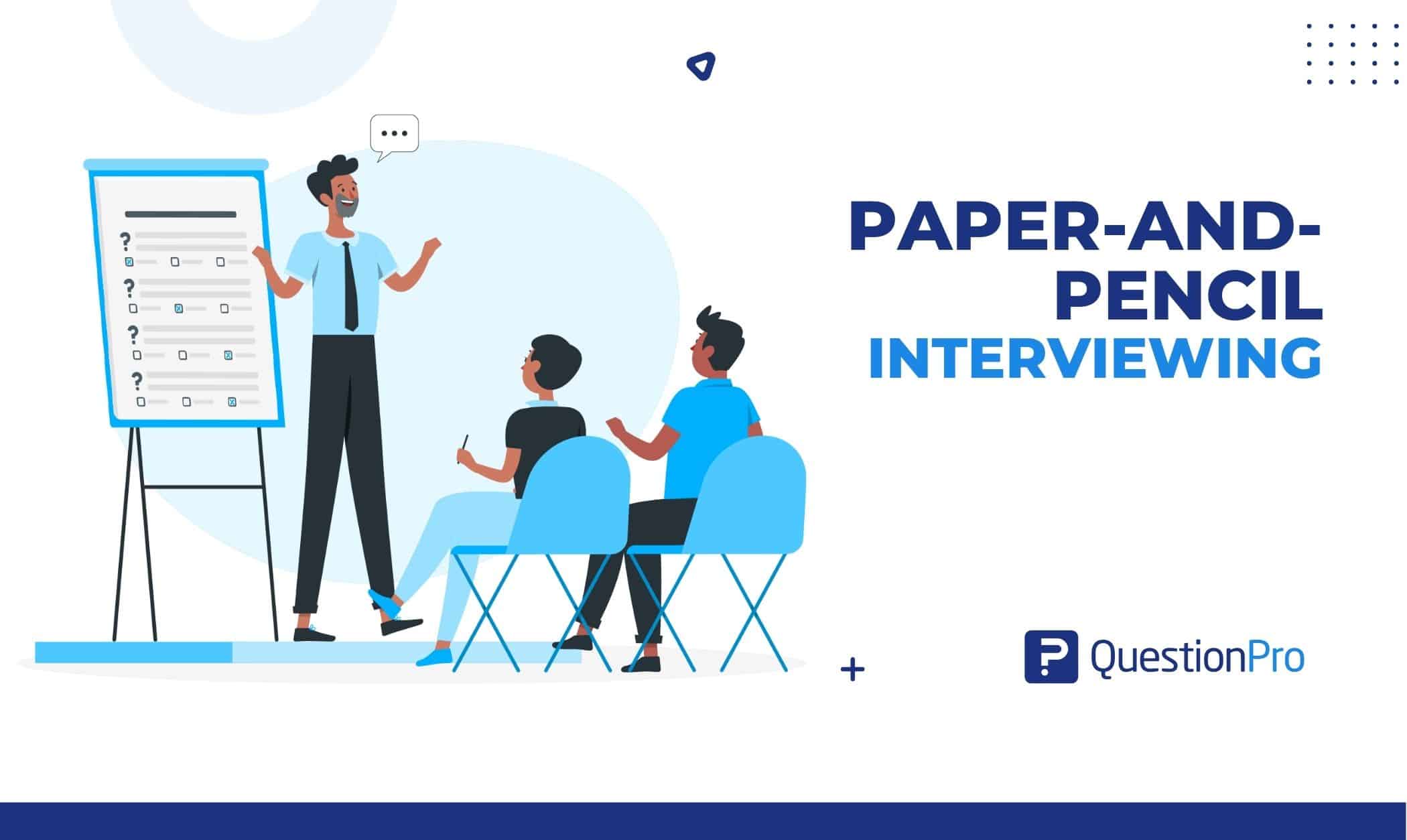 Paper-and-pencil interviewing uses a questionnaire, inventory, survey, rating scale, or checklist. They are created such that the respondent responds to one or more questions on a paper form.
It is a traditional way of gathering data that uses paper and pencil. Although they may appear outdated, many market researchers still employ them. These surveys target audiences that are challenging to reach and boost response rates.
In this blog, we will learn about paper-and-pencil interviewing, including its advantages and disadvantages.
What is Paper-and-Pencil Interviewing?
Paper-and-pencil interviewing is the most popular way of gathering data. It describes an interview method of conducting in-person interviews in which the interviewer reads questions aloud to respondents while holding a printed-out questionnaire and recording their responses.
It involves professional interviewers whose practical approach and communication with the respondents are the foundation for gathering data on their positions, convictions, and opinions regarding a specific research topic.
It works well for both closed questions like multiple-choice and open-ended inquiries. A more in-depth and broader reaction may result from direct personal interaction with the participants.
Advantages & Disadvantages of Paper-and-Pencil Interviewing
The Pen-and-Paper Interviewing method is used in any survey where the first data set is collected with pen and paper instead of a computer. Even though many large-scale surveys are now done online, pen-and-paper interviews have advantages and disadvantages that the researcher may find important.
Advantages of Paper-and-Pencil Interviewing
Paper-and-pencil interviewing can produce substantially greater response rates than online questionnaires, which is one of their key advantages. Additional advantages include the following:
No Internet needed: Participants in paper-and-pencil surveys can respond to questions without an Internet connection. Answers can be transferred to an online account after they are gathered offline.
Flexibility: The survey design can be implemented with much flexibility and minimal technical know-how. Even someone without advanced programming knowledge can create paper-and-pencil interviewing surveys using Excel or Word.
Ideal for low data collection: Pen-and-paper interviewing is appropriate for small data collection projects where the survey will be changed or updated often. This is because small-scale changes can be made quickly.
Guarantees the primary record: Pen-and-paper interviews are certain to result in the primary record of data gathering that is preserved for all time. Each form may be given a unique number during collection, and supervisors may stamp or sign each form during field-side quality control.
Accessible for regional languages: These methods of surveys are also more accessible for data collectors or respondents to provide open-ended or qualitative comments because computer support may be unable to understand local languages.
Most respondents think pen-and-paper interviews are more anonymous than online polls. Therefore, they may be more honest in pen-and-paper interviewing. Additionally, these interviews also follow the same format. This ensures that every respondent receives an identical survey in the same context and format.
Disadvantages of Paper-and-Pencil Interviewing
The most significant disadvantage of pen-and-paper interviewing is that it needs more effort and financial resources. This is particularly true if your company handles the survey process in-house.
Also, other disadvantages include the following:
Utilizing logic: Applying logic branches or skipping logic based on the respondent's input is difficult since the pen-and-paper interviewing cannot be dynamically altered based on participant responses.
Requires physical work: Requires human effort to review low-confidence or invalid responses based on specified guidelines.
Most of those who receive the questionnaire do not return it, and those who do may not be representative of the sample that was initially chosen, another significant drawback of pen-and-paper interviews.
Conclusion
Paper-and-pencil interviewing can be used to gauge a wide range of factors, including personality type, career goals, academic and professional success, mental health, occupational aptitude, and IQ.
It has the potential to achieve significantly greater response rates than online questionnaires, but it also has the problem of incurring expensive printing and potential distribution expenses.
Paper-and-pencil interviewing or surveys can be converted to digital formats in various ways, including scanning and data entry, straight through Excel, or online using a tool like QuestionPro, depending on the desired workflow.
Whether you are new to business or a well-known business figure, you need to know what people think about your products, services, brand, marketing messages, and competitors.
QuestionPro helps companies and groups find out what people think. Using QuestionPro's research tools, apps, and survey software, we ask the right questions to the right people in the right way.
QuestionPro gives you many options and settings that can help you gather customer data. It will guide you through the process and help you get the most out of your data. Give QuestionPro a try now!