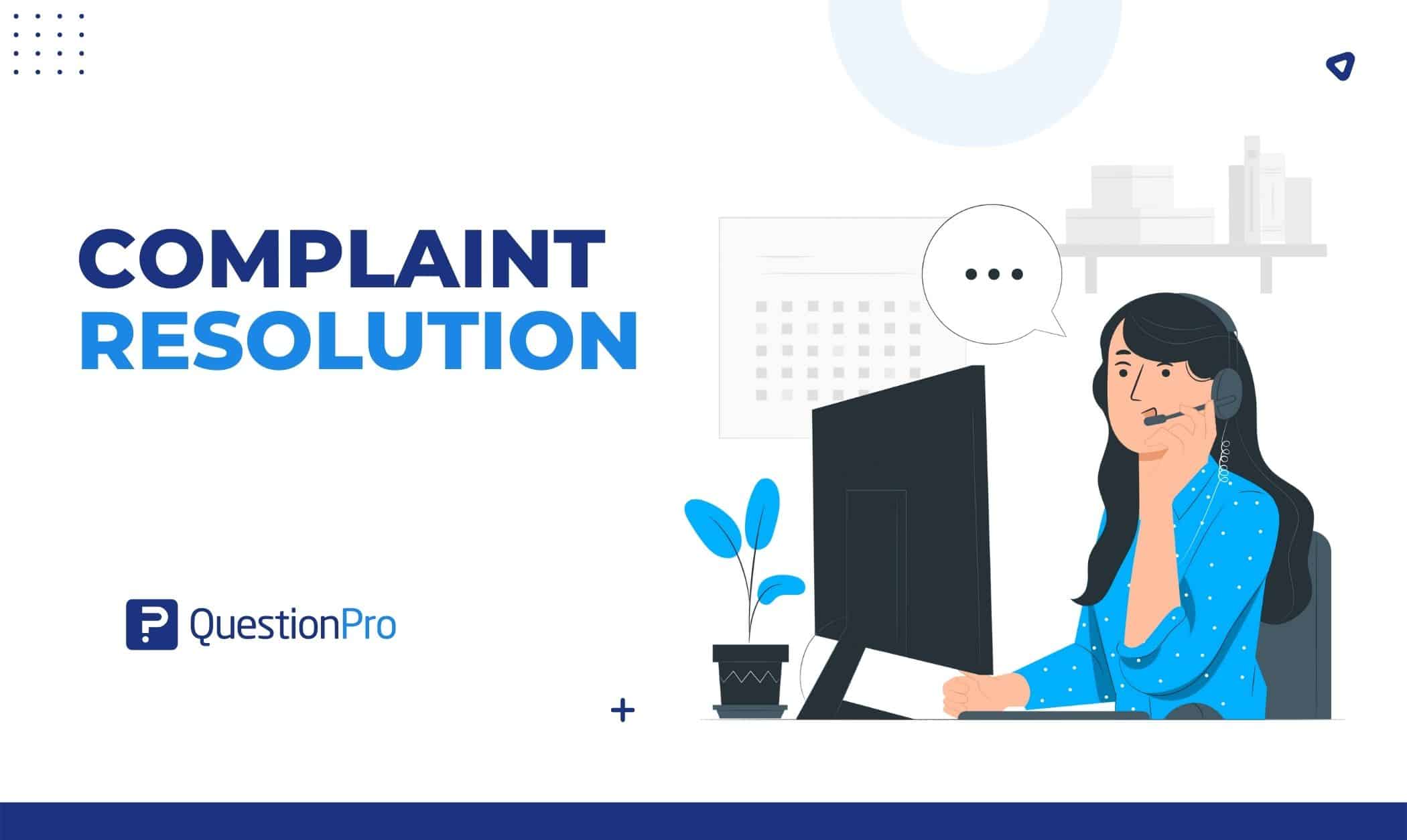 Complaint resolution is crucial to good customer service. Eventually, it leads to the company or brand's good name recognition and reputation, bringing more customers and profit.
Quickly handling and resolving client complaints may enhance the procedures and reputation of your company. You should expect a consumer complaint to come in at some point for your company. Your clients will remain loyal if you handle the situation positively and constructively.
Dissatisfied customers often won't complain directly to you; instead, they'll vent to others and go elsewhere for their needs. Improved company operations and repeat business will follow from handling consumer concerns and finding speedy solutions.
In this blog, we will discuss complaint resolution and how to handle customer complaints correctly.
What is complaint resolution?
Complaint resolution refers to the process wherein complaints are recognized, and the parties concerned agree on an acceptable end for the situation.
Complaints indicate a gap between consumer expectations and delivery. Sometimes consumer expectations or assumptions create a gap. Sometimes it's your company's fault.
A consumer complaint may be caused by misleading marketing text or a poor user experience. Or it might be an outside issue (e.g., third-party shipping issues). Give client complaints credibility by seeing whether they include relevant input.
Customer service teams use the business process of complaint resolution to handle and deal with concerns. Agents can address queries, worries, or complaints effectively and successfully when complaint resolution rules are correctly created and enforced.
Numerous factors, such as client preferences, individual situations, and discrepancies between marketing material and the actual product or service, may lead to complaints being made to businesses. Companies should respond to each complaint and try to provide a reasonable solution, regardless of the cause.
Importance of Complaint Resolution in Customer Service
Complaint resolution increases your company's overall reputational risk, growth, and success by transforming potentially unfavorable situations into opportunities for improvement and establishing long-term relationships with customers.
When someone finds something wrong with your products, they will most likely contact the customer service team first. So, complaint resolution is essential in customer service for various reasons:
Customer satisfaction is the lifeline of any organization. It reflects how well a company meets customer expectations. Effective complaint resolution directly impacts customer satisfaction by changing unpleasant experiences into positive ones.
A strong complaint resolution process frequently results in higher customer satisfaction levels as Customer Satisfaction Survey (CSAT) or Net Promoter Score. Customers frequently spend more money on items or future purchases after resolving their complaints effectively.
Managing complaints strategically results in significant cost savings. Minor issues are prevented from growing into larger, more expensive issues when they are resolved quickly.
Repeated complaints, customer loss, further repayments, and even legal costs might occur from unresolved issues. Businesses can reduce these cost limits and preserve a healthier bottom line by responding to complaints swiftly.
Complaint resolution is essential for customer retention and loyalty. Customers are more likely to remain loyal when their problems are heard and resolved to their satisfaction.
Satisfied customers become advocates. They promote the company to others and add a loyal customer base. Companies can build a lasting bond that remains beyond a single transaction by showcasing dedication to the customer complaint.
A key component of reputation management is the effective resolution of complaints. Customer experiences are extensively shared in a linked world via online reviews and social media. Positively responding to complaints reduces public criticism of unhappy customers and indicates a commitment to resolving difficulties.
A well-managed complaint can serve as a testament to a company's dedication. It boosts the company's reputation and gains new customers.
Ways to handle and resolve customer complaints
There is no one-size-fits-all solution for handling customer complaints. Use this procedure to resolve customer complaints to determine the cause of the criticism you got and address the issue to keep the customer.
01.

Ask the right questions to learn deeper.
It is your responsibility to look out for the areas of friction in customer complaints, especially furious ones. You may uncover the problem's root cause by using Socratic inquiry. Ask your customer the following questions:
How would you define (a particular topic)?
Could you elaborate more on that?
Could you provide an illustration?
The cause of common customer complaints is often an issue that has to be fixed. Asking the correct questions enables you to ascertain the complaint's true nature, assess if a solution exists, and determine whether the complaint includes precious input.
If you think you can't resolve complaints, be careful to explain your reasoning and must refer them to someone who can. Simply telling them, "I'm going to link you up with our expert who will get things straightened out for you right now," is all required to accomplish this goal.
02.

Determine the customer type.
When dealing with a customer complaint, you may encounter one of these "differently motivated" customers:
Clients who aren't afraid to express their displeasure: When you answer, avoid acting rudely. Instead, be firm but courteous.
Customers who desire and pay for premium help: Avoid making excuses and just provide a solution when answering. Think about setting up a VIP folder and protocol to make locating and addressing their problems simple.
Clients who often contact you: Respond to these consumers patiently and avoid seeming irritated. They often return as consumers and promote your business when they are pleased.
Customers who don't want to complain may go without saying anything: You'll need to contact these clients to hear and address their problems actively.
Your consumers likely have a complicated mix of motives and actions, but knowing various persona types will help you react effectively.
03.

Rapid interaction with the patron is required.
An immediate reaction becomes essential when dealing with unhappy customers. It is preferable to handle complaints as quickly as possible.
Customers who submit feature requests won't care if you react after a day, while those who are "pulling their hair out" over a problem want a solution immediately. Make answering them a top priority.
Setting up a folder distinct from the main help queue where you may filter less-than-excited messages might be handy. Here, the staff can instantly identify emails from clients that want quick assistance.
04.

Describe the issue, then make sure the resolution is in place.
Confirm that the solution you suggested fixed the issue once you've determined the primary reason for the customer's complaint, discovered a resolution, and provided it to the client. To accomplish this goal, you can do one of the following:
Put this sentence after your message if you can't confirm that the solution is effective: "If there is anything further I can do for you, kindly let me know. I'll be happy to lend you!"
Once the fix is successful, respond by saying: "As you can see above, I tried this, and it seems to be functioning as planned (include screenshot). But if you're still having problems, surely do let me know."
Sometimes it's good to contact the consumer after a few days to ensure everything is addressed. You may also be interested in monitoring customer service software satisfaction ratings.
Negative feedback may indicate there are still problems to fix (but sometimes you've done all you can, and the consumer is still angry).
05.

To keep track of changes, record the complaint.
Solving a problem may not be effective if you've only had one client complaint in the last ten years about that particular issue. However, a story starts when you get many messages from clients expressing the same problem.
You'll need a mechanism for monitoring complaints to identify those with a large volume. Whatever method you use, the most important thing is to make it simple to record relevant complaints and keep track of the number of clients raising similar or identical concerns.
Conclusion
Issues arise. People judge you on how honestly you recognize and treat them. Successful customer complaint resolution can help you better understand their demands, keep them as devoted clients, and grow your company.
Forgetting about the negative experience and focusing on the positive one is the most significant way to show them that you care about them and their company.
QuestionPro CX provides real-time information on customer behavior and engagement. This CX management tool lets you see the customer experience from all perspectives.
Try out QuestionPro CX's customer experience surveys to see how they can help you increase customer loyalty and get valuable consumer data.