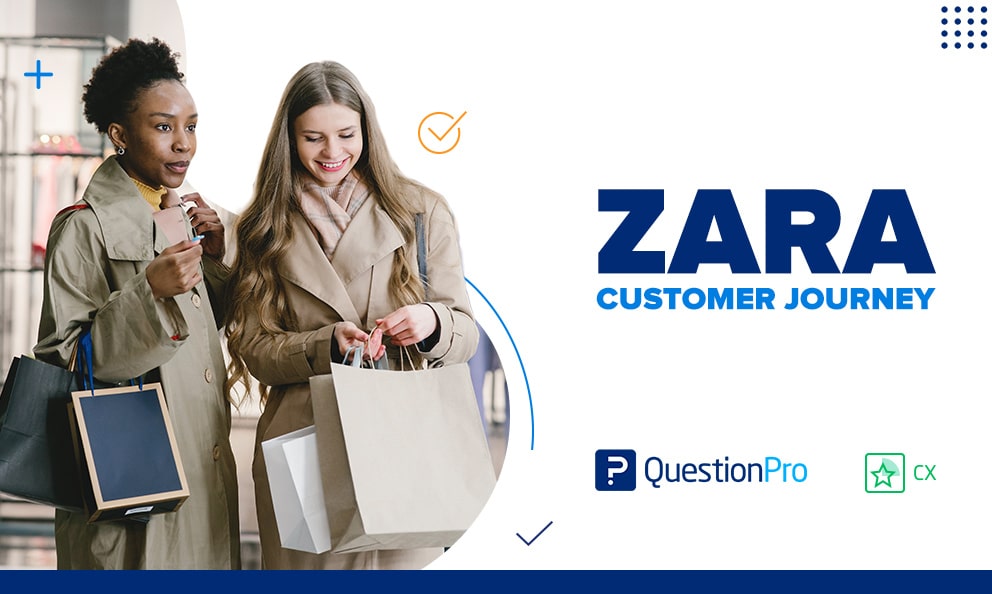 Zara is a popular international fashion retailer based in Arteixo, Spain. It is known for its fast-fashion approach, producing and releasing new clothing collections quickly in response to the latest fashion trends. It is the largest brand within the Inditex Group, one of the world's largest fashion retailers. Let's talk about the Zara customer journey.
Zara offers a wide range of clothing and accessories for men, women, and children, including eyewear, shoes, perfumes, clothing, and accessories. They have a reputation for designing and producing stylish and affordable clothing items that appeal to a broad customer base.
The Zara customer journey and its business model involve designing, manufacturing, and distributing its products highly efficiently and rapidly, allowing it to keep up with the ever-changing fashion industry.
Zara has stores in numerous countries worldwide and sells its products online, making its fashion accessible to a global audience. This combination of elements has made the brand one of the most influential and important players in the fashion industry.
Many of its strategies and successes come from a deep understanding of its target audience, which has enabled it to grow and position itself as leader in one of the world's most competitive industries.
The Zara Customer Journey
To thoroughly understand the success and achievements of a company like Zara, it is essential to examine its customer journey in detail. This refers to the graphical representation of all interactions that a potential customer of this store has with the brand. It encompasses different phases, ranging from the first time someone becomes aware of or hears about the brand to moments after making a purchase.
Such maps are especially useful for companies to identify their users' pain points. However, they can also be used to analyze and understand the actions taken by companies like Zara to achieve success.
Example of Zara's Customer Journey
To better illustrate what a customer journey map is, we have created an example, taking into account some of the common customer touchpoints of retail companies like Zara.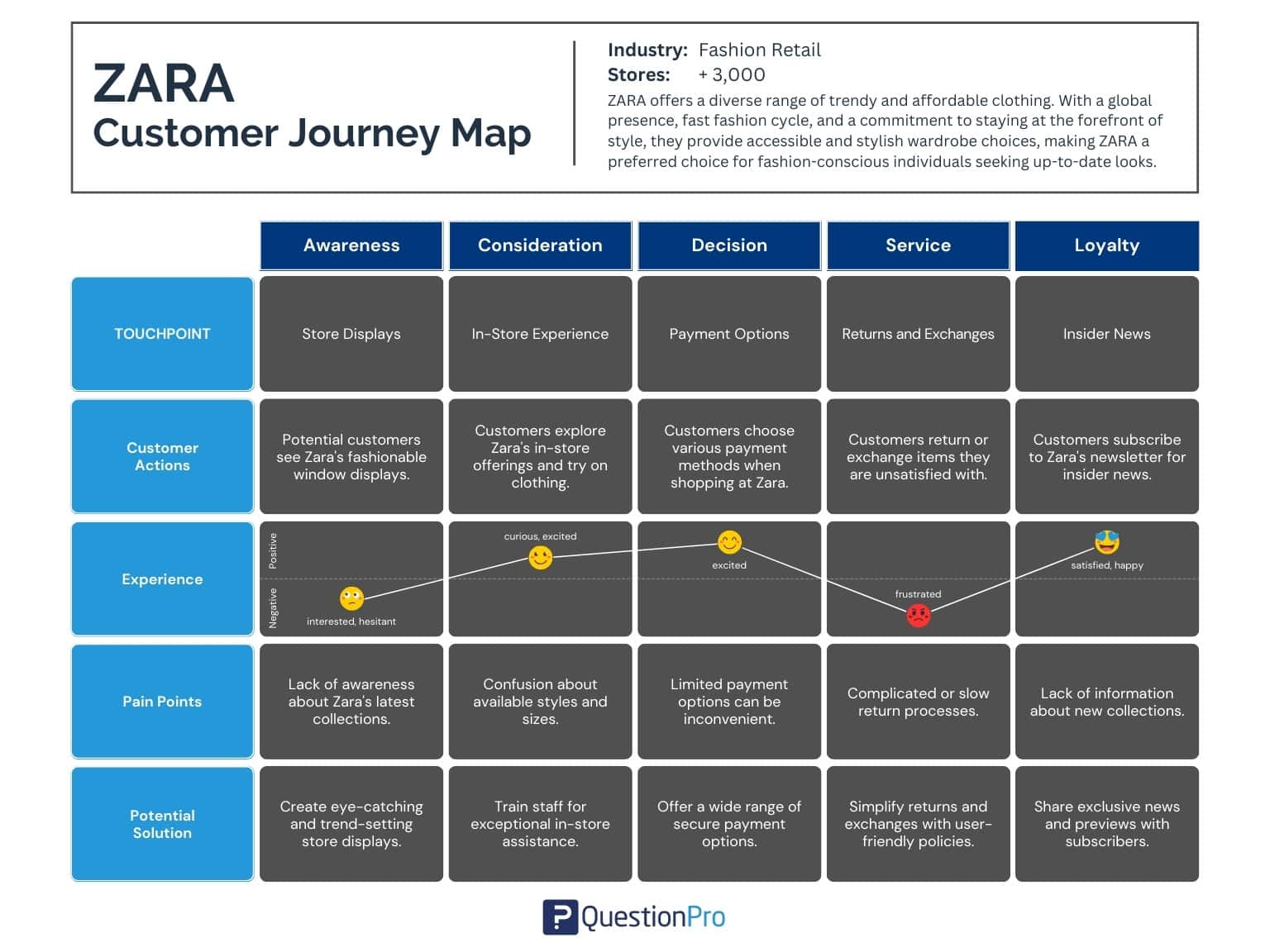 Stage 01: AWARENESS
| | | | |
| --- | --- | --- | --- |
| Touchpoint | Activity | Pain Point | Solution |
| Store Displays | Potential customers see Zara's fashionable window displays. | Lack of awareness about Zara's latest collections. | Create eye-catching and trend-setting store displays. |
| Social Media Marketing | Prospective customers discover Zara through engaging social media posts. | Limited knowledge about Zara's product range. | Maintain active and fashionable social media presence. |
| Fashion Shows | Prospective customers attend Zara's fashion shows and events. | Lack of understanding about Zara's design aesthetics. | Host captivating fashion shows to showcase collections. |
| Online Advertising | Prospective customers click on online Zara ads while browsing the web. | Limited awareness of online shopping options. | Run targeted online advertising campaigns. |
| Word of Mouth | Prospective customers hear about Zara from friends or family. | Lack of personal recommendations. | Encourage satisfied customers to refer others. |
Stage 02: CONSIDERATION
| | | | |
| --- | --- | --- | --- |
| Touchpoint | Activity | Pain Point | Solution |
| In-Store Experience | Customers explore Zara's in-store offerings and try on clothing. | Confusion about available styles and sizes. | Train staff for exceptional in-store assistance. |
| Website | Customers browse Zara's website for online shopping. | Uncertainty about product availability and prices. | Maintain a user-friendly website with clear product information. |
| Mobile App | Customers download the Zara app for a convenient shopping experience. | Challenges navigating the app and making purchases. | Improve the mobile app's user interface and functionality. |
| Fashion Blogs | Customers visit fashion blogs featuring Zara's latest trends. | Lack of understanding about how to style Zara products. | Collaborate with fashion bloggers to provide style tips. |
Stage 03: PURCHASE
| | | | |
| --- | --- | --- | --- |
| Touchpoint | Activity | Pain Point | Solution |
| Online Shopping | Customers make online purchases from Zara's website or app. | Lengthy and complicated online shopping process. | Streamline the online shopping experience. |
| In-Store Purchases | Customers make in-store purchases at Zara's physical locations. | Challenges in-store navigation and checkout. | Enhance in-store customer service and checkout efficiency. |
| Payment Options | Customers choose various payment methods when shopping at Zara. | Limited payment options can be inconvenient. | Offer a wide range of secure payment options. |
| Personal Shoppers | Customers consult with Zara's personal shoppers for fashion advice. | Difficulty finding the perfect outfit. | Provide personalized and expert fashion advice. |
Stage 04: USAGE
| | | | |
| --- | --- | --- | --- |
| Touchpoint | Activity | Pain Point | Solution |
| Product Care | Customers follow Zara's care instructions for clothing maintenance. | Lack of knowledge about garment care. | Provide clear and accessible care guidelines. |
| Returns and Exchanges | Customers return or exchange items they are unsatisfied with. | Complicated or slow return processes. | Simplify returns and exchanges with user-friendly policies. |
| Customer Support | Customers contact Zara's customer support for assistance. | Frustration with unhelpful or slow support. | Enhance customer support with knowledgeable agents. |
| Size Guide | Customers refer to Zara's size guide to ensure the right fit. | Difficulty determining correct sizing. | Provide accurate and detailed size guides. |
| Style Inspiration | Customers follow Zara on social media for style inspiration. | Lack of ideas on how to wear Zara's products. | Share regular style inspiration and outfit ideas. |
Stage 05: LOYALTY
| | | | |
| --- | --- | --- | --- |
| Touchpoint | Activity | Pain Point | Solution |
| Loyalty Rewards | Loyal customers receive exclusive rewards and discounts from Zara. | Unclear rewards and benefits. | Clearly communicate and enhance loyalty rewards. |
| Personalized Offers | Customers receive tailored promotions and discounts from Zara. | Receiving irrelevant offers. | Customize offers based on customer preferences. |
| Insider News | Customers subscribe to Zara's newsletter for insider news. | Lack of information about new collections. | Share exclusive news and previews with subscribers. |
| Feedback Channels | Customers provide feedback and suggestions to Zara. | Limited channels for voicing opinions. | Encourage and value customer feedback for improvement. |
Stage 06: ADVOCACY
| | | | |
| --- | --- | --- | --- |
| Touchpoint | Activity | Pain Point | Solution |
| Social Media Engagement | Customers engage with Zara on social media and share their purchases. | Limited engagement and interaction. | Foster active and meaningful social media interactions. |
| Fashion Collaborations | Zara collaborates with influencers and celebrities for brand promotion. | Limited reach to new audiences. | Continue collaborating with popular figures. |
| Exclusive Previews | Zara provides exclusive previews of upcoming collections to loyal customers. | Lack of opportunities for early access. | Expand exclusive preview opportunities. |
| Community Building | Zara builds an online community where customers can interact and share. | Limited community engagement. | Create an engaging and supportive online community. |
A Detailed Look at Zara's Customer Journey
As you can see, Zara has various customer touchpoints, which are opportunities they have seized to make their brand grow. Below, we explain some of the initiatives and actions that the brand implements to expand its reach and delight its customers and audience.
Location (Awareness)
Contrary to what many might think, Zara does not invest a significant amount in advertising. In fact, it has been reported that the company only spends 0.3 percent of sales on advertising.
This is due to their significant successes because they are exceptionally good at listening to their customers. Thanks to their feedback programs and various communication channels, they can listen to their target audience and take their opinions into account to act accordingly.
Another significant achievement is their rapid expansion and the extensive efforts they make in market research to determine the best locations and designs that will allow them to convey the values their brand represents.
Furthermore, location has played a very important role in their growth. Although they are considered a fast-fashion brand, Zara tends to place its stores in the best locations in cities where high-end shoppers are likely to visit.
Clothes Donations
Zara has a collection program that allows customers to deposit their unused clothing, footwear, and accessories either at the company's physical stores or, in select markets, request a donation collection service for online customers. The company takes responsibility for sending these donated products to collaborating organizations. This is a great example of post-sales service as it continues to encourage interaction with current users while helping the community to which it belongs.
Zara Influencer Program (Loyalty/Awareness)
Although Zara does not have an official referral or influencer program, since last year, the brand has been using influencers and micro-influencers to reach new audiences. While there were already fashion bloggers and internet personalities promoting and using their products, it wasn't until 2022 that they began to form direct partnerships with this new form of promotion.
Influencer marketing has had a significant impact, so it's no surprise if they continue to make more and better partnerships to benefit digital content creators while spreading the word about their products to more and more audiences.
Commitment to the Environment
From controlling emissions in their production centers to using recycled and sustainable fibers, Zara has an extensive program in which they seek to reduce their environmental impact. This has earned them recognition not only from organizations but also from their audience, who are aligned with these causes.
Start Improving Your Own Customer Journey
As you may have noticed, taking care of each point in the customer journey has its rewards. Listening to your audience is one of the best advertising strategies and can lead to the generation of new initiatives with a real impact on your numbers.
Thanks to an excellent customer experience, it is possible to delight your prospects and turn users of your products and services into loyal followers. Fortunately, this type of initiative is not reserved for a few large companies; a customer experience management strategy is something that should be present in any business.
At QuestionPro, we are committed to democratizing these methodologies, so we have created a series of tools with a wide range of features that allow users to start collecting feedback, raise tickets, measure customer satisfaction, and follow up, among many other actions.
Learn more about our customer journey mapping tool and our customer experience management tool, and start delighting your audience.