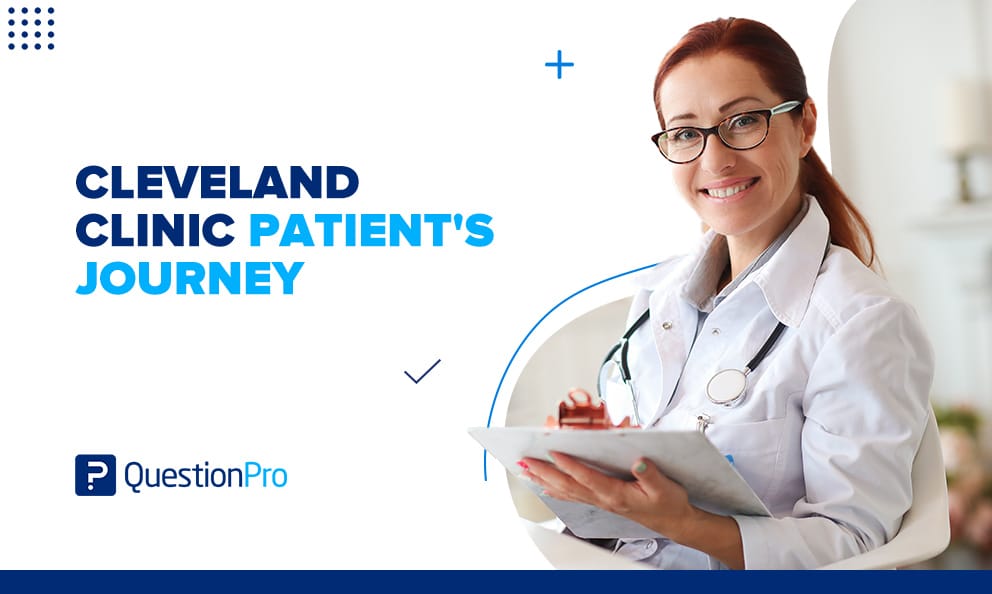 If we talk about patient experience, undoubtedly, one of the benchmarks in this aspect is Cleveland Clinic, an institution whose focus has positioned it as a reference in providing excellent service to its patients. That's why in this article, we will analyze some of its great successes and initiatives and take a glimpse into Cleveland Clinic's Patient Journey to understand some important touchpoints.
Cleveland Clinic: A Pioneer in the Patient Journey
Cleveland Clinic is often ranked among the best hospitals in the United States. This recognition is not only due to its incredible facilities, global expansion, and well-prepared staff but also because of its remarkable focus on the experience they provide to its patients and clients.
With over 100 years of existence, Cleveland Clinic has earned a strong reputation in the national industry, considering its pioneering role among major academic medical centers in prioritizing patient experience as a strategic goal. It appointed a Chief Experience Officer and was among the first institutions to establish an Office of Patient Experience.
Such actions make it an institution worthy of analysis to understand its great achievements and discover ideas for delivering outstanding customer-centered care, regardless of the industry.
Cleveland Clinic Patient Journey
To have a clear visualization of some of the initiatives this hospital implements to ensure user satisfaction, we have created this imaginary Patient Journey Map, where we have included some of the most prominent touchpoints of this medical institution.
Stage 01: AWARENESS
| | | | |
| --- | --- | --- | --- |
| Touchpoint | Customer Activity | Pain Point | Solution |
| Online Search and Website | Searching for healthcare options and visiting the Cleveland Clinic website | Difficulty finding specific information | Improve website navigation and provide comprehensive information |
| Referral by Healthcare Provider | Receiving a referral from a healthcare provider | Uncertainty about the best course of action | Provide clear and timely communication about the referral |
| Word of Mouth | Recommendations from friends or family | Lack of knowledge about available services | Enhance word-of-mouth communication and offer informational resources |
| Social Media and Reviews | Checking social media and reading reviews | Concerns about the quality of care and experiences | Engage with patients on social media and respond to reviews |
Stage 02: CONSIDERATION
| | | | |
| --- | --- | --- | --- |
| Touchpoint | Customer Activity | Pain Point | Solution |
| Pre-Visit Communication | Interacting with Cleveland Clinic through phone or email | Delayed or inadequate responses to inquiries | Improve response times and ensure comprehensive information |
| Appointments | Scheduling appointments with physicians | Difficulty finding suitable appointment times | Implement online appointment scheduling and offer flexible options |
| Patient & Visitor Guide | Reviewing the patient and visitor guide | Lack of information about hospital procedures and policies | Provide a comprehensive and accessible patient and visitor guide |
| Doctors & Medical Staff | Researching information about Cleveland Clinic doctors | Limited availability of medical staff information | Showcase medical staff expertise and provide detailed profiles |
| Healthcare Partners | Engaging patients, families, and support persons in care decisions | Feeling excluded from care decisions | Incorporate patients and families in care decisions |
Stage 03: CONVERSION
| | | | |
| --- | --- | --- | --- |
| Touchpoint | Customer Activity | Pain Point | Solution |
| Registration and Check-in | Checking in for Cleveland Clinic visits | Long wait times and confusing check-in process | Streamline registration and check-in procedures |
| Room Cleanliness | Evaluating room cleanliness during hospital stay | Concerns about hygiene and cleanliness of rooms | Ensure rigorous room cleaning protocols and maintain high standards |
| Patient-Centered Consultations | Meeting with healthcare providers for consultations | Feeling rushed during consultations | Prioritize patient-centered care and allocate adequate time |
| Informed Decision-Making | Understanding treatment options and decisions | Confusing medical jargon and lack of clarity | Improve patient education and communication of treatment plans |
Stage 04: LOYALTY
| | | | |
| --- | --- | --- | --- |
| Touchpoint | Customer Activity | Pain Point | Solution |
| Quality of Care and Safety | Experiencing quality care and safety measures | Concerns about medical errors or infection risks | Emphasize commitment to patient safety and quality care |
| Compassionate Care | Receiving empathetic and compassionate care | Feeling devalued or dismissed during interactions | Train staff in empathy and compassionate communication |
| Communication and Follow-up | Receiving clear communication and timely follow-up | Lack of communication or follow-up after discharge | Improve post-discharge communication and follow-up protocols |
| Patient Online Services | Utilizing patient online services and resources | Limited awareness of available online services | Promote available patient online services and resources |
| Volunteer Services | Engaging with Cleveland Clinic volunteers | Limited awareness of available volunteer services | Promote volunteer services and their positive impact on patients |
| Healing Services | Participating in healing services | Limited information about available healing services | Communicate and offer a variety of holistic healing experiences |
| Quiet at Night Program | Experiencing nighttime noise reduction | Disruptions to rest and healing during the night | Implement the "Quiet at Night" program to minimize noise |
| Effective Nurse Leader Rounding | Experiencing effective nurse leader rounding | Lack of nursing team responsiveness | Implement effective nurse leader rounding for responsive care |
| HCAHPS Survey | Participating in the HCAHPS survey | Uncertainty about the survey's impact and benefits | Communicate the importance of patient feedback and survey results |
Stage 05: ADVOCACY
| | | | |
| --- | --- | --- | --- |
| Touchpoint | Customer Activity | Pain Point | Solution |
| Patient Feedback and Surveys | Providing feedback and participating in surveys | Lack of follow-up or action based on feedback | Actively respond to patient feedback and make improvements |
| Social Media Sharing | Sharing positive experiences on social media | Concerns about privacy and negative feedback | Provide social media guidelines and monitor brand mentions |
| Office of Patient Experience | Engaging with the Office of Patient Experience | Limited engagement and lack of awareness about the office | Promote the Office of Patient Experience and its services |
Some highlighted actions of Cleveland Clinic focused on the Patient Experience:
Among all these touchpoints and initiatives, the ones that stand out the most for their originality and potential impact are as follows:
1. Office of Patient Experience: Cleveland Clinic was one of the first major hospitals to establish a specialized department dedicated to maintaining a constant focus on the patient experience. This strategic move led to a series of actions and discoveries aimed at ensuring patient satisfaction.
2. HCAHPS Survey: The Cleveland Clinic utilizes the HCAHPS Survey, a standardized tool for collecting data and assessing patients' perspectives on hospital care and their experiences with healthcare providers and systems. This survey allows the clinic to continuously evaluate its efforts and the satisfaction of all its clients.
3. Focus on Services and Experiences: Cleveland Clinic consistently focuses on the experience it provides patients during their treatments and recovery. To ensure this, they have implemented several initiatives. Here are a couple of examples:
3.1 No Pass Zone: The organization has implemented a "No Pass Zone" program that empowers all caregivers to promptly address patient call lights. They are encouraged to acknowledge, respond to, and effectively resolve the needs of the patients they attend to.
3.2. Healing Services: During a patient's hospital stay, Cleveland Clinic provides Healing Services, which offer comprehensive care experiences prioritizing the patient's overall well-being. These services aim to create a relaxing and naturally healing environment.
3.3. Volunteer Services: Cleveland Clinic Volunteers significantly enhance the Patient Experience. They generously contribute their time and talents in various capacities, adding extra care and support to the patients.
3.4. Quiet at Night Program: Recognizing the crucial role of rest in the healing process, the organization has implemented an enterprise-wide "Quiet at Night" improvement team. This team has developed guidelines, including the H.U.S.H. (Help Us Support Healing) protocol, to minimize hospital nighttime noise, promoting a restful environment.
3.5. Effective Nurse Leader Rounding: The nursing team consistently conducts effective nurse leader rounding, ensuring that every patient's needs are met promptly and with care. This proactive approach fosters a positive and compassionate environment where patients and their families feel supported and attended to.
These are excellent examples of measures that any company can replicate to begin delighting their users and provide a share-worthy experience.
The collective impact of these actions is reflected not only in improved satisfaction metrics but also in word-of-mouth recommendations, brand online reputation, and, most importantly, customer retention and preference.
Do you want to create your own Patient Journey Map?
SuiteCX by QuestionPro offers a powerful customer journey mapping software, enabling businesses to visualize their persona-based journeys easily. With a single source of truth for customer interactions, practitioners can comprehensively understand their customers' needs, listen to their feedback, and visually map out the interaction points.
The software provides over 20 different mapping visualization templates, enabling users to create persona-based maps using words, icons, and images. The maps can be enriched with customer data from various sources, including interaction metrics like NPS and CSAT, big data analytics, segmentation data, and operational data to gauge CX performance.
Start improving and defining your Patient Journey now.