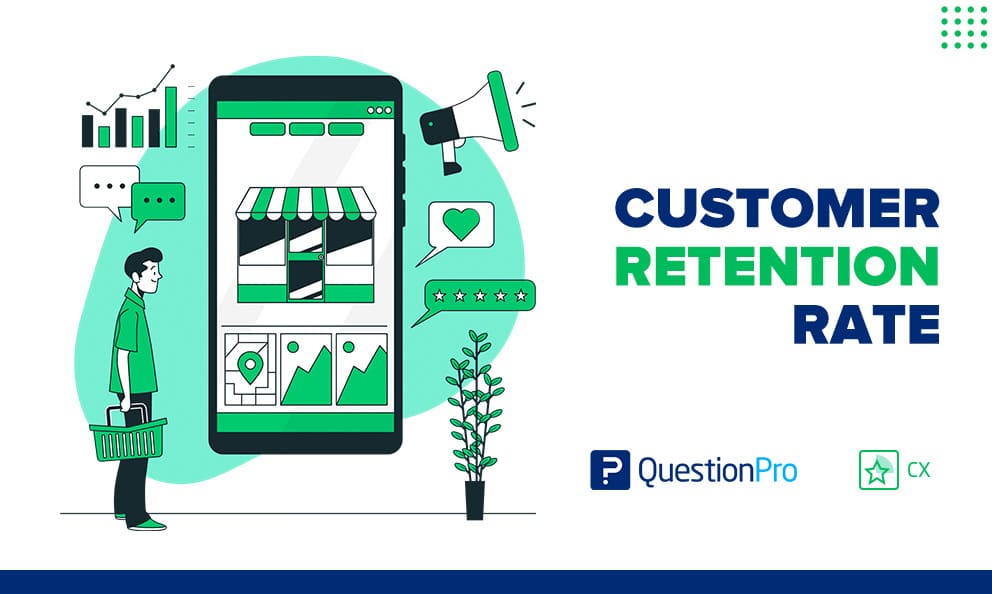 Still don't know exactly what your monthly, quarterly or yearly customer retention rate is? If the answer is no, you definitely need to start measuring and taking action to maintain or even improve it.
LEARN ABOUT: Time to Value
In this article, we have compiled everything you need to do to obtain this key data for customer loyalty and the success of your business.
What is the customer retention rate?
The customer retention rate is an indicator that measures the percentage of customers that a company retains for a given period of time, as opposed to the churn rate, that is, the percentage that it loses.
The customer retention rate, known as English Customer Retention Rate (CRR), is expressed as a percentage of a company's existing customers who remain loyal in that period of time.
LEARN ABOUT: Retention Rate
Generally, to obtain this rate, defined periods are considered, for example, a month, a quarter or a year.
If you like reading about customer retention rate you might interesting learning about customer journey.
Importance of measuring customer retention rate
It's key to watch this figure like a hawk if you have ambitions to grow your business sustainably, as retention is vital to driving repeat purchases and ongoing value from your customer base.
An important factor to improve retention is knowing the level of satisfaction and customer loyalty in your company. Analyzing the customer retention rate is an effective way to know how your business is doing in that regard.
The customer retention rate also helps companies find out if there are operations that may turn off potential and existing customers, such as slow or poor customer service, or a faulty product.
How to calculate customer retention rate?
In order to calculate your customer retention rate, it is important to follow these steps:
Choose the period you want to evaluate (week, month, quarter or year, for example).

Find out how many customers you have at the end of that given period.

Now you need to subtract the number of new customers you've acquired during that time.

Divide the amount above by the number of customers you had at the beginning of that period.

Then multiply it by one hundred.
The formula to obtain the customer retention rate is:
[CF-CN]/CI] x 100
Where:
CF= Customers at the end
CN= New customers
CI= Clients at the beginning
If you find this article interesting, check out which metrics you should track to boost customer retention.
How to achieve a good customer retention rate?
Now that you know what this term consists of, we recommend you implement these 5 steps to optimize customer retention:
Set realistic expectations
It is always a good idea to exceed promises made to customers. Be clear about what they will receive and what they can expect from your company. To do this, you must be as realistic as possible when making your promise of experience and then work to go further.
Once you've established clear customer expectations, align your teams to meet these goals. Is each department doing what it can to provide a better customer experience?
Don't risk falling short, as customers tend to remember the negative before the positive. Even a single mistake can be enough for a customer to leave.
Build trust
Creating a brand that is easily relatable is the first step in gaining customer trust. Having something in common fosters trust and this is the key to building a strong relationship and, by extension, a successful business.
Use the data of your customers to better understand their needs and offer them a positive customer experience. Let them also guide you on the best way to communicate with them to gain their trust.
When customers trust you, you don't have to spend time convincing them to buy your product.
Set clear success metrics
Customer service KPIs let employees know that you're evaluating performance objectively. Make sure agents are up to date on customer service best practices, as well as to measure ratings with customer satisfaction (CSAT) surveys.
Review customer feedback after agents resolves their cases. Track call resolution time and use these metrics to reward employees who deliver the best customer experiences.
Find out what are the 5 most important customer satisfaction KPIs your organization should consider.
Collect customer reviews
Get customer feedback through simple surveys following service calls, first call resolution, online interactions, or communications via email, text, or social media.
Collect customer feedback and feedback to determine Net Promoter Score (NPS), Satisfaction Index, and Customer Effort (CES).
Use this feedback to make improvements to your service experience that will increase retention while meeting new customer expectations.
Keep in mind that proactive, personalized service and interactions, as well as a seamless omnichannel customer experience, are now expected.
The best way to meet expectations is to get to know the customer to find out what they want.
Therefore, it is best to apply satisfaction surveys and reviews, as well as analyze the results obtained in detail to see the areas that need improvement.
If you like reading about customer feedback, make sure to learn about what is a customer feedback software.
Keep customers informed
You must continually educate customers by providing them with up-to-date information about your products and services. This should include sharing product milestones so your customers know you are striving for continuous improvement.
Communicate regularly using various customer communication channels, such as web chats, social media, and text messages. Remember to personalize your content to enhance the voice of customers.
Download the free customer experience Ebook and successfully increase your retention.
Conclusion
Now that you know what the customer retention rate consists of, how to measure it and some of the most important actions to improve it, we recommend that you apply it as one of your key business indicators as soon as possible.
Remember that with QuestionPro you can easily apply the aforementioned strategies, from the implementation of satisfaction surveys to obtaining real-time data for immediate action through the QuestionPro CX management platform.
If you would like to learn about this tool, we invite you to request a free demo or create a free account to take advantage of everything we have for you.