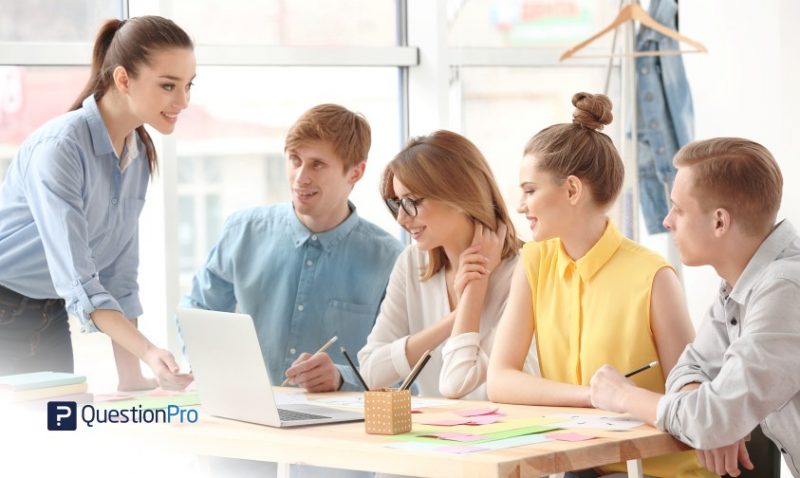 What is a focus group?
Focus group in research, is a small group of carefully selected participants who contribute in open discussions about a new product or a feature update or any other topic to generalize the results from this focus groups to the entire population. These focus groups are conducted in the presence of a moderator who will ensure the results are as unbiased and legitimate as possible.
In 1991, marketing and psychologist expert Ernest Dichter came up with the name "Focus Group" for meetings held with a limited group of participants who assembled with the objective of discussion. Focus groups are a part of qualitative market research where a group of 6-10 people, usually 8, are asked to share their feedback, opinions, knowledge, and insights about technologies, products, services, marketing plans, sales strategies or any other topic. All the participants are free to convince the other participants to change their opinions and openly put their respective points forward. The mediator, in the meanwhile, would take notes and make records from this discussion. Due to the impact that this focus group can have on the result, a researcher needs to be extremely picky in the process of selecting participants for this focus group.
5 Steps to conduct a focus group in research:
Have a clear agenda for the focus group. Why conduct a focus group? Where or How to conduct it? Answers to these questions must be clear before approaching participants to be a part of a focus group. Is the researcher intending to discuss new product features or the launch of a new product or service or the impact of current marketing plans etc? The statement of discussion should be put to paper for better clarity.

Once the agenda of the focus group is decided, a researcher must start working on the questions. All these questions must align with the primary objective and should complement each other as well. The crucial ones must be put forth initially and the discussion should end with the least important questions.

Schedule this focus group session. Time, place and duration must be finalized and communicated to all the participants beforehand.

If it is an offline focus group, a venue must be booked and the address must be made clear to the participants. Provision for drinks (at least water), restrooms etc. should be in place for all the attendees. If it is an online focus group, a calendar invite with the meeting room must be sent out to the participant along with constant reminders.

Create online and offline leaflets or brochures with a welcome note, agenda and overall rules of the meeting.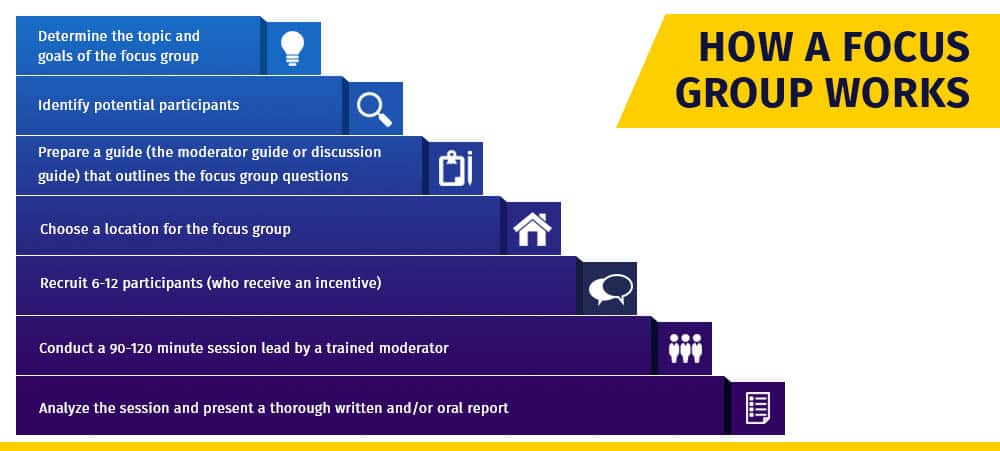 Main pillars of a focus group- The Participants: A crucial step in conducting a focus group is the process of participant selection. The main criteria for selecting the participants must be their know-how about the subject. There are many research-based organization that can help in providing access to the right participants for a focus group.
The role of a moderator: A researcher can out on the moderator's hat as long as he/she is confident of conducting the focus group with utmost impartiality, confidence, and elan. In case, the researcher lacks the qualities that make a good moderator, qualified and extremely suitable candidates can be hired to do the job. There are instances where a focus group is highly opinionated, in which case, it is advisable to get professional facilitator on board.
A few other points to keep in mind while designing a focus group:
Keep a recording as evidence of whatever is discussed in the focus group meeting and let the participants know that they're being recorded and discussion points are being noted during the meeting.

Circulate a discussion manual that consists of the schedule, dos and don'ts of the focus group, recording plan, mode of result sharing etc.

Make sure the execution plan is in place prior to the meeting so that any foreseen conflict can be eliminated and the main focus group event can be as accurate as possible.

Put a plan of action together according to the opinions and feedback received from the focus groups for implementing changes to improve and monitor growth once the changes are executed.
Types of focus groups:
Since its inception, there have been a lot of variation in the focus groups –
Dual-Moderator Focus Group:

There are two moderators in this focus group. One of them will be expected to ensure smooth execution and the other will be in charge of making sure each and every question is discussed. This is a holistic approach to conduct focus groups.

Two-way Focus Group:

In this method, one focus group will overlook the discussion happening in the other group. This makes way for more discussion points and may end up concluding in a different manner in the second case which gives a researcher more perspective.

Mini Focus Group:

This focus group is restricted to 4-5 participants, unlike the regular focus groups which have 6-10 participants.

Client-involvement Focus Group:

In this focus group, the clients who urged the focus group will be a part of the focus group.

Participant-moderated Focus Group:

One or more participants provisionally take up the role of moderator. The chances of less biased, honest feedback increases when there are more than one people taking charge.

Online Focus Group:

 All discussions of this focus group are conducted by sharing opinions and feedback via online mediums. There are three categories of people who are a part of an online focus group: observer, moderator, respondent.
Focus Group Advantages:
A great equivalent feedback gathering medium to the other predictable mediums such as

online surveys

and

online polls

. These mediums are highly technical as they usually deliver quantitative results and are generally implemented in case of time constraints or lack of knowledge of other

market research

methods.

Immediate access to customer feedback and opinions which makes the data collection and analysis process quick and convenient.

Highly flexible in the inception and execution as it is dependent on the researcher's caliber and understanding of products or services and also their ability to plan and deliver a focus group.

Focus groups are usually a conducted continually so that any hiccup such as impact of current market situations may impact the discussion that the researchers face in one of the focus groups can be eliminated in the other sessions.

Focus groups are perfect sources to understand true feelings and perceptions of the participants who represent a population.