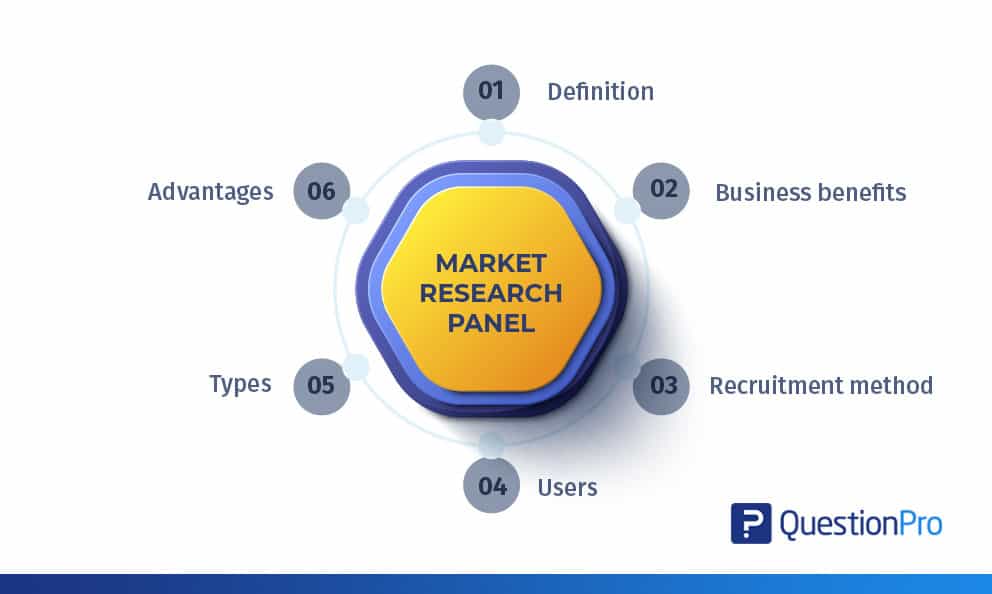 What is a market research panel?
A market research panel is defined as a group of research participants, selected for market research studies. These research panelists help a researcher evaluate a brand or products/services offered by the brand, thus also called brand research panel.
A market research panel is a more popular option as compared to the more traditional phone interviews. The panelists are already pre-qualified, and in many cases, mobile-ready to participate in online surveys. There is no guarantee that the person coming on the phone will be ready to respond to your questions. Market research panels are cheaper to research in the long run. Phone research leads to a waste of both time and resources.
LEARN ABOUT: Audience Research
What is an online panel?
Definition: An online panel or an online market research panel is defined as an online group of pre-selected people interested and willing to participate in a market research study, online focus groups, surveys, etc. These people could be your current customers, potential customers, and any sales lead. They could also be people with shared interests and beliefs who wish to participate in research projects.
LEARN ABOUT: Market research industry
Conducting online surveys gives businesses an effective method of gathering data and feedback from a group of participants. It is a way for companies to make consumer research useful, more productive, and less expensive than traditional research methods.
LEARN ABOUT: Panel Respondents
What are the business benefits of using an online market research panel?
Here are the benefits of researching with an online market research panel.
Data management: Conducting surveys and questionnaires online ensures that the data is centralized, and data collection, data evaluation, and analysis becomes easy. It eliminates privacy concerns, any prejudices involved, etc. Global data processing becomes easy when you use panels for market research.
Multimedia support:

Using a market research panel also includes the opportunities to include multimedia: photos and videos or even sound to the research study. It gives the panelists a better chance to respond or comment on questions. It is practically impossible to include these features in a telephone interview.

Data reliability:

Panel companies monitor market research panel members regularly for any changes in their profile and continuously clean data. There is a fair chance that panels permanently remove unresponsive panelists from further research studies. Generally, panelists restrict panel members to a particular number of surveys they can participate in a year.

Product testing: Online research panels allow businesses to put their products/services to the test—companies test products well before introducing them to the market. Panels help in data collection and help get feedback quickly, allowing the process to stay well within the budget. Researchers also use panels to find product performance and collect user feedback to improve the product.
LEARN ABOUT: Pricing Research
How to recruit a market research panel?
Here are the steps involved in recruiting a market research panel:
Use the right recruiting channel:

The internet is the best source to recruit global panel members. Use your website too to advertise panel recruitment or consumer recruitment and directly recruit panelists. Email and social media play an essential role in the scanning of members for the panel.

Keep the process short and sweet:

Once your contacts decide and commit to joining the panel, send them a brief survey to get important identifying demographic information about them: name, address, occupation, etc. Sending out lengthy emails can put off respondents, and they might drop out of the study.

Send the survey to members only after their confirmation:

Once you have received the essential details from the respondents, they will now be the right time to send them a detailed survey so you can know your target audience better.

Send a "Welcome" email:

It's good manners to say a simple thank you to the members once they have officially agreed to be on-board. This email should be clear and straightforward, reminding them of the purpose of joining the online research panel. Also, it is good to mention any reward criteria associated with participating in the studies.

Announce your rewards: It is a good practice for rewarding your panel members for investing their time in the research. The rewards don't necessarily have monetary gains; you can offer your members amazon gift cards, coffee vouchers, gift coupons, Starbucks coffee vouchers, discounts at well-reputed stores, etc.
LEARN ABOUT: What Is A Panel Survey?
Who uses market research panels?
Here are some users of market research panels.
Market research companies:

Market research organizations, who conduct research projects on behalf of organizations, use market research panels, or conduct consumer recruitment. They reach out to respondents who fit the survey criteria and are keen to participate in research.

Organizations:

Depending on their research needs, organizations, irrespective of their size, use customers, non-customers, potential customers, and other stakeholders for their research activities. These online panelists answer online surveys depending on the research needs.

Students: College and university students find online panels handy. They use market research panels to complete research projects and thesis. Panels help students get an accurate representation of their population of interest for research projects.
What are the types of panels for research?
Panels are broadly classified into two types:
Supplier panels

Corporate panels
What is a supplier panel for research?
A supplier panel consists of members from both the B2B and B2C sectors. The panel provider can estimate the incidence rate to understand the percentage of members who qualify for the survey. This research supplier panel is more extensive compared to a corporate panel.
LEARN ABOUT: B2B Online Panels
Example: To conduct a competitive study on McDonald's, Burger King contacts a supplier panel. The supplier panel will provide Burger King with the number of McDonald's patrons and estimate the number of completed surveys it could provide.
What is a corporate panel for research?
A corporate panel purely consists of customers of specific products or services. These customers generally share the same interests, have similar behavioral habits and other similar traits.
Example: McDonald's panel members taking part in a research project conducted by McDonald's. Here, the researcher (McDonald's) can choose to survey the entire panel database or may only select a few respondents for the study.
What are the advantages of investing in a market research panel?
Following are the advantages of investing in a market research panel:
Speed of research:

Research itself can be a slow process; however, to speed up the process, it is advisable to invest in a well-defined panel that will speed up the process. For example, if your product is to launch in 2 months, and you need to get a target demographic determined, then a well-established global panel can help you speed up the process.

High response rates:

How good will the results of a research study be without the right respondents? A market research panel consists of panelists who are interested in participating in research studies. These respondents are highly motivated to take part in surveys as they are either (1) have self-nominated themselves, (2) have the sound subject knowledge, or (3) are motivated because of the rewards they get to answer the survey research.

Cost-effectiveness: If, as a business, you are planning on running only a few studies over the coming months or even over the year, then investing in a sample is much more cost-effective than spending on traditional research methods. Plus, you can get experts in the subject matter on the panel and be sure that the feedback will be genuine.
Panel diversity:

When you invest in a well-established panel, the members come from diverse backgrounds and geographic locations and demographics. The variety of panel members can be criteria you can put forth before investing in a market research panel.

Better sampling: Market research panel members are pre-qualified and categorized to participate in various types of research studies. It means that there is a wide variety of market research panelists. Sampling is made easy and better because of the accuracy of the demographics captured. Market researchers can rely on panels to conduct market research for better global data processing.
LEARN ABOUT: Online Survey Panels
Panel research with QuestionPro Audience
QuestionPro Audience is committed to providing people-powered data through research services. We have an active market research panel of more than 22 million+ mobile-ready market research panelists. We continue to refresh and update our panel to help you purchase samples that genuinely fit your research needs. You can also buy market research samples in just THREE easy steps with QuestionPro Audience. Feel free to contact us, so we can get you started immediately. Please write to us at [email protected] or visit www.questionpro.com/audience to know more.