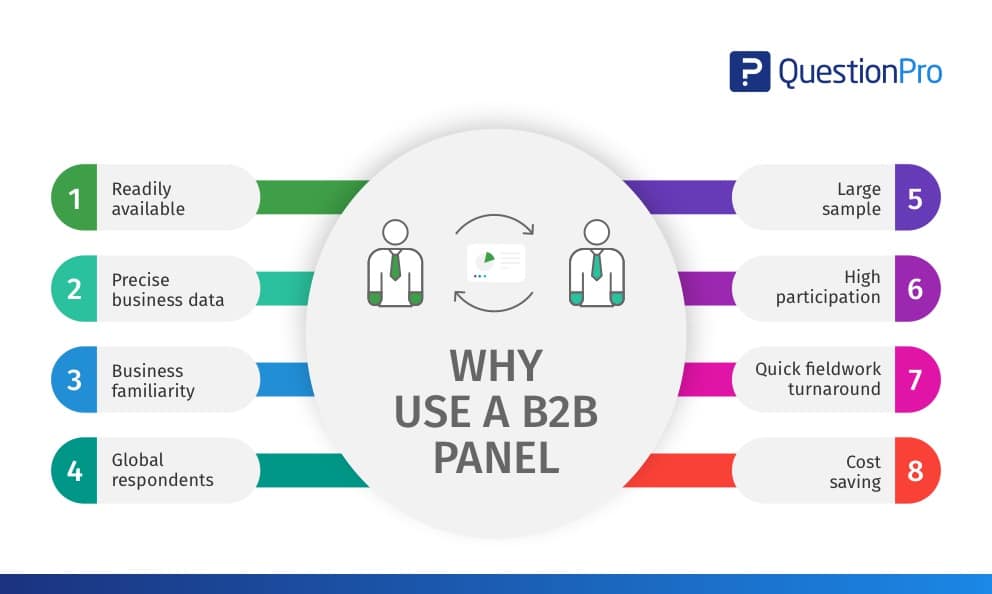 B2B panelists are respondents who specialize in responding to any business-related surveys. Panel organizations segregate these business-to-business panelists by size, segmentation, role, industry type, etc. of the current market.
LEARN ABOUT: Panel Respondents
A panel is a pre-recruited pool of individuals belonging to niches that suit various research requirements and agree to participate in the various research assignments. These individuals are known as panel members, panelists, or audience. Business researchers invite these panel members to take part in quantitative and qualitative surveys for market research.
It is essential for researchers to know how well their B2B panels represent the target population's characteristics before they conduct a survey on them. This can be done through sample profiling and sample matching techniques that help determine the effectiveness of a particular sample group.
Know QuestionPro Audience Software
Definition of B2B online panel
Inspired by dramatic growth in global internet penetration, online surveys are growing in popularity for collecting primary research data. A b2b online panel is a collection of pre-screened qualified people willing to participate in surveys and provide feedback for a product or service according to the nature of the study. Business-to-business online panelists are similar to business-to-business panelists, but researchers gather insights from them via the help of internet tools. E.g., through CATI's (Computer Assisted Telephonic Interviews) or CAWI's (Computer Assisted Web Interviews).
This panel plays a pivotal role in research purposes – market research is the most prominent and direct case. A B2B online panel or a business-to-business online panel often provides crucial insights into complex products or services across multiple sectors in the enterprise. Such an online panel involves professionals like human resources decision-makers, IT decision-makers, executives, financial analysts, and small business owners. B2B online panel audiences help you keep up with modern business dynamics worldwide, regularly.
LEARN ABOUT: What Is A Panel Survey?
Difference between B2B panel and B2B online panel
Imagine a time in the 1990s or even the early 2000s when research surveys were not yet digital and were administered door-to-door survey. Researchers saved survey information in a hard copy form in papers that had to be sorted and put back into a stack of hundreds or even thousands. Imagine a time when research conducted through panels was time-consuming.
The game has changed since the spread of internet usage. The online research panels of today are the equivalent of a jump to lightspeed. A company conducting online research today can very conveniently blast out an email to all the panelists who fit the criteria of the survey. Research panels have developed and evolved remarkably and are very complicated now. However, much like in the past, creating a research panel is a commitment that can pay dividends if developed and maintained to scale with industry needs. B2B panels are highly efficient in presenting researchers with a fast, high-incidence sample that they can use for various enterprise needs.
QuestionPro's business-to-business panels are chosen through a stringent screening and selection process with over 300 background data points collected from each panelist. These panels are formed only by panelists who are 100% willing to devote their time and efforts to a survey.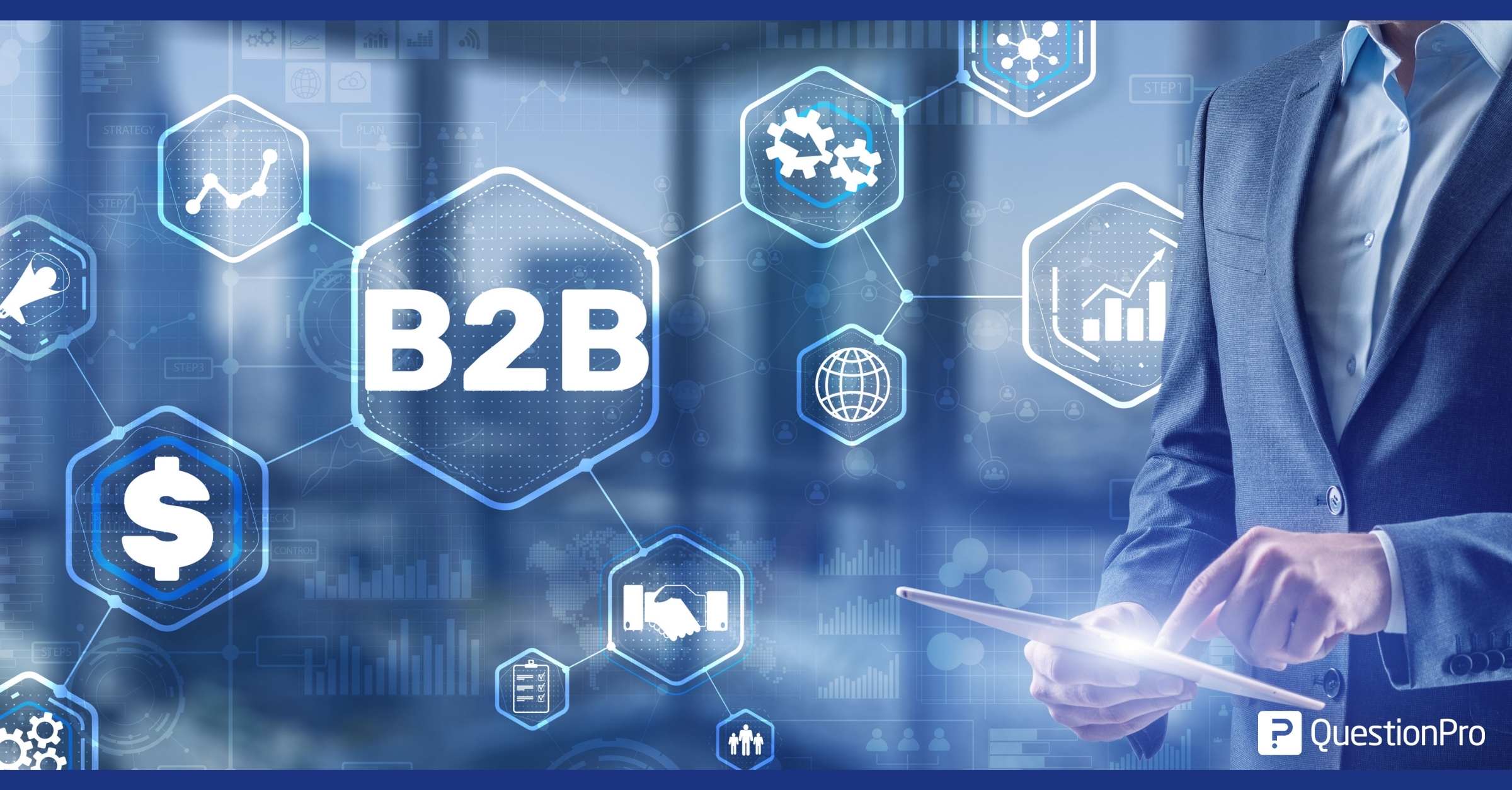 Important factors to consider while choosing an online B2B panel partner
Finding a reliable online research panel is tricky. There are lots of things that you need to keep in mind. Here are a few tips to consider:
The first step to consider is your targeted customers. Know your focus area.

Does the research panel provide services for your company? Our sample services cover various industries such as information technology, online shopping, e-commerce, start-up online businesses, and cross-border consultancy businesses.

Do your panel partners design questionnaires? It is an important question that you must not avoid. Here are some excellent examples of what

 business survey & B2B survey questions & templates

 look like.

Look for the research panel partner that uses premium software to analyze data concerning the respondent like IP check, cookies, and email ID. Try to know the measures taken to restrain fraud related to the survey so that you will be able to capture accurate data.

B2B Research can be a steep road with many threats and pitfalls along the way. If you are finding exceptionally cheap and cheerful sources of business-to-business samples, you are probably overpaying for consumer samples.

Recruiting real B2B specialists is an investment. Sourcing this sample for your study demands investments from your side too. Buying high-quality business-to-business participants isn't expensive, it's simply priceless!
Characteristics of a good B2B online panel
Online panel providers must have the following characteristics:
Accessible and readily available

Provide precise business data

They are familiar with the business and market trends

Ability to reach respondents globally

Large, with a population in the thousands

Quicker fieldwork turnaround

Higher participation rates

Potential cost savings versus other methodologies
Here are a few compelling reasons to adopt QuestionPro's online panel. B2B buyers behave differently today, and this is part of the reason why business-to-business online panels are necessary for business-to-business market research. Prospective buyers use the internet to educate themselves, evaluate the experiences of other customers, and narrow down their lists of potential suppliers. Here are the advantages of partnering with QuestionPro to cater to all your B2B panel needs:
22 million panelists across 32 countries

300+ profile data points

Provides market sizing data

Cost-effective

High quality of responses

Produces customer insights & lists

Allows for better market segmentation

Provides the researcher with near-accurate forecasts

Partner sourcing services

Helps with market entry strategies

Gives market Opportunity insights
Explore more: Audience – Powering Research with an Incredible Sample
Steps to access QuestionPro's B2B online panels
Here's how you can access QuestionPro's B2B panel in THREE easy steps!

All you have to do is:
Login to your QuestionPro account and click the audience tab

Specify your sample

Launch the project
What details do you need to specify for your sample?
The number of questions
The completion date of your survey
Time taken, and number of respondents
The age and gender of the target audience
Other demographic details like ethnicity, annual income, relationship status, education, and state
The tool will direct you to the summary page once this is done. Here, confirm the demographic fields, make the payment, and launch the survey.
Uses of B2B online panels in market research
B2B market research through multiple channels has become an essential aspect for businesses. It has become easy, cheap, and accurate with the help of technology and innovation. You can recognize the rift between what you give and what the audience needs.
Researchers deem a survey successful only if they achieve the end results. In other words, the study data provides the expected insights. The best way to ensure this is by an online B2B panel. Let's see how market research can be executed flawlessly with the help of an online panel.
Helps companies define their markets

Measures the changing needs of customers

Strengthens their competitive advantages

Help make better business decisions

Gains competitive intelligence

Reveals new opportunities

Determines if there is a viable market for the goods and services

Enables the company to improve its offerings
Going by the above, it can be clearly seen how online panels help in market research. A good online panel would be one that provides a survey sample for every type of industry. These panels provide the most suitable respondents to the question asked at hand. It provides a variety of pricing options so as to reduce the costs of market research. The usual practice is to cross-check the data collected from such surveys. This helps in eliminating any type of error in results.
Join the thousands of companies trusting QuestionPro Audience software and generate better insights!
If you have any questions, need a customized project, or require special assistance, get in touch by writing to us at [email protected]