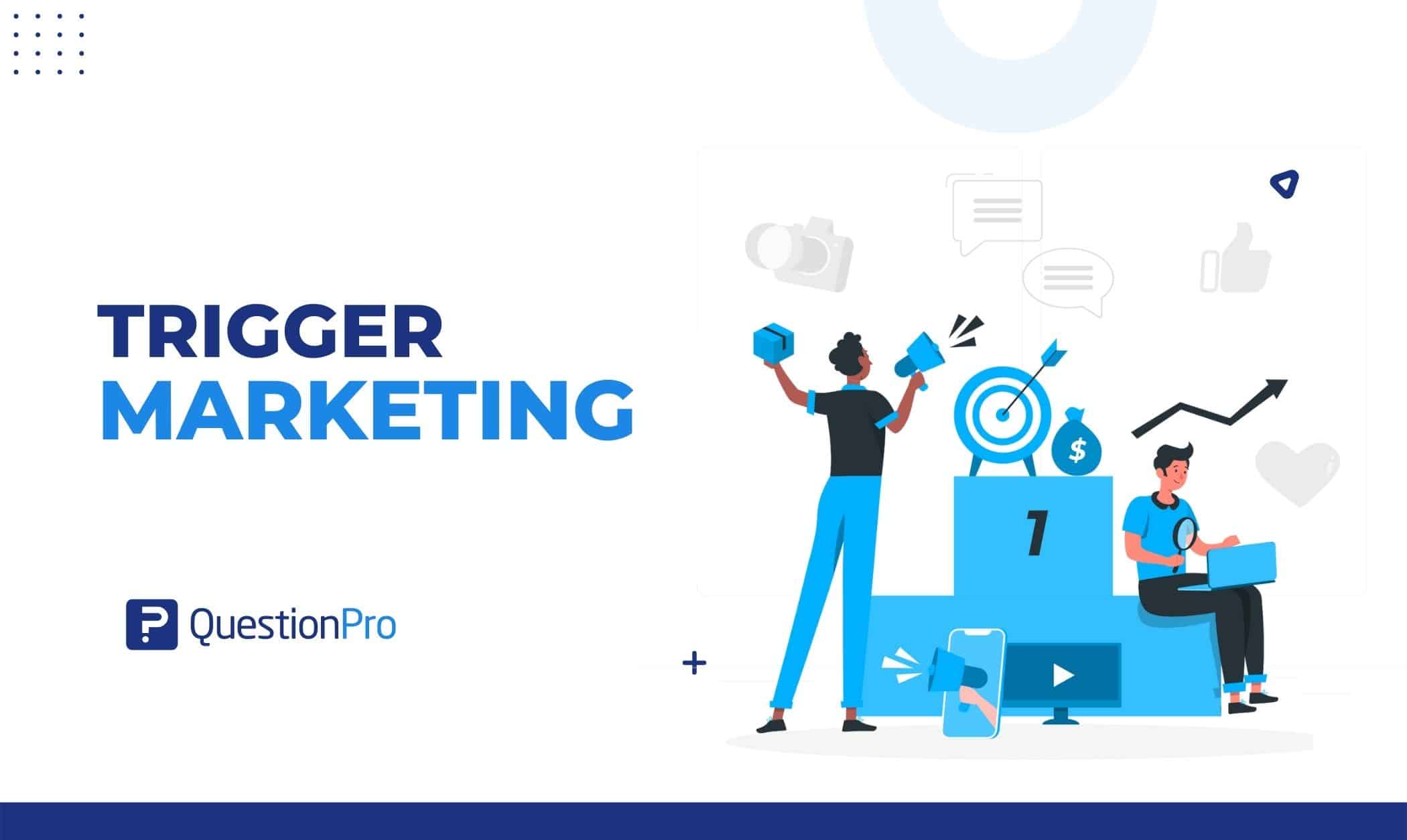 Any business needs to think about how to increase sales. But most companies don't have enough money to increase website traffic. That's why you need to use detailed segmentation to deal with your current audience, and trigger marketing can help you in this situation.
If you can utilize triggers marketing correctly, it can increase sales without spending money. How you use different digital decisions will depend on how well you understand this concept. If you don't know how triggers work, all marketing automation, CRM, mailing services, and chatbots will look the same.
In this blog, we will explore what triggers marketing, why it is important, and a guide that helps you to utilize it in your organization.
What is trigger marketing?
Trigger marketing is a form of advertising that uses targeted messages or alerts sent at a specific time. It is a way to make advertising more relevant to the people who see it. In this strategy, each message to the customer is triggered by a specific "event."
Using triggers marketing, advertisers can make messages relevant to both the user and the event and send them when they are most important. An event could be spending time on a particular page or getting an app. A date, like a holiday or a real-world occasion, could also be an event.
We got a short glimpse of what triggers marketing. Now we will discuss why it is crucial for businesses.
Importance of trigger marketing
With marketing automation, business owners can respond to what users do by offering the right solutions.
Trigger marketing lets brands send relevant messages to customers at the right time.
The software acts when an email is opened, a chatbot is used, or a sale is made. You need a marketing platform to automate things like sending email sequences, updating a CRM, adding customers to a list, etc.
When you use software to automate your marketing, your brand becomes more focused on people. You can make a customer feel special by sending them messages that are personalized and relevant. This makes it easier to talk to the audience and builds stronger bonds.
Triggers marketing, unlike mass advertising, focus on what customers want and changes materials and tasks to meet those needs. Smooth customer service makes customers happier and more loyal to your brand.
Sending prospects trigger campaigns shows that you care.
People will know more about the brand. So, you'll make an excellent first impression and encourage people to tell their friends about you.
Guide to trigger marketing
Trigger marketing can completely transform your marketing strategy. It may boost revenue while also improving customer relationships. But this only happens if you know how to use this in marketing.
Let's talk about a guide on how triggers marketing works and how you can improve your marketing strategy by using it.
Know your buyer persona
First things first, you have to determine who it is that you're trying to reach. Understanding your audience is critical for good communication.
Once you know what kind of buyers you're trying to reach, you can think about the life cycles of those buyers. At the same time, you can understand their problems and reasons.
The next step is to get them to buy from you again. The more you know about buyers, the better your trigger marketing plan will be. The objective is to help each potential buyer through the process of making a purchasing decision.
Think about causes and effects
When it comes to triggering marketing, there are a lot of statements of cause and effect. If your customers do certain things, your automated system will react a certain way.
The customer's action is the cause.

The customer's response is the effect.
When making triggers for your marketing automation strategy, you need to consider what will happen and why. It will help you figure out how all of these things fit together. And also, it will make it easier to set up marketing triggers.
Describe the trigger events
For trigger marketing to work, you need to figure out the triggers that will tell your systems what to do. In other words, you need to figure out what problems you want to fix. Unfortunately, you can only choose from a small number of causes.
For example, you can't follow all of your customers around to see when they look at your Instagram page. But you can keep track of the following things:
Age views

Responses to emails

Link-clicking

Personal criteria

Responses to campaigns

Responses to campaigns
You need to be able to keep track of the things that make you react. This way, you'll be able to give each customer the correct answer at the right time.
Determine automated actions
Now that you've written down the triggers you want to respond to. After that, you need to decide what course of action you will take. Go through the list of triggers you made and determine what you want to do in response to each one. You could do several things, including:
Emailing

Put the client on a list

Sort the customer into groups.
Make sure that whatever the automated action is, it is important. There's no point in making lists or putting customers into groups if it won't help you in the long run.
Personalize your messages
Studies have shown that when people have a personalized experience, they are more likely to buy something.
If your action is a marketing task like sending an email or signing up for a campaign, it's important to know how this contact differs from others in your CRM and what message will uniquely appeal to them.
Start marketing automation
Marketing automation helps professionals do less work they have to do repeatedly daily. Automation in marketing can help your marketing team spend their time on more critical tasks.
To use marketing automation, you have to find these tasks that you repeatedly do. It allows you to remove them from your schedule and hand them over to the computerized system.
As an example, let's look at email marketing. Your marketing team probably sends out a lot of emails every day.
Most of the time, these emails can be the same. Your team could copy the text and change each recipient's name at the beginning.
Email marketing is an essential part of any marketing campaign, but this is a massive waste of time. Taking this task off your daily list will make you more productive in other areas. It will help your company do better as a whole.
So, it's time to stop sending emails daily and use automated email marketing instead. These emails can be sent faster by a computer than by your marketing team. Your marketing team doesn't have to worry about getting the job done.
Focus on customer relationships
Customer relationship management is the best way to manage and improve your relationships with customers. This kind of software may assist you in tracking customer data and improving each connection.
If you don't have a good system for managing things, your data will probably be all over the place. So, you won't be able to take full advantage of marketing automation.
Fortunately, you can update your customer relationship management data and correctly classify contacts using automation. To effectively sell to these customers, you need to utilize your automated system to increase the accuracy of your database.
Example of trigger marketing
Trigger marketing can be as complicated as your software and database can handle. As long as your triggers are clear and measurable, you can change the rest to fit your needs and adjust your campaign as you go.
Here are some examples of common events that are used in trigger-based marketing to help you get started:
Greeting messages or welcome messages is an excellent examples of trigger marketing.
When someone subscribes to your service, chooses to receive your newsletter, or registers an account with you, send them your welcome message.
You have the chance to thank them for their action, express your thanks, and provide an offer to advance them to the next phase or keep them engaged with you.
The better these communications are, the more customized they should be. They often represent your first direct, one-on-one interaction with a customer, giving you the chance to form relationships and gain their confidence.
Win-back and follow-up messages
You may establish trigger marketing by emailing inactive customers, clients, or subscribers after a particular time.
These may be reminders alone, like an abandoned cart email, or reminders with offers, like a discount voucher for a client who hasn't purchased in six months. Messages like these might attract inactive customers or push them to conclude an activity, like a purchase.
Make these messages as action-friendly as possible. Include a link to checkout and highlight your shipping policy or discount offer.
Purchase confirmation messages
A customer's first online purchase is a critical moment. They've put their trust in you and given you money, so you need to confirm their order, payment, and thanks immediately.
Now is the time to build trust by being open. Set goals and tell people how to reach you. This is a new part of your partnership.
You can set triggers for important events in your customer's life and relationship with them. So that you can send them personalized messages that show how much you appreciate them.
You can send them special offers or a simple, personalized message to celebrate their birthday, their third (or any number) purchase with you, the anniversary of their first purchase, etc.
These messages keep your consumer happy and unique. They also provide significant recommendations and advocate for your company. Even if they haven't been purchased, they show your worth. Loyal customers spend more than first-time customers and cost less to maintain.
Conclusion
We learned about trigger marketing, why it is important, and a guide on triggers marketing with examples. The whole point of trigger marketing is to find the things that will get people interested in your business. It is possible to achieve this by watching their way of life, online behavior, and likes and dislikes.
After reading all this information about trigger marketing, we're sure you're excited to start. You'll be making sales and building relationships in no time. For marketing automation, all you need is the right software.
QuestionPro CX software is designed to get customers involved. Your marketing team will be more productive than ever using their CX software. And also, you'll get to know the people who buy from you.