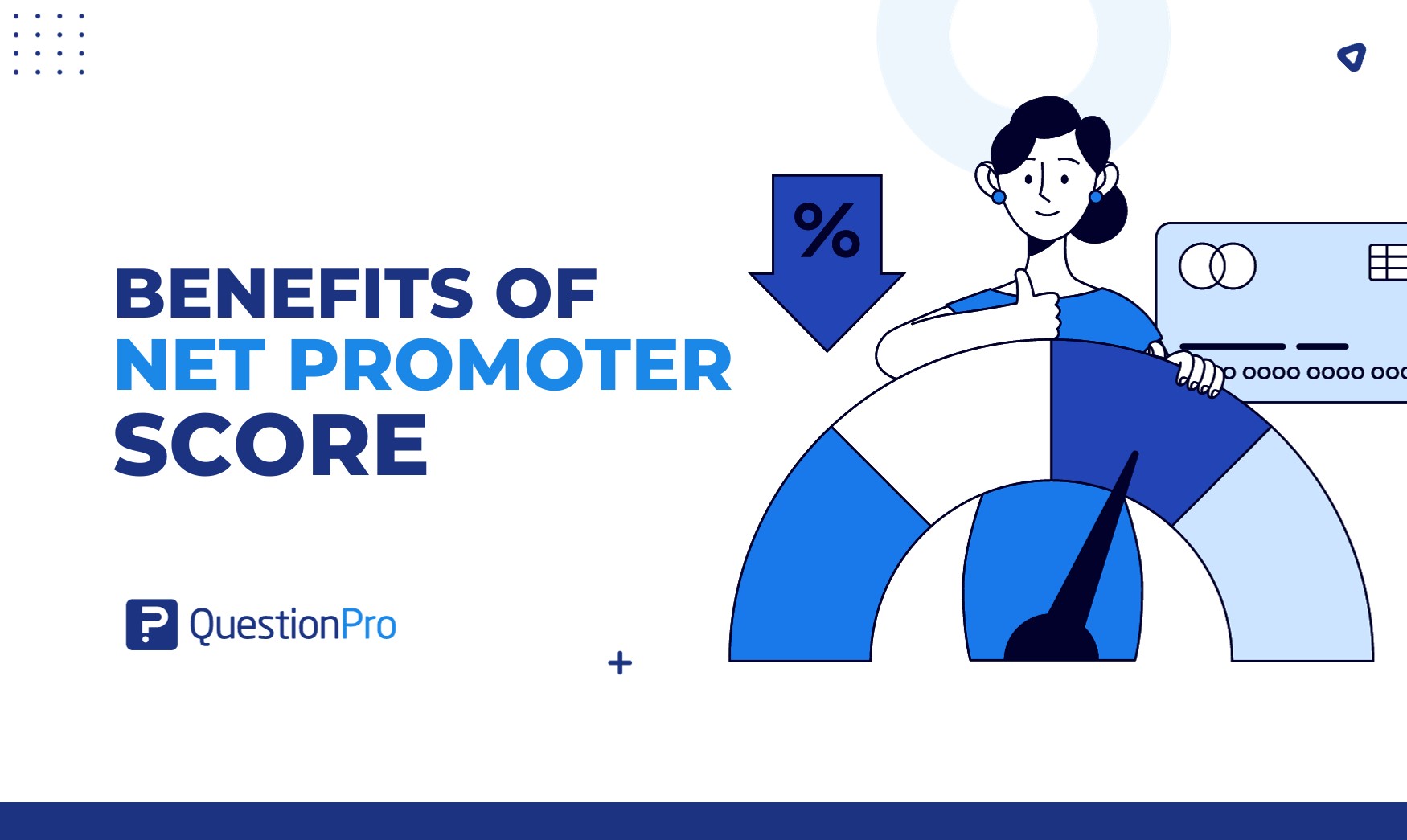 Net Promoter Score (NPS) is just one of the ways we measure how well our company is doing. You might have heard about a customer satisfaction score (CSAT) and a customer effort score (CES). But what's so special about NPS, and what are the benefits of the Net Promoter Score? Why does it matter so much when it comes to making our customers happy?
In this blog, we'll explore the benefits of Net Promoter Score and how to harness its potential to maximize customer satisfaction, drive business growth, and create lasting success for your organization.
What is the Net Promoter Score (NPS)?
The Net Promoter Score is a measurement to find out if your customers would recommend your products and services to their friends and family. It is a customer experience metric that helps predict customer loyalty.
NPS is based on a single question: "On a scale of 0 to 10, how likely are you to recommend our product/service/company to a friend or colleague?" This question is often referred to as the NPS question.
NPS also shows if your business is doing well. Organizations ask customers for feedback through a Net Promoter Score Survey to get the NPS score. The score can range from -100 to 100, and the higher the number on the positive side, the better it is. That means more people want to tell others about your business.
NPS isn't just for customers; it's also used for employees. In a work setting, it tells you how likely your employees are to recommend your company to their friends or former colleagues. It is called employee NPS (eNPS).
Understanding the NPS Scale
In a regular NPS survey, you'll see a question goes like this:
"Considering your complete experience with our company, how likely would you be to recommend us to your friend or colleague?"
You can answer this by picking a number from 0 to 10, which you'll see in a row.
Based on your NPS score, your customers can be grouped into one of three categories:
Promoters: If your customers rate your products or services with a 9 or 10, it means they are really happy with what you offer. These folks are loyal fans! They're not only likely to stick with your company, but they might also tell their friends, family, or colleagues how awesome you are. They could become your biggest supporters.
Passives: Customers who give you a 7 or 8 are kind of in the middle. They're okay with what you provide but not over the moon about it. These customers might consider trying out your competitors if they get the chance. They're not likely to say bad things about you, but they also won't go out of their way to recommend you.
Detractors: If someone rates you below 6, it's a red flag. These customers aren't happy with your products or services and are not afraid to tell others about them. They can harm your company's reputation with their negative feedback. They're unlikely to buy from you again and might even discourage others from doing business with you.
Understanding these three groups helps you see how your customers feel about your company and can guide you in making improvements to keep your customers happy and loyal.
How is NPS Calculated?
NPS is a tool that helps you understand how your customers feel about your business. It shows how likely they are to tell their friends about your product, service, or company. To figure out the benefits of Net Promoter Score, use this formula:
Net Promoter Score (NPS) = Percentage of Promoters – Percentage of Detractors
Imagine you own a coffeehouse and want to figure out your NPS score. You've asked NPS questions to 1000 of your customers, and here's how they rated your products and services: 500 rated them 9, 200 rated them 10, 150 rated 7, 50 rated 8, and 100 customers rated 6 or below.
Now, let's break it down:
Promoters: These are the customers who rated your coffeehouse 9 or 10. You have a total of 700 of them (500 rated 9 and 200 rated 10).
Passives: Customers who rated your coffeehouse 7 or 8 falls into this category. There are 200 of them (150 rated 7 and 50 rated 8).
Detractors: These are the customers who rated your coffeehouse 6 or below, and you have 100 of them.
Now, let's calculate your NPS:
Promoter Percentage or Promoter NPS: (700 out of 1000)*100, which equals 70%.
Detractor Percentage or Detractor NPS: (100 out of 1000)*100, which equals 10%.
To find your Company's Net Promoter Score (NPS), subtract the Detractor NPS from the Promoter NPS:
Company NPS = 70 – 10, which equals a Net Promoter Score of 60.
So, your coffeehouse's NPS is 60, which is a positive indicator of customer loyalty and satisfaction.
The 10 Key Benefits of Net Promoter Score
The main reason why Net Promoter Score is great for you is because it shows how loyal your customers are. It tells you if they might come back or go away. It helps find out who could become your biggest fan and tell others about your business.
But what are these benefits exactly? What do you gain from using NPS to measure customer loyalty? Let's find out the 10 important benefits of Net Promoter Score.
01. It is simple and easy to use.
NPS surveys are super simple and quick for you to answer. They're designed this way to make sure more people respond. Plus, you can use these surveys at any time during your customer journey.
The NPS question is also easy for market researchers. If you're using QuestionPro Survey Software, you can simply drag and drop the question type to create an NPS survey. Your respondents need to click on one of the answer options to share their feedback. It takes little time to share their feedback.
02. NPS Surveys measure customer loyalty.
Your customer loyalty matters a lot for your business to make more money. The NPS system is a helpful tool. It doesn't just tell you if customers are happy; it tells you if they're loyal to your brand. You should know how customers feel about your products, services, or business to build loyalty. You can use the NPS Survey for this.
You can use a basic NPS question to determine how likely they are to recommend your brands to others. Depending on their answer, you can ask more questions to understand how they really feel.
03. It is a common language for customer conversation.
NPS provides a universal metric that everyone in your organization can easily understand. This common language facilitates communication about customer satisfaction and loyalty across different departments. With NPS as a shared language, your team can more effectively collaborate to improve the customer experience.
When you have a common language for customer conversations, it becomes easier to identify and address issues quickly. Whether it's a customer support agent discussing a recent survey response or a product manager analyzing NPS trends, everyone can grasp the importance of customer feedback and its role in shaping business strategies.
04. NPS Surveys help to track and measure customer satisfaction.
With NPS surveys, you can systematically track changes in customer satisfaction over time. Regularly collecting NPS data allows you to identify positive and negative trends in customer sentiment. Whether satisfaction levels are improving or declining, you can gain valuable insights into the effectiveness of your customer experience initiatives.
This ongoing monitoring equips you with the information needed to make timely adjustments to your strategies, which ensures that you can consistently meet and exceed customer expectations.
05. It creates more brand advocates.
NPS helps you find potential advocates. It shows you which customers are most likely to recommend your business. So, when someone rates your company with a 9 or 10, that's the ideal time to ask if they can tell their friends about you.
These happy customers can become your brand advocates, who can spread positive buzz about your company. You can even ask them for suggestions on who else might be interested in your product.
06. NPS score lets you take action.
NPS not only measures customer sentiment but also prompts action. When you identify detractors or those with low scores, it serves as a signal that something isn't meeting their expectations. This is a valuable opportunity to reach out to these customers and address their concerns.
By actively engaging with detractors, you can potentially resolve issues, improve their experience, and even convert them into promoters. NPS enables you to manage customer relationships proactively, demonstrating your commitment to customer satisfaction.
07. It assists in benchmarking your performance.
NPS allows you to benchmark your performance against industry standards and competitors. This benchmarking process helps you gain valuable insights into how your company compares to others in your sector.
Knowing where you stand in the market landscape allows you to set realistic goals and identify improvement areas. Benchmarking with NPS provides a broader perspective on your performance, which guides your strategic decisions and highlights areas where you can develop.
08. NPS improves the quality of your product and service
If you want to attract more customers and make sure they're really happy, it's important to focus on what they like and what could be better about your product or service. NPS feedback is like a secret treasure of information that tells you what customers like and what they don't.
When you read these comments, you can figure out exactly where to improve things. This customer feedback is super valuable for making your product or service even more in line with what customers want. It's like having a roadmap to keep improving and meeting customer expectations.
09. It is cost-effective.
Hiring a company for customer research can be costly for you. On the other hand, feedback collection tools are budget-friendly because they offer great value. They allow you to conduct customer research independently and come with features that benefit multiple teams.
The best part is that using these tools makes you self-reliant, which can significantly impact your expenses. According to NPS best practices, you should run surveys regularly and use other research methods alongside them. When you can handle all this research internally, it reduces your costs.
10. It enhances customer retention and growth.
By focusing on making customers happy and keeping them loyal using NPS, you can keep them coming back for more. Satisfied customers tend to stick with your company, meaning fewer customers leave. This helps keep your business stable and brings in steady income. These happy, loyal customers often buy from you again and tell their friends about your business.
Research proves that companies with high NPS scores often experience growth, while those with low scores might struggle. That's because loyal customers will likely keep choosing your business and bring in new customers through recommendations. So, by using NPS to make customers happy and loyal, you can set the way for business success.
Maximizing the Benefits of NPS
To maximize the benefits of Net Promoter Score in your organization, focus on these specific areas:
01. Implementing NPS Effectively
Start by implementing NPS effectively within your organization. Design clear and concise surveys, choose the right timing for sending them, and ensure that your team is well-trained in the NPS methodology.
02. Data Collection Best Practices
When you gather NPS data, employ best practices. Target particular customers, gather data via email, web, or mobile surveys, and ensure data quality and accuracy. Proper data collection ensures that the information you receive is representative and reliable.
03. Analyzing and Interpreting NPS Results
Once you've collected NPS scores, delve into the analysis and interpretation phase. Pay special attention to comments and textual feedback from customers. Understanding the "why" behind scores helps you make judgments and target improvement areas.
04. Creating an Action Plan
Action is part of NPS, not simply measurement. Create a detailed action plan based on the findings of the NPS research. Prioritize changes that will have the greatest impact on customer happiness and loyalty.
05. Feedback Loop and Follow-Up
Closing the feedback loop with the customer is a crucial part of NPS. Communicate with detractors and passives to understand their issues and work on resolving them. Consistent follow-up indicates your dedication to enhancing the customer experience, which can eventually lead to higher NPS scores.
06. Employee Training and Engagement
Make sure that your employees understand the importance of NPS and their role in providing excellent customer service. Training and involving your employees in the NPS process might result in more positive customer interactions.
07. Leveraging NPS for Marketing and Growth
Use your high NPS scores and positive customer testimonials as powerful marketing tools. Showcase them in your marketing materials, website, and social media. High NPS scores can be a compelling selling point. It attracts new customers who are more likely to trust your brand.
Implementing Net Promotor Score in Your Business
Implementing a Net Promoter Score in your business is a strategic process that can significantly benefit your customer experience efforts. Here are the key steps to get started:
Step 1: Choose the Right Software
Begin by selecting NPS software or tools that align with your business's needs and budget. QuestionPro CX is the best choice for you. Its user-friendly features allow you to create and manage surveys easily.
Step 2: Set up Surveys
Design your NPS survey with a straightforward and concise question. You can make this step more accessible by using a pre-made NPS survey template. These NPS questions are already prepared for your use in surveys and research studies. You can also customize this sample NPS questionnaire according to your specific requirements.
Step 3: Analyze the Results
Once you begin receiving NPS survey responses, compile the data and calculate your NPS score. Explore the trends and patterns hidden within the data. Examine customer sentiment and pinpoint areas where you can make improvements. This analysis will be instrumental in enhancing your customer experience strategy.
You can use QuestionPro to streamline the analysis process and gain deeper insights. QuestionPro NPS survey dashboard offers detailed NPS value charts and graphs. It also shows comparative Net Promoter Scores and benchmarks based on geographical regions, products, and services.
QuestionPro Net Promoter Score Meter visually represents the number of promoters, passives, and detractors in real time. You can also export results in .xls format, apply data filters, and share the NPS report.
Step 4: Take Action
Develop your own clear action plan by using the insights and feedback you've gathered from your NPS analysis. Focus on prioritizing the areas that will make the biggest difference in boosting customer satisfaction and loyalty. Make sure to assign specific responsibilities to your team members and establish clear timelines for implementing improvements and initiatives.
Conclusion
The benefits of Net Promoter Score can significantly boost your business. NPS is a handy tool that helps you determine how much your customers like your products and how loyal they are. When you use NPS right, it can help you understand your customers better and make your business grow.
To get the most from NPS, you need to use it effectively. Ask your customers the NPS question and gather their feedback carefully. Then, use what you learn to improve your business and make your customers happy. It's like building a customer-focused culture that keeps people satisfied and loyal.
When you add NPS to your business strategy, it's not just about numbers; it's about making things better all the time. NPS helps you build strong customer relationships so they stay with your company and even recommend it to others. That's how you pave the way for long-term success.
Incorporating QuestionPro's NPS question and features into your business strategy empowers you to measure customer loyalty, improve satisfaction, and drive growth. It simplifies gathering and analyzing feedback, making it a valuable asset for enhancing your business's overall success.
Are you interested in using this feature? With QuestionPro, you can gain access to this and many more. Do your data collection and research more efficiently than ever!