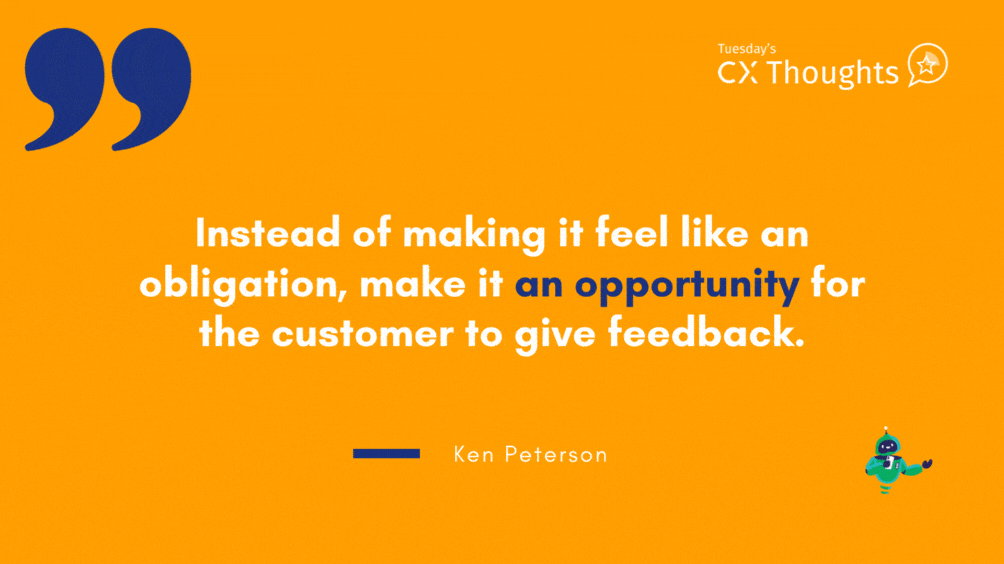 I recently came across a social media post that had me thinking about how companies are portraying themselves in the eyes of customers. I have been on the frontline of retail, long before the "tip jar" made its appearance on the scene. I certainly would have appreciated any contributions from customers, but still felt an obligation to provide the best possible customer experience to my customers.
Cashier 401K accounts
Regardless of how one might feel about the minimum wage or tipping obligations, the original tip jars were usually created by the employees themselves and often had some creativity and style that made it feel less of an obligation.
With memorable phrases like "Gas money jar" or "cashier 401K accounts", the creativity made me more apt to contribute. I rarely inferred anything about the company on the basis of these tip jars – just viewing it more like a sidewalk musician looking for a "little extra" through entertaining customers at the conclusion of the customer journey.
Suggested tip
Eventually, those jars disappeared and many franchises and retailers either stopped the tipping culture or put them on the Point-of-Sale. Now it seems the companies are requesting tips on behalf of the employee in many places that I wouldn't consider traditional. I can see giving a dollar for your coffee made to order, but the terminal provides "suggested tips" of $3, $5 or $8 for a coffee order that totals $5.
Counter-service restaurants traditionally did not have tipping, now some of these fast food restaurants have "suggested tips" of 25%, 35% and 45%. While even the "suggested tip" in a full-service restaurant has increased from 15%-18% to a minimum of 20% – with the expectation for more if better service was delivered.
Shopping online? Add a tip for a good experience
At a recent sporting event, an order for bottled water – in which I reached into the cooler and got my own bottle, there was a suggested tip of $2.
Again, I'll emphasize that I would have appreciated such tips when I worked in retail, so I understand the appeal. Then a day after being asked for a $2 tip on a $5 bottle of water (pricing as a part of your customer experience strategy is something we could write about separately at length), I came across the aforementioned social media post: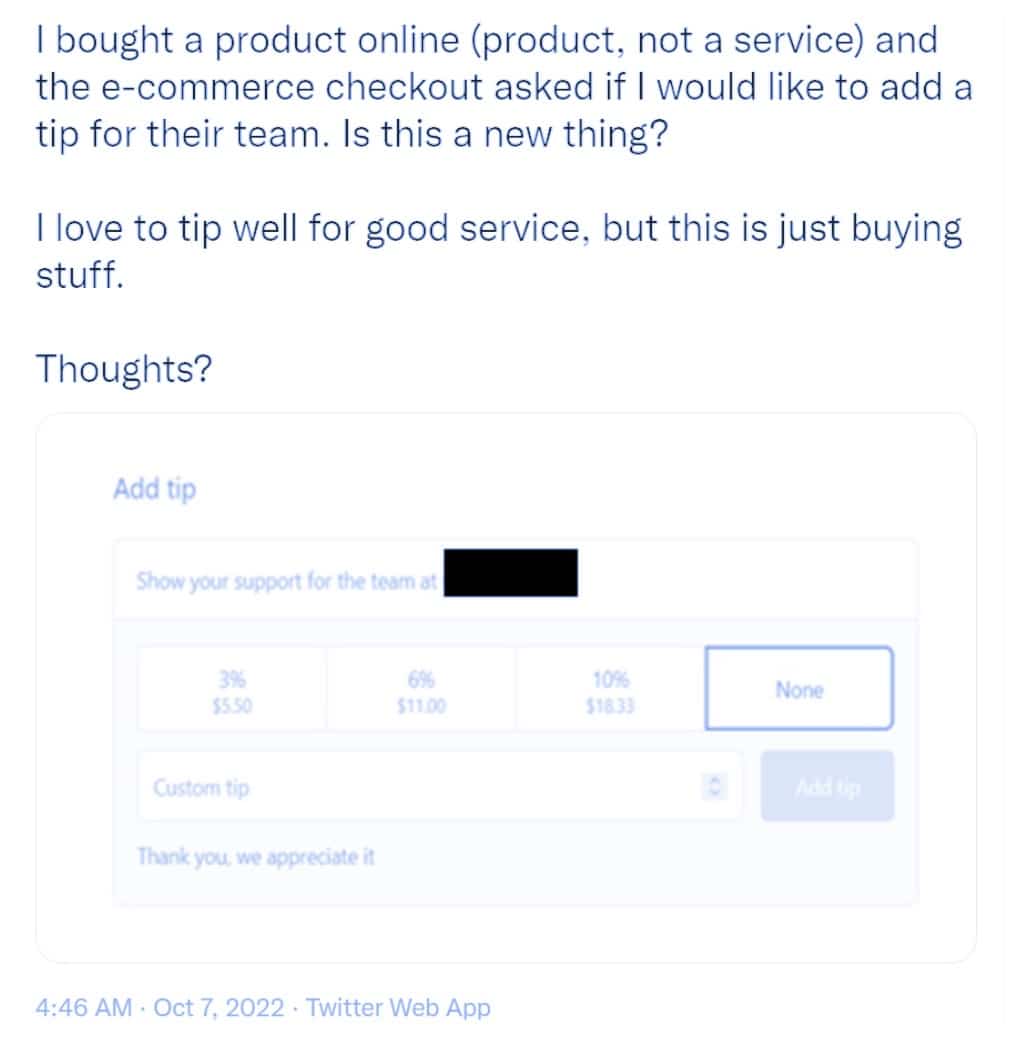 Tipping generally had been reserved for personalized (and in-person) service – which could include a smile, perhaps a pleasant conversation/exchange or a little something extra. As I contemplated the question asked in this post, I realized that these "tipping mechanisms" really say a lot about the company implementing them rather than the employees that are (sometimes) the recipients of these "automated" tipping mechanisms – especially as they are added to more customer experience touchpoints.
Why? I see two critical problems with adding these automated systems, regardless of the employees' base pay:
Do customers have to pay for a good experience now?
The first problem is that you create an impression to the customer that you must pay for that good experience. There is an inferred "threat" that your service may not be as good if you do not tip upfront. In the fast-food burger shop, will I get my customizations if I don't tip at 30%? If I opt not to tip, will something go missing from my carry-out order? If I tip with cash, will I get excellent service from the front counter, but perhaps not the kitchen staff?
If I tip using these automated tools, who is receiving these tips, and what is the rationale behind the different apportionment? Since these mechanisms have become more widespread, I also have noticed higher employee turnover rates and more confrontations between employees and customers. So I wonder about the impact on the broader Employee Experience.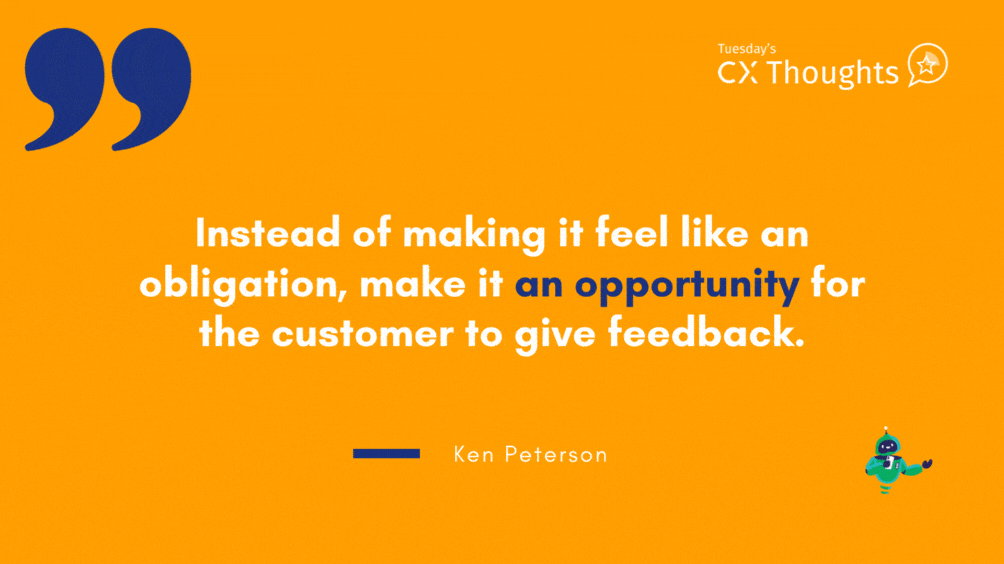 How is this all impacted when the tipping occurs before the product or service is delivered?
The second fundamental problem I recognize comes out of that first one. Do these mechanisms enhance employee enablement or inhibit it? This becomes a complicated discussion about the Voice-of-the-Customer and the customer feedback loop. Instead of service being a part of the job, it is now a requirement to maximize income for the employee.
It can put the employee into an awkward position of doing something extra toward maximizing the tip that also might be to the detriment of the company. Then if these "extras" are scrutinized (perhaps I like a little extra frothed almond milk in my latte), does it remove the ability of the employee to give that everyday customer a little more for being recognized as loyal.
It's the small things that count
What if there were an opportunity for a customer to provide a little extra feedback when pressing that tip button? It is what we were looking to do with our QuestionPro exclusive NPS+ question type in our customer experience software platform.
Beyond just the score, you can get feedback on that "one thing" that can be done to improve that score. Similarly, that "one thing" is tied back to a financial outcome, just like a financial linkage analysis.
Instead of making it feel like an obligation, make it an opportunity to give feedback. It will enable your employees, and it will make the customers feel better about giving a tip with feedback so they can set expectations for future visits – and perhaps get a little extra frothed almond milk on that next latte.
Instead of thinking about how we all – companies and customers – are treating employees.
QuestionPro XDay 22 is in less than 15 days!
Join us for a great lineup of speakers and panelists in the AT&T Conference Hotel in Austin, TX, on October 27th. I'll be moderating the live discussion: Linear, Lucky or Lies: the stories we tell with data, with our guest speakers from MGM Resorts, Google, and Research Narrative. Learn all about it here. This is also a great time to speak with our CX and EX consultants and understand the ways you can bring empathy to your customers on a consistent basis.