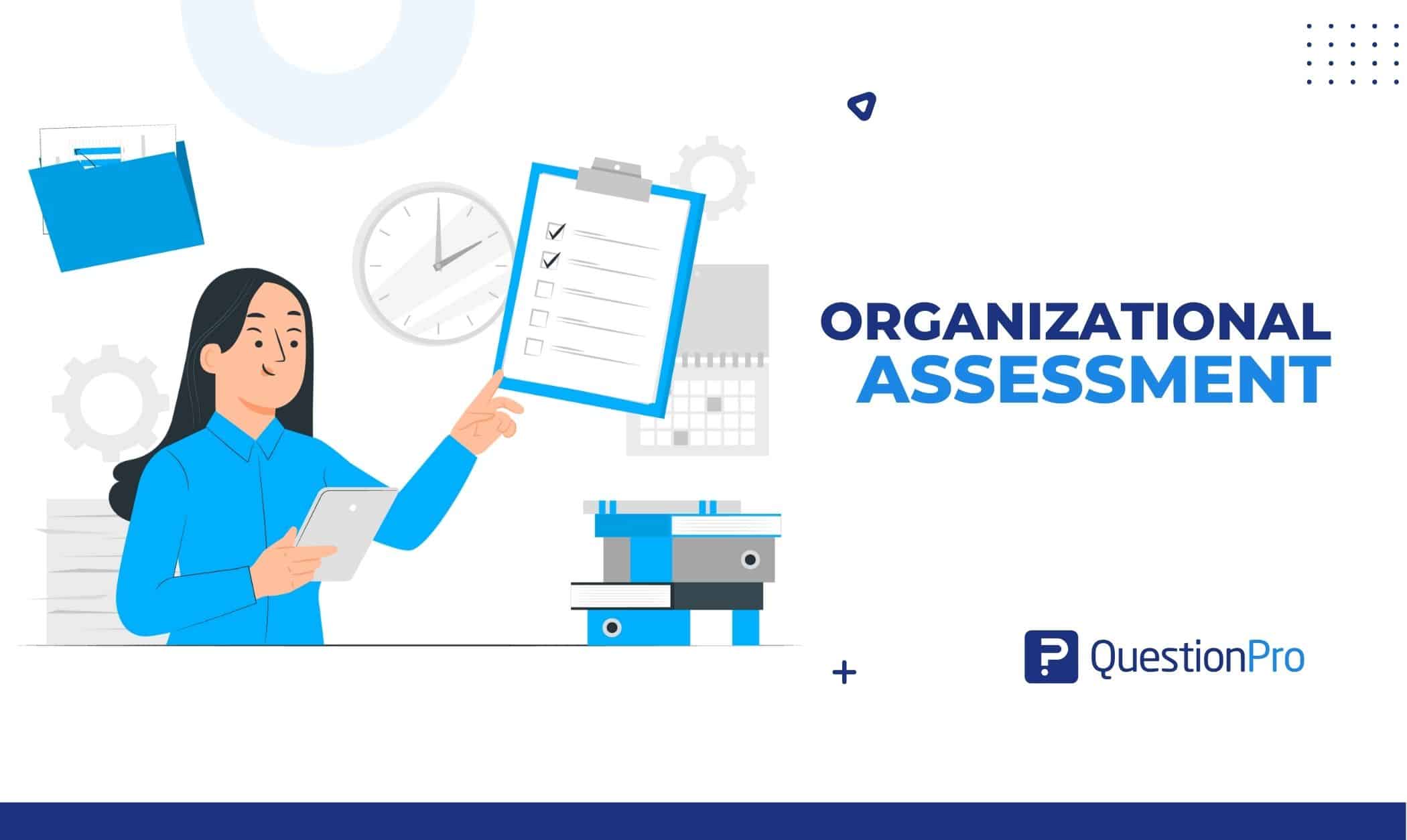 Organizations are always trying to change, stay alive, do their best, and have an impact. But there are many problems on the way to success, and things sometimes go poorly. Some of these mistakes are easy to see, but sometimes they are not. How will you know if your business is doing well or not? The answer is: organizational assessment.
Organizational assessment is the process of judging how well a company or group is doing and how well it works. This can mean looking at different parts of the organization, like its structure, culture, and processes, to find ways to improve it and develop plans to reach its goals.
In this blog, we will describe organizational assessment, its benefits & ways to conduct it.
LEARN ABOUT: Leadership Assessment Tools
What is organizational assessment?
An organizational assessment (OA) can be characterized as a regular procedure for gathering reliable information to identify the main organizational strengths, weaknesses, opportunities, and risks.
Leaders must understand the root causes of issues before an organization can advance. It can be complicated to accomplish that. They are too near to the action and may need more time to investigate the problem thoroughly.
Leaders can enhance the employee performance evaluation of their organizations by taking an outside-in approach. A coach or consultant probes the organization in-depth during an organizational assessment. They pinpoint areas of strength and discrepancies between actual and expected performance.
They devote their resources to tackling the problem's fundamental cause rather than wasting time on ineffectual fixes or patches.
Benefits of organizational assessment
Organizational assessment judges a company or group's performance, effectiveness, and efficiency. This kind of evaluation can employee benefit in many ways, such as:
Better decision-making: Organizational assessment can assist in identifying an organization's strengths, weaknesses, opportunities, and threats, providing important information for decision-making.
Enhanced organizational performance: Organizations can increase their overall performance and efficiency by identifying areas for improvement and making adjustments in response to the assessment's findings.
Enhanced accountability: Organizational assessment can assist in holding managers and staff members responsible for their performance, enhancing the organization's overall culture and output.
Better communication and teamwork: The assessment process can make it easier for teams and departments to talk to each other and work together, which can lead to better coordination and more work getting done.
Improved morale and engagement: Organizations can improve morale and engagement by listening to employees' needs and concerns and making changes based on what they say. This can improve performance and help people stay.
How to conduct an organizational assessment
Conducting an organizational assessment can be done in a variety of ways, such as:
Define the assessment's goals and deliverables. This includes specifying the particular organizational components that will be assessed and the evaluation's aims and objectives.
Create a plan for the manager evaluation. This should include a schedule for finishing the review and a description of the duties and actions that should be carried out.
Gather data and figures about the organization. To achieve this, it may be necessary to survey or interview employees, analyze financial and operational data, and check paperwork and records.
Surveys and questionnaires:
Surveys and questionnaires can be a good way to get information and feedback from employees, customers, and other important people. This can help you figure out what you do well and what you could do better.
In this type of situation, survey software like QuestionPro can be used and collect data through feedback.
Interviews and focus groups:
Focus groups and interviews can offer more in-depth data and insights about an organization's operations. These can be used to get opinions and comments from stakeholders like staff members, clients, and customers.
A SWOT analysis (Strengths, Weaknesses, Opportunities, and Threats) research can thoroughly assess a business's internal and external environments and point out areas for improvement.
Improvement recommendations:
Create recommendations for dealing with the areas that need improvement. This should detail the precise steps and tactics the firm can take to enhance performance and accomplish its objectives.
Implement and monitor recommendations:
Follow the recommendations and keep an eye on how things are going. This means putting the suggestions into action and keeping track of the results to ensure the changes are going as planned.
An organization's financial performance and health can be shown by financial analysis. Doing so will make it easier to pinpoint the organization's strong points and potential improvement areas.
Benchmarking and best practices:
Comparing an organization's performance and procedures to those of other businesses in the same sector can offer insightful information and highlight areas that require improvement.
Do follow-up assessments to see how well the recommendations were implemented and find any other areas that could use improvement.
Conclusion
In conclusion, organizational assessment helps assess a business's performance, effectiveness, and efficiency.
An organizational assessment can be done through several methods, such as surveys, interviews, financial analysis, and SWOT analysis. This review can improve decision-making, organizational performance, responsibility, communication, collaboration, and employee morale and engagement.
Identifying the aim and goals of the assessment, acquiring information and data, analyzing the data, creating recommendations, building a plan, putting the plan into action, and assessing the assessment's efficacy are all stages you may take to perform an organizational assessment.
Surveys are a good way to get feedback and opinions from many people in an organization. This makes them a useful tool for organizational assessment.
QuestionPro is a survey software with a research suite that gives you various tools and features for online surveys and assessments like organizational assessment.