What is employee performance evaluation?
Performance evaluation is a formal process to measure an employee's productivity at work based on the tasks assigned.
Many organizations question the necessity of the process or consider it too much work. However, your Human Resources department will thank you when you encourage managers to evaluate employees. Ongoing communication will catch a poor performance at the start. The manager can then help remedy the situation before there is a disconnect between the employee and their manager.
Employee performance evaluation is a key factor in inspiring your employees, Evaluation helps employees improve the quality of work and keep employee morale high. A comprehensive employee evaluation process consists of multiple methods to help managers and employees understand their performance. 
There are many ways to conduct an evaluation:
What is employee performance evaluation software?
Performance evaluation software is a tool that helps organizations streamline their evaluation process. Using this software, organizations can provide regular and useful feedback to their workforce, which in turn supports their growth and development.
Consider employee evaluations as a health checkup, which allows you to understand the organizational health index (OHI) and measure employee engagement and satisfaction.
How to choose the best employee performance software?
There is plenty of performance evaluation software available on the market. When it comes to choosing the right software for your business, one size doesn't fit all. It can be challenging to choose one software that meets all your requirements.
To get the right appraisal software for your employee evaluations, look at employee performance evaluation samples to determine which features are most important to you. You can use this as a starting point, along with these tips:
1. Understand what you need the software to do
While this might sound simple, it's easy to overlook the essential functions you'll be using to evaluate employees. Choosing the right software will enable your organization to streamline the annual performance review process. Before you commit to a type of software, ask yourself these questions: how often do you conduct an evaluation? How engaging do you want the process to be? What do you plan to do with the data?
2. Aim for higher survey completion
Survey fatigue is known to alter survey results. An estimated 58% of respondents don't fill out the entire survey because they either find it too lengthy or too dull. Your survey must be engaging and to the point. You don't want your employees spending more than 5 minutes to fill out the survey. Explore employee performance evaluation examples to see common questions to include in your surveys. These examples will help you narrow down the types of questions you should ask to get the most out of your survey.
3. It should be easy to use 
Ease of use is a critical factor in deciding what software to choose. If the software takes ages to learn and utilize correctly, then you might use it less often or not at all. It's best to choose user-friendly software that is easy to understand.
4. Price
Depending on the size of your organization, the price you pay for employee performance evaluation software can vary widely. When you subscribe or purchase software, make sure to ask for the refund policies. Look for software with multiple subscription options so that you can change plans if the version you choose isn't the right fit.
5. Automation is the key 
QuestionPro Workforce offers employee performance evaluation software free of charge with complete flexibility to automate your employee responses. Other HR software and survey methods, like a pen and paper survey, require the Human Resources department to remind managers, supervisors, and employees to complete the survey and turn it in. With QuestionPro Workforce, you can automate, send, and receive the survey at the click of a button.
Employee Performance Evaluation Software for Free: QuestionPro Workforce
QuestionPro Workforce is a platform that offers a comprehensive employee performance review solution. It is your one-stop-shop for employee surveys and provides analytics, data, and reporting.
Here is how it works:
Step 1: Login to Questions >> Workforce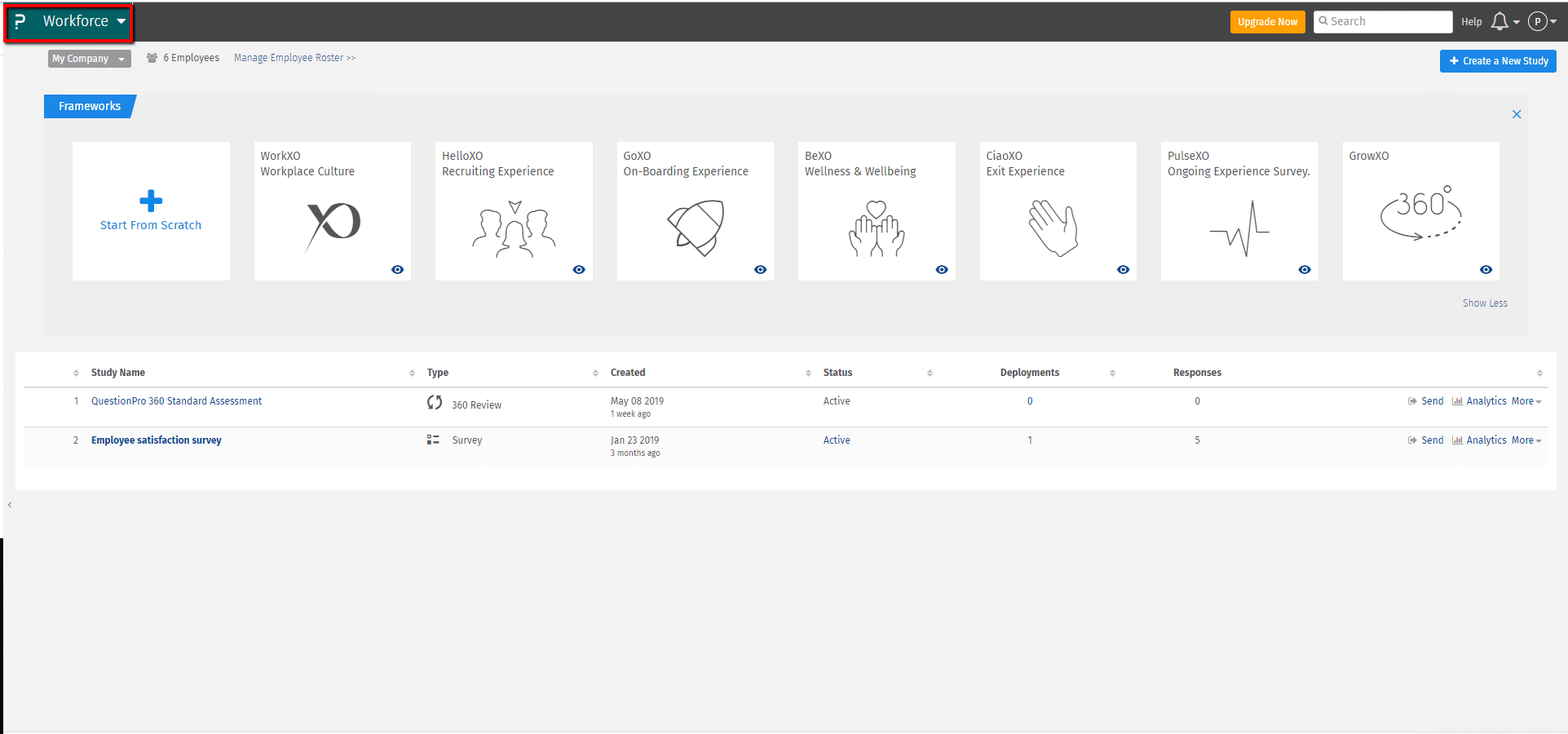 Step 2: Choose from a range of pre-designed employee evaluation surveys

Step 3: Select from a wide range of survey question to best suit your employee evaluation process
Step 4: Deploy the employee evaluation survey at the click of a button. You can also automate the process and schedule the survey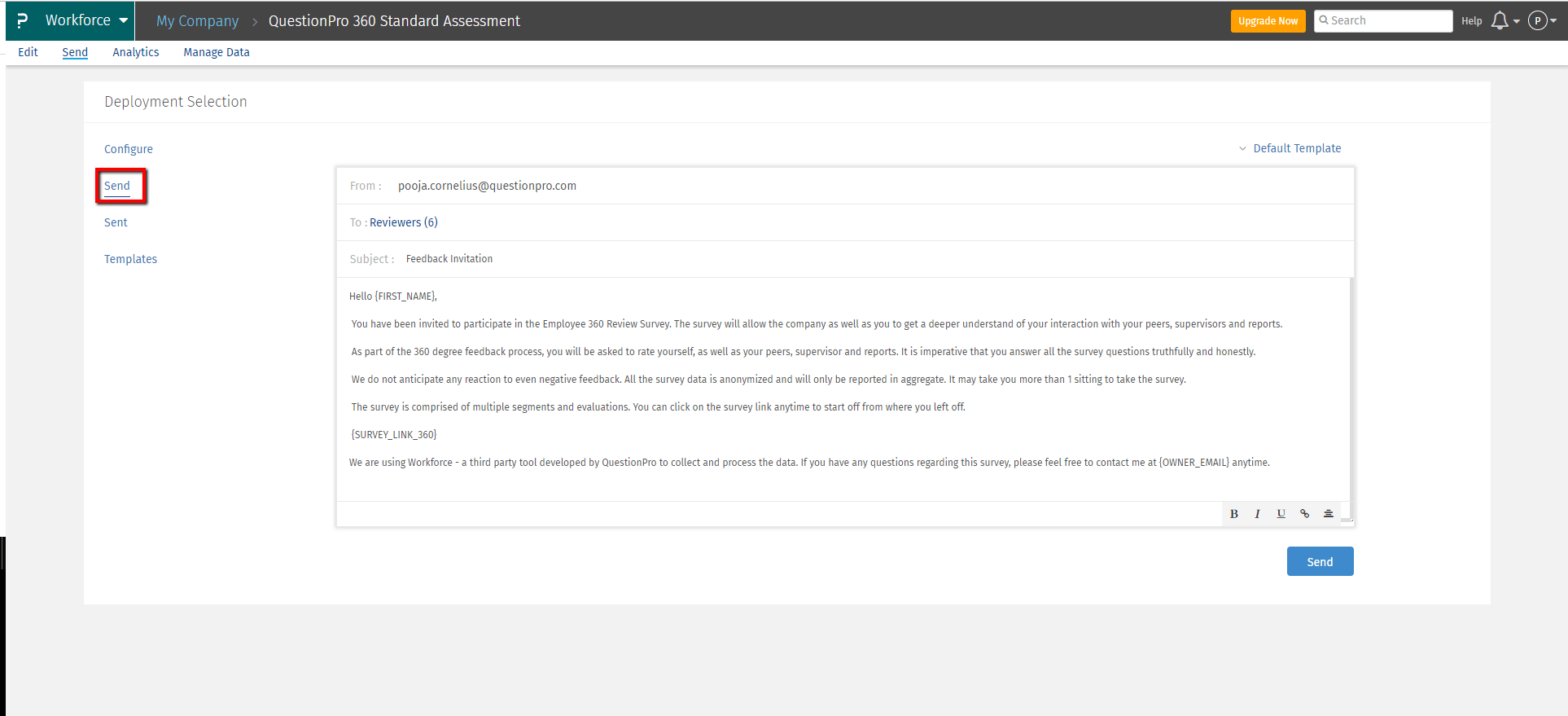 Step 5: Collect responses and compare the analytics year on year

Benefits of using an employee performance evaluation software
Employee performance plays a vital role in the success of an organization. This process provides valuable insights in terms of feedback to the employees, which can shape their performance and improve their productivity. Here are some of the benefits of using robust software:
Employee feedback

is essential. Many employees feel they don't receive enough feedback from their managers. Even negative feedback and constructive criticism help employees do better if delivered correctly. This tool helps managers send out systematic feedback to their employees.

Performance appraisal software may vary, but most are equipped to conduct a

360 review

. This type of review gives a full picture to the employees about their strengths and weaknesses. 

Performance evaluation software makes it easy for managers or supervisors to provide feedback, even for remote work settings. Using software allows flexibility and increases the frequency that feedback is provided.
Reviews are often regarded with dread, but a simple software survey and report can smooth the process. This helps reduce the stigma that evaluations are cumbersome and time-consuming.
 With a complete view of an employee's strengths and weaknesses, organizations can present training and development programs designed for individuals. Not all employees have the same needs or respond to training in the same way. Survey software allows you to build a customized program for each employee.
Want to know more?
Our performance evaluation software can help your employees stay motivated and work more efficiently. Book a demo today to get started or contact us at success@questionpro.com.