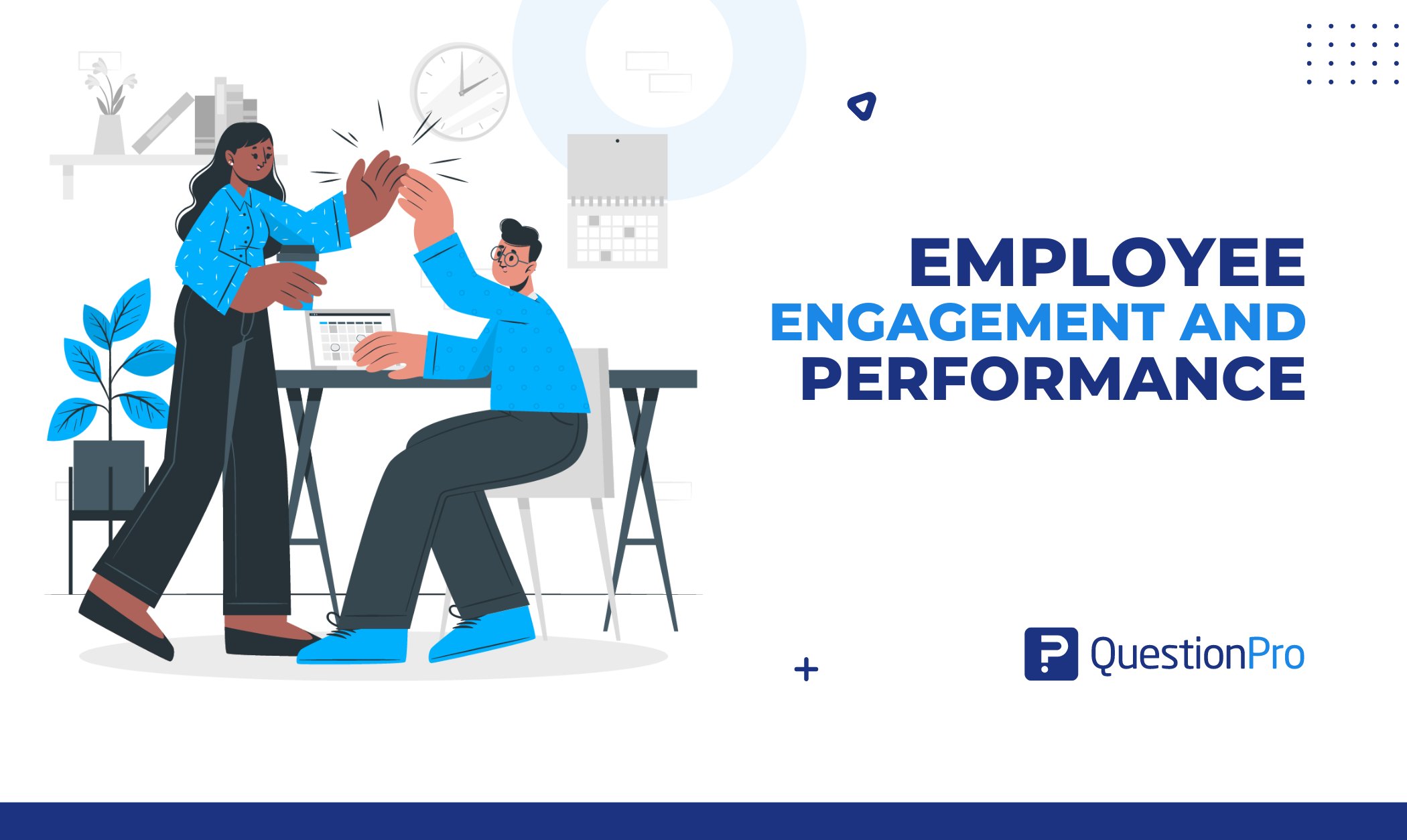 Companies must prioritize the well-being and performance of their employees as they strive for success in today's competitive business world. Employee engagement and performance are essential elements that can make or break an organization.
Many companies struggle to manage employee engagement and performance outcomes because they struggle to understand the relationship between them. In this post, we'll look into the relationship between employee engagement and performance and provide insights into how companies may utilize the relationship between the two to drive success.
Understanding Employee Engagement and Performance?
Employee engagement and performance are two essential factors influencing an organization's success. Let's define them:
What is Employee Engagement?

Employee engagement is defined as an employee's emotional connection and dedication to their work, colleagues, and the organization.





Engaged employees are inspired to put in their best effort, work collaboratively, and innovate to achieve common goals. Disengaged employees may not be motivated, feel disconnected from their work and colleagues, and not care much about the company's success.
LEARN MORE: A COMPREHENSIVE GUIDE TO EMPLOYEE ENGAGEMENT
What is Employee Performance?

Employee performance is defined as an employee's productivity, job quality, and capacity to achieve results.



High performers consistently meet or exceed expectations and contribute to the organization's success. Low performers may find it hard to meet employee expectations, hurting their team's performance and the company.
In the next section, we'll explore the link between employee engagement and performance.
LEARN MORE: PERFORMANCE MANAGEMENT: THE COMPLETE GUIDE
Relationship Between Employee Engagement and Performance
One Question that has witnessed many debates is why organizations should put resources into Employee engagement. The most appropriate and simple response is because employee engagement is related to critical business outcomes.
Studies have revealed a positive connection between employee engagement and organizational results:
Productivity

Profitability
Engaged employees know their responsibilities in organizational goals and motivate their co-workers to achieve those objectives. Going the extra mile at the workplace signifies a highly involved employee.
To decode whether employees are engaged, employees are usually solicited to rate their views of various work environment factors:
Do I have the chance to perform the best work every day?

Am I surrounded by an empowering and stable group?

Is the organization's main goal planned, which empowers me to feel my part in the workplace critical?

Are my perspectives and opinions heard?
Not only does an exceedingly engaged workforce decrease turnover and employment costs, but it also guarantees execution improvement and permanence in the marketplace.
The research indicates that organizations are more likely to expand their net revenues faster than average for their respective industries when their employees are more engaged.
Organizations that make it a need to connect with and engage their workers are better prepared to deal with the potential changes and difficulties in the business environment.
While engagement drives performance at the individual level, it drives execution on an organizational level too. A single methodology for attention isn't a cure for each company. It's a fragile mix of corporate objectives, culture, values, and what drives the group. Since these are distinctive with each association, no one-size-fits-all solutions exist.
Engaged employees consistently exhibit 3 general practices which enhance business performance:
The employees promote their organizations to co-workers and refer potential recruits and clients.

Despite chances to work elsewhere, the employee develops an intense association to continue being part of the same organization.

The employee applies additional time, initiative, and effort to add to the accomplishment of the company goals.
Involved and motivated workers are more beneficial in the workplace. Companies should ask how we would prepare and build a workforce where everybody can flourish and survive.
If disengaged employee directly interacts with customers, they get a high number of client complaint. If you don't do anything about it, these employees who aren't doing their jobs negatively influence their co-workers.
The Impact of Employee Disengagement on Organizational Profitability
Various studies have evaluated the effect employee engagement (or deficiency in that department) has on organization revenue:
Companies with engaged employees outrank those with disengaged employees by 202 percent, reports Dale Carnegie Training.

Towers Perrin estimates that a company's net overall revenue increases by 6% when its employees are engaged.

Conversely, Gallup estimates disengagement costs U.S. businesses between $450 billion and $550 billion annually due to poor productivity.
The effect of disengagement on profitability originates from a few elements, including soaring turnover rates that mean escalating hiring costs; poor customer connections that promptly lost revenues. When employees are disengaged, even the most effective performance management system will fail because people are less likely to care.
Combining Engagement and Performance Management
Workplaces that encourage employee engagement and performance are best. Combining these two crucial factors can create a culture of excellence that inspires performers to perform well. Let's find effective ways to integrate engagement and performance management for optimal results.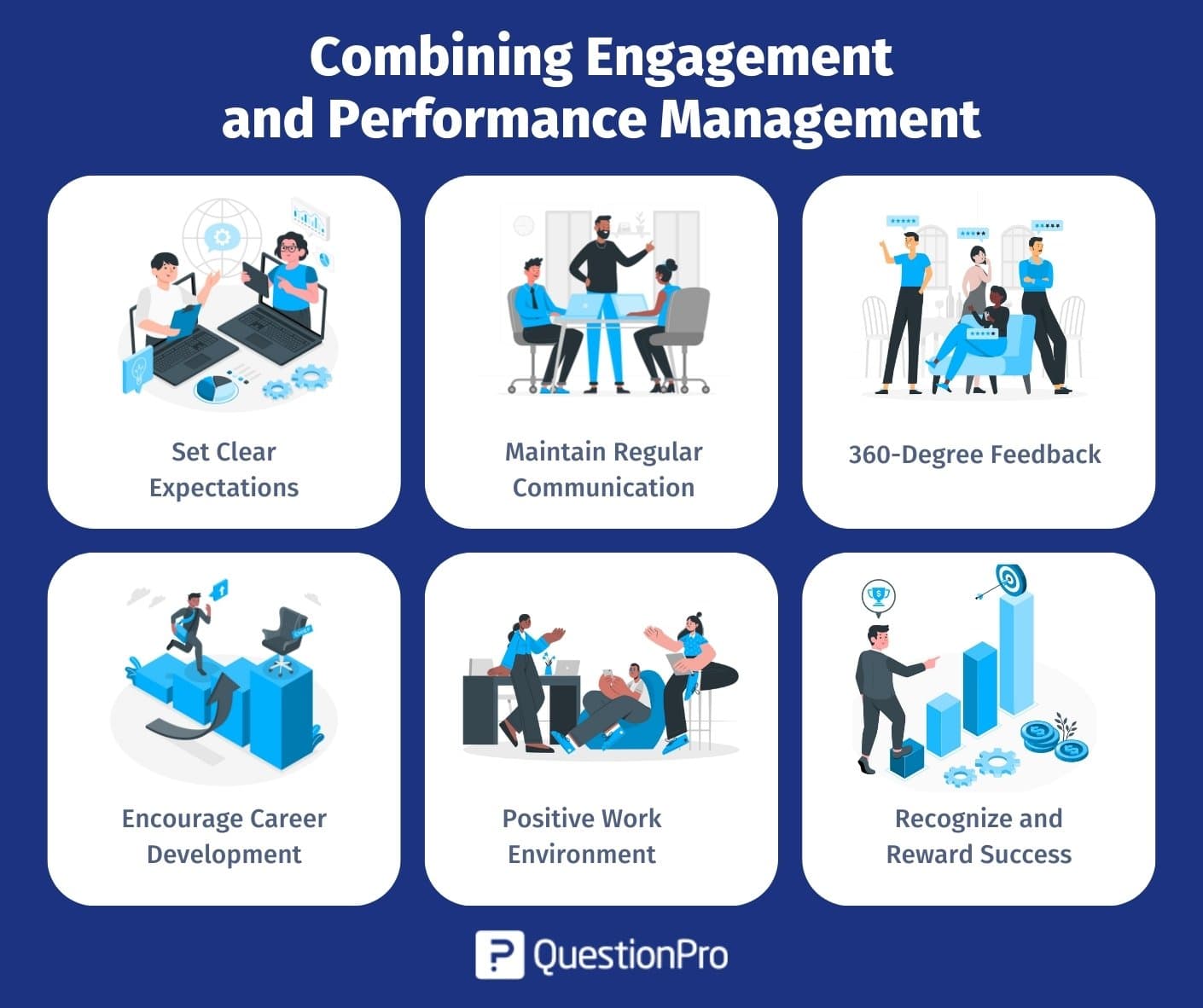 Set clear expectations

Improve employee engagement by providing a well-defined career improvement path. Show them how their work skills will contribute to the company's achievements.



Set clear and quantifiable performance goals for performers compatible with your company's goals. Empower them with a clear understanding of their expectations and the necessary steps to succeed.
Maintain regular communication

Consistency is the key to regular communication. Regular monitoring can speed up feedback and problem-solving. By having an ongoing feedback process, you and the employee will know what to expect from performance reviews, making them less stressful.



Encourage employees and managers to communicate openly and transparently. This promotes trust and a healthy work environment where employees can voice their ideas, concerns, and criticism.
LEARN ABOUT: Employee Trust
360-degree feedback

Employee performance evaluation and engagement can only be improved with regular feedback. Managers should provide positive feedback as well as negative feedback on both positive and bad performance, with an emphasis on enhancing habits and actions.

360 degree feedback is one of the most successful methods for providing constructive and actionable insights to leaders for them to grow and develop. This implementation empowers employees to manage their performance effectively.
Encourage career development

Training courses, mentorships, and other workplace education programs are essential in the workforce. It's one thing to help employees set realistic personal development goals. Encourage employees to engage in training, coaching, and mentoring. This helps employees learn new skills and shows that the company values their improvement.

Transform your employee's weaknesses into opportunities for employee growth and professional development rather than see them as flaws that need to be corrected. That's because if you only criticize someone, they'll probably shut down and stop listening to you.



Showing employees that you care about their careers is a great way to keep them loyal and reduce turnover. If they want to move up in the company, you can help them understand what skills they need and how to get them.
Positive work environment

Positive workplaces increase employee engagement and performance outcomes. Employers and managers should make work safe, supportive, and fun. Positive workplace culture, staff improvement, and teamwork can achieve this.





Employers should also ensure work-life balance. This includes work-from-home and flexible hours. This helps people balance work and life, improving job satisfaction and performance.
Recognize and reward success

Celebrate and incentivize team members who consistently demonstrate exceptional performance and represent the company's core values. Recognizing and using strengths promotes engagement. It helps employees bond with your company by making them feel valued.



Transform your performance review process by emphasizing improving your employees' strongest areas while eliminating the negative connotations of harsh penalties.
LEARN ABOUT: Employee Rewards Ideas for Employee Engagement
Improving employee engagement is an essential part of achieving high performance. Studies show that engaging employees are more productive, innovative, and committed to achieving your organization's goals.
LEARN ABOUT: Employee Care
How QuestionPro Workforce Helps Boosting Employee Engagement and Performance
Elevate your workforce engagement and performance with QuestionPro Workforce – a robust platform offering tools and features designed to measure and enhance employee satisfaction and productivity.
Discover a variety of ways in which QuestionPro Workforce can assist you:
Employee Surveys

Employers can use QuestionPro Workforce to create and send out employee surveys to gather feedback on various aspects of the workplace, such as employee satisfaction, engagement, and work-life balance. This data can be utilized to identify areas for improvement and develop initiatives to improve employee engagement and performance.
Real-time Feedback

QuestionPro Workforce provides real-time feedback tools for employees to provide feedback on their experiences, difficulties, and suggestions in real-time. This enables companies to identify and eliminate issues swiftly, thereby improving their work environment.
Performance Management

The platform includes tools for tracking employee performance and setting performance objectives. Employers can use this data to evaluate performance and provide comments on areas for improvement.
360-degree Feedback

QuestionPro Workforce's 360-degree feedback solution lets organizations collect performance input from managers, peers, and direct reports. This detailed data helps those discover their strengths and weaknesses and helps employers identify growth areas.
Data Analytics

The platform offers powerful data analytics capabilities, allowing organizations to get insights into employee engagement, performance, and happiness. This information can be used to develop targeted interventions to boost employee engagement and productivity.
Book a demo to see how QuestionPro Workforce can boost employee engagement and performance at your company. Our experts will teach you how to tailor the platform for your organization. Book a demo today to start developing an engaging and productive workforce!