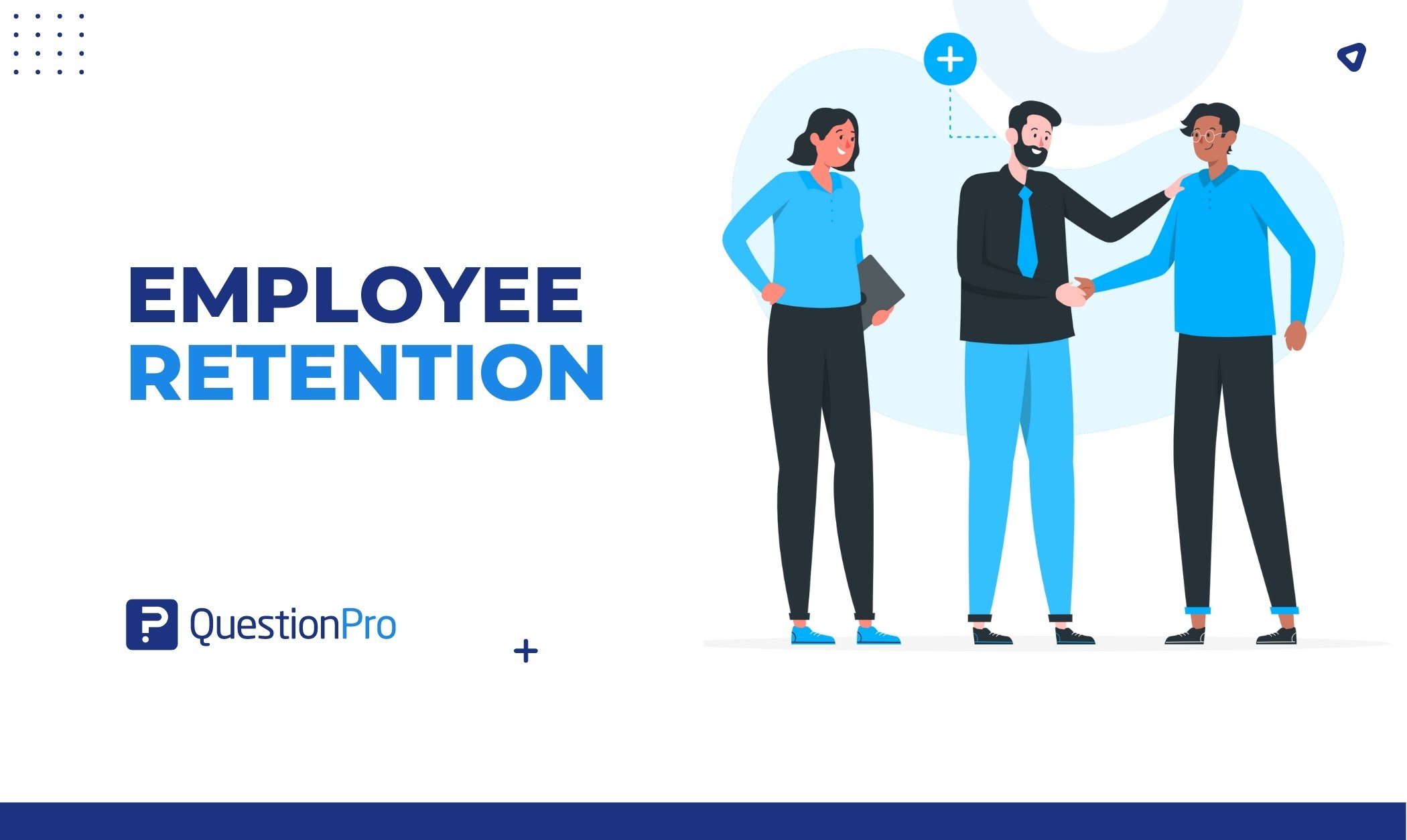 Are you having trouble retaining your top employees? High turnover rates might have an impact on your company's ability to meet sales targets. Creating an effective employee retention strategy can assist you in increasing employee satisfaction and, eventually, decreasing turnover rates.
In this blog, we will discuss what employee retention is and also learn effective employee strategies for it.
What is employee retention?
Employee retention is the steps or processes taken by HR professionals and managers to ensure the organizations retain employees. Departing employee in an organization affect the organization's productivity, morale, and employee engagement.
For U.S. organizations, it is estimated that disengaged employees cost about $550 billion every year.
Did you know? Facebook has the World's longest employee retention rate, with employee tenure lasting over 2 years on average.
In contrast, Uber is said to have one of the lowest staff retention rates in this category, with about 1.23 years being the average employee tenure span. This data is as per Paysa, a company that reports on employee statistics.
Job-hopping is something that hasn't spared the hotshots of technology or any other industry.
A leading interviewing technology solution provider states that 80% of business managers feel that staff retention is a major issue that companies are facing these days, as 27% of employees change jobs each year, 17% are actively job-hunting, 46% are passively looking (ADP), and 35% of the employees consider giving up their current role in a year's time (Mercer).
Due to this scary state of employee retention, around 75% of companies are considering redesigning their hiring and staff retention processes.
What is an employee retention strategy?
Employee retention strategy refers to the set of activities and policies implemented by a business to reduce employee turnover and retain employees.
The goal of this strategy is to establish a work environment that encourages employee satisfaction, engagement, and loyalty, which improves an employee retention rate while lowering the costs and interruptions associated with employee turnover.
Competitive salaries and benefits packages, opportunities for career advancement, employee recognition and rewards programs, training, and professional development programs, flexible work arrangements, work-life balance programs, and a positive company culture that fosters a sense of belonging and purpose among employees are all examples of good employee retention strategies.
LEARN ABOUT: Employee Experience Strategy
Top employee retention benefits
It is crucial to understand and believe in why employee retention is beneficial to organizations and why it should be a key priority. Let's look at some key benefits of staff retention:
High efficiency

Tenured or retained employees are more experienced; they know the organization, the processes, the people, and the objectives. This is highly efficient and improves the overall productivity of the employees and the organization.
Save resources

Hiring to replace old employees is quite a task; it takes a toll on the time, money, and other resources of the organization. Retention protects you from such costs and efforts.
Improve customer experience

It keeps your employees glad, productive, and engaged. This is automatically transferred to the customers they serve, improving the overall customer experience.
High workforce morale

A high attrition rate negatively impacts employee morale. On the flip side, when employees see their colleagues retained, it boosts their morale. This, in turn, positively affects employee engagement, employee productivity, and workforce engagement.
Effective employee retention strategies
Effective employee retention strategies are critical for any organization that wishes to keep a stable and committed workforce. This section will examine effective staff retention techniques for your company.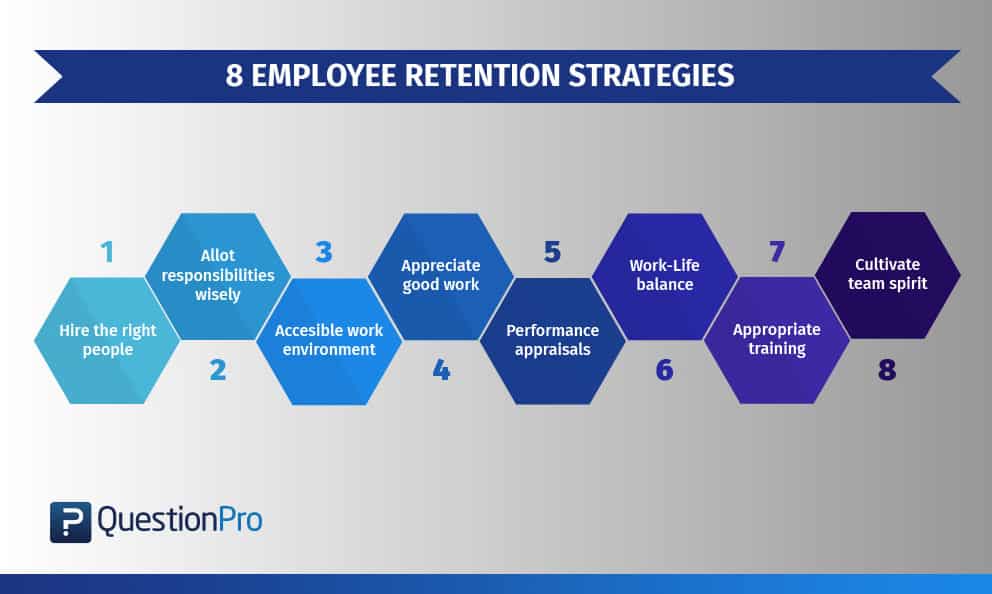 Ensure the right people are hired

It's said that supervisors spend a whole day in a week managing poor-performing employees, and 11% of financial supervisors suggested that if they hire the wrong employees, they lose out on productivity.

Every organization would want to hire the right people to make sure it doesn't take a toll on the finances of the company. A lot of companies have aptitude tests or pre-placement tests to understand the caliber of to-be-hired employees. Some organizations also conduct personality tests to make sure no stone is left unturned in evaluating candidates.
Allot responsibilities as per employee's interests and specializations

An employee looks forward to attending a day's work when the assigned duties match their interest. Designing milestones by incorporating employee interests and likings will go a long way as it'll be a motivational factor for employees to come to work.

They'll appreciate the efforts the organization is putting in to make sure the employees are happy to be working with the company.
Avoid hierarchical structure and create an accessible work environment

A lot of organizations assume that high pressure can get the best out of the employees, but sadly, that isn't the truth. Around 80% of doctor visits happen due to workplace stress, and 80% of accidents at work also happen at high-pressure jobs.

In case there's a hierarchical structure, most employees feel that they can easily trust their peers but not their bosses. An "open-door" policy company, where employees feel free to talk to the highest authority without any hesitation, is where these losses are minimized, and the output delivered is maximum.

Companies where the managers don't put the blame on the team members for things that go wrong have a positive company culture which leads to some path-breaking work.
Appreciate good work to encourage them to stay for longer

It's noted in recent times that 69% of employees say that they would work harder if their work is appreciated.

Employees come every day and contribute to the business, and that's the reason why they need to be constantly motivated and appreciated. Managers who value their team members have much better performance results than those who don't.

A "thank you" for a simple task finished brilliantly can boost the morale of the employees. Offering fair incentives and appraisals according to the caliber of the employee makes it clear to them that they're valued. This reflects in their performance and, in turn, improves the performance of the company.
Performance appraisals and other perks are key to happy employees

The employees are always eager to know whether they're delivering according to their manager's expectations. For them to be assured of their work, the managers need to have regular performance review meetings, constant coaching, and feedback sessions.

Create realistic goals for the employee during appraisal and strengthen the bond shared with the employees so that they work harder to achieve their goals. Having an appraisal once a year is not enough to keep the employees motivated. Keep all factors in mind and try to conduct appraisals more than once a year.
Ease employees' work-life balance

Due to the constant challenges that employees face day in and day out, it seems impossible for them not to think about work after leaving the office. Most overworked and exhausted employees talk about work-life balance (as they don't have it!).

Employers are not responsible for the employee's work-life balance. But, they can mend their policies to make sure they support it. Offering employees flexible working hours and some paid time off (PTO) apart from the usual leaves can be what the employees need.

Employees pick up nuances from their managers. So, managers need to be very careful in the way they conduct themselves while they avail of PTO. If the manager sends out emails on vacation, the message given out to the employees will be that even they're expected to do the same.
Come up with appropriate training programs for employee growth

Hiring the right candidates is just work half done; it's what comes after hiring that matters. Training the employees constantly according to the new professional development in the company is what will prevent departing employees.

This is one of the most challenging retention strategies that would require continuous effort from employers to arrange training at regular intervals.

If the right employees feel they aren't in a workplace that's exploring their true potential, employees quit and leave you in a position where you'd have to look for a replacement. By having training modules in place, one can encourage new employees to work better and deliver better.
Cultivate Team Spirit

Introduce the employees to a company culture where they can share their thoughts about topics under discussion without hesitation. This will bring out different work cultures to the table and encourage them to be true to their work styles.

Create transparency about team goals, roles, and responsibilities and encourage the employees to share their thoughts in every small and big decision.

Keep these pointers under check every year so that you don't overlook parameters like salary, appraisals, and other benefits.
LEARN ABOUT: Employee Trust
Employee retention software or tool
An online survey platform or software such as QuestionPro Workforce is ideal for getting started on your employee retention initiatives. Here are some key reasons and benefits of using a staff retention platform or tool.
Deploy surveys

Conduct staff surveys to know what employees feel and experience. You can deploy surveys at regular intervals automatically or manually do it. But make sure you design one and send it out.
Gather data from employees

It is most crucial to understand departing employees in the organization. Without reason, you cannot possibly think of arresting staff churn. Once you have data directly sourced from the employees, you can start making plans to counter workforce attrition.
Analyze the data

Once you have employee data, you will have some idea about what employees feel with respect to employee experience, processes, and the organization. Analyze the data to zero in on problem areas and devise plans to fix them. With surveys, you can make informed people decisions and improve your staff retention rate.
Quick deployment

The most important aspects of using a tool like this are that they are fast and effective. You can design and deploy online surveys in short durations, gather responses in a limited time frame, and start looking at results.
Effective

Online surveys are effective and have high response rates as they can be taken anywhere and at any time. This ensures that management and HR professionals have large sets of data to make sound and informed decisions.
Top employee retention ideas
Using employee retention ideas that are simple and cost-effective will go a long way in arresting staff attrition. Below are some ideas. You can view more and in detail on our employee retention page.
Fun and games

Introduce a recreation room, and have fun games that will help build team relations and relieve employee occupational stress.
Employee benefits

Perks such as telecommuting and discounts at stores, hotels, etc., go a long way in letting your employees know they are valued and cared for.
Activities

Having themed days or family days keeps the employees happy and excited to go to work. Try doing some of these and see how the employees respond and welcome it.
How can QuestionPro help in creating employee retention strategies?
QuestionPro is an effective survey tool for gathering employee feedback on various aspects of their workplace, including staff retention. Here are some ways QuestionPro can help with the creation of employee retention strategies:
Employee satisfaction surveys

These surveys can help you understand what your employees like and dislike about their jobs, as well as what motivates them and what employees expect from their employers. Based on this feedback, you can create employee retention strategies that address your employees' concerns and needs.
Exit surveys

When an employee decides to leave the company, an exit survey can provide valuable information about the reason for the employee's departure. This data can be used to identify trends and areas for improvement that will aid in the reduction of staff turnover in the future.
Pulse surveys

Conducting pulse surveys on a regular basis can help you monitor staff satisfaction levels and identify potential issues before they become major issues. This can help you address issues more quickly and improve an employee retention rate.
Feedback and recognition

The feedback and recognition features in QuestionPro can help you demonstrate to your employees that you value their contributions and are invested in their success. This can help boost employee retention and morale rates.
Employee engagement surveys

Employee engagement surveys can help you assess employees' commitment and enthusiasm for their employee job satisfaction and the company. This data can be used to develop employee retention strategies for increasing employee engagement and decreasing turnover.
Ready to create a company culture where everyone can reach their full potential? Learn more about how to get ongoing feedback from your employees and start taking action to make a positive impact in your organization with QuestionPro Workforce.