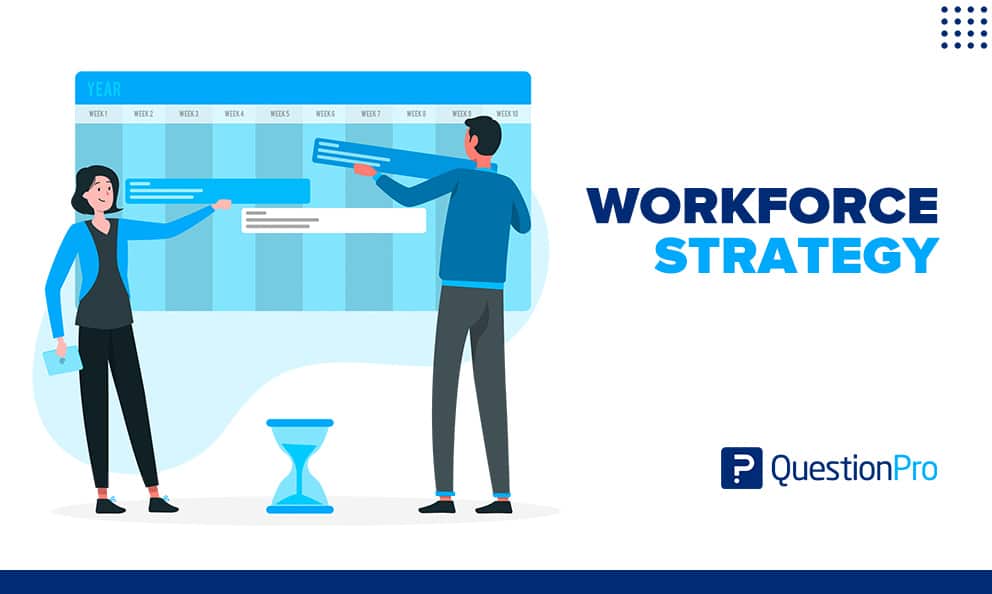 A workforce strategy is one of the most essential elements of employee growth. Workforce strategy is usually mentioned but rarely explained. The people that work for a company are its most valuable asset.
Unfortunately, many organizations do not fully understand their current and future workforce requirements. It can seriously limit a company's ability to achieve its primary goals.
LEARN ABOUT: Succession Planning
Let's look at what makes a good workforce strategy and how your business can start with it.
What is a Workforce Strategy?
Workforce strategy is looking at current employees and strategy for future staffing needs. It is done by identifying talent gaps, making procedures for managing employees and developing strategies for hiring.
Strategic workforce planning is more than just hiring new people. It is the difference between what you have now and what you need. Workforce planning can help you figure out who can take on new roles and who might not be able to stay in their current job because the skills people need are constantly changing.
Workforce strategy considers all kinds of movement, whether up, down, in, out, or across the organization. HR professionals should collaborate with business leaders to establish strategic objectives and develop a business case for investing in a strategic workforce plan.
LEARN ABOUT: HR Analytics
Importance of workforce strategy
Planning the workforce is essential for ensuring the organization's long-term success. It is effective in providing a strategy for understanding the present workforce, especially in determining if the current employees have the necessary skills to meet the needs of the business.
Most successful companies may be better prepared for future challenges with Personnel strategy. They may be unaware of the limitations of their current staffing without this process. Furthermore, potential issues could prevent an organization from implementing a business strategy.
However, a thorough understanding of the workforce and its ability to meet organizational needs can help improve hiring processes because hiring professionals better understand which areas to improve.
LEARN ABOUT: Employee Experience Strategy
Benefits of Workforce Strategy
A company's Personnel strategy guarantees that it is not simply reacting to threats such as a talent drain caused by retirements or retention. It's a continuous strategic analysis of how talent risk affects a company's finances, product development, and customer relationships. Most organizations have backup plans for such situations.
The following are some of the benefits of Personnel strategy:
It helps to recognize issues

Workforce strategies help to recognize and correct issues that may be obstructing productivity.
Identify supply and demand issues

Workforce strategies clearly show workforce supply and demand issues based on location and costs.
Identify metrics

Workforce strategies assist business leaders in identifying risks before they have an impact on the organization's goals.
A competitive advantage

Strategic workforce planning helps organizations to get competitive advancement.
Manage workforce planning

Tools and reports explain the impact of decisions, allowing you to manage future workforce investments better.
Guideline for workforce strategy
The following is the guideline to take for the strategy of a workforce:
Analyze your current talent

Consider your current employees and their skills. Compare this to your organization's current needs and success. Analyze your talent supply and try very hard to analyze internal and external sources.

Consider your company's ability to hire new employees, such as whether it is cost-effective or whether your company has access to the necessary talent.
Consider the future

Examine the goals and strategies of your company. Examine the specific requirements for the talent required and the duties employees may be expected to fulfill. It's also essential to think about potential employee changes.
Identify potential gaps

Compare your results to see any areas where you may improve. Examine your present employees' qualifications and how they relate to your goals.

Look for skills shortages. Identify any skill or role gaps that your company may have. Comparing their qualifications to the organization's future needs is also good.
Come up with a solution

Determine the best option based on your analysis. Consider whether more training would prepare your present workforce better to meet organizational requirements. Similarly, if you need to hire more people, consider your budget alternatives and prepare for the hiring process.
Implementation and monitored

Apply the solutions that you've identified for your workforce's needs. If you have a lot of gaps to fill, make sure you prioritize them and put them in place effectively. Keep note of how effective your strategies are.

Check to see if the gaps have been filled up. Repeat the process as needed to keep a productive and adequate workforce.
Best Practices for workforce strategy
Developing a successful workforce plan is critical for organizations to optimize their people resources and achieve their objectives. Here are some best practices to consider while developing a strategic workforce planning process: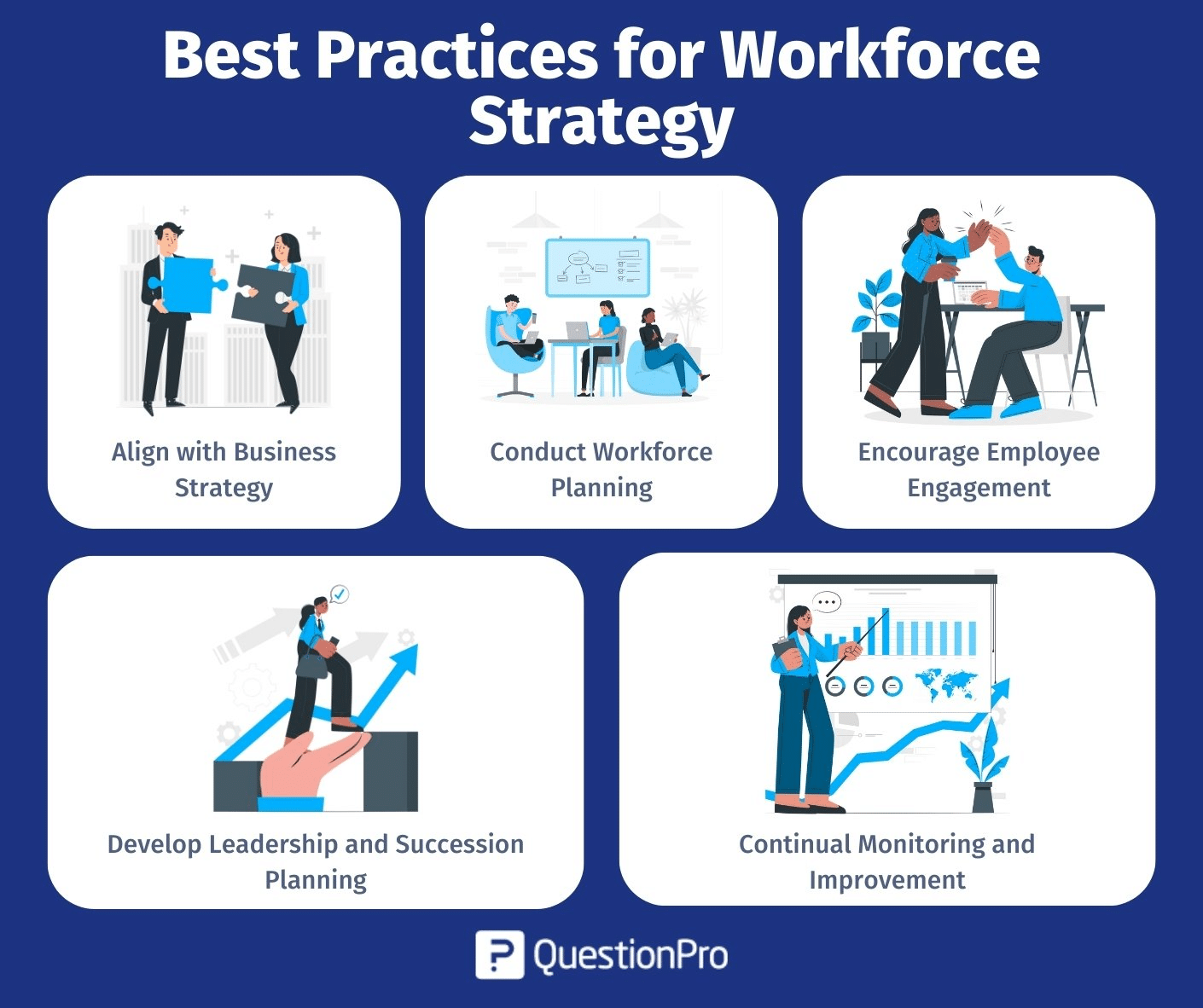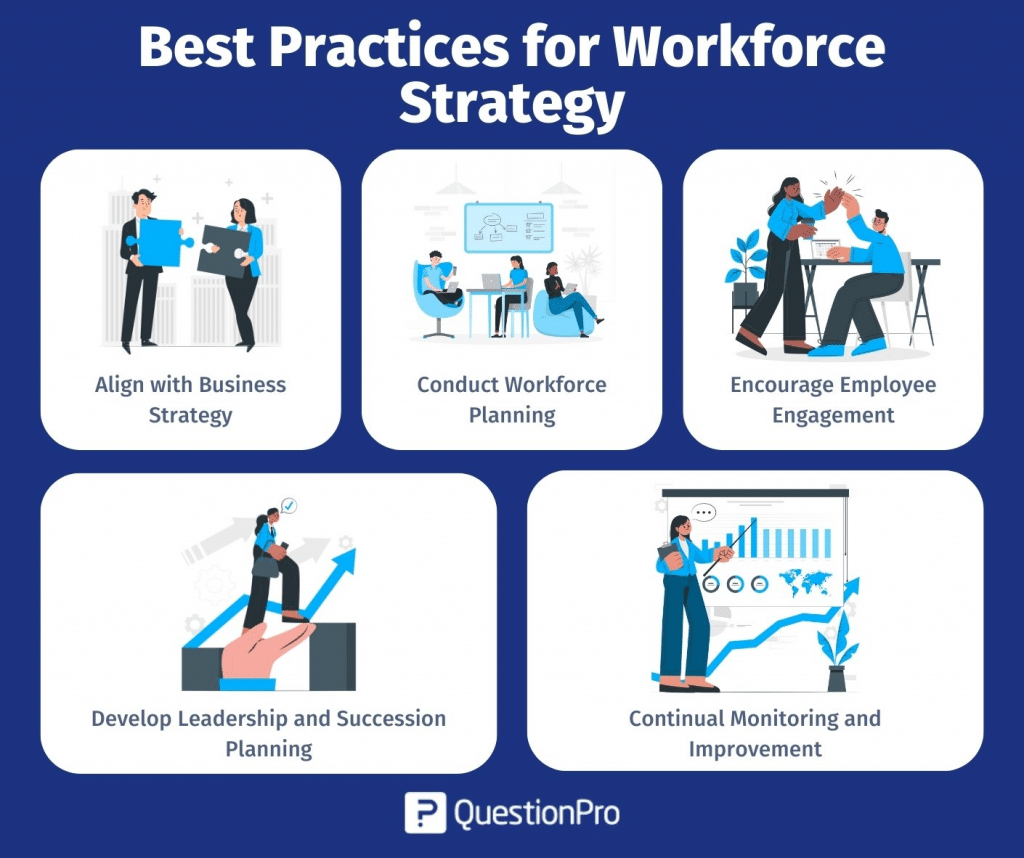 Align with business strategy

Make sure your strategic workforce plan is in sync with the broader business strategy and goals. Understand the organization's vision, mission, and business objectives, as well as the personnel requirements required to support and drive those objectives.
Conduct workforce planning

Conduct a thorough analysis of your current employees and future requirements. Identify the organization's skill, competency, and talent gaps, and plan for future employment trends, such as technological developments or industry transitions.
Encourage employee engagement

Provide meaningful work experiences and opportunities for growth to engage people actively. Encourage open communication channels, solicit opinions and suggestions, and include staff in decision-making.

Recognize and reward employees for their contributions, and encourage work-life balance to improve their well-being.
Develop leadership and succession planning

Identify and build organizational leadership skills. Implement the planning to ensure a pipeline of qualified applicants for essential jobs. To groom future business leaders, provide leadership development programs, mentorship opportunities, and work rotations.
Continual monitoring and improvement

Continuously monitor and analyze the effectiveness of your strategic workforce planning. Conduct regular reviews, collect feedback, and conduct surveys to acquire insights. Use the findings to identify areas for improvement and make iterative changes to maximize the strategy's impact.
How QuestionPro helps in creating a workforce strategy?
QuestionPro can help with the process of developing a workforce strategy by providing a variety of tools and features that simplify data collecting, analysis, and decision-making. Here's how QuestionPro can help you create a workforce strategy:
Employee surveys

QuestionPro lets you develop and distribute employee surveys for helpful feedback and insights. You can create customized surveys to measure employee engagement, contentment, and opinions about the company. This feedback helps you understand employee needs, preferences, and concerns to guide your workforce planning.
Data collection

QuestionPro may collect employee demographics, skills, competencies, talent risks, business objectives, and development needs. This data is essential for creating workforce planning that matches employee skills and goals. You may address skill gaps and encourage employee progress by acquiring accurate and complete information.
Analysis and reporting

QuestionPro lets you evaluate survey replies, visualize data, and draw conclusions. This research identifies strengths and weaknesses, employee sentiments, and data-driven workforce strategy decisions. These qualities can reveal data patterns, trends, and correlations.
Talent management

QuestionPro enables performance reviews, develop talent strategy, and business leadership development. Surveys and assessments can evaluate employee performance, identify high-potential employees, and gather input for improvement. This data supports talent management initiatives and aligns talent development with workforce strategy.
Conclusion
The workforce strategy goal is to have the appropriate people in suitable jobs at the proper time. It is accomplished by understanding current workforce capabilities, planning future scenarios, and identifying the desired workforce. And also taking steps to align future workforce planning with the desired workforce.
Workforce planning is not something you can easily do in your office on a rainy afternoon. It is a complex exercise that requires careful data collection and strategy. However, workforce planning is a fantastic and precious tool when done correctly. It can help your organization build a competitive advantage.
If you want to emphasize workforce strategy, QuestionPro Workforce is a powerful survey and analytics tool that will help you to know the insights gathered through employee engagement surveys. So, try out QuestionPro Workforce today!