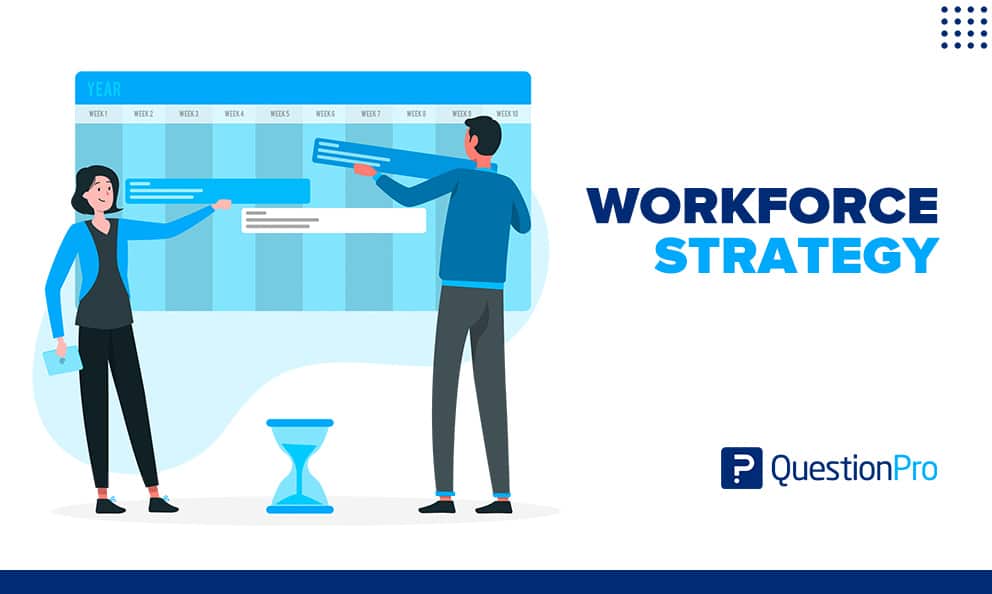 Workforce strategy is usually mentioned but rarely explained. The people that work for a company are its most valuable asset. A workforce strategy is one of the most essential elements of employee growth. Unfortunately, many organizations do not fully understand their current and future workforce requirements yet. This can seriously limit a company's ability to achieve its primary goals.
Let's look at what makes a good workforce strategy and how your business can get started with it.
What is a Workforce Strategy?
Workforce strategy is looking at current employees and strategy for future staffing needs. This is done by identifying talent gaps, making procedures for managing employees, and developing strategies for hiring.
Planning your workforce is more than just hiring new people. It is the difference between what you have now and what you need. Strategy a workforce can help you figure out who can take on new roles and who might not be able to stay in their current job because the skills people need are constantly changing. Workforce strategy considers all kinds of movement, whether up, down, in, out, or across the organization.
Importance of workforce strategy
Planning the Workforce is essential for ensuring the organization's long-term success. It is effective in providing a strategy for understanding the present workforce. Especially in determining if the current employees have the necessary skills to meet the needs of the business. 
Organizations may be better prepared for future challenges with Personnel strategy. They may be unaware of the limitations of their current staffing without this process. Furthermore, potential issues could prevent an organization's efforts to implement a business strategy. However, a thorough understanding of the workforce and its ability to meet organizational needs can help to improve hiring processes because hiring professionals to have a better understanding of which areas to improve.
Benefits of Workforce strategy
A company's Personnel strategy guarantees that it is not simply reacting to threats such as a talent drain caused by retirements or retention. Most organizations have backup plans for such situations. It's a continuous strategic analysis of how talent risk affects a company's finances, product development, and customer relationships.
The following are some of the benefits of Personnel strategy:
Recognizing and correcting issues that may be obstructing productivity.

A clear picture of supply and demand issues based on location and costs.

Metrics that assist leadership in identifying risks before they have an impact on the organization's goals.

A competitive advantage.

Tools and reports explain the impact of decisions, allowing you to manage future workforce investments better.
Guideline for workforce strategy
The following are the guideline to take for the strategy of a workforce:
Analyze your current talent
Analyze your talent supply and try very hard to analyze internal and external sources. Consider your current employees and their skills. Compare this to your organization's current needs and success. Consider your company's ability to hire new employees. Such as whether it is cost-effective or your company has access to the necessary talent.
Consider the future
Examine the goals and strategies of your company. Examine the specific requirements for the talent required and the duties that employees may be expected to fulfill. It's also essential to think about potential employee changes. Such as whether or not employees may leave the organization or whether or not there are prospects for advancement.
Identify potential gaps
Compare your results to see if there are any areas where you may improve. Examine your present employees' qualifications and how they relate to your goals. Look for skills shortages. Comparing their qualifications to the organization's future needs is also a good idea. Identify any skill or role gaps that your company may have.
Come up with a solution
Determine the best option based on your analysis. Consider whether more training would be enough to prepare better your present workforce to meet organizational requirements. Similarly, if you need to hire more people, consider your budget alternatives and prepare for the hiring process.
Your solution should be implemented and monitored
Apply the solutions that you've identified for your workforce's needs. If you have a lot of gaps to fill, make sure you prioritize them and put them in place effectively. Keep note of how effective your strategies are. Check to see if the gaps have been filled up. Repeat the process as needed to keep a productive and adequate workforce.
Conclusion
The workforce strategy goal is to have the appropriate people in suitable jobs at the proper time. This is accomplished by understanding current workforce capabilities, planning future scenarios, and identifying the desired workforce. And also taking steps to align the future workforce with the desired workforce.
Planning a workforce is not something you can easily do in your office on a rainy afternoon. It is a complex exercise that requires careful data collection and strategy. However, planning a workforce is a fantastic and precious tool when done correctly. It can help your organization build a competitive advantage.
If you want to emphasize workforce strategy, QuestionPro Workforce is a powerful survey and analytics tool that will help you to know the insights gathered through employee engagement surveys.