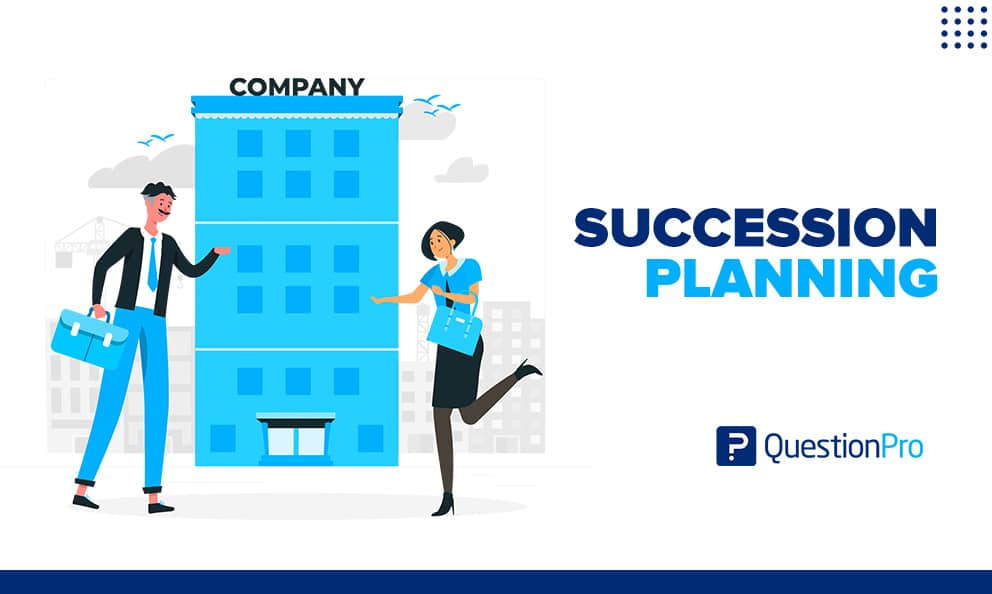 Succession planning is a backup plan for your company's future. When a key person quits without enough warning, the organization may be placed in a difficult position. Even long-term workers are permitted to quit at any moment.
Small businesses are especially vulnerable to losing high-performing employees with lots of responsibilities. To protect your business and make sure it can keep running even if a key employee leaves, a company needs a succession plan for each job.
LEARN ABOUT: Workforce Planning Model
Creating a succession plan may help your firm handle leadership changes smoothly. It may boost morale and prepare your team for future business issues.
Don't wait until you need a replacement. You may select the incorrect individual if you scramble. Let's look at the whole succession planning guide to prepare your staff.
LEARN ABOUT: Candidate Experience Survey
What is succession planning?
Succession planning is a deliberate process for identifying and preparing high-potential personnel for future leadership roles. It aids in developing and retaining your company's talent pipeline, allowing you to fill open leadership positions swiftly.
It all starts with a specific job description and a list of the skills, abilities, and personality traits required to complete the position. With a succession plan in place, you may begin replacing important jobs as soon as a person leaves, even if you don't have early notice.
The finest succession plans are dynamic, breathing, regularly examined, and updated entities.
It's a process that you must continue after you've started. It's something your firm should go through every year to make sure everyone is on track and to check if there have been any adjustments or moves inside the company.
This is your go-to guide for mastering it. Follow these guidelines:
How to create an efficient succession plan
Here are some steps you can take to write succession plans that will help you smoothly handle changes in leadership:
Collaboration is key

Include other leadership team members in your plan as one approach to increase its effectiveness. They probably know some of your staff members better than you do, so they could offer advice on which applicants have the most chance of succeeding.
Find several potential candidates

Business owners frequently decide to leave their company to their children or a business partner. Although this is unquestionably a wise choice, you should also choose one or more backup candidates in case something goes wrong. A role will never go unfilled if two or three individuals are chosen for each open position.
Select an effective format

Succession plans come in a variety of shapes and sizes. While some business owners create multi-page documents, others prefer to retain a straightforward chart. The unique makeup of your company's leadership team frequently affects how difficult your plan will be. You may select the succession plan format that is most appropriate for your business strategy by conducting an in-depth study and looking at various samples.
Define the value of your company

Calculating the worth of your business is a crucial undertaking that frequently supports the succession plan. You must determine your company's value before retiring to determine your own net worth. If you intend to sell your company when you retire, being aware of its value is also essential.
Analyze the financing

Make sure they can afford it if your succession plan calls for someone else to purchase or run your company. A financially incompetent person taking over your company could cause a loss of revenue or perhaps insolvency. Some business owners address this issue by forcing the successor to sign a buy-sell contract, which specifies that the successor will borrow money or liquidate specific assets at the time of the changeover.
Components of effective succession planning
Succession planning is the process of finding qualified people who will move up in a company or organization. Businesses find this person early on so they can train them well for their next job.
Most companies have plans to replace their senior team, which is usually made up of the CEO, CFO, or President. Area heads, managers, and other key positions will be changed as part of another succession plan. There are several components to the succession planning process. These things are: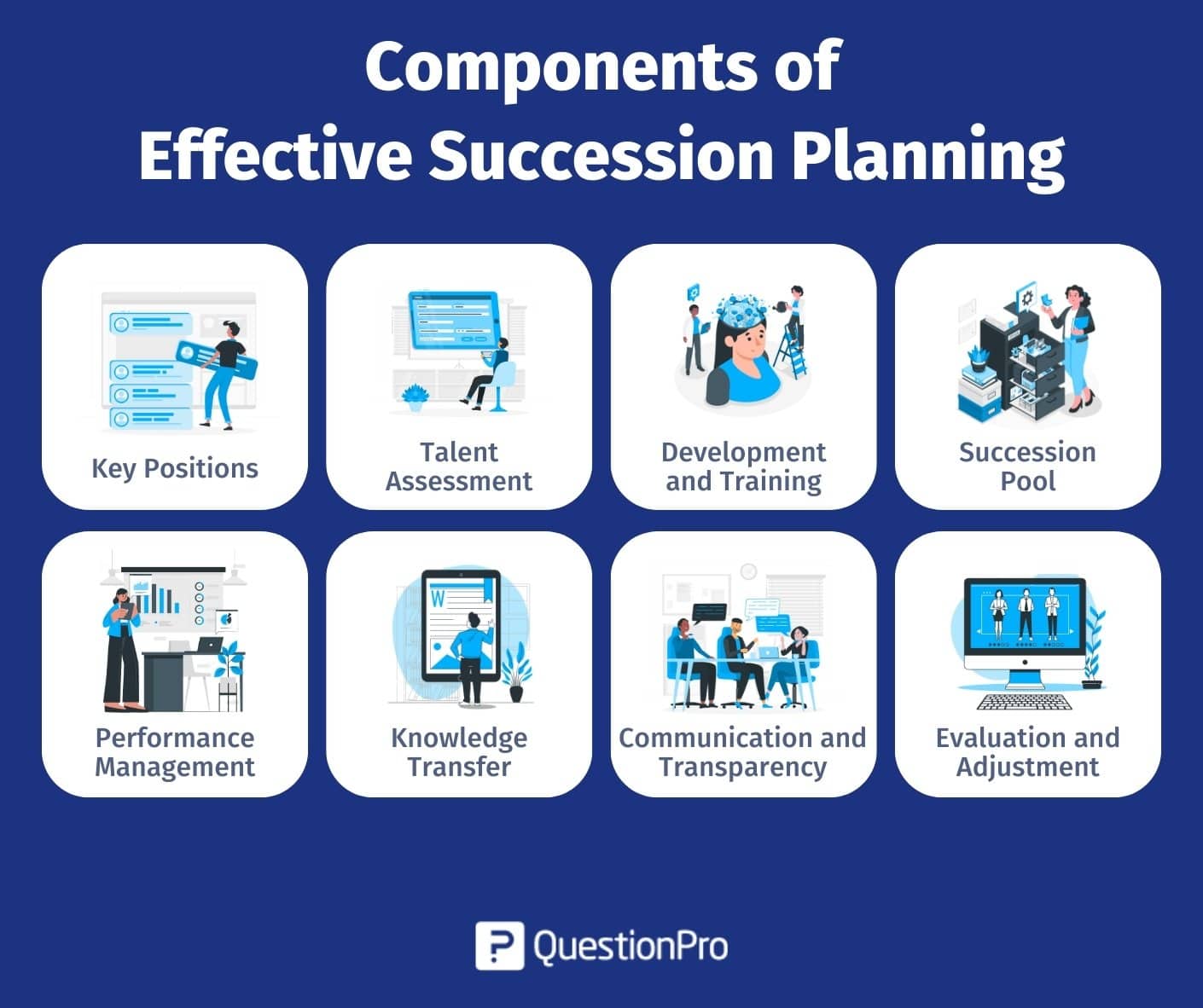 Identifying key positions

Succession planning starts with determining which key roles and positions in the company must be planned for. Most of the time, these jobs are leadership positions or jobs that greatly affect how well the business does.
Talent assessment

After figuring out the key positions, the next step is to look at the talent already in the company. This means judging people based on their skills, knowledge, and ability to see if they are ready to be leaders in the future.
Development and training

Once potential successors are found, they need to be given the development and training they need to improve their skills and prepare for future leadership development roles. This can include formal training programs, work rotations, coaching, and having a mentor.
Succession pool

For succession planning to work, you must have a strong pool of people who could take over. This means making a list of people who could take over key jobs so that more than one person is ready to take charge when the time comes.
Performance management

Performance management is a key part of an effective succession planning strategy. Performance reviews and feedback given on a regular basis help find workers with high potential and keep track of their growth over time. It also lets organizations deal with performance gaps and offer targeted chances for growth.
Knowledge transfer

Knowledge transfer is an important part of succession planning, especially when a boss is being replaced by a new one. This means writing down and storing the important information, skills, and experiences that the next person in line will need to do their job well.
Communication and transparency

For succession planning to work, there must be open conversation and honesty. Employees should know how the company plans for the next generation of leaders, how they are chosen, and what growth and promotion opportunities are available.
Continuous evaluation and adjustment

Succession planning is an ongoing process that needs to be evaluated and changed on a regular basis. Organizations should review and change their succession plans regularly to ensure they keep up with changing business needs, talent availability, and new leadership requirements.
Succession planning process
Succession planning is an all-encompassing approach for identifying and nurturing future leaders in your organization – not just at the top but in key positions at all levels. Having high-potential personnel for promotion allows your company to pull its socks up in all situations.
Here are seven suggestions for getting your business's succession planning process started.
1. Be prepared with a strategy
This stage is essential for identifying your succession plan's objectives and aligning with all stakeholders. This may require a board meeting to discuss strategic goals in some instances. For many others, a discussion with the chief executive officer will need to outline the qualities desired in a successor.
You will be prepared for the next stage after you:
Define the positions, responsibilities, essential capabilities, and experience a successor will need.
Collect data and input on the above from members of your team or specialists in your network.
Estimate your company's requirements. Consider patterns in employee turnover, retirement dates, remuneration plans, and management training.
Reflect on your acquired facts and update your position description and leadership models. Before you start searching for prospects, you should clearly know what you want.
2. A candidate for succession
You're ready to find candidates now that you've made succession plans and job descriptions. Make sure your method is easy to follow and doesn't introduce too much bias. It can be useful to get help from the HR team. They can give you the tools you need to get internal candidates interested and make the process easier.
To select candidates, you can:
Look for people who can grow others, complete tasks, take action to promote the company's mission and lead well.
You may learn more about each candidate's objectives, temperament, and potential by conducting interviews, developing surveys, and forming focus groups.
To get buy-in and determine who is engaged with the process, ask for suggestions on strengthening succession and leadership.
3. Allow them to be aware of your plans.
The question of whether or not corporations should inform workers that they are succession candidates is hotly debated. However, telling individuals about their potential would encourage them and keep them from worrying about their job security. If a fantastic prospect is in the shadows and believes they might find a better offer elsewhere, they may jump ship.
Instead, state your goals regarding the jobs, people, and plans. Make sure your expectations for the jobs and people involved are clear.
4. Aim to improve professional development
Employee onboarding and training programs are almost certainly in place at your organization. As a matter of fact, growth is all about giving individuals the opportunity to learn new things. Individuals who are prone to becoming mired in a narrow field of expertise should pay particular attention to this.
The particular skills and information that a candidate will require to progress to the next stage will need to be determined after you have identified them. An employee's professional growth is typically facilitated by a personal development plan, regular feedback, mentorship, or coaching, as well as formal education and communication between the employee and their supervisor.
5. Try out your succession plan in a preliminary form
Potential successors will become severe competitors for leadership positions as their development accelerates. This is an excellent moment to begin trial runs to evaluate their understanding and introduce them to different facets of the job.
Candidates may learn what good leadership looks like and get insight into the company's broader objectives by exposing them to real-world scenarios. There are many methods for involving applicants; just select the one that makes the most sense for the position.
6. Integrate your succession planning with your hiring plan
You'll have to make an offer to a possible applicant at some point. And you'll have to find someone else to take their place. Fortunately, the successor may utilize their new leadership abilities to assist in the interviewing and training of the person who will take their place. This might be a lower-level employee or a fresh hire.
As a result, it's critical to alter your recruiting approach to account for the responsibilities of successors. Your strategy will not run as well without them; their staff will be scurrying to fill the void.
7. Imagining your future successors
If you accept a new job or retire, your position may need to be filled. Include your job in your company's successful succession plan. Who would take the lead? What can you do today to assist that individual in preparing for the transition?
It's a multi-layered, difficult procedure. The change will come, however. Celebrate the succession plan. This shows workers that your organization values excellent leadership and career growth.
A gradual shift is sometimes necessary. Due to family ties, emotions, and connected history, family companies struggle with succession planning. A sound change in leadership based on business demands is vital to the company's success.
Benefits of succession planning
Having a formalized succession plan in place is good for employees as well as employers in several ways:
Employee empowerment and job happiness can increase when they are aware of the possibility of promotion and even ownership.
Employee career development is supported by knowing there is a strategy for upcoming opportunities.
Because management is committed to succession planning, managers will coach staff members to transfer knowledge and skills.
The value of promising employees is better tracked by management so that openings may be filled internally as they occur.
Employees and management are better equipped to communicate about the company's beliefs and vision.
When a significant portion of the workforce retires, a new generation of senior leaders is required.
Shareholders of publicly traded companies benefit from effective succession planning, particularly when the incoming CEO is already actively engaged in business operations and is well-regarded years before the outgoing CEO departs. If a clear succession plan is in place, investors will not sell the company's stock when the CEO retires.
Conclusion
These are some of the fundamental stages that are necessary when approaching the process of succession planning. Nonetheless, it is the responsibility of management to comprehend the when, the why, and the where of succession planning implementation.
If it is left for too long, the whole procedure may become much less effective. It is essential for every firm that aspires to grow larger and more successful to have accurate succession planning in place.
When done effectively, succession planning provides a firm with a competitive advantage and enhances its position by educating and developing its employees.
If you want to start succession planning, check out QuestionPro Workforce, a culture and employee experience survey and analytics platform that can help you achieve the best type of change by providing relevant metrics and insights about your people.