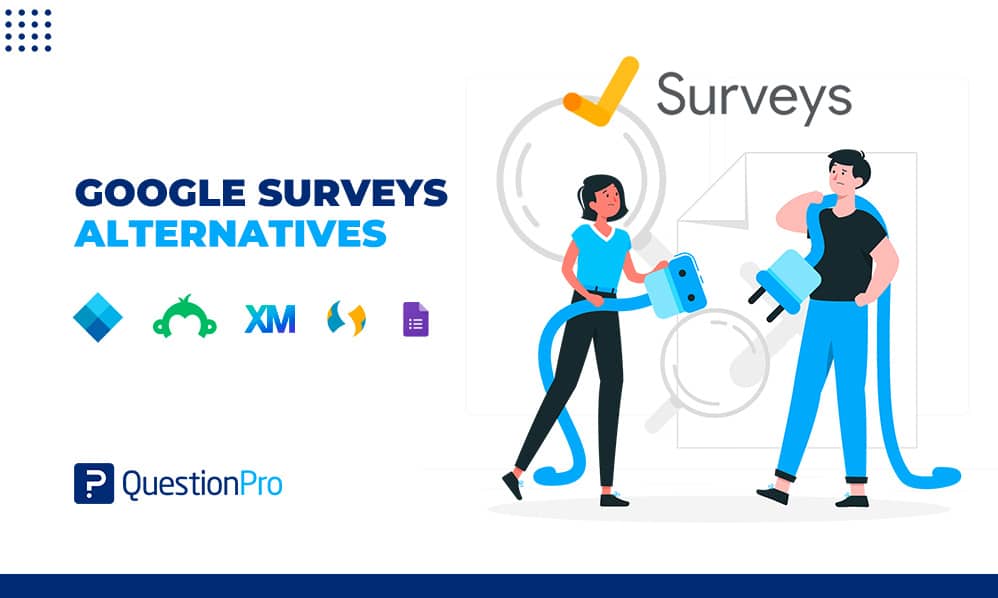 Are you in search of Google Survey alternatives? It's time to explore new options, as Google has surprised everyone by announcing the closure of two of its products at the beginning of November 2022. That's right, Google Surveys and Surveys 360 will no longer be available after November 1st.
Google introduced Google Forms, a basic online survey tool that enables you to craft simple surveys, questionnaires, quizzes, and forms to serve data collection. Whether your goal is to gather information, conduct polls, or collect feedback, Google Forms provides a straightforward and accessible platform.
Google Form's limited features and advanced capabilities drive users to find alternatives. It's simple for basic surveys and creates unlimited forms, but it may fail when customers need additional customization, logic, reporting, or data privacy.
Alternative survey platforms can offer more functionalities to suit various survey and data-gathering demands. Let's take a look at some major limitations of Google Forms:
Limited Customization: Google Forms allows basic customization but not heavily customized branding or style. It may be restrictive if you require surveys or forms to closely match your organization's visual identity.
Complex Surveys: Google Forms rocks for simple surveys and forms, but it may lack sophisticated functionality for complex questionnaires. No advanced skip logic, question randomization, or reporting options may be available.
Data Privacy and Security: Google Forms holds sensitive data on Google's servers, causing privacy and security issues. Consider alternatives with stronger protection and compliance if you need more control over data storage and security.
However, if you're looking for alternatives to Google Forms and competitors to continue your data-gathering projects, we have compiled a list of the 7 best Google Forms alternatives below. Additionally, you may also explore the "Google Opinion Rewards App" as a distinct option for gathering insights and opinions from users.
Best Google Surveys Alternatives 2023
The end can be the beginning of new opportunities, so in this list, you will find various platforms that not only match the functions that Google Surveys offers but, in many cases, these platforms outperform the simple Google platform. Among the best Google Survey alternatives are:
01. QuestionPro
QuestionPro stands as a leading alternative to Google Surveys in 2023, offering a comprehensive survey software solution with features that not only match but often surpass those offered by Google Surveys.
This versatile platform enables seamless data collection and analysis, making it an ideal choice for various research and data-gathering needs. QuestionPro provides access to high-quality responses, including the option to target specific audiences for tailored feedback collection.
Although some platforms like SurveyMonkey have undergone changes, QuestionPro remains a reliable choice for those seeking robust survey capabilities.
02. SurveyMonkey
SurveyMonkey is a company whose main product is survey software with which you can easily collect survey data. In addition, it offers a data collection app and an integration with sample panels that could make it an excellent option to replace Google Surveys.
Survey Monkey also offers paid, high-quality responses to users of its platform as part of its suite of market research solutions, so you can send your survey to that segmented audience for responses collected through its panel.
However, they have recently changed their name to Momentive and were about to be acquired by Zendesk, which has triggered a series of changes that motivate some users to look for a better Google Forms alternative.
If you are thinking of considering this platform, we invite you to read Best SurveyMonkey Alternatives
03. Medallia
Medallia is a company that evaluates customer experience and satisfaction through its powerful feedback collection platform.
Although it does not have a platform that allows you to access respondents in seconds like QuestionPro or SurveyMonkey, its customer experience management platform can be a great option if you only need to carry out studies of this type.
It has powerful features. However, you will have to consider the cost-benefit ratio for your projects. If you want to delve into this platform, we recommend you read Best Medallia Alternatives
04. Qualtrics
Like other platforms on the list, Qualtrics offers its users the possibility of accessing representative samples to carry out any type of study thanks to its panel of respondents.
Its robust platform may intimidate those who come from a more straightforward tool such as Google Surveys, but after passing this adaptation stage, you can begin to take advantage of each of its features in your studies.
Qualtrics promises to provide you with the support of its team throughout the study, so perhaps, for the right cost, it could be a good option for your projects.
If you want to compare this platform with other survey software to be sure of your decision, we invite you to learn which is the best alternative to Qualtrics.
05. Pollfish
Pollfish is a platform that, like Google Survey, allows you to access a panel of respondents to answer your questionnaire with various segmentation options thanks to its more than 140,000 App Partners.
By using Pollfish, you will have access to more than 50+ million respondents distributed worldwide in more than 160 Countries, so you will surely find the ideal profile to collect quality responses that will serve you in your study.
In addition to its simplicity, segmentation capacity, and quality control of the responses, Pollfish offers its users a platform for creating surveys with the essential functions necessary to develop any study.
06. Survey Swap
If we talk about Google Surveys' similar apps, SurveySwap should appear on the list.
Although it has only been on the market for a short time, SurveySwap offers its users the possibility of accessing perfectly segmented panels and being able to finish their projects in weeks.
One of the weak points is the limited scope since you can only receive survey responses in German and English and only in countries like Canada, Germany, the United States, the Netherlands & United Kingdom.
Once you have chosen a platform to create online forms, you can integrate it with this platform to distribute your questionnaire and wait for the answers to start coming in.
07. SurveyTandem
SurveyTandem has a very different model from the ones we have mentioned before. However, it can still become a great Google Survey alternative for a specific group of projects with particular needs.
This platform allows you to find survey respondents for your surveys by exchanging answers. To receive answers, you have to answer surveys in return. This has the advantage that you can collect answers free of charge only in exchange for your participation in other questionnaires.
This disadvantage can also be that it is not scalable in relatively large studios. Another significant disadvantage is the trim control in segmentation by the platform. However, with the correct branching logic in your survey, you could filter the responses received.
Ready to Continue Doing Studies With the Best Google Survey Alternatives?
We hope that this list has been helpful for you to make a good decision and choose the best Google Survey Alternatives you need. If you are looking for the best Google Survey alternatives, QuestionPro can become the great ally you are looking for.
Not only will you find a great platform that far exceeds what is offered by Google Surveys, but you will also find a team of professionals willing to help you adopt new technologies and get the most out of our tool by adapting to your goals. 
Here, we will discuss some key points that will clear your doubt about why QuestionPro is the best choice for you:
QuestionPro has access to millions of survey respondents perfectly segmented into more than ten specialty audiences ready to share their opinions and perspectives on your questions.
Backed by a strict recruitment process and a solid maintenance system, QuestionPro Audience is your best option to carry out any type of study you have in mind, be it surveys, mobile diaries, or live discussions.
Do you want to conduct surveys quickly and practically? InstantAnswers is the answer! With this solution, you can install a bot to your Slack space and start receiving real answers in a few minutes. 
You won't believe how easy it is! You will only have to install QuestionPro Bot and follow three simple steps:
Ask a question in Slack using the standard format with some criteria. For example:
/answer: Why did you choose us? [Economic] [Range of features].
Select the number of responses you need.
Choose the region to which you want to address your question.
Done! In seconds, you will begin to see how the answers begin to arrive and know in record time what your target audience thinks about.
The platform offers robust analytics and reporting tools, allowing users to gain valuable insights from survey data. Users can easily analyze and visualize results to make informed decisions.
QuestionPro allows for extensive customization, including branding and design options, to ensure that surveys align with an organization's identity and objectives.
QuestionPro places a strong emphasis on data security and compliance, addressing concerns related to the confidentiality and privacy of survey data.
If the above sounded like great features, here's the final piece you need for a perfect research project, and that is QuestionPro Surveys.
QuestionPro's flagship product offers a powerful platform for you to create surveys that look good on any device, a powerful data analysis suite, and various distribution methods that will allow you to reach your target audience.
Do you want to know your doubts or speak with an advisor? Do it right now. QuestionPro would love to chat with you.