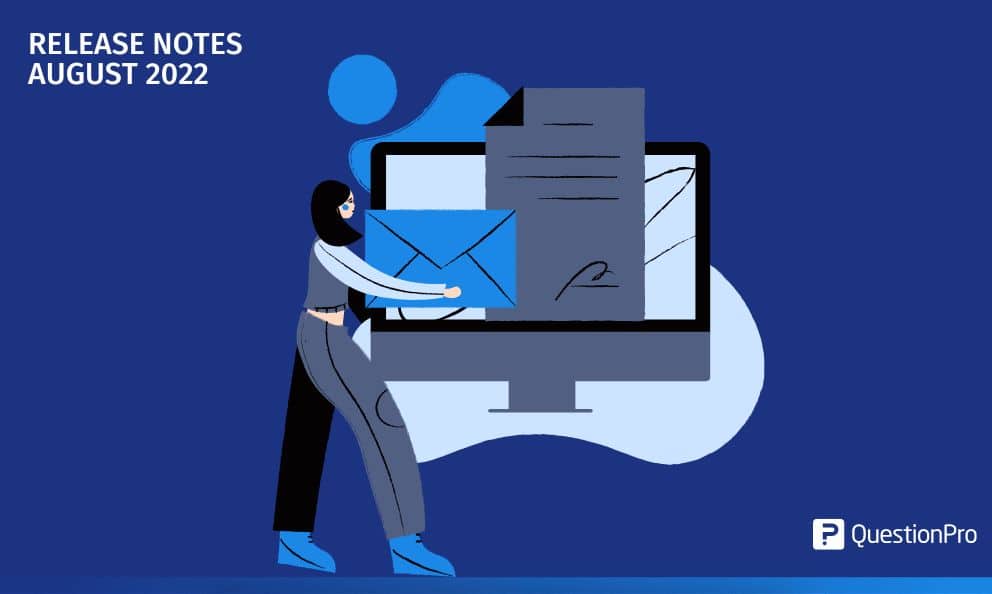 At QuestionPro, we believe in continuous improvement and innovation to offer products that cater to the evolving needs of the world of research. Our team is constantly striving to make sure you get the insights you need to offer the best products and services, here we are with a list of all the new features and enhancements released this month.
Research & Insights
Surveys:
Bugs and other enhancements
SA-9819 – Looping and randomization data discrepancy

SA-10224 – Fixed display issue with smileys showing up instead of thumbs up/down when embedded in email for thumbs up/down question.

SA-10206 – Fixed issue with browser title not getting updated when a copied survey is renamed.

SA-10187 – Scoring was not updated when the save and continue option was used while answering surveys.

SA-10139 – Fixed issue with matrix questions getting cut off in PDF exports.

SA-9937 – Fixed date/time formatting issues with CSV exports.

EC-1526 – Added a new option to remove the user with the status 'Pending' on the share survey pop-up.

EC-1480 – Fixed issues with survey not getting uploaded using QSF import.
Communities
Enhancements
Bugs and other enhancements
CM-2801

: Fixed the "survey being sent multiple times" issue.

CM-2839: Fixed issue with downloading member data from member export.

CM-2840: Added a confirmation pop-up message for removing survey access.

CM-2844: Added a new API for getting members by segment ID.

CM-2781: Fixed issue with admin notifications for idea approval.

CM-2824: Fixed issue with email deployment.

CM-2828: Fixed the community reminder picking up the wrong template issue.

CM-2818: Fixed the incorrect message shown after the password reset issue.

CM-2785: Fixed issue with filtering by age, was giving wrong member count.

CM-2748: Fixed issue with campaign or category deselection.

CM-2826: Fixed issue with topics module not displaying the correct username for comments.

CM-2831: Fixed issue with search bar under the Send tab.
Workforce
Enhancements
Bugs and other enhancements
:
WF-2536

: New 360 framework and scale.

WF-2626: Fixed issue with error text on 360 surveys.

WF-2498: Fixed error while generating PDF reports on 360 surveys.

WF-2691: Fixed issues with the rich content editor are missing in the compose email section.

WF-2875: Fixed issue with exclude self from average score toggle turns off automatically.
Customer Experience
Enhancements
Bugs and other enhancements
CX-2157: Fixed the CSAT Percentage Round-off issue.

CX-2259: Fixed the issue where the user was unable to change the product or product group name.

CX-2206: Fixed the issue where export from the disposition metrics screen was giving incorrect data and timestamps.
Hope these features and enhancements will help you advance your research while ensuring the best experience for your audience, customers, and employees.
If you have any ideas, questions, or feedback, please send them to us at feedback@questionpro.com