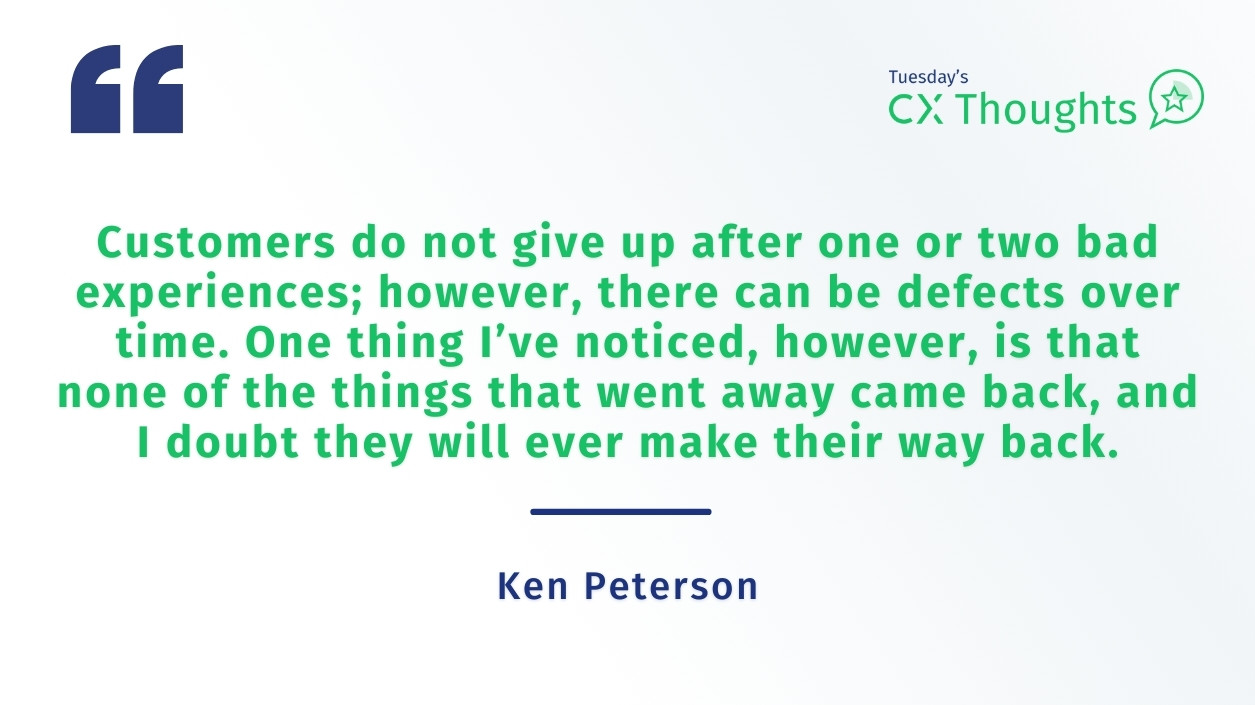 In a hurry? Listen to this week's TCXT Review:
It is hard to build and maintain a reputation for being customer-focused. It starts with having a solid customer experience strategy, but requires ongoing efforts in employee experience along with embracing all of the other elements of a Voice-of-the-Customer program, such as understanding Omnichannel Customer Engagement, building out measurement across multiple customer experience touchpoints along the customer journey, and a market-wide read of best practices in Customer Experience transformation.
It always has bothered me when a company that prides itself in the customer experience it delivers to its customers makes a "small, temporary cut" due to business or market circumstances. Something I have learned both from a business perspective and as a consumer is that once you cut one thing, it isn't likely to come back.
The start of the football season means that I get to see what is different in my stadium experience. I always hope that my fan feedback provided through my favorite team's customer experience software platform has helped shape the experience for our attendance.
Knowing that the "fan side" of the business will have little impact on the on-the-field product, even though the wins and losses impact the experience, the business and marketing team often tries to highlight the "great new features" of the stadium experience. However, they always seem to leave out the things that have been taken away from the fan experience.
I noticed over this most recent experience that a few more things were taken away from the experience. Despite paying a premium for the higher level experience that comes with our seats, there has been a noticeable decrease in what is offered to the fans over the past decade since I first purchased the seats I have.
It always seems to be incremental, but when I look at the list of things no longer offered, it can be staggering. There used to be sofas, which are now all replaced with standing tables. There used to be more than a half dozen full-service bars, but now there are only three – with too much of a wait to make them worthwhile.
There used to be table service, which was replaced with "bar carts" – both of which have been completely eliminated. One thing I miss is the free chair massages. That last one is perplexing because it was done by volunteers at a local massage school at no cost to the organization.
Some of the other items could be justified as cost cuts, offering more people a place to consume concessions or eliminating inefficiencies (the bar carts did not seem to have a great offering; very few utilized them, and it created more congestion).
However, the "improved" offering as a part of the trade-offs in eliminating these services was not beneficial to CX customer service. One of the items added over the years was a "Customer Recognition" program that gives the season ticket holder of record a small discount on specific purchases – really just a hope that the season ticket holder will purchase more, but does not give any benefit to those that purchase tickets for individual games – still paying the same price or more. Another "big benefit" touted a couple of years ago was that the stadium would become a cashless facility.
As someone who recognizes CX vs marketing and the way that the operational and Customer Experience Data is utilized simply to encourage additional purchases, this seemed like a benefit only to the organization, not really about Customer appreciation.
Understanding the fan experience has some elements of both CX in travel and tourism and CX in the retail industry, along with many other considerations, such as fan loyalty, which will be different than loyalty to other brands. In general, the "customers" do not give up after one or two bad experiences; however, there can be defects over time. One thing I've noticed, however, is that none of the things that went away came back, and I doubt they will ever make their way back.
That is a risk with any actions you take as an organization that will alter the great customer experience as defined by the customer. It should be a core reason Customer Experience Management teams deploy a CX Enterprise Software, to understand the needs and wants coming from the current and future customers. It is not just about creating a tactical (inner loop) customer feedback loop or creating a flashy financial linkage analysis.
It should be about creating a customer journey map that will inform the voice of the customer strategy based on a customer journey template that will inform strategic operational decisions (using tools like Outer Loop) and informing the experience offer to the customers – which might even include changes in any of the "5 P's of Marketing".
We have included the QuestionPro NPS+ question type in our platform because it can provide some of those insights traditionally sought out in customer experience programs (root cause analysis, financial metrics in the form of churn risk analytics) in addition to improving the customer feedback experience (an often overlooked aspect of CX measurement).
Further to that, however, there is a mechanism for customer innovation/co-creation that can inform some of the customers' needs and wants for their future customer experience. It is an opportunity to find a way to give back to your customers instead of the downward spiral of removing features, functions, and services that decrease customer experience – more than just wins and losses on the field.
Is there something wrong with your customer experience?
When you complete an honest assessment, the outcome can be beneficial. Particularly when it comes to your Customer Experience program.
Take five minutes and complete an audit for your organization here.
You may discover a gap in measurement, an opportunity to improve a process, the place where an organizational shift needs to take place or an opportunity to win a greater share of your customers' wallets.
We all want that bigger "return". In this situation, the worst-case scenario is that you'll get some information that will help your organization since there is no cost or obligation in completing this audit.